US Open Favorites 2013: Stock Watch for the Top Golfers at Merion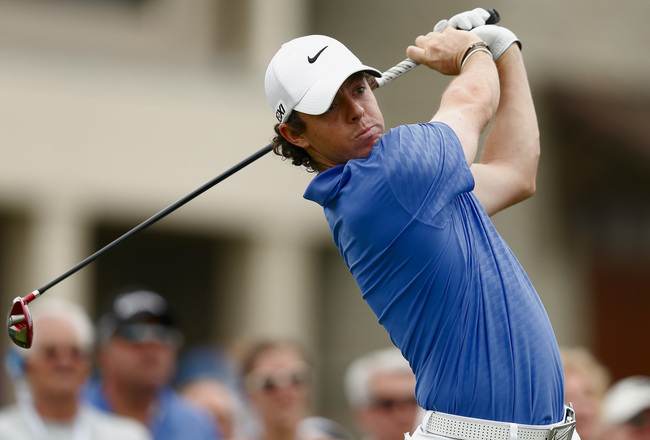 Is Rory's stock rising or falling?
Scott Halleran/Getty Images
Playing the stock market is bound to make you crazy, perhaps a bit richer and maybe a lot poorer unless you do the proper research and understand when to buy, sell or hold.
We invest our time, and thus our money, into watching sports and with the U.S. Open approaching this weekend, it is a good time to gauge the value of top golfers in the field.
Is there a rising star that is worth following? How about a solid, stable Blue Chip player or a guy whose stock skyrocketed last year only to dip in value in 2013?
Then, of course, there is the Apple of the bunch, Tiger Woods. What sort of innovations he will make in order to win his 15th major?
Let's take a look at some of the top players going into Merion and see how their individual stocks line up. In evaluating these players, we will look at their recent history, earning capacity, efficiency, return on investment, even their emotional make-up.
And, when thinking of placing an investment, remember what British investment guru John Templeton said, "The four most dangerous words in investing are: 'This time it's different.'"
Tiger Woods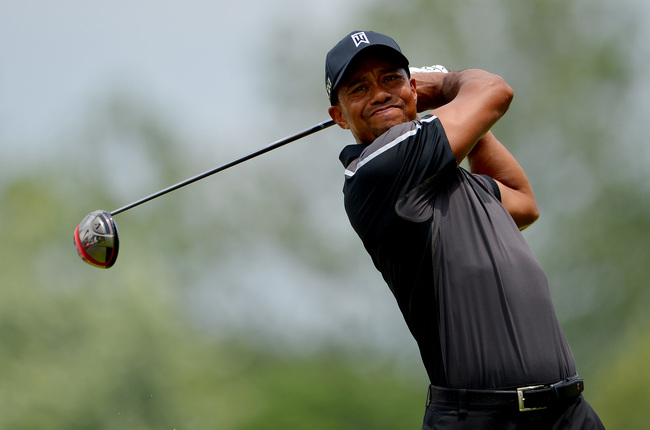 Drew Hallowell/Getty Images
Any company worth your money must be able to rebound after tough times, make adjustments and create new ideas into order to surge forward and increase its overall value.
That sort of sounds like Tiger Woods, who may be having his best season in years and is once again ranked No. 1 in the world.
Need to know some numbers? Tiger Woods has four wins this season, ranks first in FedEx points, first among money winners and first in all-around ranking. If you are gonna buy, why not buy the best?
Not only that, he has simply gotten better with age, learning to tuck away the driver and simply get his tee shot in play so that he eliminates the variables that come with too aggressive play. That kind of conservative course management will be imperative at the narrow, rough-laden Merion course.
Tiger is clearly the front-runner going into the Open and what you want from a front-runner is confidence and the ability to make the changes necessary to win.
Said Woods to Reuters about his most recent swing changes, "That took a little bit of time, and I finally have turned the corner. What you're seeing this year is that I've gotten more precise and I've been able to work on other parts of my game and made them strengths."

Despite an ill-timed implosion at Muirfield Village two weeks ago where he finished tied for 65th place, Tiger is primed for success at the Open, a tournament he has won three times before.
They say emotion should not play into investing, but one should definitely consider Tiger's obsessive desire to win his 15th major into this week's tournament.
Clearly, if there was only one stock you could buy, it would be named Tiger Woods.
VERDICT: BUY
Phil Mickelson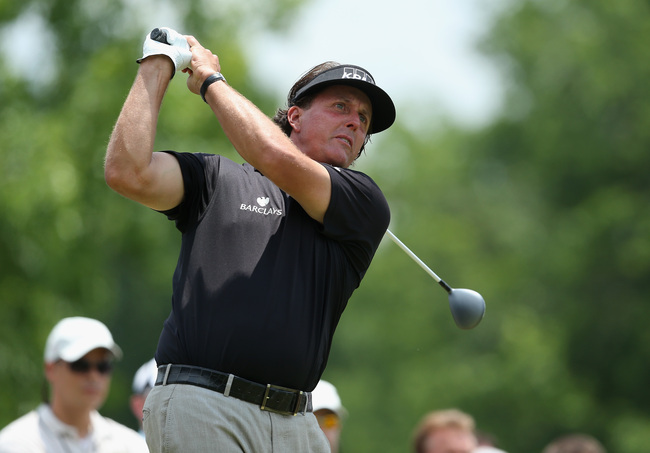 Andy Lyons/Getty Images
Sometimes you want to follow the gambler, the guy who can make you a bundle because of his go-for-it desire to defy the odds. He is the guy who also has a boat load of talent, tremendous creativity and a wonderful way around the greens.
Phil Mickelson turns 43 this weekend (June 16) and what a great birthday present it would be to finish first at the Open. The man with the big-dog walk and puppy-dog smile has finished second at the Open a ridiculous five times, or five more times than he would want if you compare it to finishing first.
Coming off of a great last-day run at the FedEx St. Jude Classic, where he scored in the 60s the last three rounds, things look pretty good for Mickelson.
As he ventures into the weekend, Mickelson ranks fourth in scoring average and is No. 1 in birdie conversion. In typical Phil fashion, however, he is ranked 142nd in driving, so he's got to watch it on the tight Merion fairways.
Mickelson brings great risk-reward to his fans. He's the guy who will whip out his driver to try to drive the green, try his patented flop shot over a sand trap to a hole cut five feet from the rough and then hole a 40-foot eagle putt with the game on the line.
So, if you are a fan of his, you will most likely be holding your breath at every turn.
Verdict: HOLD
Matt Kuchar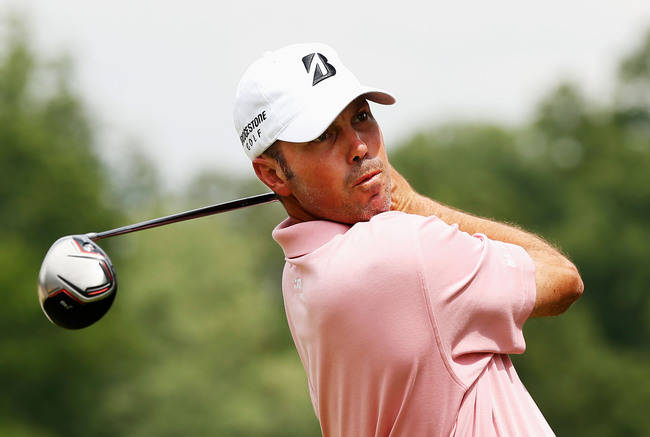 Scott Halleran/Getty Images
Matt Kuchar represents the kind of company you would put your kids into: A steady, consistent, unwavering growth stock that would bring great dividends long term.
Year-to-date, Kuchar has played extremely well and has excellent momentum going into the Open. He has not missed a cut in 15 events, winning twice including the Memorial two weeks ago.
Ranked second in FedEx points, second among money leaders and fourth in the world, Kuchar has surely come into his own as one of golf's elite players.
Kuchar leads the PGA with 35 top 10 finishes since the start of the 2010 season. The only thing missing from his stellar record is a win at a major.
A solid ball striker and confident putter, Kuchar possesses the kind of cool demeanor necessary to win under pressure and the kind of assured presence should he have to face off against Tiger in the last group.
"Great golf breeds more great golf. Winning tournaments breeds more winning tournaments," said Kuchar told Hank Gola of the New York Daily News. "Anytime you can get comfortable playing in that final group, finishing off a tournament, winning a tournament is a huge amount of confidence."
So far, his best finish in an Open is sixth place, but he is currently ranked fourth in the world and is the hottest golfer going into Merion.

If you are worried about whom to pick, you can rest easy with Kuchar, a fan favorite who never seems to disappoint.
VERDICT: BUY

Rory McIlroy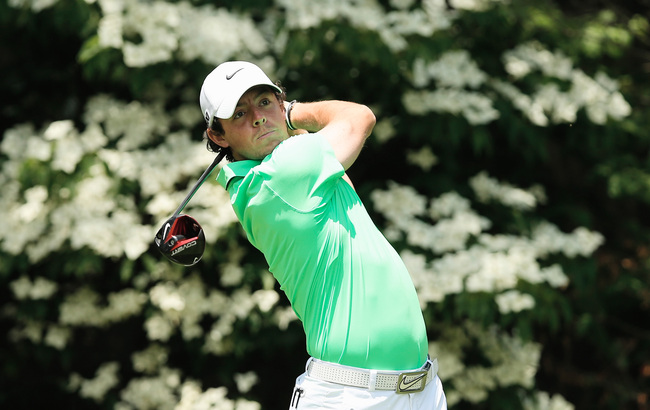 Scott Halleran/Getty Images
Just a year ago, Rory McIlroy was the best golfer in the world, winner of two majors and primed as the heir apparent to Tiger Woods.
Yet, 2013 has been a different story for Rory who, while still ranked second in the world, has all but disappeared from the top of the leaderboards.
It is hard to know exactly what has happened. He has a new set of Nike clubs to get used to. He has all of that fame and fortune to deal with and the weight of being No. 1 at the young age of 24.
He just has not shown the same self-confidence, let alone superior ball-striking and clutch putting, that drove him to the top spot and laid the golfing world at his feet.
Playing the first day with Tiger and Adam Scott, the first- and third-ranked players, respectively, Rory will face both his demons and his main competition.
His numbers for the year are not all that bad and he ranks fourth in greens in regulation, a key stat going into the Open, which demands consistent iron play and accuracy.
It is hard to write off a previous Open winner, but there is little in his game that would warrant him winning at Merion right now.
VERDICT: SELL

Adam Scott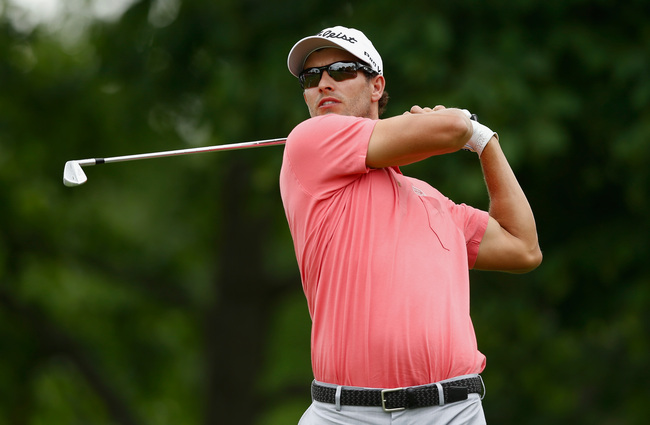 Scott Halleran/Getty Images
Masters champion Adam Scott is looking to score his second major win at Merion this weekend and he possesses all the skills to make it happen.
Over the past few years, Scott's value has grown considerably. A fan favorite for both his good looks and sweet swing, Scott has moved all the way up to third place in the world rankings.
While long predicted and long overdue, his rise to the top has been predicated on a newfound ability to score under pressure in a consistent manner.
In fact, he ranks second in consecutive cuts with 17 and first in scoring average. He has become amazingly adept with his long putter and wants to give it even more credence before it is banned entirely from the game.
"I putt much more consistent with it, which has a really positive effect on the rest of my game," said Scott to Emily Kay of the Atlanta Journal-Constitution after his Masters win.
If you are into overseas investments, this Aussie is an excellent pick to win it all this weekend.
VERDICT: BUY
Brandt Snedeker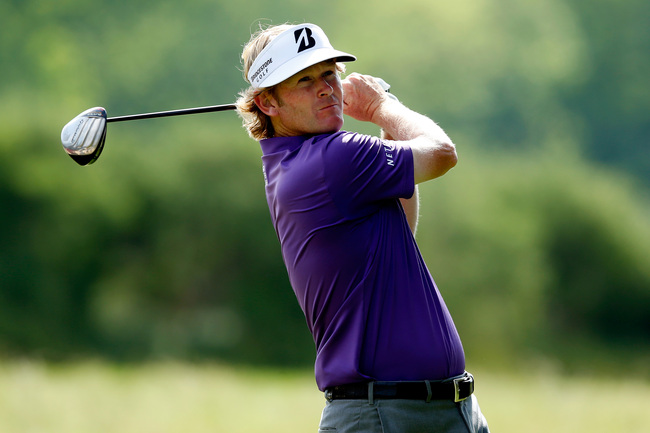 Scott Halleran/Getty Images
Even though they look good on paper and may have had some recent success, some players are just a little too iffy to invest in, such as Brandt Snedeker.
Snedeker is the guy who won the FedEx Cup last year. He began the year hotter than any other golfer finishing first, second twice and third in his first four events. His record at the U.S. Open includes three top 10 finishes, perhaps due to his improvement in driving accuracy, in which he is ranked 11th on the tour.
Yet, he has had the kind of up-and-down season that makes it hard to support. What are we to make of a guy who leads the PGA in top 10 finishes with six, then fails to make the cut in the two events prior the Open?
Such roller-coaster rides are tough to bank on.
VERDICT: SELL
Steve Stricker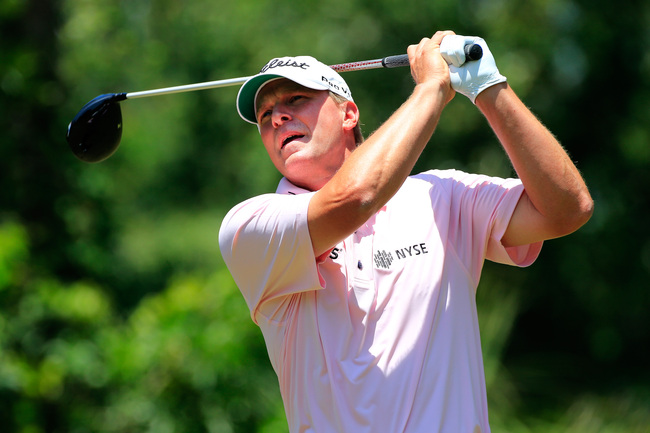 Sam Greenwood/Getty Images
This could be the year for Steve Stricker to exorcise his majors demons.
Regarded as one of the best ball strikers and most consistent putters on the tour, Stricker has three top-five finishes in six events this season and ranks third in GIR, hitting 71 percent of greens.
He's short, straight and bulletproof with his wedges, which could be a winning formula this week. He's made 13 consecutive cuts at the majors, and has top-20 finishes in each of the last two U.S. Opens.
When putting is at a premium, as it will be at the U.S. Open, it is imperative to hit the greens and manage distances, both of which play to Stricker's strengths.
It is hard to believe Stricker hasn't won a major, but now playing a reduced schedule, it looks like the 46-year-old Midwesterner has kept his eye on winning a major.
By the way, he also ranks first in scrambling from the rough.
VERDICT: BUY
Webb Simpson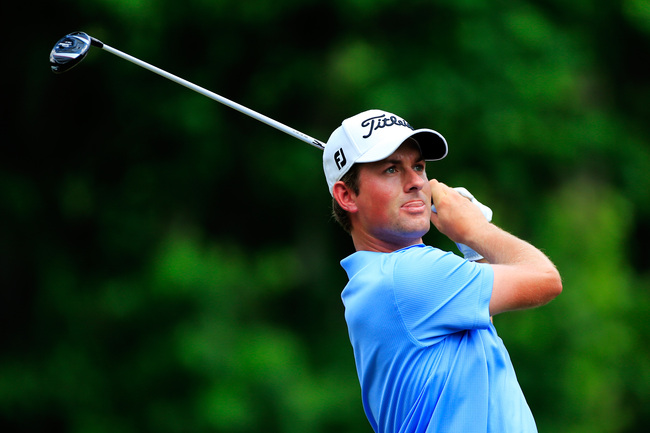 Sam Greenwood/Getty Images
Is last year's surprise winner of the U.S. Open, Webb Simpson, primed for another shot at the top at Merion?
His scores and finishes for this year seem almost a mirror image to 2012, when he came out of nowhere to take the cup at the Olympic Club in San Francisco. Last year, he missed two cuts leading up to the event. This year, he once again missed the cut at the Memorial a couple of weeks ago.
Is failure a sign of good things to come? Doubtful.
Simpson's value seemingly is subsiding and nothing in his current record or stats would indicate that he is ready to repeat his win this year.
That is not to say his win was a fluke, but he is definitely a long shot.
VERDICT: SELL
Graeme McDowell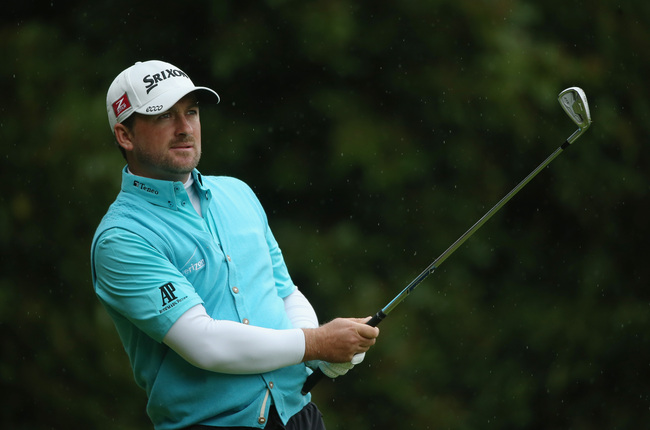 Andrew Redington/Getty Images
The U.S. Open will be playing right into the hands of Graeme McDowell, a supreme shotmaker who plays with as much joy as confidence.
McDowell currently leads the tour in fairways hit which, if he can maintain such consistency at Merion, will give him ample opportunity to score. He is also the tour's best scrambler, a sometimes overlooked stat that can turn potential double bogeys into pars.
McDowell is the ultimate competitor, and he finished second last year at the Olympic Club. With five top-10 finishes in 10 events this season, he is once again a force to be reckoned with.
VERDICT: BUY
Justin Rose
Andy Lyons/Getty Images
Justin Rose has won all over the world but has yet to win a major.
While he doesn't have a win on the tour this year, he has been remarkably consistent and is currently ranked fifth in the world. The Australian-born Englander shines in just about every major statistical category, including being No. 1 in total driving.
Rose hasn't performed particularly well in other Opens and will have to improve on his putting if he is to win at Merion.
Still, if you are building a strong portfolio, you would be foolish to leave him out of the mix.
VERDICT: BUY
Sergio Garcia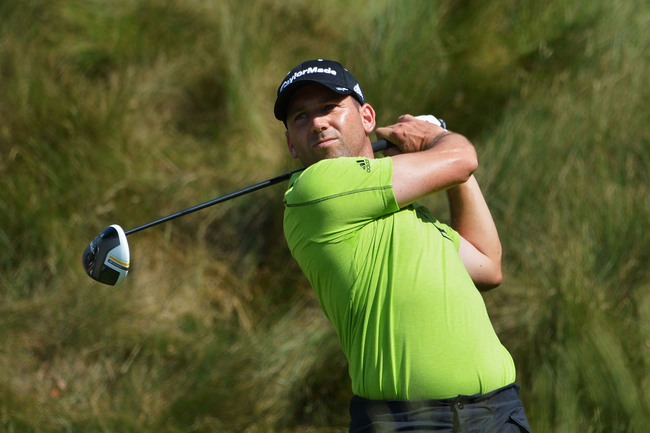 Drew Hallowell/Getty Images
This has been a very tough year for Sergio Garcia, whose value has wavered more than any player on the tour.
His issues at The Players Championship and the Masters are already part of PGA lore for misfortune.
But, no one can deny how well he has played throughout the year, putting himself in contention to win at both of those events and others.
If he could only get out of his own way.
For years, Sergio was beset by problems with his putter, but he has seemingly overcome those issues and actually ranks in the top 20 in putts per round. He is also No. 2 in scoring average behind who else but his arch-rival Tiger Woods.
When push comes to shove, it would be nice to include Sergio on a list of players whose stocks are rising as they enter the Open. But, he just has too many personal issues to get past in order to actually finish on the last day of a major.
VERDICT: SELL
Luke Donald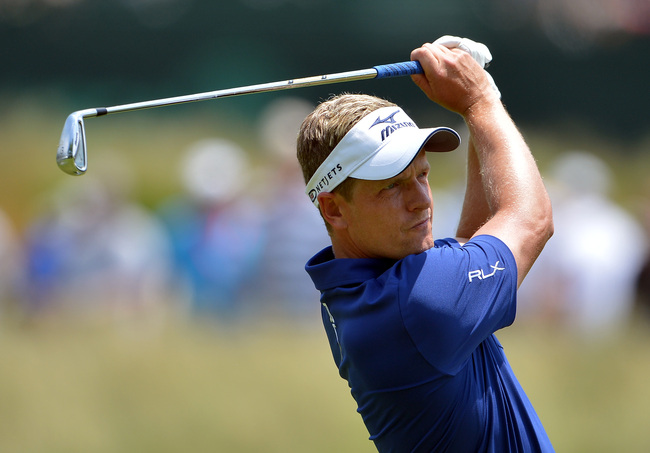 Drew Hallowell/Getty Images
Why does it seem odd to say that one of the world's top players doesn't really have a chance to win at Merion?
Ranked sixth in the world, Luke Donald has not missed a cut this year, but something about his game seems awry.
Where are his wins?
Donald was the money winner on both the U.S. and European tours in 2011, a feat never before accomplished, so it is hard to diminish his abilities.
He is a consummate ball striker and one of the game's most consistent drivers off the tee, so Merion might fit well into his game
But, he hasn't really done much of late on the big stage.
A win at Merion would go a long way to increase his value.
VERDICT: SELL
Billy Horschel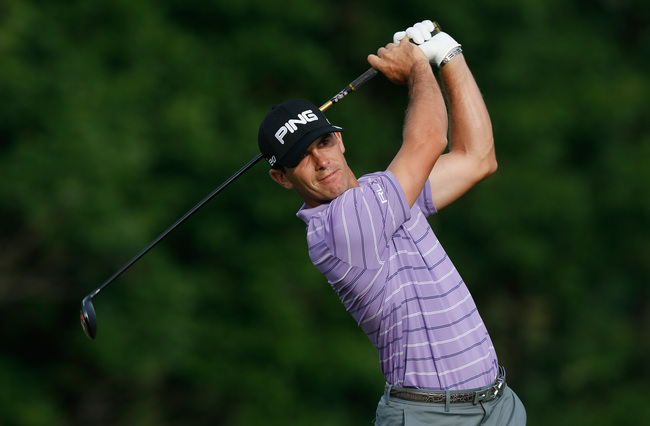 Scott Halleran/Getty Images
This year's IPO goes by the name Billy Horschel.
The 50th-ranked player on the PGA tour has made a big splash this year, including a win at the Zurich Classic that was part of a run of four events where he finished in the top 10.
If Horschel were to win the Open, he would join Webb Simpson, Rory McIlroy, Graeme McDowell and Lucas Glover as first-time winners of the last four events.
Among other things, Horschel has shown himself to be a pretty good putter and is ranked seventh on the tour in the category. He is also in the top 10 in scoring average and top-10 finishes.
As an IPO, he is probably a better bet than Facebook.
VERDICT: BUY THE LONGSHOT

Keep Reading