WWE Payback: Ranking the Matches Most Likely to Steal the Show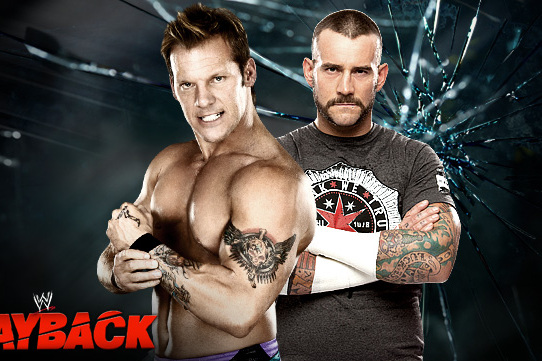 Photo from WWE.com
Monday's WWE Raw rounded out the Payback card and Sunday's pay-per-view suddenly has more matches with show-stealing potential.
Kane gets a shot at the United States title. Curtis Axel gets invited to the party. Randy Orton and Daniel Bryan are forming an unlikely partnership to go after the gold around The Shield's waist.
Which match will folks most talk about afterward? Which will get the biggest crowd reaction and have the most lasting impact on WWE?
Going by the amount of talent involved, the emotional weight of the storyline and what's at stake with the match, here are the Payback matches ranked by which is most likely to be the show's best.
Begin Slideshow

»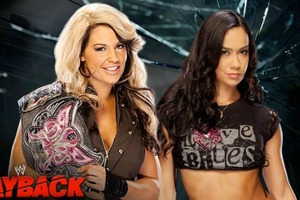 Photo from WWE.com
Talent Involved
Aside from the underused and misused Natalya Neidhart, these are the two best Divas on the roster.
AJ Lee has made crazy and cute an enthralling combination. Kaitlyn has improved in the ring since her clunky NXT days. Both are capable of putting on a good match, but history says these two won't get to use their full talents and will instead be asked to put on a short match.
This has the potential to be a clash of power vs. speed and good vs. evil, but will be too hurried to compete with the other matches on the card.
Storyline
The discord-turned-hatred between AJ and Kaitlyn has been brewing for a long time but has not been tended to enough. Monday's WWE Raw featured Big E. Langston turning out to be Kaitlyn's secret admirer, but only as a ploy for AJ to embarrass Kaitlyn.
Kaitlyn will go into Payback with plenty of motivation to beat AJ into the mat, but this feels like a story that could have been much more. The focus on the past few weeks has been on building John Cena vs. Ryback and the Triple H, Curtis Axel and the McMahons storyline so this Divas tale of former friends morphing into enemies didn't get the attention it needed.
What's at Stake?
This is more than a Divas title defense; it's a chance for Kaitlyn to gain revenge or for AJ to become the official top Diva.
That should add to the emotions behind the match, but may not be enough to offset the lack of ring time the women are likely to get.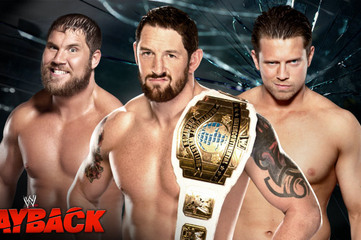 Photo from WWE.com
Talent Involved
Curtis Axel replaces the injured Fandango in this Triple Threat match. While Fandango may be more over at the moment, Axel is an upgrade in terms of ring skills. The match now becomes an interesting blend of brawling, technical wrestling and showmanship.
Wade Barrett consistently puts on solid matches, and adding Axel to the mix freshens things up between the intercontinental champ and Miz.
All three guys possess a lot of untapped potential but aren't among the very best in the ring as of now.
Storyline
It's not WWE's fault that the storyline going into this match isn't anything special. The company was building up a three-way dance and a certain ballroom dancer is now out of the equation.
Miz and Barrett have a history. They traded the IC title earlier this year in April, but they don't have any particularly interesting reasons for disliking each other.
Enter Axel, who is on a mission to prove himself but has no previous bad blood with Barrett and Miz, especially if WWE isn't going to acknowledge Axel's history with the Nexus.
Had Fandango's injury occurred a week or two earlier, WWE would have had more time to stir up the hatred between these men, but as it stands, it comes off as a bit random.
What's at Stake?
The IC title was once a championship that meant much more. Now it feels like more of a curse than a trophy. Since wearing this strap, Barrett has lost on seemingly a weekly basis.
It's hard to then sell the title as something worth beating each other down over.
This will end up being more about Axel's rise to the top. After earning count-out victories over Triple H and John Cena, Axel gets into a match where there are no count-outs.
Fans will have to tune into to see if WWE is willing to let him stop his winning streak just yet, or if Axel follows in his father's footsteps and becomes IC champ.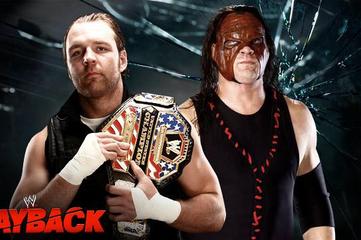 Photo from WWE.com
Talent Involved
One of WWE's longest-tenured stars goes up against a future megastar. Dean Ambrose has produced solid matches since being asked to go solo more often. Kane, despite his age and the steps he's lost, can still entertain and tell a story.
The two fought on Monday's WWE Raw and put on a decent showing.
Their chemistry may have more sparks under the bright lights of the Payback pay-per-view, but the strength of this clash will be its story.
Storyline
Kane and The Shield's history goes as far back as the end of last year when they bet in that classic TLC match in December.
Ambrose's allies were the men who took Kane and Daniel Bryan's tag titles at Extreme Rules. The Shield has attacked Kane, his brother and his friend. There should be plenty of emotion going into this battle.
The potential addition of Bryan in his corner, the tension between those two and whatever Roman Reigns and Seth Rollins might have in store makes this match a highly intriguing one.
What's at Stake?
Aside from Ambrose and Kane's continued rivalry, this match is also about the United States title. Ambrose fending off this giant challenger would help make his title reign far more impressive. For Kane, this would be somewhat of a step down after being both WWE and world champ.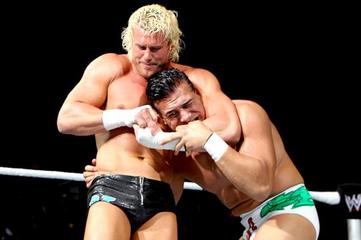 Photo from WWE.com
Talent Involved
The athleticism and technical skills between these men is certain to produce a great match.
Alberto Del Rio may be considered boring by some, but he's a consistent performer who gets it done in the ring. Dolph Ziggler is one of the company's most exciting talents, but coming off the layoff following his concussion, he may show signs of rust.
This could hold the match back, but not as much as the lack of narrative juice will.
Storyline
All the momentum Ziggler attained by attacking Del Rio's leg and cashing in his Money in the Bank contract has washed away. While Ziggler recovered at home, WWE tossed Big E. Langston in his stead, but that series of matches did little to further the Ziggler and Del Rio storyline.
In fact, the storyline is now a quite generic one. Del Rio wants his title back. Ziggler wants to keep it.
The addition of Ricardo Rodriguez, Big E. Langston and AJ Lee at ringside adds some wrinkles, but not any we haven't seen before.
What's at Stake?
Del Rio and Ziggler's talent should carry this match, but having the World Heavyweight Championship up for grabs makes it an instantly more important battle.
Ziggler's reign has sputtered before it could get rolling, and a win against Del Rio could get him his mojo back.
This is The Show-Off's chance to prove how great of a world champion he can be and to show WWE that it made the right move by not taking the title from him while he was recovering.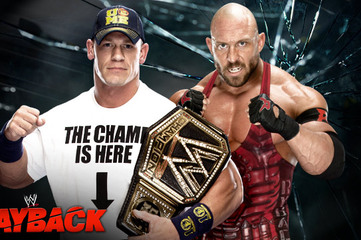 Photo from WWE.com
Talent Involved
The rapidly improving Ryback goes up against the much-maligned John Cena. For all the criticism that is thrown Cena's way, he has time and time again produced great matches.
Ryback and Cena's last battle was one of the best at Extreme Rules. The quality of this next clash will largely depend on how the stipulations affect it.
Will Ryback and Cena be able to get drama out of a Lumberjack match? Can Ryback tie in his recent table-centered destruction into the second fall? Can the match manage to surprise us even though it seems obvious that Cena will prevail?
The two powerhouses will likely give us an entertaining brawl, but how they answer those questions will determine if this match is good, great or a classic.
Storyline
Ryback's heel turn has centered around him feeling abandoned by Cena. He has done an excellent job in slowly becoming more malicious, more angry and more beastly.
Cena has suffered through Ryback's new obsession with tables and ambulances.
It's the story WWE has invested the most time in over the last few weeks. Even though the execution hasn't been perfect, there is a true sense of this being a climax, of it being the last time these two titans go at it.
What's at Stake?
The challenger is seeking more than the WWE title. Ryback is after revenge and on a mission to prove himself. Cena, per the usual, is the valiant hero who must take down the monster.
Beyond the title and the vendettas here, this is about Ryback proving he belongs on the big stage. Can he be a star WWE who can be depended on to deliver pay-per-view-quality main events?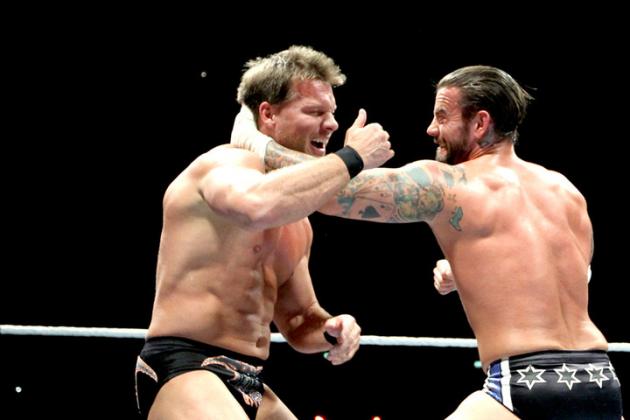 Photo Credit: WWE
Talent Involved
CM Punk and Chris Jericho showed us last year and in their battles in 2008 and 2009 that they have fantastic chemistry together.
Their speed, fluidity and ring psychology has produced excellent matches each time out. Both men are considered among the best performers today, and pairing them once again is a way to assure that Payback has at least one awesome battle.
Storyline
With Punk not around, Jericho and Paul Heyman have had to build this story without him.
Jericho has talked about proving that he can beat Punk, about Punk no longer being able to call himself the best in the world. It's a case of revisiting a hot rivalry with little that is new added to it.
The focus will be on Punk and how he responds to his layoff, to Jericho coming at him and to Heyman, who has been making decisions for him in his absence.
What's at Stake?
There are no titles on the line here and this isn't exactly a rubber match either.
Punk has consistently beaten Jericho, so a win for Y2J doesn't really even things up between them.
Punk has the home-field advantage with the Chicago fans sure to be behind him. That dynamic sets up a Jericho win as a huge upset and a Punk win as a triumphant return.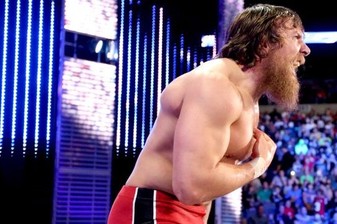 Photo Credit: WWE
Talent Involved
Taking WWE's hottest star right now in Daniel Bryan and pairing him with one of the company's biggest faces against a team on the rise is sure to create an unforgettable match.
Seth Rollins and Roman Reigns have contributed to some of the best matches of the year so far. Bryan has been a huge part of that team's success as either a maniac on the rampage or as a victim.
Orton's ability to deliver in the spotlight will boost this match even further.
Storyline
Though the Orton and Bryan team and the match itself were thrown together, there is a story here that has approached its boiling point in recent weeks. In his frustration over being considered Team Hell No's weak link, Bryan has angered and annoyed Orton.
Orton RKO'd Bryan after their tag match last Friday and is clearly not happy about being in a team with him again.
WWE has re-created the early tension between Kane and Bryan and has this dysfunctional team going up against the most cohesive unit on the roster.
What's at Stake?
The tag titles are certainly a big part of the equation, but Bryan's personal journey to prove himself should be the most compelling element.
The Shield will look to continue their dominance. Orton and Bryan could either implode and turn their partnership into a feud or succeed in spite of their issues.
The complexity of the story, the uncertainty surrounding Orton and Bryan and the talent of all four men have this match lined up to be the best of the night.