The 5 Biggest Storylines to Follow During the Washington Capitals' Offseason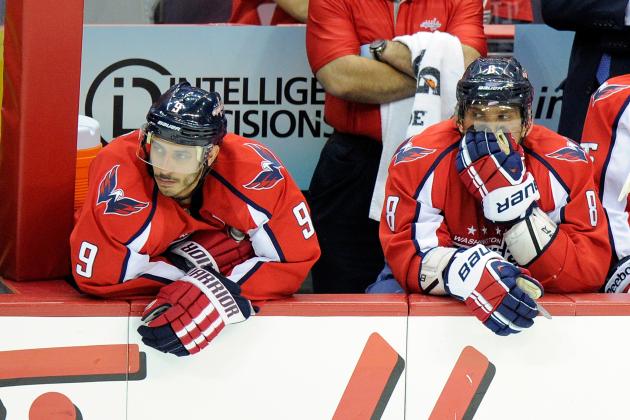 Greg Fiume/Getty Images

For the Washington Capitals, the window to win the franchise's first Stanley Cup with its current core certainly isn't getting any larger.
Alex Ovechkin, Nicklas Backstrom, Mike Green and Brooks Laich are now all seasoned veterans, and though none of the Caps' best players (save for the potentially returning Mike Ribeiro) are all under the age of 30, there comes a time when one too many postseason disappointments leaves a permanent dent on a team's confidence.
Now, with a number of key players in search of new contracts, as well as a couple of glaring needs that that the organization will have to address, it will be an interesting summer for George McPhee and the rest of the Capitals' brain trust.
With that in mind, here's a look at the five biggest story lines to follow in the coming months.
Begin Slideshow

»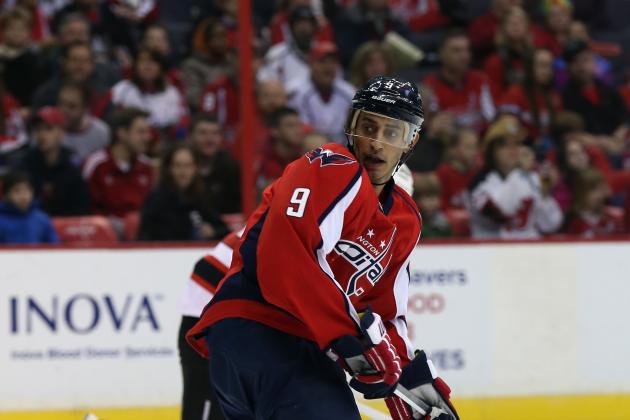 Bruce Bennett/Getty Images

Until Alex Ovechkin and Nicklas Backstrom suddenly came to life halfway through the lockout-shortened season, Mike Ribeiro had been undoubtedly the Capitals' most consistent player and was among the league leaders in assists and points for much of the season.
Generally speaking, that would mean that the former All-Star would be a must to re-sign for McPhee, but this is a difficult situation for both parties.
Ribeiro, who has already moved twice during his career, has said he wants a new long-term deal. And though Ovechkin has publicly stated, via Yahoo! Sports, that he wants the slippery center back, giving a 33-year-old a contract worth roughly $4 million a season for anything more than four years isn't an easy decision.
Yes, Ribeiro is still a capable top-six forward, but what McPhee has to analyze is whether he's still effective enough to play that sort of role on a team that has Stanley Cup aspirations.
Given how much his play dropped off once Backstrom earned his top-line spot back, I'm not convinced.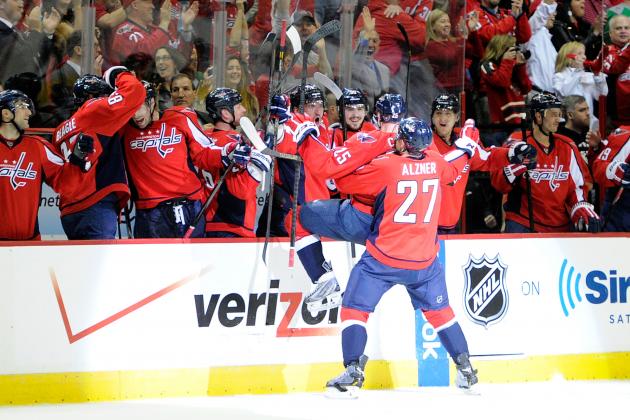 Greg Fiume/Getty Images

As arguably the Capitals' most reliable defenseman, getting Karl Alzner's signature on a new contract has to be the top priority for the team this summer.
A restricted free agent, Alzner could generate offer sheets from teams on the lookout for a promising stay-at-home rearguard, but in all likelihood, he'll sign a deal upwards of five years in order to remain a key building block of the only NHL team he's ever known.
Yes, Alzner has to be aware of the fact that he could cash in on a rich deal as an unrestricted free agent two or three years from now, but the former Canadian World Junior captain genuinely seems to like playing in D.C., and after a couple of frustrating postseason exits, he has to be hungry to help the team get to the next level.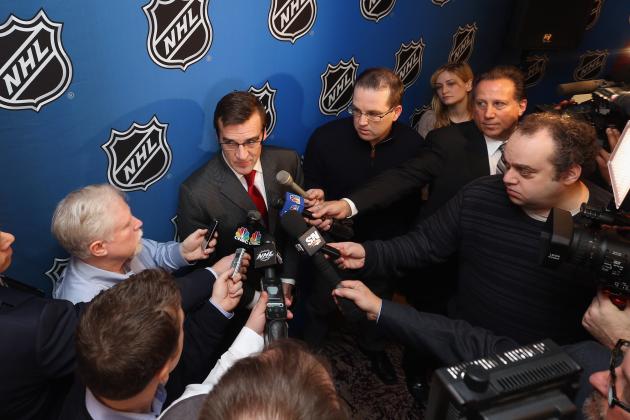 Bruce Bennett/Getty Images

As always, George McPhee is a likely candidate to make a sizable splash during the summer, as the longtime Capitals GM has made a number of high-profile trades on draft day (see Brouwer, Troy and Ribeiro, Mike), as well as his fair share of big free-agency signings.
With this year's crop of free agents uncharacteristically thin with regards to top-flight talent, McPhee will have to look toward bolstering his bottom-six forwards and third defensive pairing, especially given how little cap space the Caps will have by the time free agency opens on July 5th.
No, the Caps won't be able to afford a marquee defenseman like Mark Streit or a top-line forward like Jarome Iginla, but a solid veteran in need of a change of scenery like Ryan Whitney, Derek Roy or Ian White could be a possibility.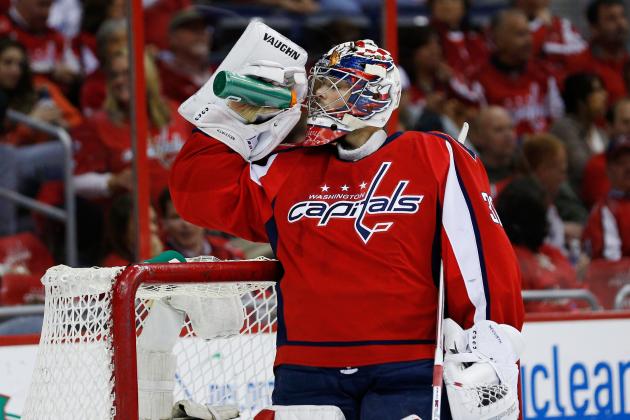 Rob Carr/Getty Images

As Stephen Whyno of The Washington Times reported back in April, the Capitals signed Michal Neuvirth to a two-year contract extension that was at least a little bit surprising.
Michal Neuvirth signed a two-year deal with the Washington Capitals worth $5 million, significantly more money than starting goaltender Braden Holtby got with his new contract.

"We talk about it and I don't feel as a backup," Neuvirth said. "I feel I'm better than that, and that's why they offer me more money than the backups in the league."
Given how little Neuvirth played down the stretch in 2013, it seems strange that the Caps were so eager to re-sign the young Czech stopper, unless of course the team planned to shop him at some point in the near future.
Neuvirth is clearly the team's No. 2 goaltender, but he'd certainly be an attractive reclamation project for a team in need of help in net for the present and future, and locking him up to a multi-year deal would theoretically give the team more leverage in trade negotiations.
As of now, it looks like the team's one-time starter will be back as Braden Holtby's backup next season, but how long will the 25-year-old be happy playing second fiddle to a goalie two years his junior?
Paul Bereswill/Getty Images

As has been the case for the last five seasons, the Capitals have plenty of high-end offensive talent, but that didn't stop the team from losing to a grittier, tougher hockey club in Round 1 of the postseason.
With Jason Chimera, Brooks Laich, Troy Brouwer and a handful of other bangers up front, the Capitals would appear to have a solid top-nine in terms of toughness, but the team's defense got pushed around yet again by the Rangers in the playoffs.
Mike Green, John Carlson and Karl Alzner are all very good top-four rearguards, but the Caps continue to lack a physical presence on the back end, so that has to be a top priority for McPhee in the coming months.
Steve Oleksy and John Erskine are both heavy hitters, but neither is skilled or fast enough to play a top-four role. Adding a player who fits that billing will be a daunting task for McPhee in such a shallow free-agent pool.