4 Potential X-Factors for Philadelphia Flyers in 2013-14 Season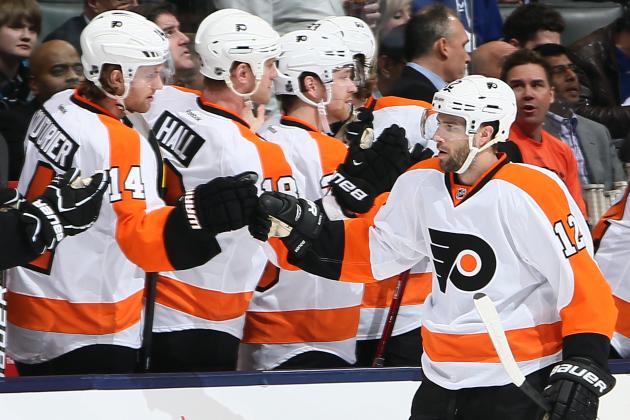 Abelimages/Getty Images

For a non-playoff team, the Philadelphia Flyers really weren't that far away.
The Orange and Black finished just six points back of the New York Islanders for the eighth and final postseason berth in the Eastern Conference and only seven points back of a sixth-place tie between the New York Rangers and Ottawa Senators.
Philly finished the season claiming six of its final seven contests and topped the .500 mark for the only time all year with a 2-1 triumph in Ottawa in the regular-season finale.
In any other year, the Flyers may have righted the ship and made a push in the second half to secure one of the East's eight playoff positions.
Instead, it was too little too late for Philadelphia in the lockout-shortened, 48-game 2013 season.
But a new year isn't far off. And with an 82-game calendar and a refreshed (and recuperated) set of bodies, the Flyers should be poised to compete once again.
Here are the four biggest X-factors for Philadelphia heading into next season.
Begin Slideshow

»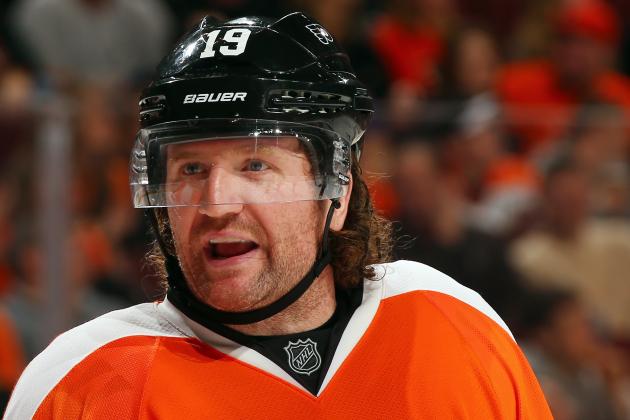 Elsa/Getty Images

Two seasons ago, Scott Hartnell paced all Flyers and finished tied for sixth among all NHLers with a career-high 37 goals.
This past year, however, the Regina, Saskatchewan, native managed just eight goals in an injury-shortened 32 outings.
With varying production like that, Hartnell is the very definition of an X-factor heading into next season.
It's true, injuries forced the rugged power forward to miss 16 of Philly's first 19 games last year, and as a result, Hartnell was never really able to carry the momentum from his breakout 2011-12 campaign into this season.
Even still, once Hartnell did return to the lineup for good, his goal-scoring production was awfully inconsistent. The 6'2', 210-pound forward endured stretches of four, six and eight consecutive games without a goal this past year.
To put that into perspective, after a seven-game scoring drought to kick off the 2011-12 season, Hartnell endured just one stretch of longer than three straight games without a goal during his All-Star campaign two seasons ago.
If he can regain that kind of scoring prowess and chemistry with Claude Giroux, the Flyers will have yet another dangerous offensive weapon on a team already filled with them.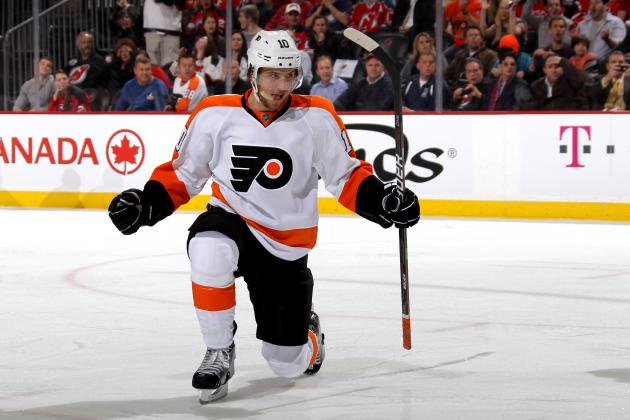 Bruce Bennett/Getty Images

Much was made of Brayden Schenn and Sean Couturier's so-called sophomore slumps.
In all fairness, that isn't exactly a just description of their respective second seasons with the Orange and Black.
After 12 goals and 18 points in 54 games last season, Schenn actually increased his scoring total in fewer games in the lockout-shortened campaign to 26 points in just 47 contests. That's an increase of .20 more points per game in 2013 as compared to his 2011-12 totals.
Schenn's detractors point to his decrease in goals (12 to eight) and the fact that he has yet to reach the lofty expectations that made him the fifth overall pick back in 2009.
Meanwhile, Couturier's early career returns may simply have been a case of excelling sooner than expected.
The eighth overall selection in the 2011 draft stepped right into Philadelphia's lineup two years ago and contributed 27 points in 77 games while proving to be one of the team's top two-way forwards.
After 13 goals in his rookie campaign, Couturier managed just four this past season as an encore while recording just 15 points overall. And while those numbers certainly aren't jumping off the stat sheet, the reality is that Couturier's per-game point production dropped by only .02 points per game from 2011-12 to 2013.
In less than 24 months with the Flyers, both Schenn and Couturier have endured their ups and downs in the City of Brotherly Love.
If Philadelphia is to contend for the Stanley Cup, both will have to develop into difference-makers. If they don't, the Flyers will simply remain among the NHL's middle class.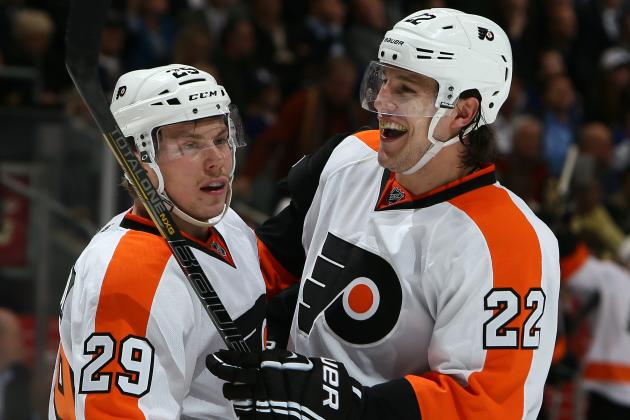 Abelimages/Getty Images

One of the Flyers' most glaring weaknesses last season was the team's defense corps.
Injuries certainly took their toll.
Everyday defenders Braydon Coburn, Nicklas Grossmann and Andrej Meszaros missed 15, 18 and 37 games, respectively.
As a result, depth defensemen like Kent Huskins, Bruno Gervais and Kurtis Foster received regular minutes while youngsters such as Brandon Manning and Oliver Lauridsen were forced into action sooner than anticipated.
But even before injuries derailed the Flyers' defensive scheme, the team was still lacking difference-makers on the back end. The injuries and suspect play this past season just exacerbated the club's issues on defense.
With that, expect Philadelphia to make some adjustments on defense this summer.
The Orange and Black hold the 11th overall pick in the upcoming draft, and all signs point to the club tabbing a defender. Look for names like Rasmus Ristolainen and Darnell Nurse to continue to be bantered about.
Free agency will then offer the Flyers another opportunity to bolster their back end. Veterans like Mark Streit, Ryan Whitney, Jordan Leopold and Douglas Murray are all set to become available and could be targeted to come to Philadelphia.
And then there's Shea Weber.
It seems almost impossible to believe the Nashville Predators can continue to pay Weber through the remainder of his massive 14-year pact inked last summer.
With that, the Preds could be looking for potential trade partners down the road, and the Flyers have always had an interest in Weber.
It seems almost too good to be true to consider Weber donning the orange and black of Philadelphia, but it would certainly be the kind of addition that would take the Flyers' defense corps to another level.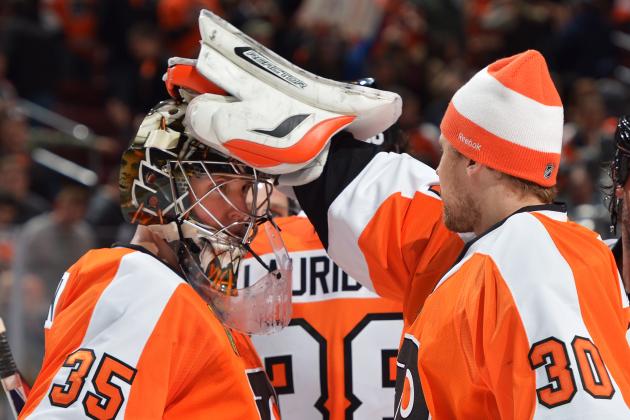 Drew Hallowell/Getty Images

Another year, another set of goaltending questions in Philadelphia.
Ilya Bryzgalov still has seven years remaining on his nine-year, $51 million deal signed two summers ago, but the early returns on Bryzgalov are less than encouraging.
His 2.79 goals-against average this past season was 32nd among all NHL netminders while his .900 save percentage was 39th overall. Not exactly the kinds of numbers befitting a goaltender with a $5.67 million-per-year cap hit.
Still, the enigmatic netminder has shown flashes of brilliance (see March 2012) and will likely continue to be given every opportunity to be the team's top goaltending option based on Philadelphia's massive financial commitment to him.
That said, alternatives are always needed, which is why Philadelphia acquired former Calder Trophy-winning goaltender Steve Mason from the Columbus Blue Jackets at the trade deadline.
And just to complicate matters further, Mason excelled during his late-season stint in Philly.
In just seven appearances with the Orange and Black, Mason produced a 4-2 overall record while compiling a 1.90 goals-against average coupled with a .944 save percentage.
Again, Bryzgalov will be given every opportunity to be the team's No. 1 netminder, but should he falter, look for the Flyers to present Mason with an opportunity to be the club's go-to goaltender.
The problem is, Mason's continued success isn't a sure thing at all.
Following his Calder Trophy campaign in 2008-09, Mason produced three straight seasons thereafter with a goals-against average over 3.00 along with three straight campaigns with a save percentage between .894 and .901. What's more, after notching 10 shutouts during his rookie season, Mason has managed just nine in 178 appearances since.
The truth is, the Flyers have a pair of question marks in goal.
Should either, or both, find their way, Philadelphia could have one of the strongest goaltending tandems in the entire league.
If both falter, though, the Flyers could be right back where they are today.