Stock Up, Stock Down for Chicago White Sox's Top 10 Prospects for Week of June 3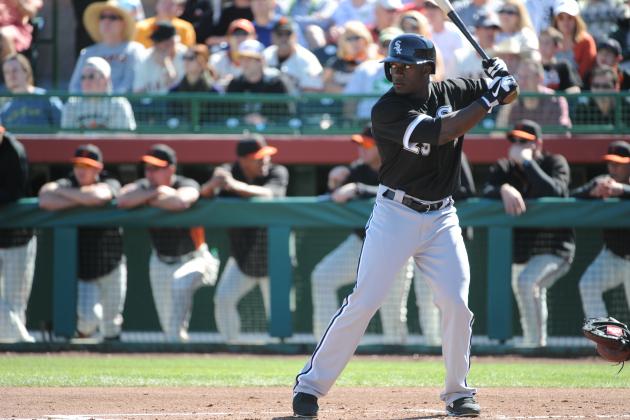 Rich Pilling/Getty Images
Jared Mitchell is still trying to find a swing that works.
The Chicago White Sox farm system received a major infusion of talent this past week thanks to the 2013 first-year player draft.
Headlined by shortstop Tim Anderson, starting pitcher Tyler Danish and outfielder Jacob May, the White Sox addressed direct needs and shored up areas of supposed strength.
How did the top 10 prospects already in the organization do last week, though?
As always, the results were mixed.
Here is the stock up/stock down report for Baseball America's top 10 White Sox prospects for the week of June 3-10.
Statistics courtesy of MiLB.com unless otherwise noted.
Begin Slideshow

»
2013 Stats
12 GS, 6-6, 2.79 ERA, 26 BB, 37 K, 71.0 IP
Overview
Chris Beck had an outstanding start against the Wilmington Blue Rocks last Friday.
Beck pitched just "the second complete game shutout in the Dash era," according to the Dash's team Twitter feed. As a result of his dominating performance, he lowered his ERA to 2.79.
Most impressively, he did not walk a batter for just the second time this season. When Beck is at his best, he controls the count.
Now, his shutout came on the heels of a 6.0 IP, 4 ER, 3 BB performance the last time out, so he needs to work on his consistency a bit.
Overall, Beck must focus on keeping his pitch count down, pounding the strike zone and limiting the number of walks he issues.
Last Week's Stats
1 GS, 1-0, 0.00 ERA, 0 BB, 7 K, 9.0 IP
Stock
Up
2013 Stats
.140/.298/.202, 2 2B, 1 HR, 6 RBI, 14 R
Overview
Jared Mitchell has had a rough go of it all season.
Mitchell opened the season with the Triple-A Charlotte Knights, but was demoted after hitting a meager .132 in 53 at-bats. Unfortunately, he is not doing much better with the Barons.
Alarmingly, Mitchell has only collected 23 total bases all year. With his speed, extra-base hits must become more commonplace for him to advance any further.
Although his defense continues to be a plus, the left-handed hitter has shown little life offensively, and he only collected one hit last week.
Last Week's Stats
1-for-15, 2 RBI, 4 BB, 6 K
Stock
Down
2013 Stats
None
Overview
Keon Barnum is currently on the disabled list, although his return may not be too far off.
BaseballAmerica.com's Mark Gonzales elaborated towards the end of May (subscription required):
Chicago's supplemental first round pick in the 2012 draft. After missing the final four weeks of spring training because of a hamate bone fracture, Barnum suffered a knee strain shortly before he was scheduled to report to low Class-A Kannapolis. He was expected to resume playing around mid-June.
Many are looking forward to seeing Barnum after such an extended absence.
Last Week's Stats
None
Stock
Static
2013 Stats
12 GS, 6-3, 6.02 ERA, 27 BB, 55 K, 58.1 IP
Overview
Andre Rienzo was very effective in the 6.0 innings he pitched against the Pawtucket Red Sox last week.
He has had his share of problems the rest of the season, however. Over his last 10 starts, Rienzo has given up at least four earned runs on four occasions, and he has a .274 batting average against.
Much was expected of him when the season began, but he has failed to find any type of consistency. Based on Rienzo's start last week, his stock is rising. Overall, though, it is rapidly fading.
Last Week's Stats
1 GS, 1-0, 0.00 ERA, 2 BB, 7 K
Stock
Up
2013 Stats
12 GS, 7-4, 4.64 ERA, 25 BB, 41 K, 71.1 IP
Overview
Scott Snodgress had a rather disappointing start the last time out as his self-imposed enemies got the better of him.
White Sox pitching coach Don Cooper knows all about them.
"With Snodgress, it's being consistent with the curveball for strikes and continued changeup development," Cooper told Daryl Van Schouwen from the Chicago Sun Times during spring training.
So far, the results of his efforts have been mixed.
Over his last 10 starts, Snodgress has given up two earned runs or fewer five times, yet has allowed four or more on three occasions. It is all quite frustrating.
Consistency will be the key moving forward.
Last Week's Stats
1 GS, 0-1, 9.00 ERA, 1 BB, 4 K, 5.0 IP
Stock
Down
2013 Stats
.210/.325/.276, 5 2B, 3 3B, 28 BB, 69 K
Overview
Keenyn Walker, a 2011 first-rounder, has improved dramatically over the last week.
Walker was much more selective at the plate over the last seven days, and the results speak for themselves.
He had his highest weekly hit output of the season and only struck out four times. Since plate discipline has been his greatest area of opportunity at each level, only striking out four times is quite the accomplishment.
Walker has always been able to get on base via the walk, but has had a hard time making contact with off-speed pitches out of the zone.
With incredible speed, Walker is a force when he gets on base.
Last Week's Stats
7-for-20, 1 RBI, 4 BB, 4 K
Stock
Up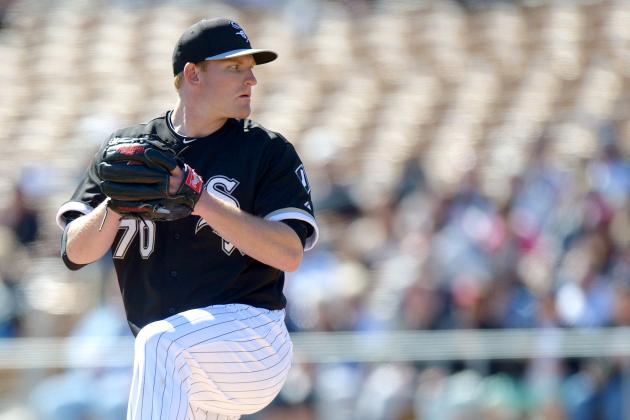 Jake Roth-USA TODAY Sports
Erik Johnson is having, by far, the best season among White Sox pitching prospects.
2013 Stats
12 GS, 6-2, 2.53 ERA, 16 BB, 65 K, 74.2 IP
Overview
Erik Johnson is on the fast track to the 25-man roster.
He is 5-2 with a 2.86 ERA over his last 10 starts and shows no real sign of slowing down. His most recent start was the exception to the rule.
A control pitcher who uses his changeup quite effectively, Johnson rarely allows more than one or two walks in any given contest. That control has helped him compile a rather impressive 0.938 WHIP this season, according to Baseball-Reference.com.
With the pitching staff in the majors in a seemingly constant state of flux, the odds are that Johnson will be on the active roster before it is expanded in September.
Last Week's Stats
1 GS, 1-0, 5.14 ERA, 1 BB, 1K, 7.0 IP
Stock
Up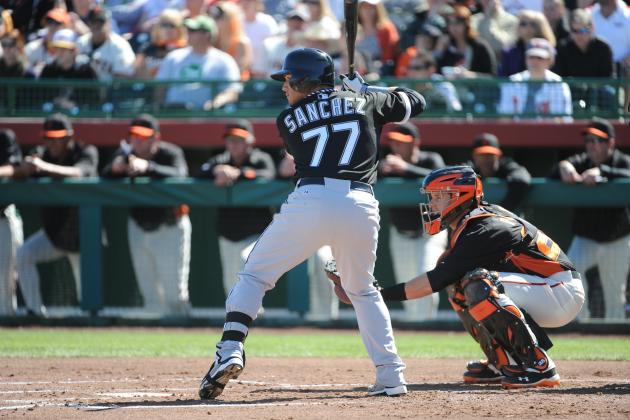 Rich Pilling/Getty Images
Sanchez turned some heads last year with his stellar play.
2013 Stats
.230/.293/.278, 8 2B, 1 3B, 16 RBI, 14 R, 18 BB, 38 K
Overview
Carlos Sanchez is going the wrong way.
The saga is well known. Sanchez rapidly advanced through the minor leagues last year, then put up excellent numbers in winter ball and impressed during spring training, yet faltered once the 2013 season began.
The opportunity for him to become a regular contributor at the major league level is real. He needs to take advantage of it, though, and that starts by stringing together one or two weeks of solid play.
Two weeks ago, Sanchez was 5-for-16 with six runs scored and two doubles. This past week was a train wreck.
Last Week's Stats
3-for-21, 1 R, 1 BB, 6 K
Stock
Down
2013 Stats
.241/.365/.382, 11 2B, 2 3B, 5 HR, 31 RBI, 37 BB, 59 K, 10 SB
Overview
Trayce Thompson is slowly improving his overall metrics.
After a very slow start, Thompson has significantly cut down on his strikeout totals and continues to get on base at a very nice clip.
He is a five-tool player who can spray the ball to all fields, yet seemed to focus only on pulling the ball. As a result, his overall production was quite poor. It appears that he got away from that a bit this past week.
He hasn't really done enough to maintain his No. 2 prospect ranking, but may be turning a corner.
Last Week's Stats
5-for-18, 2 2B, 3 RBI, 3 BB, 4 K
Stock
Up
2013 Stats
.211/.280/.575, 5 2B, 11 HR, 29 RBI, 8 BB, 58 K
Overview
Courtney Hawkins opened the season as the No. 68 prospect according to MLB.com.
Until last week, though, he had done little to justify it.
Hawkins may have had the game of his young career last Wednesday.
The Dash cruise to a 12-5 win tonight in Salem behind an 8-run 1st inning and a 2-HR, 5-RBI night from Courtney Hawkins. W-S now 1 GB of 1st

— Winston-Salem Dash (@WSDashBaseball) June 5, 2013
If there is one thing holding Hawkins back, it is his discipline at the dish. He has already recorded 58 strikeouts and has only walked eight times. He simply must improve those metrics.
Hawkins is very young and has plenty of time to grow, but the onus is on him to make that happen.
Last Week's Stats
9-for-26, 3 2B, 4 HR, 11 RBI
Stock
Up
Follow @MatthewSmithBR