NY Yankees: Stock Up, Stock Down for Yankees' Top 10 Prospects for Week 10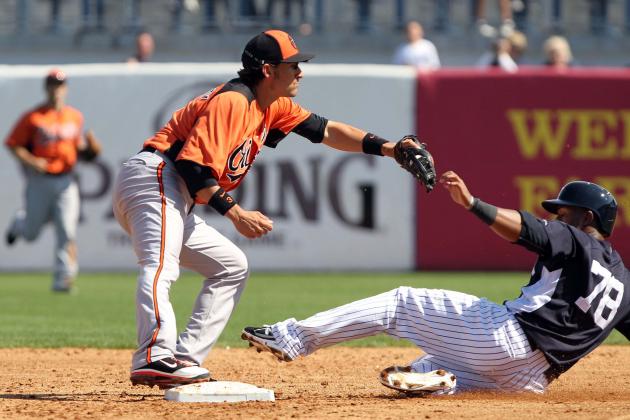 Kim Klement-USA TODAY Sports

As the New York Yankees continue to grind on towards the All-Star break, their farm system is beginning to see some success.
Four players, two of whom are in this top 10 list, were selected to all-star games for their first-half performances.
Right-hander Rafael De Paula, who is a starter for the Charleston Riverdogs, and Gary Sanchez, who catches for the Tampa Yankees, were both selected to their leagues' all-star rosters.
This kind of news gives the New York front office some peace of mind, knowing that some of their young players are showing their abilities.
With the the voting hasn't finished for the Double-A and Triple-A All-Star Games, you're likely to see a few more names from this list on all-star rosters.
This past week has brought some change to the ranking and order of the list.
Let's check out how some of the Yankees' best young stars did last week.
All stats taken from MiLB.com, unless otherwise indicated, and are current as of June 9, 2013.
Begin Slideshow

»
2013 Stats: 12 GS, 6 W, 2.43 ERA, 3 HR, 22 BB, 91 K
Overview: Rafael De Paula has continued to show week to week that he is a power pitcher.
The 22-year-old started one game last week, going five innings and giving up one earned run.
Even though De Paula give up only one run, he was given a no-decision in last Friday's game.
What De Paula did pick up was eight more strikeouts and no walks—the type of numbers he has been putting up all season.
De Paula's stock rises once again this week because aside from giving up one solo home run, he had a strong outing.
Last Week's Stats: 1 G, 1.80 ERA, 5 IP, 3 H, 1 ER, 8 K
Stock: Up
2013 Stats: 56 G, .221 BA, 7 2B, 4 HR, 55 K, .613 OPS
Overview: After two weeks of solid baseball, Dante Bichette fell back into a struggling young hitter this past week.
Bichette only had one hit last week and struck out four times.
Although he only played in four games last week, one hit simply doesn't cut it.
Bichette has been more of a power hitter this season, and it simply wasn't there this week,
He'll need to pick it up again next week.
Last Week's Stats: 4 G, .071 BA, 1 H, 1 2B, 2 RBI, 4 K
Stock: Down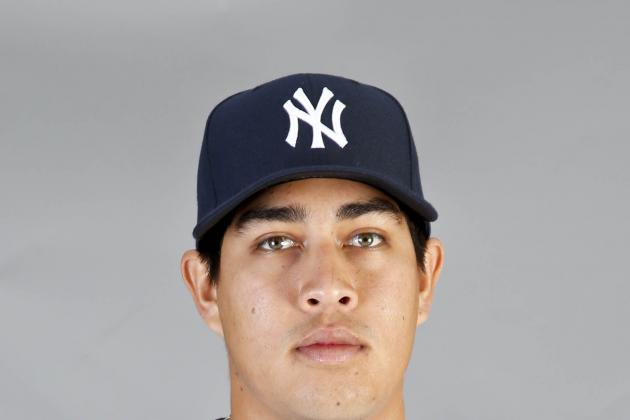 Derick E. Hingle-USA TODAY Sports

2013 Stats: 60 G, .243 BA, 10 2B, 27 RBI, 51 K, 4 SB
Overview: Last week was a mix of hot and cold at the plate for Ramon Flores.
The Trenton left-fielder had hits in only three of his six games last week.
Flores' season average remained steady at .243 again this week, showing that his week wasn't great but wasn't awful either.
What wasn't good last week for Flores were his six strikeouts, including two against Richmond on Saturday.
Flores isn't the Yankees' best outfield prospect, but he is still very capable of putting up better numbers.
Last Week's Stats: 6 G, 4 H, 1 2B, 2 RBI, 5 BB
Stock: Even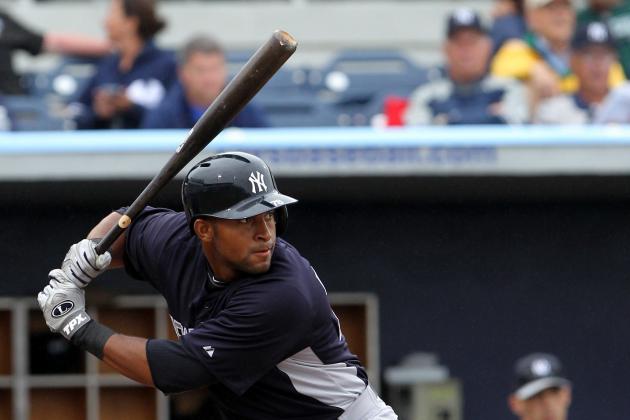 Kim Klement-USA TODAY Sports

2013 Stats: 60 G, .273 BA, 11 2B, 6 HR, 34 RBI, 46 K, .772 OPS
Overview: Zoilo Almonte wasn't able to put up monster numbers again last week.
The center fielder struggled throughout the week, picking up only five hits and striking out seven times.
Almonte didn't put up many numbers; he had no RBI and no extra-base hits.
This kind of week isn't something that Almonte has grown accustomed to, and, frankly, I don't think this is a sign that he will continue to deviate from a solid season.
Almonte has been the most productive outfielder on this list all season, and that won't be changing in the near future.
Last Week's Stats: 7 G, 5 H, 3 R, 7 K, 2 BB
Stock: Even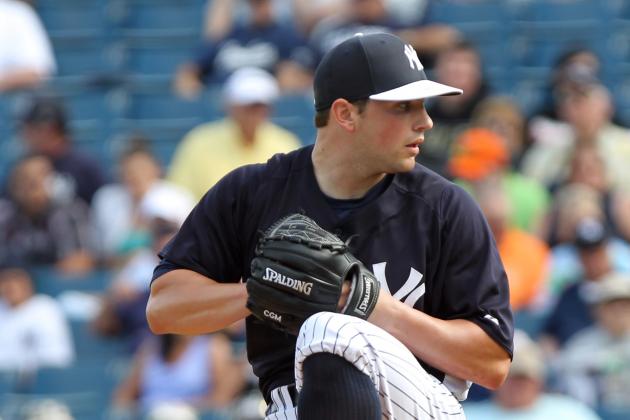 Kim Klement-USA TODAY Sports

2013 Stats: 18 G, 3.00 ERA, 30 IP, 29 H, 36 K, 20 BB
Overview: Once again, Mark Montgomery wasn't able to put together two solid outings.
The reliever gave up three earned runs in two innings of work last Monday against Durham.
Montgomery then pitched a nearly perfect inning last Friday against Syracuse, walking only one hitter and giving up no hits or runs.
It simply hasn't been smooth sailing for the 22-year-old right-hander, who has had at least one bad outing paired with a few good ones the past three weeks.
Montgomery started off the season dominant, but has since regressed into an inconsistent relief option out of the bullpen.
The Yankees need Montgomery to get back on track this season, especially with Mariano Rivera retiring and Joba Chamberlain's contract expiring at the end of the year.
Last Week's Stats: 2 G, 3.0 IP, 3 H, 3 ER, 2 K, 3 BB
Stock: Down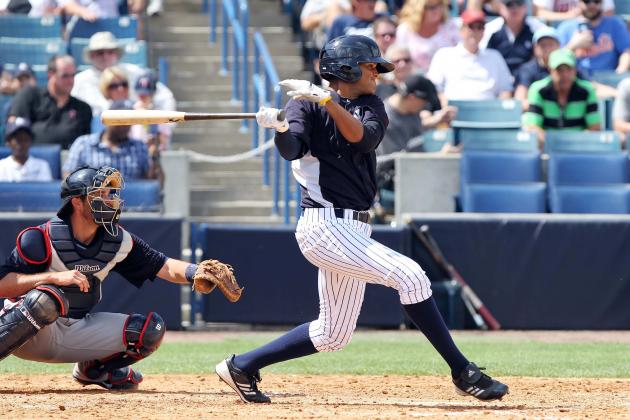 Kim Klement-USA TODAY Sports

2013 Stats: 55 G, .240 BA, 2 HR, 14 RBI, 11 2B, .333 OBP, .665 OPS
Overview: Last week was nothing special for Mason Williams.
Although the outfielder had two multi-hit games, he did little else for most of the week.
Williams' big game came last Tuesday, with a three-hit performance in which he picked up two doubles and scored a run.
But, again, Williams has been less than great, and his continued mediocrity again this week is the main reason behind him dropping in the rankings.
Williams is a great athlete, but he has yet to show that he deserves to be the top-ranked outfielder in this organization.
Last Week's Stats: 6 G, 6 H, 2 2B, 2 K
Stock: Down
2013 Stats: 31 G, .239 BA, 10 2B, 4 BB, 24 K, 5 SB
Overview: Infielder Angelo Gumbs continues to build up solid weeks after coming off a hand injury.
This past week, Gumbs had three consecutive multi-hit games, collecting three doubles through those three games.
Gumbs proceeded to cool off towards the end of last week, ending it with a Sunday doubleheader and going 0-for-6 with three strikeouts.
Even though, towards the end of the week, Gumbs cooled off, it didn't detract from his strong performances throughout most of the week.
The 20-year-old is continuing to improve week to week, and he is starting to look like a bit of a sleeper in this farm system.
Yes, he is in the top 10 list, but few people know much about Gumbs. If he keeps getting better week to week like he has recently, that may change.
Last Week's Stats: 7 G, 8 H, 3 RBI, 4 K, 4 2B
Stock: Up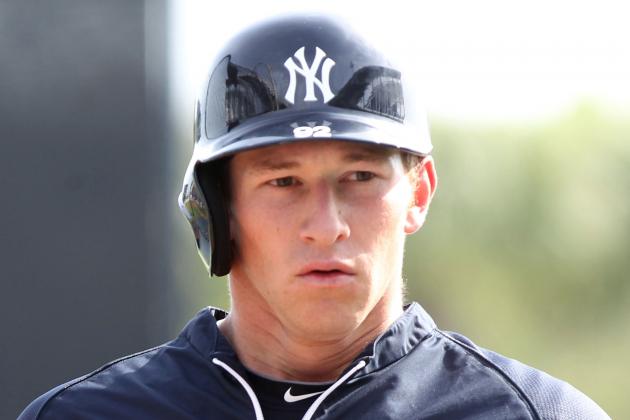 Kim Klement-USA TODAY Sports

2013 Stats: 52 G, .241 BA, 8 2B, 29 RBI, 56 K, 5 SB
Overview: Slade Heathcott came into last week hot and continued it through Wednesday.
Then the outfielder got ice cold, not picking up another hit until Sunday and hitting safely in only three of his six games.
This is down from his past two weeks at the plate, when he was far more productive.
Still, Heathcott fought back this week and picked up a hit yesterday, preventing a four-game no-hit streak.
Overall, it wasn't a great week for Heathcott, but he still put up decent numbers.
Last Week's Stats: 6 G, 4 H, 1 3B, 3 RBI, 5 K
Stock: Even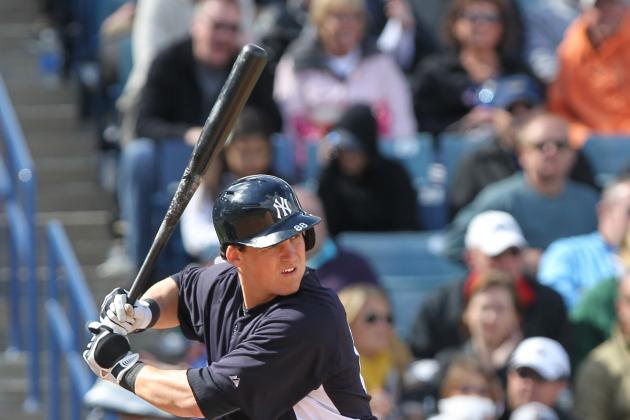 Kim Klement-USA TODAY Sports

2013 Stats: 56 G, .270 BA, 13 2B, 5 HR, 34 RBI, 53 K, .774 OPS
Overview: Finally Tyler Austin woke up at the plate.
Austin tore the cover off the ball this week, picking up seven hits in four games and adding two three-hit games.
The 21-year-old started off the week going 0-for-4 on Tuesday, but then exploded in his next three games.
Austin only picked up two RBI and two doubles, but he still was constantly on base and putting the ball in play.
It's great news for both Austin and the Yankees that he is getting back to being a strong hitter.
It was a very strong week for the right fielder in Double-A Trenton.
Last Week's Stats: 4 G, 7 H, 2 2B, 2 RBI, 2 K
Stock: Up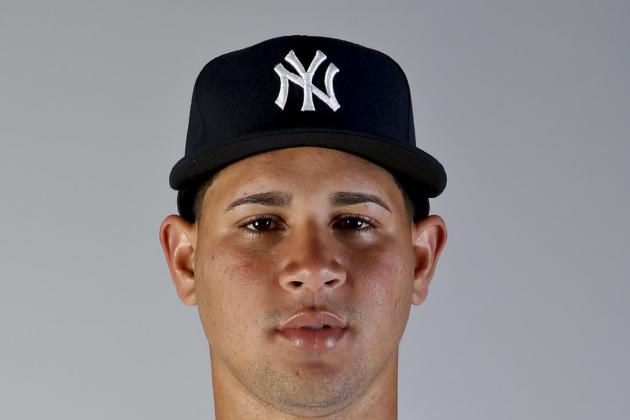 Derick E. Hingle-USA TODAY Sports

2013 Stats: 53 G, .278 BA, 15 2B, 9 HR, 41 RBI, 37 K, .822 OPS
Overview: Gary Sanchez had another solid week in Single-A Tampa.
The young catcher hit safely in four of his five games and picked up three doubles on the week.
Sanchez also did not strike out in 18 plate appearances last week—showing exactly where he is in terms of plate maturity.
In fact, throughout the season, Sanchez has only 37 strikeouts in 209 at-bats.
This past week, even though statistically it was relatively quiet, was another example of why Sanchez needs to be moved up to Double-A.
He has the skills to be an elite hitter, and the only way for him to get better is to see better pitching.
Last Week's Stats: 5 G, 5 H, 3 2B, 0 K, 2 RBI
Stock: Up