Miami Football: 5 Biggest Challenges for Hurricanes' OC James Coley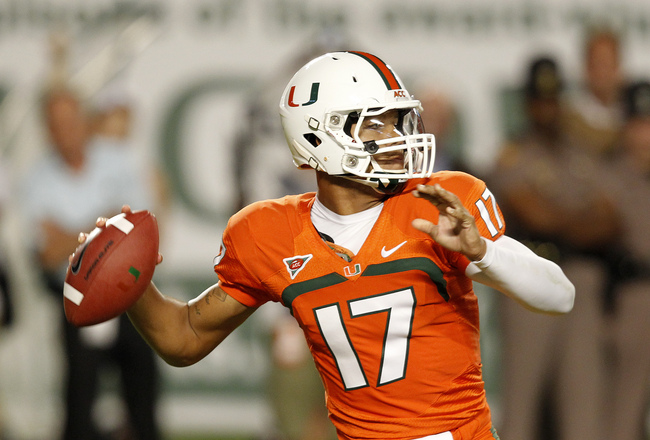 Joel Auerbach/Getty Images
The University of Miami Hurricanes have a plethora of talent coming back on the offensive side of the football this fall. The only offensive starter missing from last year's 7-5 team will be running back Mike James.
Miami welcomed a new offensive coordinator in Florida State's James Coley in January and he is expected to help the 'Canes improve an already-gifted offensive unit.
However, even with all of their returning players on offense, there are still some challenges Coley will endure this season. Here are five such hurdles that could make or break the Hurricanes' season.
Play-Calling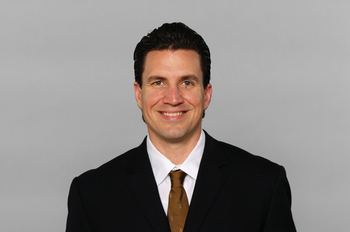 Getty Images/Getty Images
How can play-calling be a big challenge for Hurricanes new offensive coordinator James Coley? Easily, Coley hasn't called a play since 2007 when he was the OC for Florida International.
Yes, he was the offensive coordinator at FSU the last three years, but the play-calling on game day was run by head coach Jimbo Fisher. Coley's job for the Seminoles was to get his players familiar with the plays during the week.
This season, Coley will have complete control of the Hurricances' offense.
Having the Right Personnel on the Field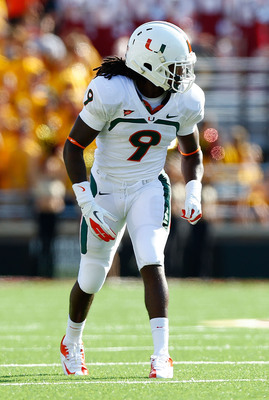 Jared Wickerham/Getty Images
If there is one thing this year that the Miami Hurricanes have it's depth on offense. From the offensive line to the wide receivers, the Hurricanes are loaded with very talented players.
It may seem like a good problem to have, but being James Coley's first year at Miami, he has just a few months to understand each player's strengths and weaknesses.
The biggest problem will be on what wide receiver to play. The Hurricanes are stacked with talented wideouts and it will be very difficult for Coley to pick the right ones to play during certain times.
It will be interesting to see what personnel Coley and head coach Al Golden choose throughout the season.
When to Open It Up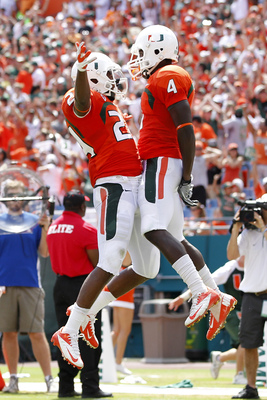 Joel Auerbach/Getty Images
Last season, the Hurricanes' offense averaged 440 yards per game to rank No. 37 out of 120 NCAA teams in the country. I honestly believe this Hurricanes team can surpass the 500-yard mark this season.
The reason I say that is because I do not believe the Miami defense will be able to improve from last year's dismal unit. That is not to say that the Hurricanes' defense is going to be as bad, but I do believe it will not be a great defense.
What that will allow the offense to do is open it up, much like Miami did against most teams last season. That means James Coley will need to understand when will be the right times to attack in games.
Be Careful with Duke Johnson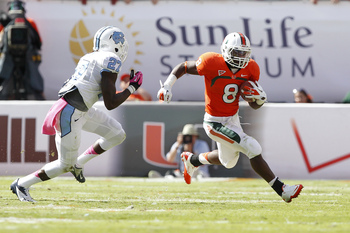 Joel Auerbach/Getty Images
Although it is clear that Miami's Duke Johnson is the best running back the Hurricanes have had in years, James Coley and the rest of the coaches need to use him wisely this upcoming season.
Duke is a true sophomore and is on the smaller-side (5'9", 194 pounds) compared to running back standards these days.
There is no doubt Duke starts every game he is in this season, but it may be wise to limit Duke on special teams. It sounds crazy, but there is no way he should be returning kicks and starting every game at running back.
Duke is the best playmaker the 'Canes have and if they indeed plan to use him to return kicks again this season, Coley and company will need to limit his touches in the backfield.
Duke single-handily makes the Hurricanes' offense the most dangerous group in the ACC. Coley has to understand that over-using him will only hinder his performance down the stretch.
Putting Up Points Against Good Teams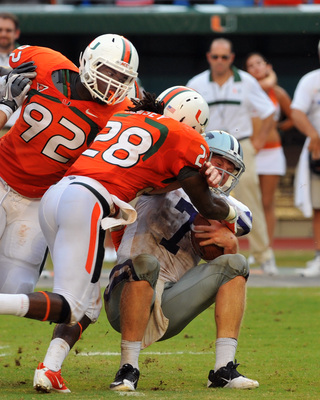 Al Messerschmidt/Getty Images
Last season, the Hurricanes averaged 41 points in their seven victories. In their five losses, the 'Canes scored just 18 points per game.
In losses to Kansas State and Notre Dame, the Hurricanes were only able to score a total of 16 points. Granted, the Wildcats and the Irish both finished in the top 12 in the country, but there is no way their defense was good enough to hold the high-powered 'Canes to season lows.
Yes, the Miami defense was horrible in both games, but the offense was just as bad. Against Kansas State, the offensive line couldn't get any holes open for the running backs as Miami finished with just 40 yards on 29 carries.
Against Notre Dame, the Miami wide receivers forgot how to catch a football, not allowing quarterback Stephen Morris to get into any type of groove. Morris finished completing just 18 of 35 passes against the Irish.
This season, the Hurricanes will have to go up against one of the best defenses in the country in the Florida Gators in the second week of the season.
James Coley will have to call a much better game than last year's OC (Jedd Fisch) did against better competition or we may see the makings of another 7-5 season.
Keep Reading

Miami Hurricanes Football: Like this team?