Green Bay Packers: 8 Players Who Have Turned Heads During Offseason Workouts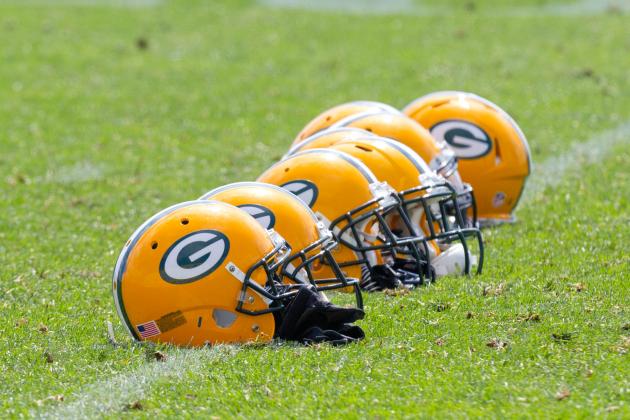 Jeff Hanisch-USA TODAY Sports

The coaching staff of the Green Bay Packers have had a number of opportunities to look at the players so far this offseason. The team has had a rookie minicamp, a mandatory minicamp for all players and two sets of OTAs (organized team activities).
The Packers will have their final set of OTAs starting on Tuesday, June 11, which will run through the 14th, and after that comes the big test to impress the coaches. That would be training camp, which starts on July 26th.
So far, a number of players have been impressive in the workouts the team has had. There have also been a number of things seen on the field which would make you turn your head at first glance.
Things like seeing Bryan Bulaga at left tackle now, or seeing Mike Neal playing outside linebacker.
Remember though, all of these workouts are just in shorts. The big exam will come in training camp when the pads come on and the hitting is for real.
I'm going to name eight players who have definitely turned some heads so far in workouts this offseason for the Packers.
Begin Slideshow

»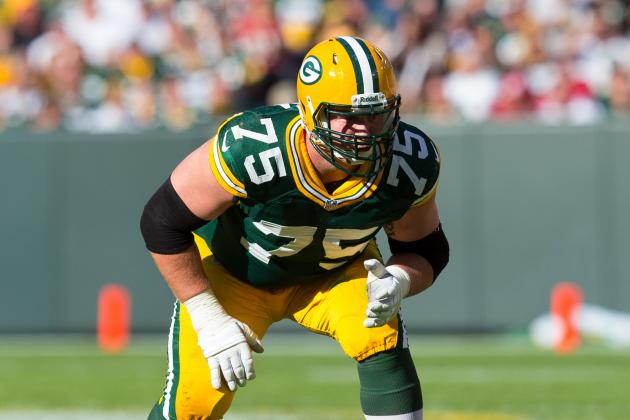 Jeff Hanisch-USA TODAY Sports

The coaching staff made a big decision this offseason when they decided to move both offensive tackle Bryan Bulaga and guard Josh Sitton from the right side of the offensive line to the left.
The change is not as dynamic as one might think, especially for Bulaga, as he was an All-American at left tackle at Iowa. That was one of the reasons the Packers drafted him in the first round of the 2010 NFL draft.
The plan was for Bulaga to become the heir apparent at left tackle behind aging and often-injured Chad Clifton. But then right tackle Mark Tauscher suffered a season-ending shoulder injury in 2010, and Bulaga became the starting right tackle as a rookie.
Bulaga started 12 games that year at right tackle, and then all four postseason games, as the Packers won Super Bowl XLV.
But now Bulaga is once again a left tackle, and he welcomes that chance, as he explained on Packers.com:
I was excited when I heard from coach McCarthy that a switch was going to be made and I'm grateful for the opportunity.
Bulaga is glad that Sitton is making the change with him.
I've been playing next to Josh every snap since I've been here and it's comfortable having him over there. We are kind of both going through the same transition. It's good to have him and we're learning together and trying to get in sync on the left side like we were on the right side. It's going to be a process, but it's a good start with these OTAs just so we can bounce back into it and gradually get where we need to be.
Bottom line, Bulaga and Sitton are the two best offensive linemen that the Packers have, and it makes perfect sense that they would utilize these two players on the left side of the offensive line. Why? To protect the blind side of quarterback Aaron Rodgers, who just happens to be the cornerstone of the franchise.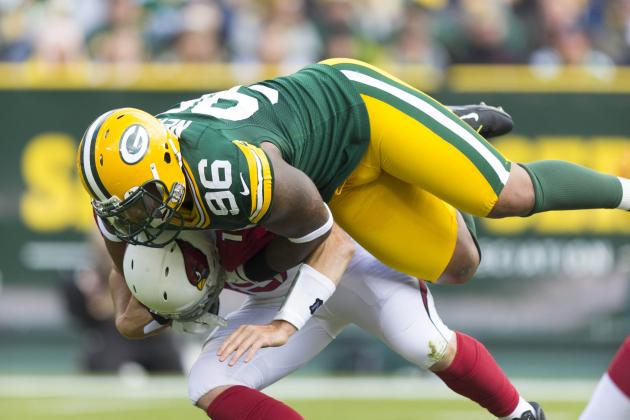 Jeff Hanisch-USA TODAY Sports

There was definitely some head scratching going on when onlookers saw 6'3", 294-pound Mike Neal playing outside linebacker at some of the workouts. Neal normally plays on the defensive line, and the 2012 season was a breakthrough year for him after beginning the year with a four-game suspension for violating the league's policy on performance-enhancing drugs.
Neal looks like he has dropped some weight this offseason, as he looks leaner.
Neal had 4.5 sacks last season, and also had a number of other pressures on the opposing quarterback. Neal helped the Packers improve to fourth in the NFL in sacks (47), compared to 27th in 2011 (29). His presence also helped Clay Matthews to get more opportunities to sack the quarterback.
Neal played in more games last season for the Packers (11) than he did in his first two injury-riddled seasons (nine) combined. Neal had a shoulder injury in his rookie year of 2010 and then a knee injury in 2011.
Head coach Mike McCarthy talked about expanding the visibility of Neal in the defense of the Packers via Packers.com:
Depends on how you use big guys in space. We're going to expand Mike Neal's role. We are going to wait on specifics until Week 1 of the season.
Neal also discussed why he could make the transition via Packers.com:
I'm light enough to play outside linebacker. I have lost a little bit. It's a big chunk of weight; I don't want to disclose it because I don't want people to say, "He's going to get out there or move inside."
Neal sees this chance to expand his role as a definite sign of respect from the coaches:
I think they're just trying to realize what I do best. I've always looked at myself as a defensive lineman, but I've always felt that I was athletic enough that I could move like a linebacker. I just look at myself as a question mark right now. Where are they going to use me? But it's a compliment and a positive thing and that's how I look at it.
Bottom line, the Packers will use Neal both as a defensive lineman and as a outside linebacker. It will depend on the opponent and the scheme they run, as well as what the down and distance is on the particular play. It's a case of simply putting your best players in a situation where they can be successful.
It's also some out of the box thinking by defensive coordinator Dom Capers, as well at outside linebackers coach Kevin Greene.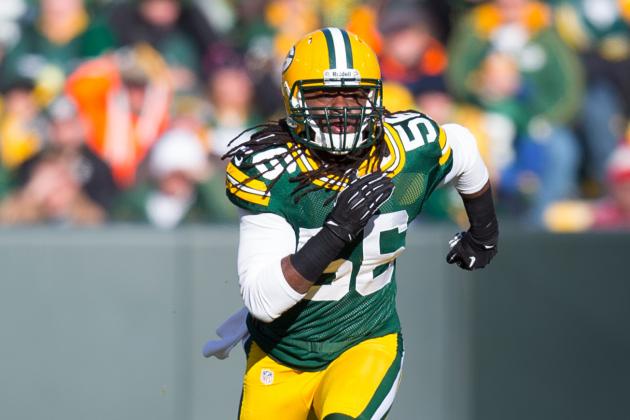 Jeff Hanisch-USA TODAY Sports

Terrell Manning has an opportunity in his second season with the Packers to make some real noise at inside linebacker. When it's all said and done, don't be surprised if you see Manning on the field quite often.
In his rookie year, Manning suffered a stomach virus that lingered through training camp. In fact, the former star at North Carolina State lost 15 pounds due to the parasite that invaded his body. Basically, because of that, Manning's rookie year was a wash-out as he only played in five games.
The door is open at the inside linebacker position this year for somebody like Manning to walk through. Starter A.J. Hawk is still in Green Bay, but he had to take a pay cut to be allowed back in 2013. There were also trade rumors during the 2013 NFL draft about the Packers moving Desmond Bishop, who missed all of last season because a hamstring tear.
That situation gives players like Brad Jones, who was re-signed as an unrestricted free agent, and Manning an opportunity to leave their mark this year at inside linebacker.
Manning certainly has the athletic ability to be a real playmaker at the position. At North Carolina State, Manning had 193 tackles, 27.5 tackles for a loss, 10 sacks and five interceptions during his career in Raleigh.
The former member of the Wolfpack looks ready to make the next step so far this offseason. Expect to see him on passing downs more times than not because of his coverage ability, and also due to his skill in blitzing.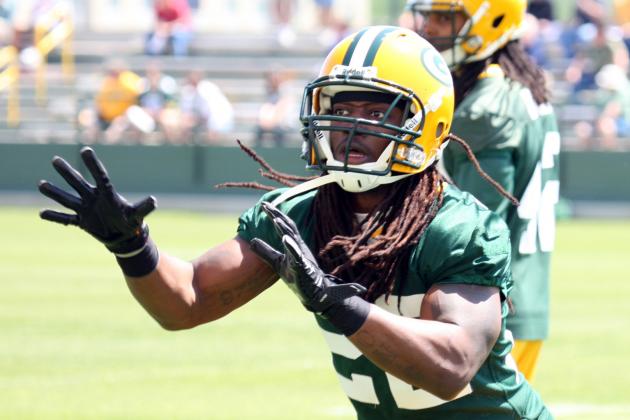 Mary Langenfeld-USA TODAY Sports

Jerron McMillian is confident he can be an impact players for the Packers, as he explained via Packers.com:
I think I can do a lot more than just play the run and the pass. I can line up in the slot. I capable of doing that too. To be able to play this game, 17 weeks, you have to be consistent throughout. Right now I'm looking at the bad things that I can improve, along with the good things that I've done.
In 2012, McMillian played in all 16 games and had 27 tackles, one interception, defended six passes and had one fumble recovery.
McMillian has stood out at times this offseason, as he certainly looks much more comfortable in executing his assignment.
The former star at Maine will be competing primarily with M.D. Jennings for the safety spot opposite of Morgan Burnett. Jennings played in 16 games last year and had 10 starts at safety after Charles Woodson went down with a collarbone injury.
Jennings had 52 tackles and one interception for a touchdown.
But McMillian is a better tackler than Jennings, plus has the ability to stick his nose near the line of scrimmage because of his physical nature in stopping the run.
It's also obvious that McMillian is improving his coverage skills this offseason. That will only help the second-year safety take hold of the second starting safety job.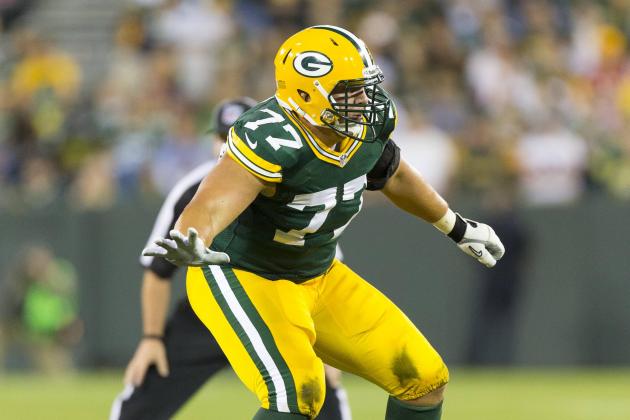 Jeff Hanisch-USA TODAY Sports

Second-year player Andrew Datko looks like an offensive linemen in the NFL is supposed to look this offseason with the Packers. He looks stronger and much more confident.
Last season, after Datko was drafted in the seventh round, the former Florida State Seminole looked unsure of himself during drills at both left and right tackle in training camp.
The reason? Datko was still not completely healed due to the shoulder injuries he had suffered at FSU, starting in his junior year. The result? The Packers ended up placing Datko on their practice squad.
Datko has taken that opportunity to spend time with the training staff and in the weight room. The new found confidence is obvious, as Datko explained in a piece done by Tom Silverstein of the Milwaukee Journal Sentinel.
You have to be healthy in mind before you go out there, so when you come back that mind has to be right. You see what people with ACLs, they favor the leg when they come back. It's really another process to come back from an injury. It's like what (Chicago Bulls guard) Derrick Rose went through. You might be healthy, but you might still be favoring it. Trust in your injury repair is another step in the process. I've knocked that out.
Before his shoulder woes occurred in Tallahassee, Datko was considered a possible first-day prospect by most scouts, and a definite second-day prospect.
Right now, Datko is looking like that type of player. Time will tell if that progress will continue once the pads come on and the physical pounding starts taking place in training camp.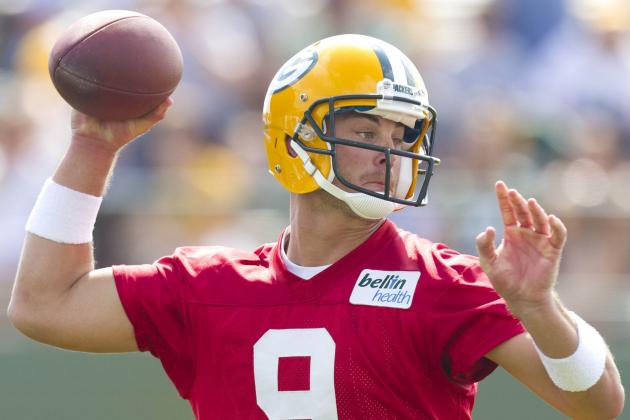 Jeff Hanisch-USA TODAY Sports

B.J. Coleman looked like a changed quarterback during the rookie minicamp for the Packers, which also had second-year players as part of the camp. Coleman looked much more confident in the offense, and he also got his head coach to notice, as Mike McCarthy explained via Packers.com.
What I had to see from B.J. is him [having] looked like he'd been here for a year, be in charge of the drills and be productive. And that was evident in all three practices. Now there's a couple things that he'll learn from. Actually, I was talking to B.J. coming off the field about a particular play in the final team period. So he's got ability. There's just some things that he's done in the past and the way he's played the position that are total opposite of the way he's being taught, so we got to get that part figured out. But I think he's definitely making a lot of progress.
Like his fellow seventh-round draft pick teammate Andrew Datko, Coleman spent all of the 2012 season on the practice squad.
It looks like spending time in the film room and by being a student in the Packers' quarterback school is paying dividends for the former Tennessee-Chattanooga star.
Coleman has a real opportunity to take over as the main backup to Aaron Rodgers this year, as he competes with Graham Harrell for that job.
The strong-armed Coleman has better mobility than Harrell, and there is no question about who has the better arm.
The proof will be in the pudding though, as Coleman has to prove himself in training camp and in preseason games on whether he can be trusted to hold down the fort if Rodgers wouldn't be able to play for some reason.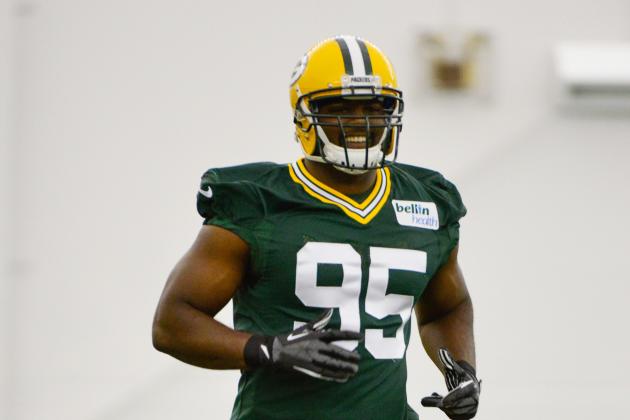 Benny Sieu-USA TODAY Sports

I know I wasn't shocked when the Packers selected Datone Jones in the first round of the 2013 NFL draft. In fact, I called it. To me, Jones has the perfect skill-set the Packers were looking for at defensive end.
Jones excels in stopping the run, especially against teams who utilize the read-option. During his senior year at UCLA, Jones had 62 tackles, a whopping 19 tackles for a loss and 6.5 sacks.
Jones is very quick at the snap, and he found out that particular skill can cause frustration for his opponent, as he and left tackle Bryan Bulaga got into a bit of a skirmish after one of the pass-rushing drills. Jones explained via Packers.com:
Guys get pushy. Me and him going against each other, that's going to happen. Him being a vet and me being a rookie and me being drafted high. He's a competitor just like I am. He showed me a lot at practice and we talked it out. There were no hard feelings.
Jones looks to be a three-down player for the Packers, as he hasn't done anything so far this offseason to disprove that notion.
Jones will help both with stopping the run and in rushing the passer. On passing downs, expect to see Jones, along with Clay Matthews, Nick Perry and Mike Neal, bringing a lot of pressure to the opposing quarterback.
Getting a sack would be nice, but causing a turnover (either via fumble or interception) is the ultimate goal.
I expect to see the sack total go up for the Packers in 2013, as well as the amount of turnovers they cause.
Jones will be a big reason why those stats will improve.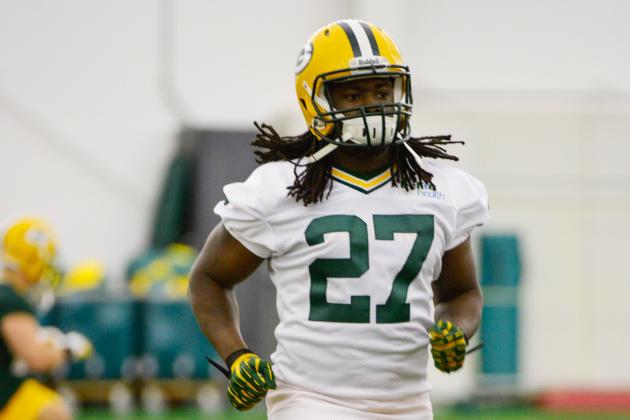 Benny Sieu-USA TODAY Sports

Rookie Eddie Lacy hasn't put the pads on yet, but he already looks like he will be a big factor as to why the Green Bay ground attack will be much improved in 2013.
The Packers not only selected Lacy out of Alabama in the second round, but then also selected Johnathan Franklin out of UCLA in the fourth round. Both backs had very successful stat-lines in college.
Not only was Lacy very productive at running back for the Crimson Tide in his career, he was also part of back-to-back national championship teams. Lacy was one of the primary reasons why the Tide won it all in 2012.
During the season, Lacy rushed for 1,322 yards and had 17 rushing touchdowns. He also caught 22 passes for 189 yards and two more touchdowns.
But it was in the BIG games that lacy really shined. In the SEC Championship Game versus Georgia, Lacy ran for 181 yards as the Tide advanced to the national championship game.
If that wasn't enough, Lacy ran for 140 yards and a touchdown, plus caught two passes for 17 yards and had another score, in the BCS Title Game versus Notre Dame, as 'Bama throttled the Fighting Irish 42-14.
The man they call "Circle Button" due to the spin move he perfected in college, is also a power-back that can get tough yards in short-yardage situations.
Lacy has not lined up with the starters yet in recent workouts, but I believe it's just a matter of time before he, and his rookie counterpart Franklin, become the focal points in the Green Bay running game.
They both have three-down ability as they both can block and catch well.
But the main thing that both Lacy and Franklin can do is to be effective and productive in the running game.
That skill and ability will not only help the running attack of the Packers, but the passing game as well. Unlike the 2012 season, defenses will have to respect the Green Bay run-game, which will force one of the safeties up in the box.
That will allow Rodgers better opportunities in the deep-passing game, as well as using play-action more effectively. Having backs like Lacy and Franklin will also help on check-downs and screen plays, too.