3 Undrafted Chicago Bears Players Who Could Prove to Be Gems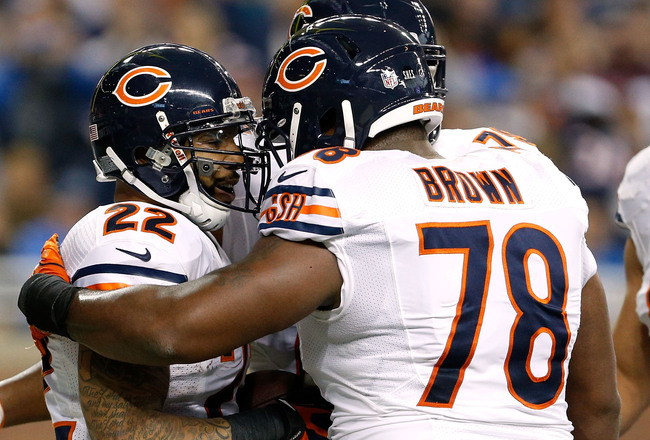 2012 undrafted free agent James Brown saw the field last season. Did the Bears find another steal after the draft in 2013?
Gregory Shamus/Getty Images
As is typically the case, nobody is expecting much from the undrafted free agents who joined the Chicago Bears in 2013.
There are three guys who shouldn't be written off so quickly, however. Undrafted free agents are more than capable of making an impact in the NFL.
2012 addition James Brown wasn't selected and started at guard toward the end of last season. He yielded mixed results for the Bears, surrendering two sacks in Week 15 before closing out the year with a positive-2.3 rating, according to Pro Football Focus (subscription required).
While that might not qualify Brown as a "gem," he was certainly a useful signing. The left guard still hasn't reached his ceiling, either.
Here are the three players from this year's undrafted signings that might tap into high ceilings and become long-term gems.
C.J. Wilson, CB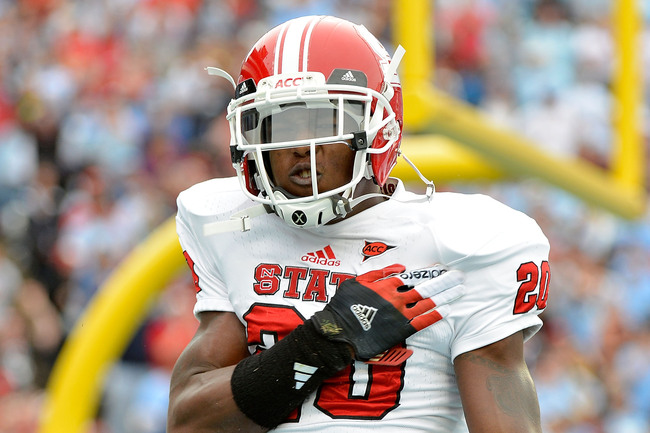 C.J. Wilson in a game against rival UNC.
Grant Halverson/Getty Images
The former NC State cornerback proved he had potential with his impressive play in college. According to the Bears website, Wilson tied a Wolfpack career record with three interception returns for touchdowns.
The 5'11" corner apparently was "impressing the staff with his ball skills," as reported by Steven Schweickert of Windy City Gridiron after rookie minicamp. His ball-hawking could make Wilson a great candidate for the nickel corner position.
If incumbent nickelback Kelvin Hayden doesn't show improvement from 2012, the undrafted rookie might see the field this year. Phil Emery didn't select any corners during the 2013 draft.
Wilson doesn't have much size, but neither did D.J. Moore, the nickelback before Hayden for Chicago. His main critique, according to another Windy City Gridiron article, is that he isn't particularly physical. Missed tackles at the pro level could be a problem.
While blown tackles have been a serious issue at the nickel position (Hayden had seven in 2012, via Pro Football Focus with subscription required), Wilson's ball skills could get him on the field. It worked for Moore, and Wilson has similar upside.
Zach Minter, DT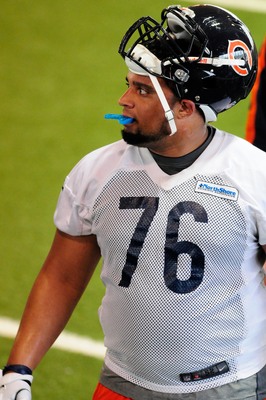 Minter at Chicago Bears camp this offseason.
Reid Compton-USA TODAY Sports
The Chicago Sun-Times reported after the draft that Zach Minter believed he would be selected by the Bears in the seventh round.
He wasn't, but he ended up in Chicago anyway.
The Montana State tackle had impressive stats in college, but so did fellow undrafted rookie Brent Russell. The two defensive tackles are fighting each other for a roster spot at a relatively weak position for the Bears.
Minter gets a slight edge over Russell because of his athleticism. They both showed they can produce on the field, but the speed that Minter displayed makes him similar to Pro Bowler Henry Melton, even if Melton is still a good bit faster.
The article in the Sun-Times pointed out that Minter's 40-yard dash time (4.80) would have been the best for a defensive tackle at the NFL Scouting Combine. That speed gives him the ability to disrupt offenses.
If the Bears decide to part ways with Melton for financial reasons next year (he's franchise tagged), Minter could be a surprising replacement. He has a long way to go, but his athleticism could put him in the backfield enough to make him a poor man's Henry Melton.
P.J. Lonergan, C
Lonergan (53) during the offseason.
Reid Compton-USA TODAY Sports
The longtime LSU starter has the best chance of any undrafted rookie to stick on the Bears' roster.
With Roberto Garza's advancing age and atrophying skills, P.J. Lonergan could get serious playing time soon. The Bears offensive line is littered with starting experience, but center is a weak spot. One of the backup guards (most likely Edwin Williams) could still slide to the middle. The LSU graduate is an even better option, though.
Lonergan played in the SEC, so his competition was elite. According to the Bears website, he started 38 games at center, during which the Tigers went 31-7.
His NFL.com draft profile reported that the center led LSU in knockdown blocks his sophomore season. Lonergan is also intelligent; ESPN's Gary Laney described him as a "technician who calls the blocking assignments."
Intelligence is coveted at the center position, so that bodes well for the rookie.
The biggest knock on Lonergan was pointed out by Lester A. Wiltfong Jr. in a Windy City Gridiron article that questioned his athleticism. The piece even says outright that Lonergan is probably not a gem and won't have a "huge NFL future."
On the other hand, Travis Frederick was the top center in the draft and ran a slower 40 than the LSU anchor. The tough lineman could surprise people.
In fact, the end of the Windy City Gridiron article hedges its bets and says "there's hope for P.J." For an undrafted free agent, there's no doubt that his ceiling is very high.
Keep Reading

Chicago Bears: Like this team?