South Carolina Football: 5 Biggest Challenges for the Offensive Coordinators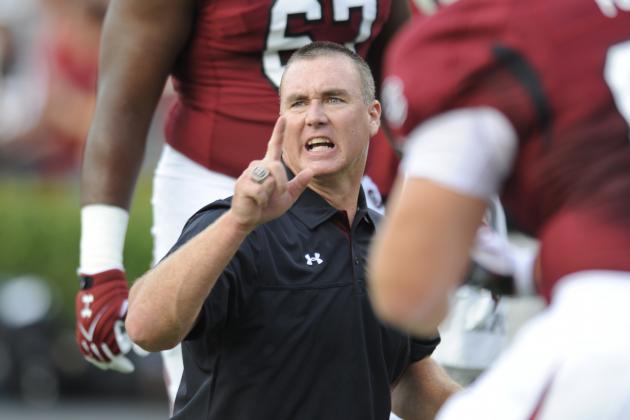 Mary Ann Chastain/Getty Images

South Carolina has huge offensive potential in 2013, though it will need to overcome challenges under the leadership of co-offensive coordinators Shawn Elliott and Steve Spurrier Jr.
The Gamecocks return a lot of talent in quarterbacks Connor Shaw and Dylan Thompson as well as on the offensive line and the tight ends.
With high hopes for the season, head coach Steve Spurrier and his offensive coordinators will need to have the offense working together as a finely oiled machine if the Gamecocks wish to meet their season goals.
The pieces are in place offensively for South Carolina, yet here is a look at the five biggest challenges for the Gamecocks' offensive coordinators.
Begin Slideshow

»
Al Messerschmidt/Getty Images

Teams are always concerned about a player's health, but with quarterback Connor Shaw, the situation is magnified.
Shaw battled injuries during most of the 2012 season and had to miss a couple of games due to recurring problems with his foot. He underwent foot surgery in the offseason and should be nearing a return to workouts by July .
As a dual-threat quarterback, Shaw is prone to injury and the everyday aches and pains caused by hard hits from tough SEC defenses.
With a relatively young offense, Elliott and Spurrier Jr., need Shaw's senior leadership and winning attitude. Shaw had a very good campaign on 2012 and is a proven winner, which makes him extremely valuable.
On the field, Shaw produces for this offense, and off the field, he is a leader whom the Gamecocks need.
Luckily, Dylan Thompson is next in line to play and is the best backup quarterback in the country.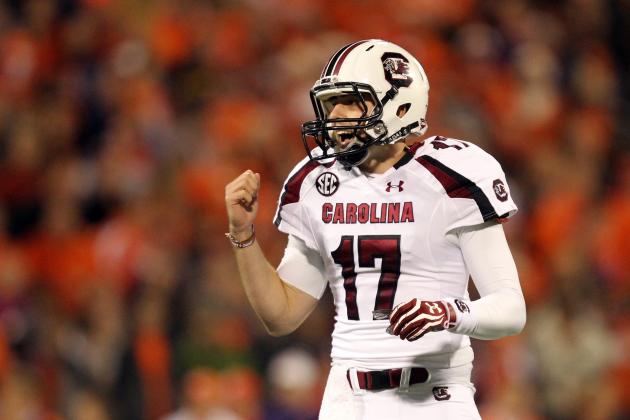 Streeter Lecka/Getty Images

This challenge is ultimately dependent on head ball coach Steve Spurrier's decision on whether he wants to platoon his quarterbacks or not.
If the Gamecocks choose to use two quarterbacks in games, the offensive coordinators have a tough task.
While the team has some experience with playing both quarterbacks, especially in 2012 and in the Outback Bowl against Michigan, this year could be different. Spurrier wants to make a shift to a power running game that includes a lot of under-center, pro-style formations.
Shaw is a shotgun, dual-threat style of quarterback, yet Thompson is the pro-style gunslinger who still has some mobility. The challenge becomes the integration of Thompson into the offense and keeping the defense on its toes.
Versatility, unpredictability and balance are key for the South Carolina offense this year, and when switching between Shaw and Thompson, Elliott and Spurrier Jr. need to remain effective.
Thompson has huge talent and a strong grasp of the offense and his teammates, so he could have a major impact on the offense if he gets to split time a lot of time with Shaw.
The offensive coordinators just have to overcome the challenge of having clean transitions between plays with Shaw in the game versus Thompson at the helm.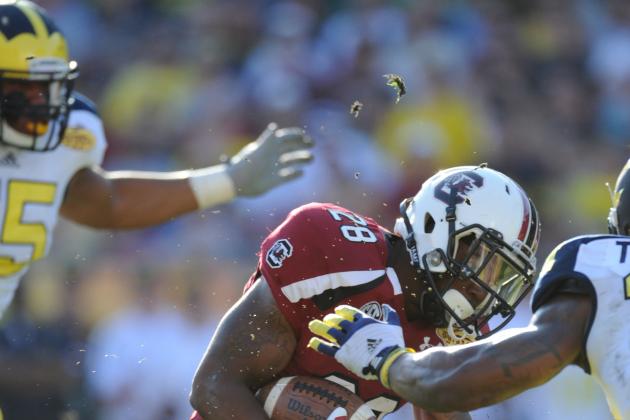 Al Messerschmidt/Getty Images

Elliott and Spurrier Jr. are fortunate to have what should be a very solid offensive line to run behind.
The question is not so much on the line, but rather finding a balance between zone-read running and power sets, as well as assuring the effectiveness of Mike Davis and Brandon Wilds on the ground.
The Gamecocks like to run zone-read run plays especially with Shaw, so as a transition is made to the pro-style running game, the offensive coordinators need to make sure the transition goes smoothly.
Davis is a very talented back who has the balance, speed and power to light up opposing defenses. Wilds gives a change of pace where he will take a bulldog approach and pound the ball directly at defenses.
Maintaining a balance between these two running styles is very important to the success of the offense. A run game can really open up the passing attack. If Thompson is in the game, the play-action pass could be very effective.
The running backs are young, but talented, and the offensive line is a strong bunch of players. So it will be on Elliott and Spurrier Jr. to make sure they are calling the right plays to establish the run game because this offense will need it, and it could be very deadly.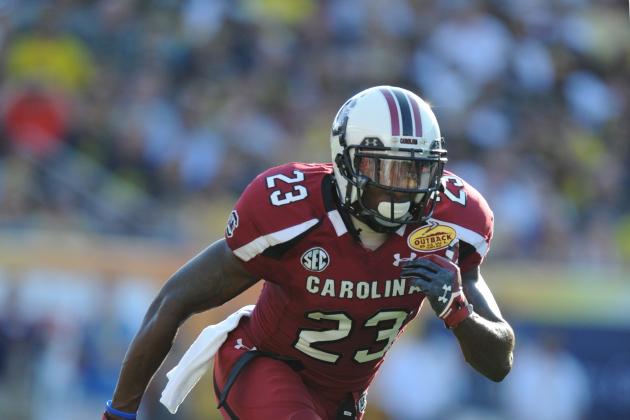 Al Messerschmidt/Getty Images

The wide receivers do not lack talent, though they do not have a true No.1 go-to target.
The spring practices revealed that many of the receivers will garner a lot of playing time and that there are a few candidates who are trying to set themselves apart as prime targets.
Bruce Ellington is the most experienced of the receiving corps and has supreme confidence and the mental game to be the top target. He is dedicated to the offense and is a good slot receiver who also possesses outside speed, which makes him a viable option.
Youngster Shaq Roland is probably the most physically gifted receiver, but he has very little in-game experience. The team will try to make Roland a major target, yet the late-game pressure could get to a young player like Roland.
Damiere Byrd has lightning speed to take the top off of defenses. While I do not see him as the No. 1 receiver, he does have a lot qualities that coordinators like to see in a wide receiver.
Finding a top target does depend on the quarterback-to-wide-receiver connections, though some of the responsibility rests with the offensive coordinators. Drawing up the right plays to hit that No. 1 target is very important as well as knowing that the team has a bailout option on plays.
While an offense's success is not slated on having a No.1 receiving target, it does take some added pressure off the rest of the receiving corps and the quarterback.
Elliott and Spurrier Jr. know that there is a prime target in this bunch, now they just need to find him and turn him into the No.1 receiver.
Mary Ann Chastain/Getty Images

South Carolina lost players like Marcus Lattimore, Ace Sanders and Justice Cunningham to graduation and also the NFL draft and will turn toward younger players to step into their roles.
Elliott and Spurrier Jr. have to face the challenge of keeping their players composed and ensuring their growth throughout the season in order to make a run at a SEC championship.
Overcoming inexperience and youth can be a daunting task and the Gamecocks are no different from other teams. Senior leaders and more experienced upperclassmen will need to step up.
Specifically, the Gamecocks lack experience at the skill positions that most championship hopeful teams desire, but they are not short of talent.
The offensive coordinators need to unleash the talent, teach these young players how to play in the moment and coach the offense to play as an experienced, confident unit.
If the Gamecocks' offensive coordinator combination of Elliott and Spurrier Jr. can overcome the youth and inexperience in addition to these other challenges, South Carolina's offense will be very potent.