North Carolina Basketball: Best- and Worst-Case Scenarios for 'Heels in 2014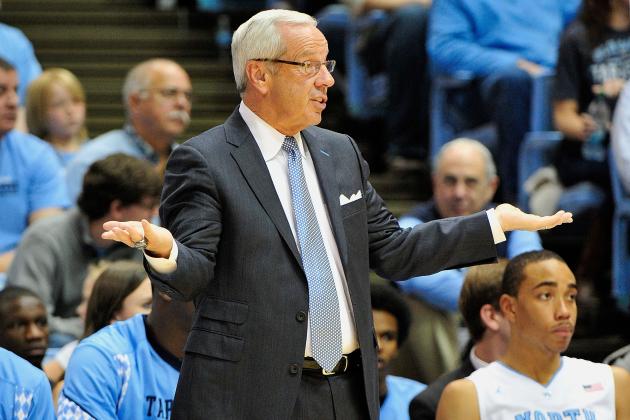 Grant Halverson/Getty Images

A promising offseason has turned into a bit of a mess for the North Carolina Tar Heels basketball program. And with the latest black cloud hovering over UNC, the best- and worst-case scenarios for 2014 land on both ends of the spectrum.
The Tar Heels' leading scorer from 2013, P.J. Hairston, was busted for driving without a license and possession of marijuana. For that, alone, UNC has indicated the star guard/forward likely wouldn't miss practices or games.
All the details aren't in, however, and there are also questions of who rented the SUV and who owned the gun that was found outside of it during the stop.
None of us know everything that happened at this point. We have no clue how deep the rabbit hole goes, or what the consequences would be of any further findings. For that reason, we are leaving this out of the scenarios, focusing solely on the current roster.
Hairston's situation aside, player development is the greatest factor in any potential success the Tar Heels will have in 2014. While there is much more experience on the roster than last season, Roy Williams has yet to find a center. Reggie Bullock left for the NBA, so Leslie McDonald will be expected to fill that void.
Returning starters Hairston, James Michael McAdoo and Marcus Paige all had stints of excellence last season. But they will all need to develop more versatility and consistency in their respective games for the Tar Heels to finish on top.
Could they?
Begin Slideshow

»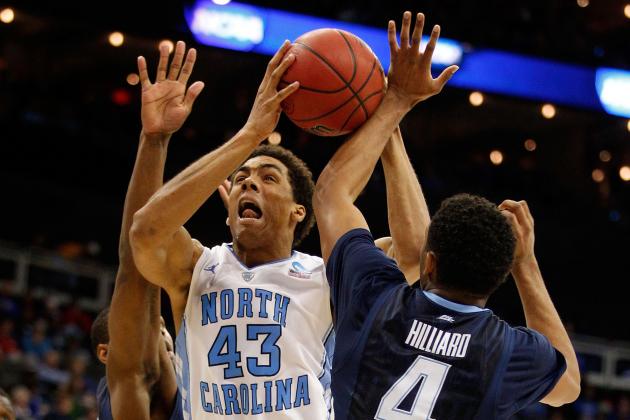 Ed Zurga/Getty Images

I always prefer starting with the negative and finishing with the positive, so we will begin this evaluation with the worst-possible scenario for North Carolina.
The biggest question mark for Carolina is arguably the center position. Joel James and Desmond Hubert both showed sparks of something special in 2013, but there was no conclusive evidence that either would star at the collegiate level.
Therefore, they are the most likely to underachieve in 2014. Behind them on the roster is freshman Kennedy Meeks, who needs time to develop stamina and explosiveness through the strength and conditioning program at Chapel Hill.
His impact isn't likely to be felt until his sophomore season or later.
This means power forwards Brice Johnson and Isaiah Hicks have to step into the center role, and neither is ready for that shift.
The lack of presence at the 5 has an extremely negative impact on McAdoo. He is left on an island, fending for himself against two or three other defenders. And neglecting to improve his post game only continues his lack of efficiency from 2013.
There are also questions of McDonald, who has been nothing more than a shooter off the bench during his years at Chapel Hill. Taking the place of do-it-all Reggie Bullock, he has to be more than that.
In this scenario, he isn't.
Even an improved Hairston and Paige won't be enough to overcome the deficiencies at the other three positions.
There is enough depth and talent on this team for Coach Williams to eventually find a working cast of starters. By the time he does, though, it'd be too late for the Tar Heels to make a push.
The result is a seventh-place finish in the ACC and an NIT bid.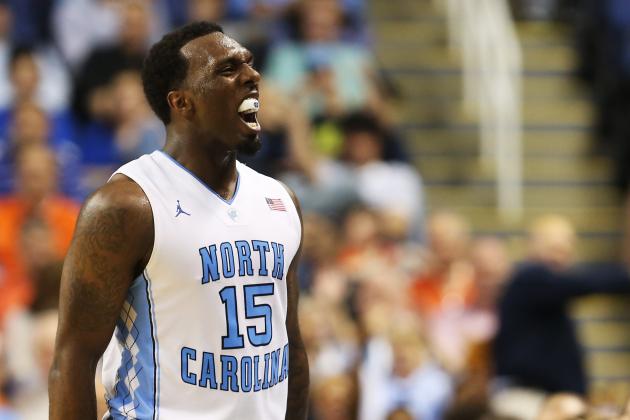 Streeter Lecka/Getty Images

As stated in the previous slide, both James and Hubert have shown signs they could be impact players at the collegiate level. Hubert is clearly a defensive specialist, and James is a straight-up monster (6'10", 260 pounds) with a soft touch.
With both of these centers developing offensive games in the offseason, McAdoo has a much easier time scoring. They force defenses to play honest, leaving McAdoo more space to work and fewer defenders to blow by.
Adding a drop step and a hook shot to his repertoire makes McAdoo much more efficient, and Roy Williams' dual-post scheme is back in full force.
McDonald—like Bullock, a couple of years ago—was just waiting in the weeds for his time to strike. Being forced into a starting role allows him to showcase his passing, scoring and defensive abilities.
With all the other talent on this squad, McDonald doesn't even have to be a star for the Tar Heels to contend. He just needs to be a playmaker.
Hairston was an extremely explosive player and emotional leader for the Tar Heels in 2013. In the offseason, he uses his arrest as the driving force to push his game to the next level, knowing he needs to make up for his mistake.
With a mid-range game to go with his lights-out perimeter shooting and ability to finish in the paint, Hairston becomes an unstoppable force. The only thing between him and POY is the incident over the summer.
Paige appeared to shake off his freshman jitters by the end of 2013, setting himself up for a spectacular sophomore campaign. The offseason work with former Tar Heel point guards Ty Lawson, Raymond Felton and Kendall Marshall accelerates his game even further.
He also shows up with a new 170-pound frame—up from 157—thanks to relentless training from Jonas Sahratian.
Johnson also benefits from Sahratian's offseason program, boosting his weight over 200 pounds. At 187 pounds, he was already an efficient scorer in the post. With his improved frame, teams actually have to worry when he comes off the bench.
He isn't the only one who makes this bench scary, though.
The defensive capabilities and superior athleticism of J.P. Tokoto and Isaiah Hicks give opposing teams no break with the starters on the bench. And though he still isn't a major three-point threat, Tokoto sports a much-improved jumper that will keep defenders on their heels.
The talent, experience and depth of this squad is simply unmatched. The Tar Heels win the ACC outright, let off the gas in the ACC tournament, then crank it full throttle through the NCAA tournament, working their way to the title game with very little resistance.
For the third time since taking over the basketball program in 2003, Roy Williams ends the season with the net in his hands.
All is well, once again, in Tar Heel country.