Speculation involving a potential move from Borussia Dortmund has been put to rest, as the club announced Sunday it will not part ways with striker Robert Lewandowski this summer.
As reported by Ciaran Fahey of The Associated Press on Twitter, sports director Michael Zorc was adamant that the star center-forward remain with the club next term:
#Dortmund sports director Michael Zorc to Kicker: "We told the player and his agents that we won't agree on a #Bayern switch this summer."

— Ciarán Fahey (@cfaheyAP) June 9, 2013
Kicker reckons #BVB lose out €25-30 million transfer fee. #Lewandowski free next year. Strong message from Dortmund: They won't be bullied.

— Ciarán Fahey (@cfaheyAP) June 9, 2013
According to Fahey, Lewandowski's preference is to make a move to Bayern Munich this summer, though the odds of a transfer appear to be astronomical at this point:
Lewandowski has already made it clear his preferred club is Bayern, so chances of him going to Real Madrid, for example, appear slim.

— Ciarán Fahey (@cfaheyAP) June 9, 2013
Rafael Honigstein mirrored that sentiment with this tweet:
Dortmund encouraging foreign bids, obviously. but chance of Lewandowski going anywhere else is zero, imo.

— raphael honigstein (@honigstein) June 9, 2013
Both accounts reflect an initial report from Bild, which suggests Borussia Dortmund will under no circumstances sell Lewandowski to Bayern (original source in German).

All this comes on the heels of reports that the club was already working out a deal to sell Lewandowski, believed to be with Bayern, as noted by Richard Arrowsmith of Mirror Football.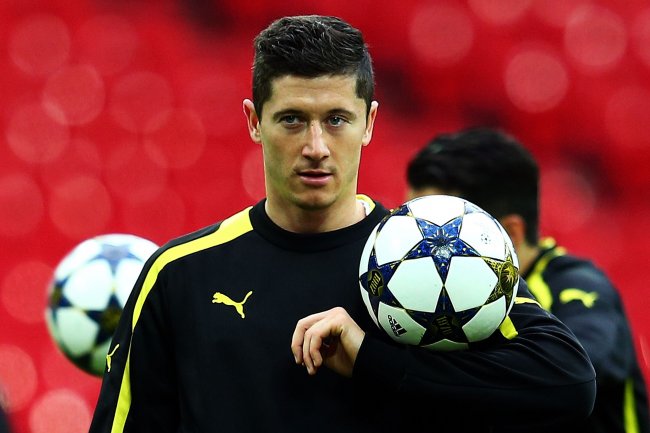 Alex Grimm/Getty Images
But Borussia Dortmund already lost Mario Gotze to the rival club and with one of its best players already out the door, Dortmund is in no hurry to let Lewandowski walk as well.
The 24-year-old scored 36 goals in 49 matches this season, and the unrest at Dortmund was enough to suggest several teams would be in pursuit of the striker this summer, including Premier League sides Manchester United and Chelsea, as noted by John Cross of Mirror Football.
With Dortmund unwilling to deal Lewandowski to Bayern, it remains to be seen where he'll end up in 2013-14. If the club has its way, he won't be going anywhere.