USC Football: 4 Biggest Challenges for Clay Helton & Lane Kiffin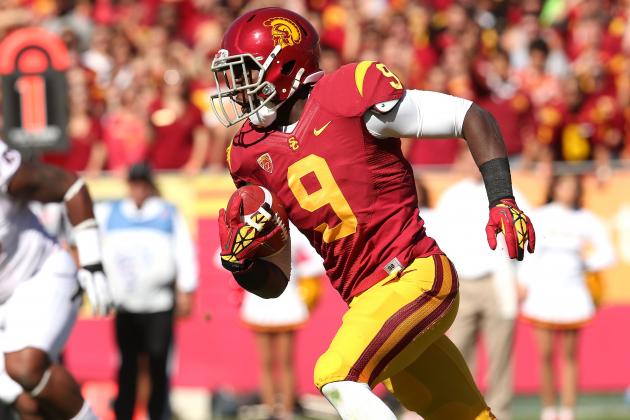 Stephen Dunn/Getty Images

The 2013 version of the men of Troy will head into the upcoming season with a bevy of questions following the disappointment of a 7-6 2012 campaign that saw USC fall well short of lofty expectations.
Among these is the conversion to new defensive coordinator Clancy Pendergast's 5-2 scheme from the standard 4-3 that USC has been running for years.
In addition, the Trojans will be replacing several key players—including four-year quarterback Matt Barkley—and will look to elevate the play of several key units, both on defense as well as offense.
It is on offense that this slideshow will look at several concerns that will weigh heavily on Passing Game Coordinator Clay Helton and Head Coach Lane Kiffin.
Though it is uncertain whether or not Helton will be charged with calling plays—a role filled in the past by Kiffin—there are still worries that surround this offense in 2013.
For USC to be successful this year, they will have to be effective with ball in their hands. Here are questions that will have to answered in order for that to be the case.
Begin Slideshow

»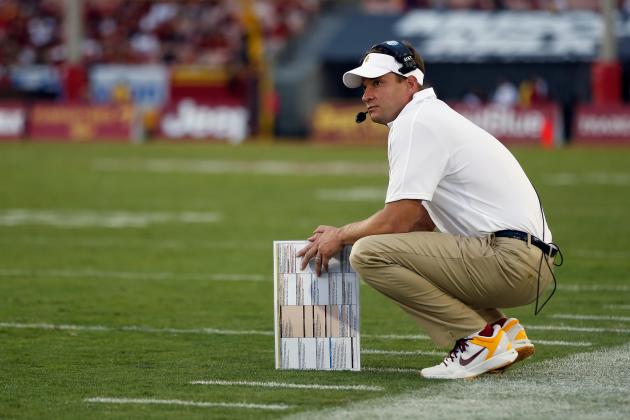 Jeff Gross/Getty Images

Amid thunderous roars for his ouster, Lane Kiffin decided that while he wouldn't quit his dream job, he would remove an issue that his detractors kept complaining about—that being his double duty as the offensive coordinator.
So a few months back, Kiffin bowed to the pressure and named quarterbacks coach Clay Helton to the top position on the offense as the new coordinator.
And with that, the issue was put to bed and Kiffin could move on to other things.
Well, sort of.
You see, while Helton now assumes the responsibility for overseeing the offense, exactly who calls the plays remains a mystery.
To be certain, this is a duty that Kiffin still wants to be a part of, but is it wise to remove this portion of the game plan from the coordinator?
Perhaps Kiffin can "script" the first 10-15 plays and then turn it over to Helton. Or maybe he will give up play calling altogether.
Whatever is decided, this will be a challenge.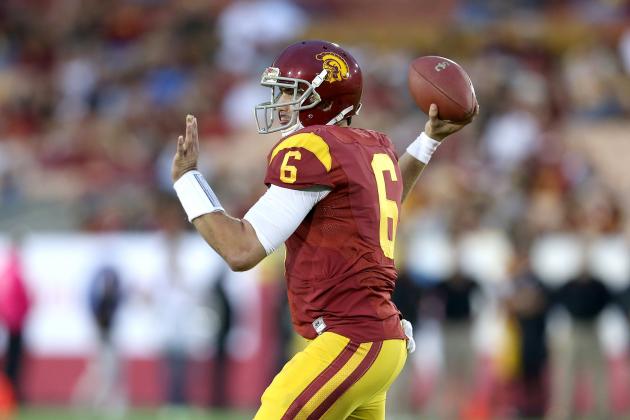 Stephen Dunn/Getty Images
Cody Kessler
To borrow a line from Willie Shakespeare: Max Wittek or Cody Kessler, that is the question.
How that question is answered and how productive that signal caller will be presents a challenge to the Kiffin/Helton duo.
Based on early returns, Kessler has the lead for the starting job, but Kiffin has made it clear that any final decision will not be made until fall camp. It is well known that if all things were equal, the head coach would prefer a guy with Wittek's size leading the offense.
Meanwhile, Kessler appears to be the fans choice and this is because they can't seem to shake the ghastly image of yet another Wittek incomplete pass fluttering to the ground in that abysmal loss to Georgia Tech in the Sun Bowl.
Regardless of who finally makes the cut, the new quarterback will be given the keys to an explosive offense that features All-American wide receiver Marqise Lee and a bevy of other talented skill players.
But until the new guy shows he can utilize that talent and lead this offense, the quarterback position will remain a challenge for the two-headed coaching monster.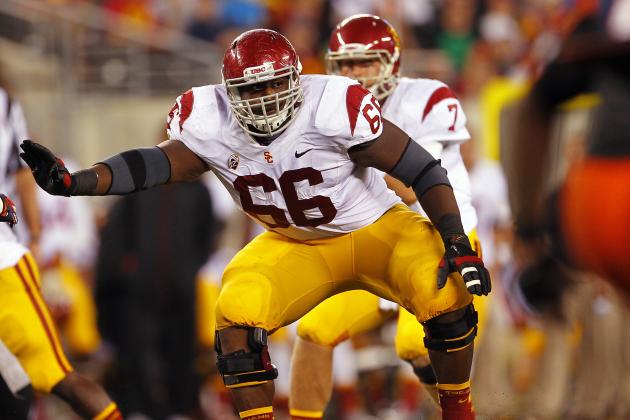 Rich Schultz/Getty Images
Marcus Martin
So we know USC has some very explosive weapons on offense and a question mark at quarterback, but what else do we know?
Well, one thing we know for sure is that it doesn't matter how talented you are at the skill positions if you don't have the "big uglies" up front to make it all work.
And while there is an abundance of potential to craft a dominant offensive line, it remains to be seen if those constituent parts can be an effective unit.
Specifically, left tackle Aundrey Walker needs to live up to his athletic abilities and be the anchor that his line coaches think he can be.
Also, will former left guard Marcus Martin make a smooth transition to center where he will try to replace the departed Khaled Holmes? So far he is looking good but we'll have to see what happens when they play for real.
Meanwhile, Max Tuerk will be playing a new position (left guard) after focusing on tackle last year.
Again, this is a talented unit capable of big things, but until they actually prove it on the field of play, they will continue to be a worry for the coaching staff.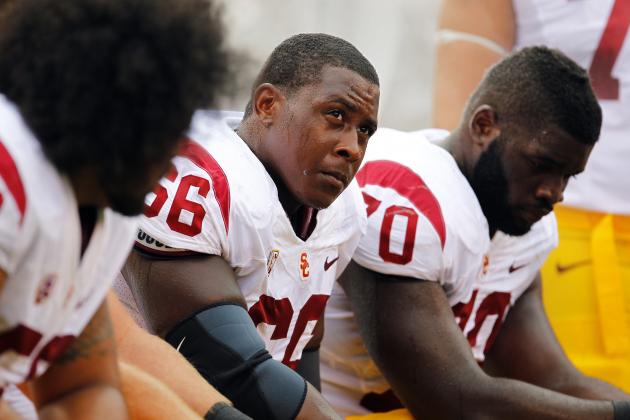 Rich Schultz/Getty Images
Aundrey Walker
One of the unfortunate by products of the NCAA sanctions against the Trojans is a continuing lack of depth along the roster.
USC has faced rotation issues in the past, and with the reduction of 10 scholarships per year, this will continue in 2013.
Last year, the Trojans often played with less than 65 scholarship players where their opponents suited up 85 players who were on full rides.
All of which means that in addition to having less fresh players, the men of Troy are severely hampered when the inevitable injuries occur.
Although some units are okay as constituted, others—particularly the offensive line—will have to hope for luck when it comes to injuries. Even though there may be names on the depth chart, they probably aren't ready to see the field of play in 2013.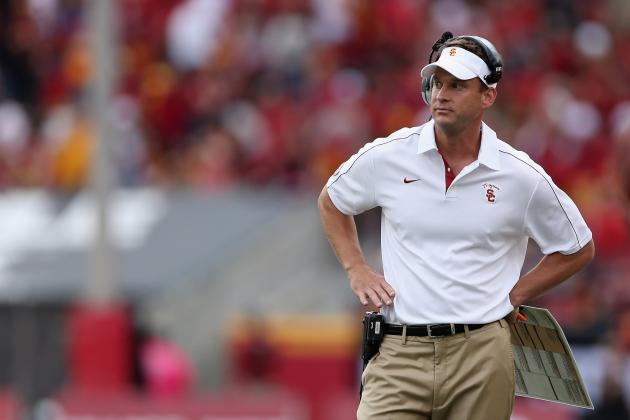 Jeff Gross/Getty Images

Distilled, the aforementioned challenges represent the greatest hurdles for Helton and Kiffin to overcome on offense in 2013, but they are not the only ones by any means.
A once stocked tight end unit has taken some hits with the losses of Junior Pomee (legal issues) and Christian Thomas (transfer). Also, both Xavier Grimble and Randall Telfer have missed practice time this year due to injuries, which means only redshirt freshman Jalen Cope-Fitzpatrick has survived 2013 unblemished.
Injuries have also taken a toll on the wide receiver group which has seen both George Farmer and incoming freshman Steven Mitchell suffer knee injuries that will cost them the 2013 season.
While the offense has the potential to be explosive, there are many possible pitfalls that confront this year's version of the men of Troy. It is going to take coaching, luck and a single-minded focus on the task at hand by the players for success to be ensured.
How Kiffin and his offensive coordinator handle these challenges will tell the tale of how this season unfolds for USC.
And let's not forget that head coach's job itself depends on 2013 too.
You can be sure Kiffin won't.