Stock Up, Stock Down for Cincinnati Reds Top 10 Prospects for Week of June 3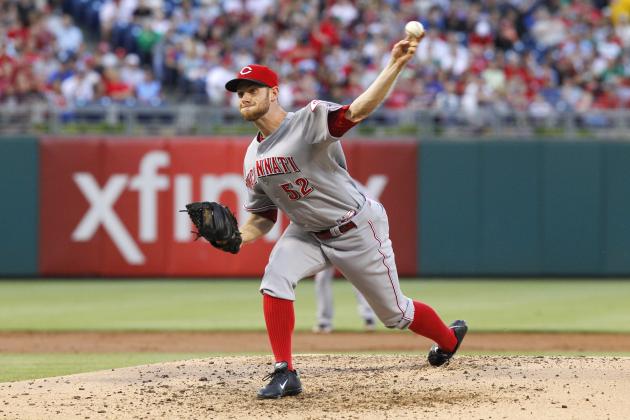 Hunter Martin/Getty Images

Another week of action is in the books for some of the Cincinnati Reds top prospects.
The Reds also just wrapped up their 2013 draft process and have now shifted their focus to signing those picks. However, just because there's new talent entering the system, doesn't mean we should neglect what's already there.
The Reds have some young prospects turning heads this season including Tony Cingrani and Robert Stephenson, both of whom rank in the organization's top 10. Others, outside of the top 10, like Jesse Winker, Neftali Soto and Jeff Gelalich are enjoying their own successful seasons.
With that said, let us take a look at the stock reports for each of the Reds' top 10 prospects according to the team's official website.
All stats courtesy of Baseball-Reference.com
Sean Buckley, the No. 8 ranked prospect, is on the DL and hasn't played since April. Jesse Winker was added to the list as the No. 11 ranked prospect.
Begin Slideshow

»
2013 Stats
55 G, .307/.412/.515, 8 HR, 4 3B, 10 2B, 40 RBI, 37 R, 3 SB, 42:34 K/BB
Overview
Jesse Winker was the second of three first-round picks made by the Reds in the 2012 draft. After being selected straight out of high school, Winker reported to the team's Rookie League affiliate and proceeded to tear the cover off the ball, to the tune of a .338/.443/.500 slash line with five home runs, 16 doubles, 35 RBI and 42 runs scored over 62 games played.
In 2013, Winker picked right up where he left off. Over 55 games with the Reds' Low-A affiliate in Dayton, Winker is the proud owner of a .307/.412/.515 triple-slash and has chipped in eight HR, 10 doubles, 40 RBI, 37 runs scored and three stolen bases.
Winker's been impressive and so was his last week. In four games played, Winker slashed .278/.350/.556 with a HR, a triple, three RBI and two runs scored.
Winker should crack the top 10 on this list by the end of the season and looks to be one of the more promising players in the Reds' farm system.
Last Week's Stats
4 G, .278/.350/.556, 1 HR, 1 3B, 3 RBI, 2 R, 5:2 K/BB
Stock
Even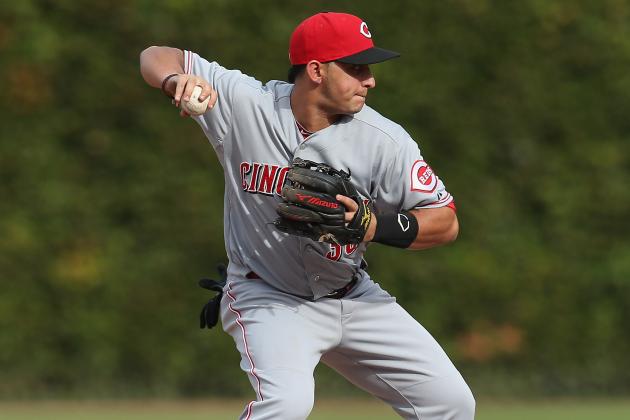 Jonathan Daniel/Getty Images

2013 Stats
59 G, .277/.320/.364, 3 HR, 11 2B, 26 RBI, 25 R, 2/5 SB/SBa, 35:12 K/BB
Overview
Henry Rodriguez is currently working through his second call-up with the Reds. After being signed by the Reds as an international free agent back in 2007, Rodriguez spent the next six seasons working in the minor leagues until receiving his first call-up in 2012.
In 2013, Rodriguez was sent down to Triple-A Louisville following spring training where he stayed until his most recent call-up.
Over the last week, Rodriguez collected five hits in 12 at-bats putting together a .417/.417/.417 slash line with an RBI and two runs scored.
Rodriguez will likely be a utility player at the big league level but he does have some pop and plus-speed for the position and could be a valuable contributor to the team once he becomes a regular member of the 25-man roster.
Last Week's Stats
4 G, .417/.417/.417, 1 RBI, 2 R, 2:0 K/BB
Stock
Up
2013 Stats
11 GS, 51.1 IP, 4-6 W-L, 4.73 ERA, 1.52 WHIP, 6.7 K/9, 3.7 BB/9, 1.8 K/BB, 10.0 H/9, 0.7 HR/9
Overview
Sal Romano is in his second season with the Reds. After being drafted in the 23rd round of the 2011 MLB Draft, Romano reported directly to the team's Rookie League affiliate in the Pioneer League.
Romano struggled there over 15 starts and is having similar struggles this season at Low-A Dayton.
In 11 starts with the Dragons this year, Romano owns a 4-6 record with a 4.73 ERA, and a 1.52 WHIP. His ratios are slightly better though and he's struck out batters at a decent clip while allowing very few home runs.
Last week, the 19-year-old made just one start and was handed the loss after allowing four earned runs over just five innings pitched.
The start last week has been part of a growing trend for Romano. Over his last six starts, Romano has gone 2-4 with a 7.06 ERA and a 1.68 WHIP.
He's only 19, with plenty of time to grow and develop but this year, and this week have been disappointing to say the least.
Last Week's Stats
1 GS, 5 IP, 0-1 W-L, 7.14 ERA, 1.6 WHIP, 7.1 K/9, 3.6 BB/9, 2.00 K/BB, 10.7 H/9
Stock
Down
2013 Stats
51 G, .259/.308/.382, 4 HR, 12 2B, 23 RBI, 26 R, 37:15 K/BB
Overview
Ryan Wright was the Reds fifth round pick back in the 2011 MLB Draft. After two seasons, he now finds himself in Bakersfield with the club's High-A affiliate.
Wright only played in one game last week in which he went 0-for-5 with a strikeout. One game isn't enough to put much stock in so we'll call him even on the week.
With that said though, Wright has been on an absolute tear in his last 15 games slashing .394/.437/.652 with three HR, eight doubles, 12 RBI, six runs scored and a 6:5 K/BB ratio. It's been an impressive 15 games for the 23-year-old second baseman and he should reach Double-A Pensacola in no time should he continue his hot hitting.
Last Week's Stats
1 G, .000/.000/.000, 1 K
Stock
Even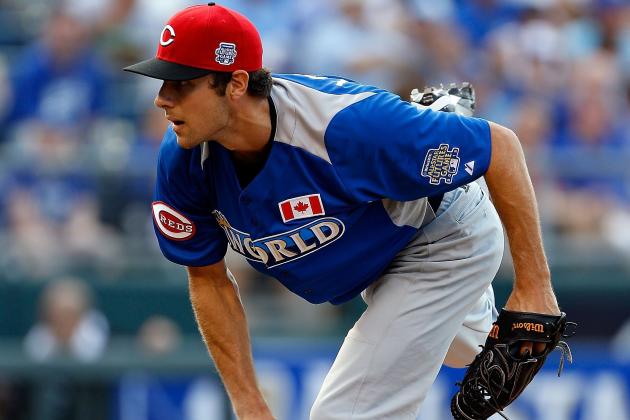 Jamie Squire/Getty Images

2013 Stats
16 G, 19.1 IP, 1-1 W-L, 7.45 ERA, 2.22 WHIP, 9.3 K/9, 7.4 BB/9, 1.25 K/BB, 12.6 H/9, 0.5 HR/9
Overview
After serving as a starter for nearly all of his minor league career, Kyle Lotzkar was converted to a relief role for the 2013 season.
Lotzkar is still the team's sixth ranked prospect but he's been falling off since his breakout year in 2010. In that season, Lotzkar made 10 starts—12 total appearances—and worked to a 2.03 ERA with a 0.95 WHIP and ratios of 12.2 K/9, 2.8 BB/9, 4.29 K/BB and 5.7 H/9.
Now, in 2013, after two straight disappointing seasons, Lotzkar has seemingly lost all the momentum he built through his first four seasons with the team between 2007 and 2010.
In 16 appearances with Double-A Pensacola and High-A Bakersfield, Lotzkar owns a 7.45 ERA, and a 2.22 WHIP. His performance at Double-A was so bad that he has since been demoted to Bakersfield.
Last week, Lotzkar made two appearances and actually somewhat well against the High Desert Mavericks and the Lake Elsinore Storm. Over three and two-third innings pitched, the 23-year-old righty allowed no earned runs and scattered five hits while striking out four and walking one.
Last Week's Stats
2 G, 3.2 IP, 0-0 W-L, 0.00 ERA, 1.88 WHIP, 9.8 K/9, 2.4 BB/9, 4.00 K/BB, 12.2 H/9
Stock
Up
2013 Stats
1 GS, 4 IP, 0-1 W-L, 9.00 ERA, 1.75 WHIP, 6.8 K/9, 2.2 BB/9, 3.00 K/BB, 13.5 H/9
Overview
Nick Travieso, the Reds' first round selection in 2012, is a big right hander. At 6'2" 215 lbs., Travieso possesses an ideal build for a righty and he uses it to his advantage by pitching downhill.
The 19-year-old made his first start of the 2013 season this past week and although he got hit around a little bit, he showed some good life for it having been his only start of the year.
Over four innings pitched, Travieso allowed four earned runs on six hits and a walk while striking out three. The stat line wasn't impressive, but Travieso showed the ability, and willingness to use all of his pitches.
Last Week's Stats
1 GS, 4 IP, 0-1 W-L, 9.00 ERA, 1.75 WHIP, 6.8 K/9, 2.2 BB/9, 3.00 K/BB, 13.5 H/9
Stock
Even
2013 Stats
11/12 GS/G, 52.2 IP, 2-9 W-L, 7.69 ERA, 6.5 K/9, 5.3 BB/9, 1.23 K/BB, 13.7 H/9, 1.4 HR/9
Overview
Daniel Corcino was another of the Reds' highly touted minor league arms heading into the 2013 season. Unfortunately, through his first 12 appearances, the 22-year-old righty hasn't pitched well enough to live up to the expectations.
Over those 12 starts, Corcino has pitched 52.2 innings while allowing a 7.69 ERA and disappointing ratios across the board including a horrific 13.7 H/9 allowed.
Corcino's last start wasn't much better. Over just four and two-third innings pitched, he allowed five earned runs on 10 hits and two walks while striking out just three.
It's been a rough year so far for Corcino and this week hasn't done much to alleviate his struggles.
Last Week's Stats
1 GS, 4.2 IP, 0-1 W-L, 9.62 ERA, 5.8 K/9, 3.8 BB/9, 1.5 K/BB, 19.2 H/9
Stock
Down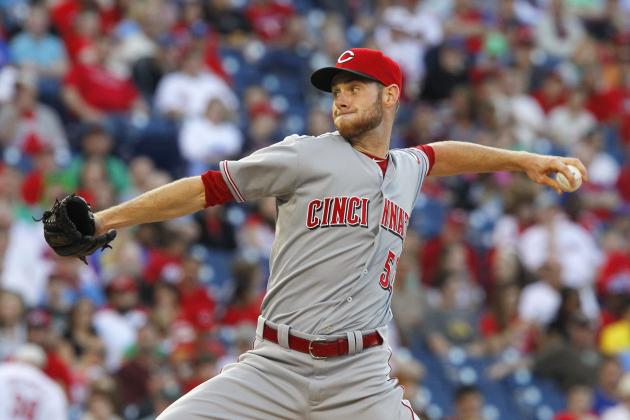 Hunter Martin/Getty Images

2013 Stats
12 GS, 65 IP, 5-0 W-L, 2.22 ERA, 0.91 WHIP, 12.5 K/9, 2.8 BB/9, 4.5 K/BB, 5.4 H/9, 1.1 HR/9
Overview
Tony Cingrani has pitched with both the Reds' Triple-A affiliate in Louisville, and the big league club. He's had an impressive season as far as ratios go and this week, he allowed over one earned run for the first time at Triple-A.
Cingrani works primarily off his fastball and was sent back to Triple-A to work on his secondary pitches. His tendency to use only a fastball has led to high pitch counts on numerous occasions.
Cingrani has crossed the 100-pitch plateau in eight of his 12 appearances—including his most recent one. In half of those, Cingrani has failed to pitch into the seventh inning.
Last Week's Stats
1 GS, 7 IP, 0-0 W-L, 3.85 ERA, 0.86 WHIP, 11.5 K/9, 0.0 BB/9, ∞ K/BB, 7.7 H/9
Stock
Even
2013 Stats
12 GS, 67 IP, 5-3 W-L, 2.96 ERA, 1.03 WHIP, 11.4 K/9, 2.3 BB/9, 5.0 K/BB, 7.0 H/9, 0.5 HR/9
Overview
Robert Stephenson was the Reds first pick in the 2011 MLB Draft. Now, in 2013, he finds himself with the team's Low-A affiliate in Dayton. Stephenson's first 12 starts this season have been mighty impressive, especially his last nine.
Over said nine starts, Stephenson is 5-1 with a 1.99 ERA, a 0.87 WHIP and ratios of 10.8 K/9, 2.3 BB/9, 4.64 K/BB and 5.5 H/9.
Stephenson is dominating hitters at Low-A right now, in fact, he's recorded at least seven strikeouts in each of his last six starts. A call-up to Double-A Pensacola sometime this season seems like a sure thing.
In his last start, Stephenson beat up on the Padres' Low-A affiliate—who are 34-26 on the season—to the tune of eight strikeouts, over seven and one-third innings pitched including just one walk and three hits.
Last Week's Stats
1 GS, 7.1 IP, 0-0 W-L, 0.00 ERA, 0.55 WHIP, 9.9 K/9, 1.23 BB/9, 8.00 K/BB, 3.7 H/9
Stock
Up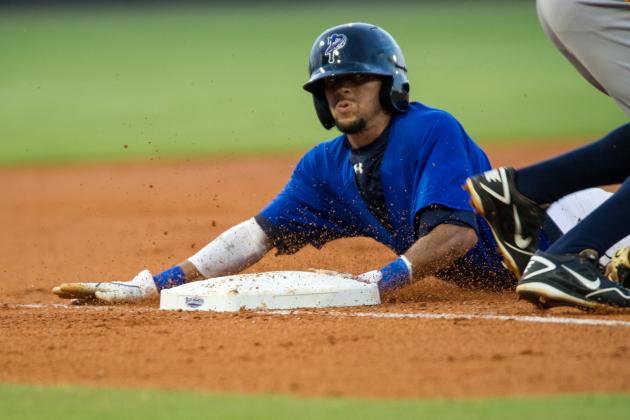 Michael Chang/Getty Images

2013 Stats
48 G, .246/.313/.388, 3 HR, 2 3B, 9 2B, 19 RBI, 40 R, 33/40 SB/SBa, 45:24 K/BB
Overview
Billy Hamilton is the Reds' most highly regarded prospect. While Tony Cingrani and Robert Stephenson are quickly gaining ground on the 22-year-old center fielder, he's still the best prospect the system has to offer.
In 48 games this season Hamilton has already matched his single-season best in home runs. While his batting average and OBP are down from last year's .311 and .410 marks, he's done a great job of righting the ship over his past 20 games.
In said games, Hamilton is slashing .296/.379/.378 with one HR, four doubles, seven RBI, 19 runs scored, 12 stolen bases and an impressive 16:12 K/BB ratio.
This past week, Hamilton continued that upward trend and logged three stolen bases with a home run and two RBI to go along with a .269/.321/.423 triple-slash.
Last Week's Stats
6 G, .269/.321/.423, 1 HR, 1 2B, 2 RBI, 4 R, 3/3 SB/SBa, 6:2 K/BB
Stock
Up