UFC 161 Preview: What Dan Henderson Needs to Do to Earn a Shot at Jon Jones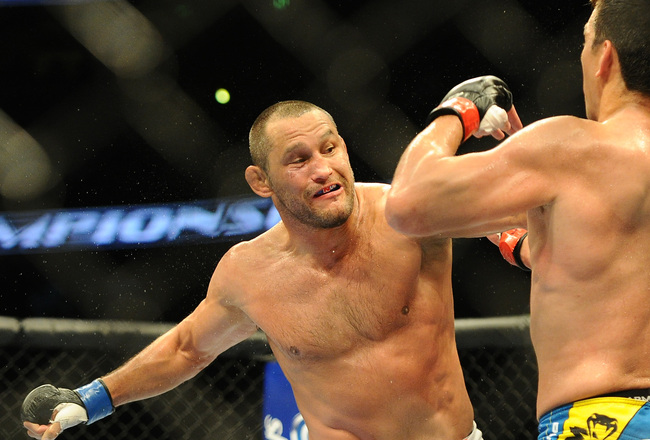 Jayne Kamin-Oncea-USA TODAY Sports
The notion of locking horns with light heavyweight champ Jon Jones seemingly faded away for Dan Henderson when the 42-year-old got outpointed by Lyoto Machida at UFC 157.
The setback signified more regression for Henderson, the former Strikeforce and Pride kingpin who was originally appointed to face Jones at UFC 151 before pulling out of the bout with a knee injury.
But the UFC's brass didn't give up on "Hendo," deservedly awarding their third-ranked light heavyweight with one last shot at reaching Jones by pitting him against another former champ and top contender in Rashad Evans at UFC 161.
Ranked sixth at 205, Evans saw his stock plummet when he got outshined by fellow world-ranked light heavyweight Antonio Rogerio Nogueira (No. 5) to suffer his second straight loss in his last bout at UFC 156.
Regardless of their recent woes, Henderson and Evans still represent two of the best on the planet at 205. And because both fighters are coming off losses, they'll each have plenty to prove in this three-round main-event bout.
Here are three things Hendo must do in order to get his long-awaited crack at "Bones."
Regain the Killer Instinct He Exuded in Strikeforce
Photo credit: Sherdog.com

Aside from a disappointing loss to Jake Shields in his promotional debut, Henderson enjoyed a short but stellar run in Strikeforce.
Following his loss to Shields at middleweight, Henderson promptly knocked out Renato Sobral at Strikeforce: St. Louis at 205. He then impressively garnered the light heavyweight belt with a TKO win over Rafael "Feijao" Cavalcante at Strikeforce: Feijao vs. Henderson.
For his coup de grace with the company, Hendo TKO'd heavyweight legend Fedor Emelianenko at Strikeforce: Fedor vs. Henderson, a captivating win that ultimately led to his third stint with the UFC.
The momentum from his three straight wins in Strikeforce poured over in Hendo's return to the UFC. He then used the steam to gut out an epic decision win over Mauricio "Shogun" Rua at UFC 139.
The eldest of the UFC's 384 fighters, Henderson must fall into another groove, one similar to the rhythm that propelled him in Strikeforce—at least if he intends to make another run at Jones.
Finish the Fight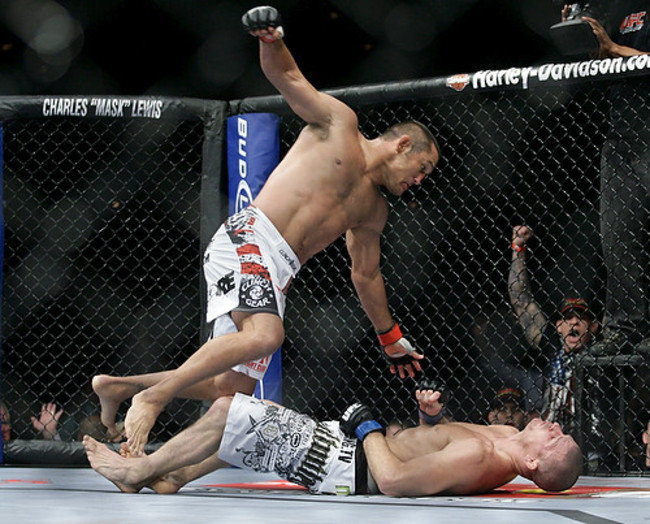 Photo credit: Cagepotato.com

Granted, some experts subscribe to the theory that a win is a win, but those certainly aren't sentiments that UFC president Dana White concurs with.
Although he adores an occasional back-and-forth decision win like the one Hendo earned over Shogun at UFC 139, White would much rather see his fighters win via KO or submission, especially in his main-event bouts.
With Henderson and Evans each trying to bounce back from lackluster decision losses, White will certainly leave Winnipeg's MTS Centre disappointed if he doesn't get to witness a highlight-reel finish from one of these aging stars.
But finishing foes—at least by KO—has never been an issue for the heavy-handed Henderson. Of his 29 wins, 13 have come by form of knockout and just two by submission.
Evans, on the contrary, has allowed no submissions and just one KO in 21 outings.
Considering Evans' resiliency, Henderson definitely has a chance to become the No. 1 contender again if he can land a few of his patented right hands on "Suga's" jawline.
Steal a Page from Chael's Book of Promotional Secrets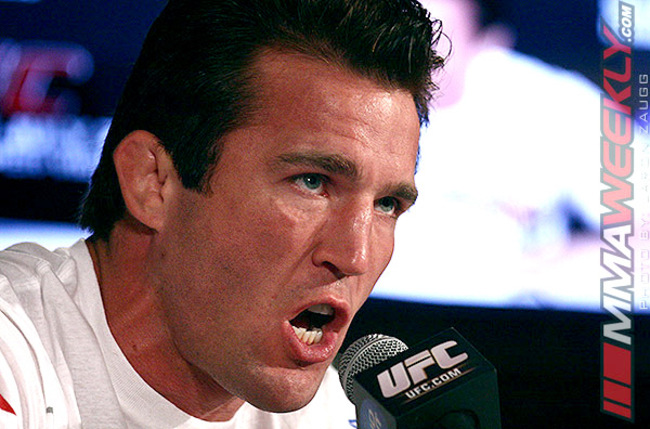 Photo credit: MMAweekly.com

Even after a second loss to Anderson Silva at UFC 148, Henderson's longtime friend, Chael Sonnen, managed to score a light heavyweight title fight with Jones in his next bout at UFC 159.
Sonnen, however, didn't land the fight with Bones based on his performance against Silva at UFC 148. Truth be told, "The American Gangster" landed the bout simply because he launched an outlandish verbal tirade on Jones in the months preceding the fight.
While Henderson obviously doesn't possess the linguistic chops that Sonnen does, the Californian proved following the UFC 151 debacle that he's willing to abandon his typically humble persona to get the fights he wants.
Hendo famously offered these words toward Sonnen via Twitter in October:
I guess I should just quit training to win fights and to be exciting for the fans and just go to shit talking school. @danawhite

— Dan Henderson (@danhendo) October 17, 2012
The next day, Henderson tweeted the following to add clarity and to further solidify his previous statement:
And just to make it clear, I will always hv love for Chael and don't blame him for saying yes to a big opportunity. But giving him that fight rt now degrades the sport of Mma.
Keep Reading