With increased financial flexibility and rumoured interest in striker Gonzalo Higuain, Arsenal should make the investment and sign the Real Madrid star.
John Cross of the Daily Mirror recently reported that manager Arsene Wenger met with Higuain and his father—who happens to also be the young star's agent—in Paris this past week.
Higuain made it clear that he wanted to leave Real Madrid in a press conference following the club's 4-2 victory over Osasuna, according to Insideworldsoccer.com. He also said that Arsenal would be a good fit for him, according to Cross' report.
The prospective deal would be worth £20 million, and it is a price worth paying for the Gunners to fortify their attack with a legitimate club cornerstone. Higuain is only 25 years old and will be a prominent contributor in the Emirates for years to come.
Video Credit: ScoutReportTV
Arsenal's attack would feature a formidable one-two punch if Higuain is brought into the fold to team up with fellow young stud Theo Walcott. It seems a tandem like that would have limitless potential in terms of goal production.
It would be especially nice to bring Higuain in, since Lukas Podolski may be on the way out in being open-minded about a possible transfer. Plus, Olivier Giroud hasn't been particularly consistent in the striker position, though he did score 11 goals in 24 Premier League contests, according to WhoScored.com.
EPL Stat Man highlighted Higuain's statistics from this past season on Twitter:
Gonzalo Higuain has been linked with a move to the EPL! Here are his stats from last season #Higuain pic.twitter.com/8kRgiwgX0p

— EPL Stat Man (@EPLStatman) June 8, 2013
In his seven seasons with Real Madrid, Higuain notched a whopping 121 goals and would bring a necessary boost to Arsenal's offensive efforts.
Although the Gunners finished in fourth in the English Premier League table and qualified for the Champions League, the additional spark that a player like Higuain would provide would help them keep pace with the likes of Chelsea and Manchester City. Eventually, Higuain could help them compete with EPL trophy winners Manchester United.
The days of Arsenal being a consistent world football powerhouse may be arriving sooner than later, though, with their aforementioned increase in monetary resources.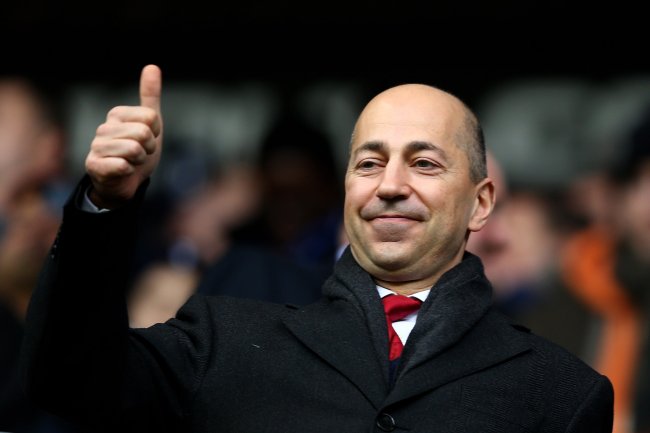 Paul Gilham/Getty Images
Should Arsenal sign Gonzalo Higuain?
Chief executive Ivan Gazidis answered questions from the media in Arsenal's boardroom on Wednesday, and according to The Daily Mirror, he indicated that there has been an escalation of financial firepower. That should allow the organization to be bolder in the summer transfer window.
The Telegraph's Jeremy Wilson pointed out how decade-long deals with Emirates for the stadium, kit and shirt sponsorships prevented Arsenal from capitalizing on other commercial opportunities that would have brought the club more revenue.
Wilson asserts that Arsenal will rival Manchester United in this developing, likely prosperous monetary situation. With a new shirt deal with Emirates and a kit deal with Puma in addition to other global partnerships, the Gunners have locked up a £70 million annual increase.
With this added flexibility, Arsenal can aggressively pursue stars in a way not seen in its recent history.
Higuain brings star power, and also a ton of upside in the attack. That's where the Gunners need more consistency to be not only a monetarily elite team, but also to take the next step on the pitch as true Premier League and Champions League trophy contenders.