Texas Football: 5 Biggest Challenges for Longhorns' Major Applewhite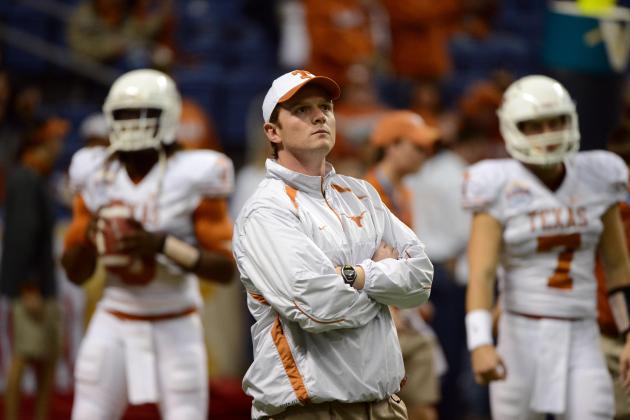 Brendan Maloney-USA TODAY Sports

Every college football season is a make-or-break year for someone.
For the Texas Longhorns, who are in their third year of a rebuild, virtually every coach is on a hot seat.
Co-offensive coordinator Major Applewhite, who will assume play-calling duties in the post-Bryan Harsin era, was the lead man in installing an up-tempo undertone to the Texas offense, a switch that may make a big enough difference with the personnel on campus to make a run at a conference title and a BCS berth.
In a year where the Longhorns are one of the favorites to win the Big 12, they return a heap of talent at every position. But that does not preclude Texas from facing its own challenges; issues that may very well stand in the way of its lofty goals for the season.
What sort of bumps will Applewhite have to overcome in his first season as the top OC in Austin?
Begin Slideshow

»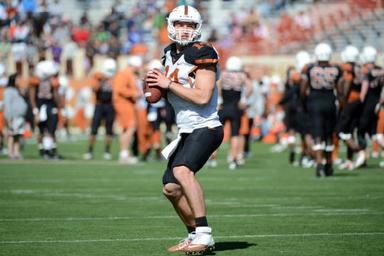 mackbrown-texasfootball.com
Junior quarterback David Ash will have his spotlight this year. Colt McCoy and Vince Young both thrived during their junior seasons—efforts that translated into historic senior campaigns.
Ash enters his third season for the Longhorns, but it is the first time that he will go into the fall as the undisputed No. 1 at quarterback. The former Belton standout took some noted leaps in 2012, showing off some improvements in both his passing and running game.
The Longhorns' recent switch to a faster tempo on offense plays into the hands of their skill positions. But one of the bigger catalysts will be Ash's decision-making. Will Ash be able to establish rhythm on a consistent basis to help enable the offense's success?
Getting the ball into the hands of the right guys at the right times will be crucial, and it will be Major Applewhite's game plans that will put Ash in a position to take the next steps.
Applewhite will have his fingerprints all over the offense, but Ash is the one he will be molding.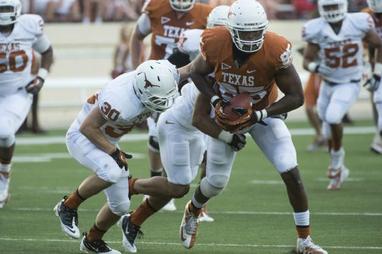 mackbrown-texasfootball.com
If there is a single position for the Longhorns that has fallen well off the map, it has to be tight end. Not since 2007 has Texas had a consistent contributor at the position.
It was supposed to be the critical piece in Harsin's motion-heavy offense, designed to create mismatches at vulnerable positions. Yet, nothing really came of it.
Texas can option with M.J. McFarland, Greg Daniels and JUCO newcomer Geoff Swaim. John Harris is also in the mix, listed as a combo wide receiver/tight end.
Of the three returning, the group combined to catch just 13 passes for 215 yards and a touchdown, numbers that represent just how lifeless the position has been for the better part of half a decade.
An extra bump in production from this group may alleviate enough pressure elsewhere so that the offense can transform.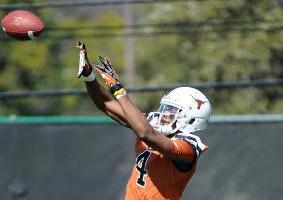 mackbrown-texasfootball.com
An up-tempo spread offense typically would call for a number of reliable receivers.
As of today, Texas has two in Mike Davis and Jaxon Shipley, both of whom are primed for big years.
The rest of the group includes Miles Onyegbule, John Harris, Bryant Jackson, Kendall Sanders, Cayleb Jones, Jake Oliver, Jacorey Warrick and Montrel Meander. Daje Johnson is in the mix, but as a dynamic option not solely leaning on his pass-catching abilities.
When the Longhorns open up to a four- and five-wide set, and they will, who will take the most steps to stand out this summer?
Onyegbule, Harris and Jackson are the most senior of the group, but all of them have had issues with staying healthy. The talent is there, the consistency is not.
Sanders and Jones are slated to miss the season opener due to suspension, and many expect the duo to become the future playmakers at the position.
Oliver, Warrick and Meander enter the fold as freshman. The doors are pretty wide open, but can they take in the playbook, put on the pounds, impress the staff and team and acclimate to the environment all at the same time?
Plenty of numbers at wide receiver, but the position is riddled with uncertainties.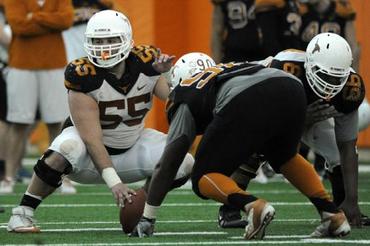 mackbrown-texasfootball.com
Texas may be seven or eight deep on the offensive line, grounds it has not been on in some time.
The Longhorns return all five of their starters up front, but with the introduction of JUCO offensive tackle Desmond Harrison, there are bound to be some changes in the starting lineup.
If Harrison nabs a starting job right away, who gets pushed into a reserve role?
Will it be center Dom Espinosa, who has struggled in the past but has had plenty of shining moments as a young player? Is it Josh Cochran, who has played since arriving as a true freshman?
How will Donald Hawkins, Mason Walters and Trey Hopkins be impacted by Harrison's arrival?
The numbers look good for Texas' big guys, and now success can be manufactured by finding the right combination and rotation.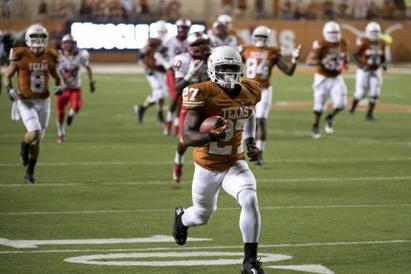 texassports.com
We all know that Bryan Harsin was one creative cat on offense, but can Applewhite utilize what he learned under Harsin's tenure to full effect?
Texas has a flurry of playmakers at the skill positions. Will the Longhorns be able to find them in the right situations? Plenty of that will be on Ash, but it will be Applewhite's play-calling and scheming that can put the 'Horns in a position to be great.