Playing Keep or Cut with Each of the Utah Jazz's Free Agents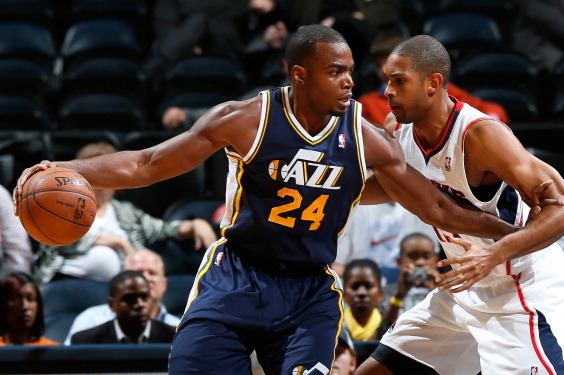 Kevin C. Cox/Getty Images

Al Jefferson, Paul Millsap, Mo Williams and Randy Foye were all starters for the Utah Jazz last year and all are free agents this summer. So the organization has some big decisions to make this offseason.
They can try to bring everyone back and battle for a seventh or eighth seed in the Western Conference again. Or they can let them go and sacrifice a year or two to start a legitimate rebuilding around their young core of Gordon Hayward, Derrick Favors and Enes Kanter.
What they'll most likely do is try to find some middle ground between those two options and bring back one or two of those key guys.
I'd blow it up. Utah has two first-round picks in this year's draft, and if they don't spend money on the lineup that barely made them a playoff contender, they'll have plenty to re-sign whatever young talent develops into stars.
In total, there are seven potential outgoing free agents from the Jazz and an individual decision will have to be made on each one. Here are the decisions they should make, and why.
Begin Slideshow

»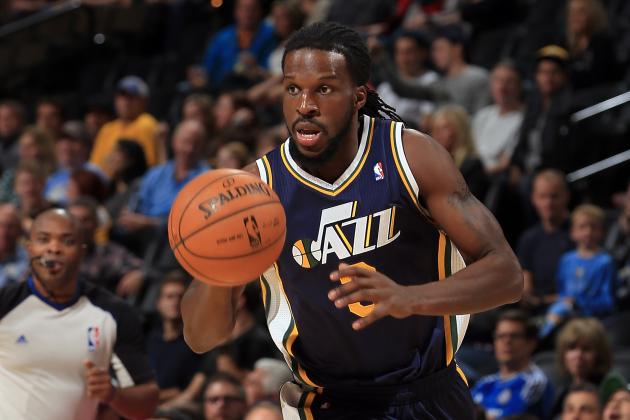 Doug Pensinger/Getty Images

2012-13 Stats: Six points and 2.8 rebounds a game
2012-13 Salary: $885,120
DeMarre Carroll started 12 games for the Jazz last season, but played less than 20 minutes a game over the course of the season. Inserting him into the starting lineup seemed like an effort to shake things up more than anything else.
He's a decent player and big for a wing (6'8" with a 6'10" wingspan), but Carroll isn't great at any one thing. Utah could re-sign him for cheap; probably not much more than they paid him last year. But with Gordon Hayward, Alec Burks, Marvin Williams and three draft picks, they probably don't really need Carroll.
Verdict: Cut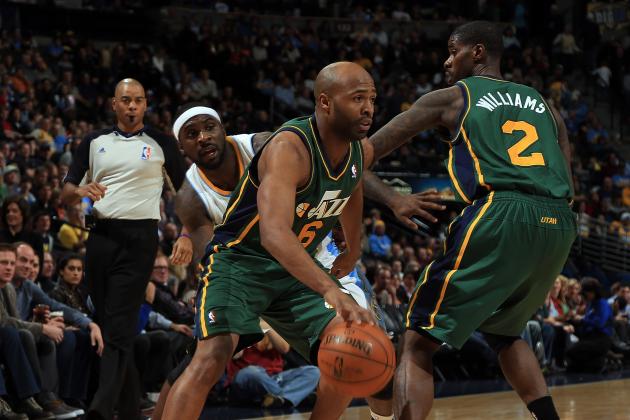 Doug Pensinger/Getty Images

2012-13 Stats: 3.5 points and 4.4 assists a game
2012-13 Salary: $1,352,181
Even at 35 years old, Jamaal Tinsley is still a solid distributor, averaging over eight assists per 36 minutes. But he's pretty one-dimensional, as he poses almost no scoring threat (3.5 points a game).
Utah may need a veteran point guard to mentor whomever they draft in the first round of this draft (they're almost certain to take a point guard), but Tinsley isn't the answer. They have slightly younger (though perhaps more expensive) options like Earl Watson or Mo Williams for that role.
Verdict: Cut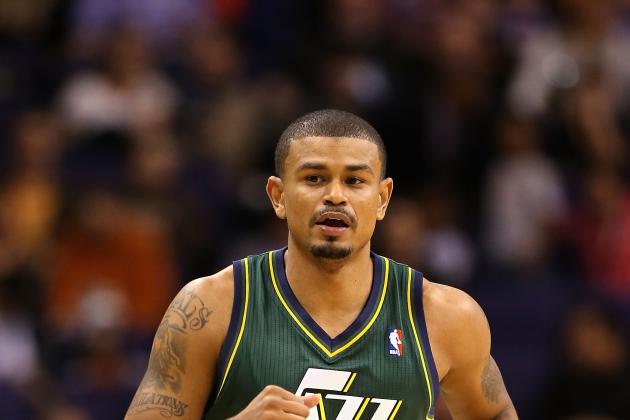 Christian Petersen/Getty Images

2012-13 Stats: Two points and four assists a game
2012-13 Salary: $2,300,000
Earl Watson had essentially the same role as Jamaal Tinsley, though he was even less effective as a scorer (two points a game while shooting 31 percent from the field).
Watson is great at getting his teammates involved, but does little else. And like Tinsley, he is in the twilight of his career. The team would be better off using Watson's spot on the roster on a younger guard.
Verdict: Cut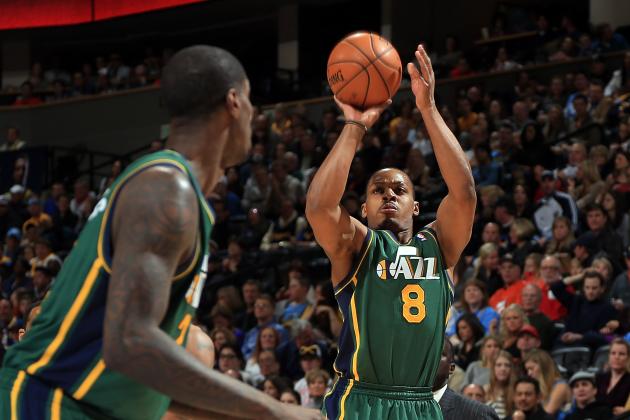 Doug Pensinger/Getty Images

2012-13 Stats: 10.8 points a game and 41 percent three-point shooting
2012-13 Salary: $2,500,000
Randy Foye was extremely effective in his role as a three-point specialist for the Jazz last season, hitting 41 percent of his attempts.
Utah was in the bottom third of the league in three-pointers made and letting Foye go would be a step back in an area in which they're already weak.
And he shouldn't cost them a ton of money. He's not likely to get much more on the open market than the $2.5 million he made last season.
Verdict: Keep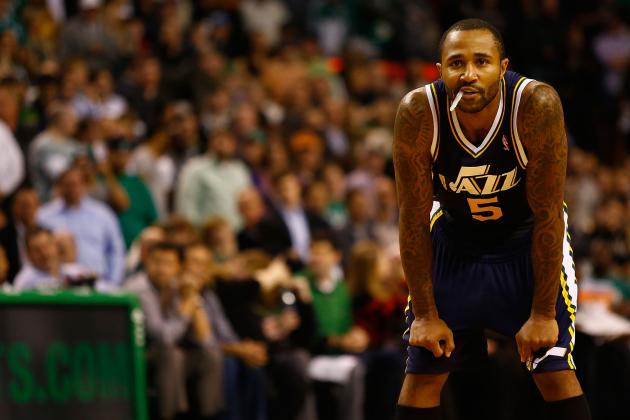 Jared Wickerham/Getty Images

2012-13 Stats: 12.9 points and 6.2 assists a game
2012-13 Salary: $8,500,000
Mo Williams is the veteran point guard Utah should keep as they attempt to transition to whomever they take in this year's draft.
Though certainly not as productive as he was while wearing his Bucks and Cavaliers jerseys, Williams was solid for the Jazz when healthy. He hit 38 percent of his three-point attempts (much better than Tinsley and Watson) and was just behind Tinsley for second on the team in assist percentage.
I don't need to make much of an argument for Williams being better than the other point guards on the roster; that much is obvious. The argument is how much should Utah spend (if anything) to retain one of their point guards. Williams will be the most expensive of the three options, but still won't break the bank.
He just turned 30 and his production has dipped in each of the last four seasons. There's no way any team will pay him anywhere near the $8.5 million he made last season. Utah might be able to re-sign him for right around the $5 million that mid-level exception players receive.
Verdict: Keep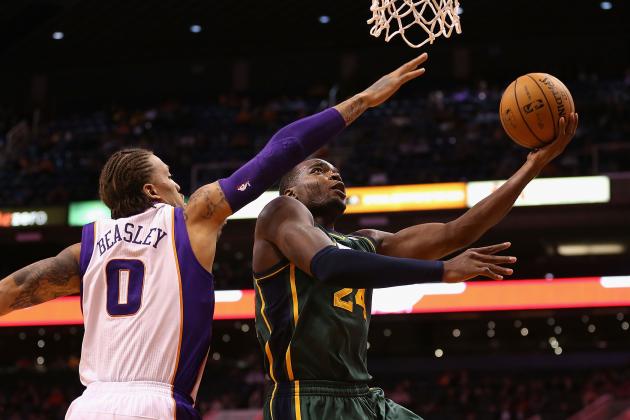 Christian Petersen/Getty Images

2012-13 Stats: 14.6 points and 7.1 rebounds a game
2012-13 Salary: $8,603,633
Paul Millsap is a very solid forward, but it's not likely any team could compete for a title with him as the second best player on the roster. Utah's current core has proven to be fringe playoff material at best. It's time for them to let their biggest money guys go, and start fresh.
And in terms of big guys, the turnaround could be pretty quick. At 21, Millsap's backup Derrick Favors is six years younger and was almost as effective when he was on the floor. Here are some key stats for both per 36 minutes:
| | | | | |
| --- | --- | --- | --- | --- |
| | Points | Rebounds | Blocks | FG% |
| Millsap | 17.2 | 8.4 | 1.2 | 49% |
| Favors | 14.6 | 11 | 2.6 | 48% |
Those numbers could be slightly deceiving, as Favors played a lot of his minutes against fellow backups, but I don't think many would argue that he has a bright future. Given more time to grow in real game situations, he could become pretty special, pretty fast.
Letting go of a good player like Millsap might be tough, but also necessary to see if Favors is a great one.
Verdict: Cut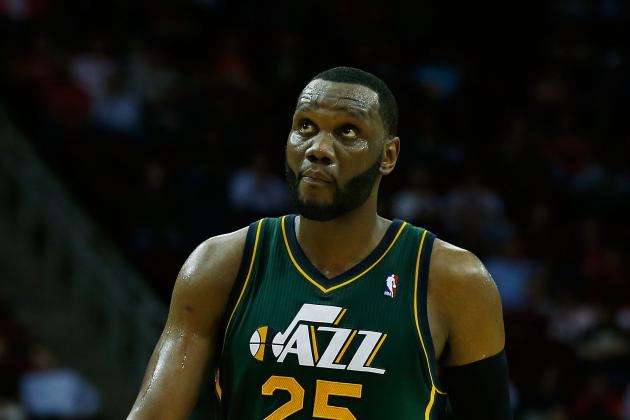 Scott Halleran/Getty Images

2012-13 Stats: 17.8 points and 9.2 rebounds a game
2012-13 Salary: $15,000,000
The argument on this slide is going to be very similar to the Millsap slide. Jefferson is really good (especially on offense), but he's not going to carry the Jazz to title contention and retaining him will almost certainly cost around or over $10 million a year.
It's time for Utah to see whether or not the frontcourt combination of Enes Kanter and Derrick Favors can work as part of the starting lineup.
Like Favors, Kanter was very solid in limited minutes. He averaged 16.9 points and 10.2 rebounds per 36 minutes and shot 54 percent from the field.
The Jazz can try to bring most of their guys back, stay mediocre and a few years from now, start to think about rebuilding again. Or, they can start fresh now and see if the team, led by a young nucleus of Gordon Hayward, Favors and Kanter can be great in a few years.
Verdict: Cut