The New York Yankees selected high school pitcher Ian Clarkin with the 33rd pick in the first round of the 2013 MLB first-year player draft, but the selection did not go over as planned after he was associated with a quote saying he "couldn't stand" the Yankees.
On Friday, Clarkin apologized for those comments during a conference call with Yankees officials.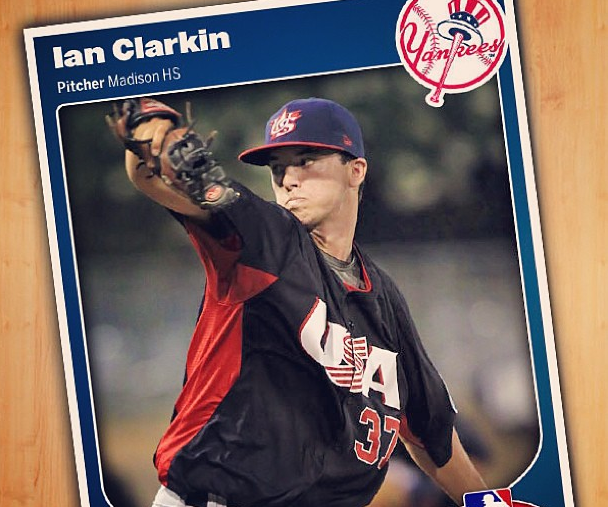 Andrew Marchand of ESPNNewYork.com had the report. Clarkin said that his comments were "taken out of context completely" when he now infamously said he cried tears of joy when the Arizona Diamondbacks beat the Yankees in the 2001 World Series.
Bleacher Report's Twitter account had the post last night when the news broke and a mini-controversy ensued:
Ian Clarkin, RHP drafted by the New York Yankees 33rd overall in a pre-recorded interview: "I cannot stand the Yankees" #bummer

— Bleacher Report (@BleacherReport) June 7, 2013
The University of San Diego commit isn't a sure thing to sign right out of high school, even though he was a first-round pick, and the comments poured fuel on the fire of the Yankees biting off more than they could chew by making him their third pick of the first round.
Daniel Barbarisi of the Wall Street Journal also posted the news during the aftermath of the call:
1st rounder Ian Clarkin starts off Yankee draft conference call apologizing for saying he was a Yankee hater -- says he's thrilled to be NYY

— Daniel Barbarisi (@DanBarbarisi) June 7, 2013
Not everyone was ready to commend Clarkin for his apology. In fact, Erik Boland of New York Newsday was frustrated that an apology for a prospect's six-year-old rooting interest had to be turned into an apology in the first place:
Speaks poorly of our business that Yanks 1st round pick Ian Clarkin, 18, had to explain his rooting interests as a 6-yr old during conf call

— Erik Boland (@eboland11) June 7, 2013
Clarkin also said during the call that the statement was more of a family joke since his father is a fan of the Pittsburgh Pirates and his mother is from New Jersey—a die-hard Yankee fan at that.
The Yankees had a closer look at their new prospect on Twitter after the pick was official on Thursday evening:
Take a look at the #Yankees drafting LHP Ian Clarkin with the 33rd overall pick: http://t.co/xtIIMJxHnM

— New York Yankees (@Yankees) June 7, 2013
One of the best high school pitching prospects in the draft, Clarkin hails from California and boasts an impressive set of pitches that includes an intimidating curveball.
Bleacher Report's Adam Wells profiled Clarkin on Thursday after the selection was made, predicting that he could be a good No. 2 starter at the next level some day who likely winds up closer to being a No. 3 guy in the rotation.
Wells lists Clarkin's chances of signing at 70 percent, which leads into another quote Clarkin had on the call about what it was going to take for him to avoid joining San Diego next season in favor of MLB (via the ESPN report):
It will just have to come down to life-changing money...We are going to have to talk about it over as a family, see what works best for me, see what works best for the family. Hopefully, we'll get the scholarship in the contract also, but it is going to come down to how the money changes our family's lives.
His comments likely didn't get him off on the right foot with the Yankees fans that have been around for the long haul, but if signed, Clarkin's progress through the minor leagues would likely help this story fade away like the batters he's expected to challenge in the next few years.