Texas Football: The 10 Biggest Issues They Face This Offseason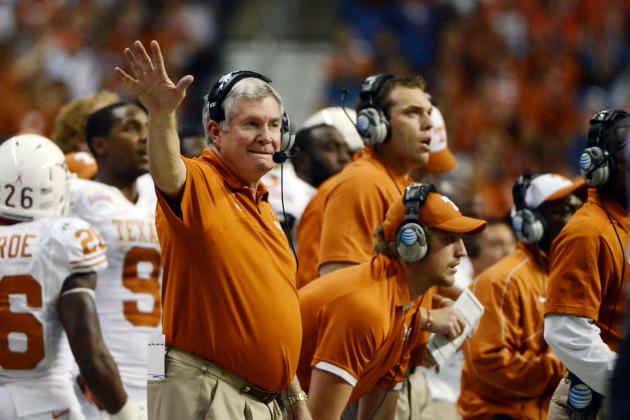 Brendan Maloney-USA TODAY Sports

For all of the ups experienced by the Texas Longhorns last season there were twice as many downs due to poor tackling, an atrocious run defense and an inconsistent quarterback.
Texas capped off a 9-4 campaign with a victory over Oregon State in the Alamo Bowl. The Longhorns finished third in the Big 12 with a 5-4 record but left many questions unanswered heading into the offseason.
Based on last season's statistics and an assessment of what makes the Longhorns click on all cylinders, I've compiled the Top 10 issues facing the team heading into next season.
In order to make this list, each category had to reveal bad statistics in a particular facet of the game or an inconsistency in areas that the Longhorns usually succeed.
Let's take a look at what made the cut.
Begin Slideshow

»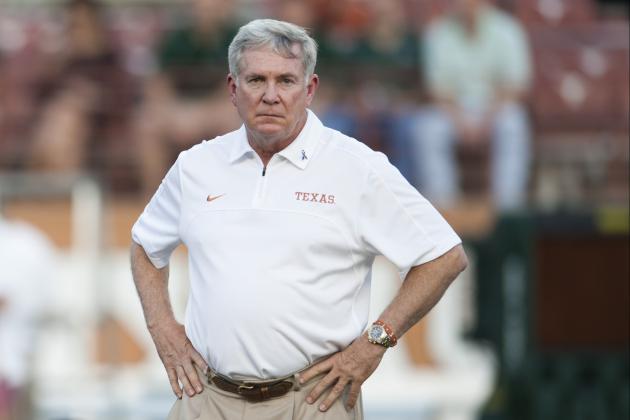 Cooper Neill/Getty Images

Coaching
After losing in the 2010 National Title game to Alabama, the Longhorns have responded with two sub-10 win seasons. Mack Brown and the coaching staff are switching things up a bit with a move to the spread offense to get Texas back to an up-tempo style.
The fact that Brown has won so many times before keeps this off the list, but another bad season could spell the end of his reign at Texas.
Move to the Spread Offense
Texas has the speed at receiver and the depth at the running back position to make the most out of a move back to the offense that brought them a National Title with Colt McCoy under center.
The transition may be difficult after a few years under a pro-style look, but because the spread plays more to the abilities of quarterback David Ash, this issue stays just off of the list.
Discipline
With countless arrests this offseason, following the allegations of sexual assault against Case McCoy and Jordan Hicks before the Alamo Bowl, you have to wonder if Brown has control over his team.
Because Brown is a veteran at the helm, and this season appears to be the best shot for Texas to return to prominence in the Big 12 due to key quarterback departures, I suspect that trouble will be avoided when its time to put on the pads for the start of the season.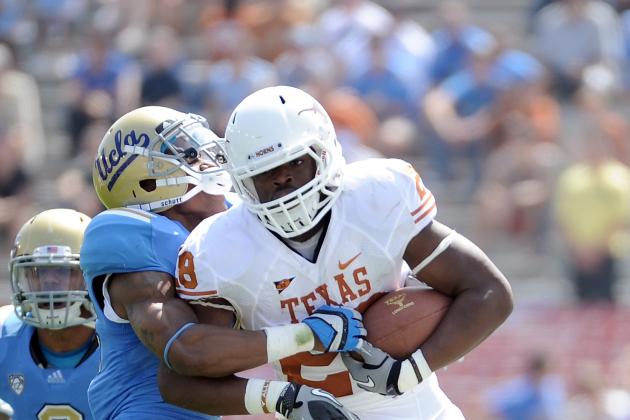 Harry How/Getty Images

Malcolm Brown missed five games last season for a team whose success is predicated on solid rushing. With a healthy Brown the backfield, the Longhorns are an explosive unit with three rushers who can beat any defense.
Jackson Jeffcoat and Jordan Hicks both missed seven games last season. The defense needs to become more consistent with tackling and rushing the passer and these two guys, who combined for just 28 tackles last season, will need to increase their production and stay healthy to ensure this happens.
Texas has the talent, which keeps this issue low on the list, but durability issues could cost its experienced lineup if it isn't careful.
A fully-healthy Texas team is a dangerous Texas team.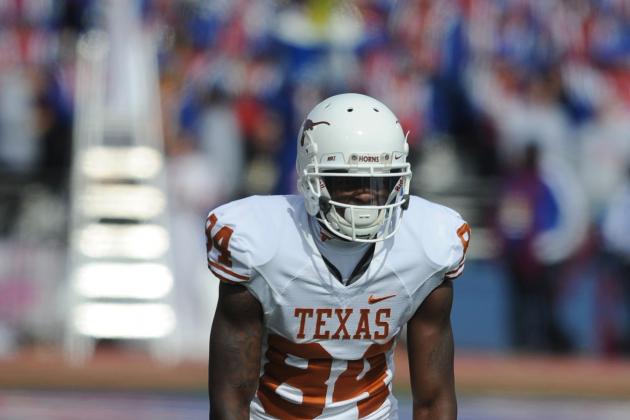 John Rieger-USA TODAY Sports

Four of the Longhorns' top five receivers are back this season, which bodes well for a squad that underachieved in that area last season. Although Mike Davis, who is entering his senior season, amassed a solid 939 receiving yards last season, Texas never found a go-to receiver.
The move to the spread offense should open up more opportunities for Texas receivers and get the running backs more involved in the passing attack, which could lead to much success for the team.
Despite the loss of Marquise Goodwin, Texas still has a lot of speed in its receiving core with Davis, and Jaxon Shipley who has a team high 59 receptions. But a primary target needs to emerge.
Texas averaged 263.2 passing yards per game last season, good enough for No. 41 in the country. This statistic proves they can catch the ball and reveals that the issue can be resolved with a definitive primary receiver.
Unless that happens, however, the up-tempo style will just put the Longhorns out of games even faster than it did in last season's losses.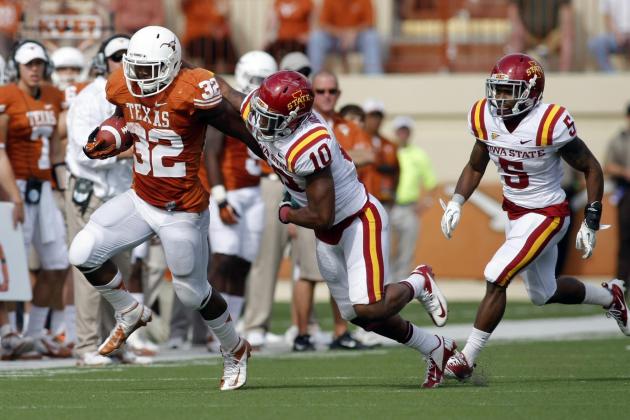 Brett Davis-USA TODAY Sports

All things considered, Texas has one of the deepest backfields in the country. With three backs that could easily be starters for division 1 programs, the Longhorns have a chance to emerge as one of the elite rushing teams in the nation.
But who is the primary back?
Sophomore Johnathan Gray is coming off of an impressive freshman season that saw him rush for a team-best 701 yards. Junior Malcolm Brown began the season as the starter at running back but eventually relinquished it due to injuries that saw him miss five games en route to finishing the season with only 324 yards.
The veteran Joe Bergeron was the go-to back in the red zone, finishing with a team leading 16 rushing touchdowns.
When the Longhorns were at the best last season, it was because of their rushing attack that finished No. 54 in the nation with just over 171 rushing yards per game. In the team's four losses, however, they averaged just 98.5 yards per contest. That can't happen with a backfield this deep.
It's difficult to put this category on the list because of the unquestioned talent at the position, but if no one emerges as the true No. 1 back this season, their depth will be a waste.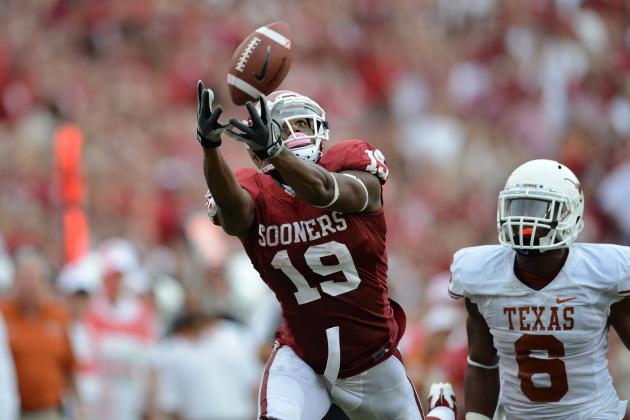 Matthew Emmons-USA TODAY Sports

Team captain and the leader of the Texas secondary, Kenny Vaccaro, is gone. A secondary that was lambasted for giving up big plays and missing key tackles last season is now left without a leader.
Although the rushing defense for the Longhorns caused more trouble last season, Texas proved susceptible to big plays in big games. Despite a win in a shootout against Baylor, Texas gave up 352 passing yards, including an 80-yard score by Terrance Williams.
In a blowout loss against Oklahoma, Texas allowed 677 total yards and missed some big tackles which led to plays like Damien Williams' 95-yard touchdown run in the first quarter.
Texas returns experienced starters Quandre Diggs, who led the team in interceptions, and Carrington Byndom but it remains to be seen if a team who allowed 29.2 points per game last season can play fast enough and smart enough to shore up a shaky secondary.
This category also sits low on the list due to the talent in the secondary, but the focus has to be up to par with the talent for success this season.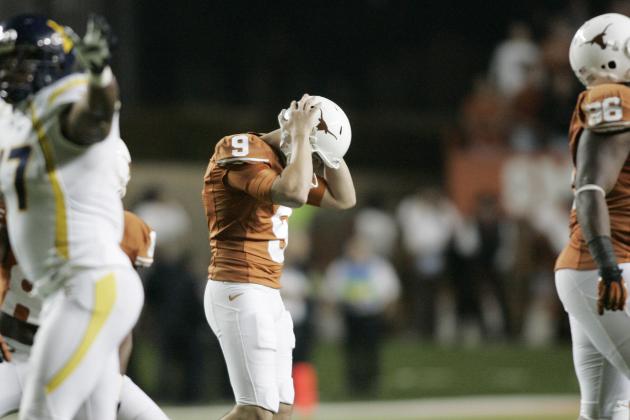 Tim Heitman-USA TODAY Sports

If the Longhorns were in a few more close games last season, this would be higher on the list. But Texas connected on 11 of 19 field goal attempts last season, which is an average of 57.9 percent.
No more needs to be said for this category.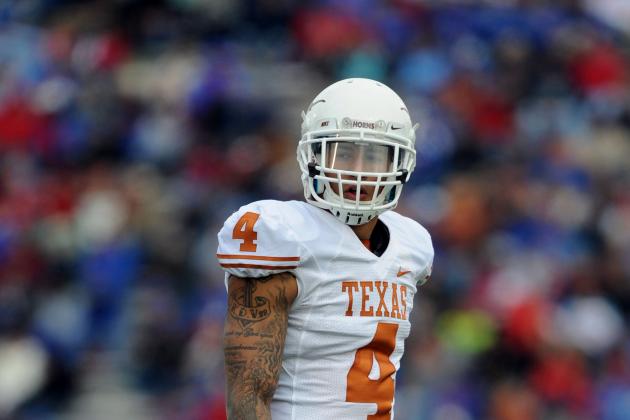 John Rieger-USA TODAY Sports

Texas loses two captains from its defense, and you don't know what you're going to get from the quarterback spot until you get it. Texas has no definitive leaders.
For a team that went 9-4 with a bowl game victory, Texas has some momentum heading into this season in a depleted Big 12.
But with all of the discipline problems in the offseason with numerous arrests and the inconsistency shown by a team loaded with talent, leaders need to present themselves on both sides of the ball for Texas to win games.
Despite the negatives in this area, there is an equal amount of hope if someone steps up, which puts this in the middle of the list of issues.
If Ash can use the change of offense and constant criticism to strike a fire under the Texas offense, and others can do the same for the defense, Texas could win 10-plus games this season.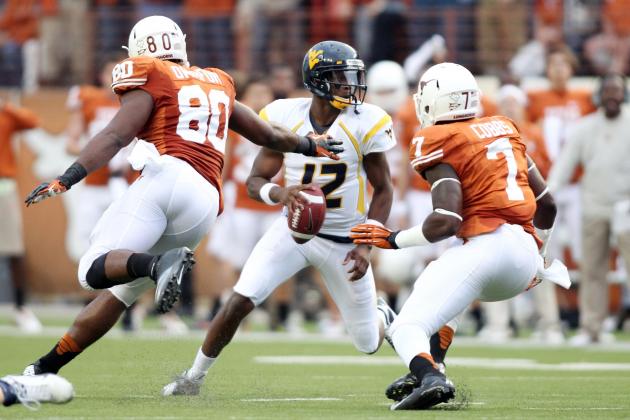 Tim Heitman-USA TODAY Sports

If you're not a consistent team, you have to beat the teams you're supposed to beat and do the things you're supposed to do.
Texas was 2-3 against top 25 opponents last season, and lost two games that they could have won if bad play down the stretch was eliminated.
They lost by three points to a West Virginia they could have beaten if a late field goal attempt wasn't botched. And they lost a sloppy contest to TCU that saw them commit four turnovers and rush for only 86 yards.
If Texas is going to win more games they must do the things they are good at and not diverge from the game plan against better opposition.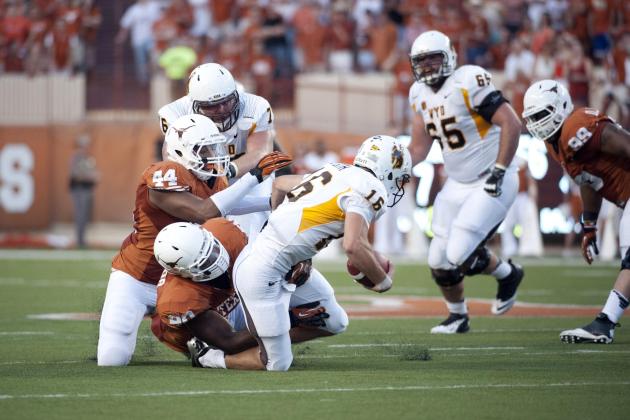 Brendan Maloney-USA TODAY Sports

With the departures of Kenny Vaccaro and Alex Okafor, a team that couldn't tackle with consistency last season is losing 12.07 tackles per game. That accounts for about 16 percent of the team's total tackles.
One would have to think the defense would look to be a lot more aggressive and sharp after it finished No. 100 in total rushing defense last season. But the loss of two key tacklers has to raise some concern for a defense struggling to find its identity.
The defense is loaded with talent from Jackson Jeffcoat, to Jordan Hicks, to the secondary with Carrington Byndom and Quandre Diggs, but what style will produce the most consistent play?
Is a more balanced zone look to guard against the deep ball better, or would a more aggressive blitzing-style defense to get pressure on the backfield, force bad passes and stuff running lanes be the answer?
More pressure from the line would alleviate some of the pressure on the secondary to make tackles, which keeps this at No. 3 on this list.
For Texas' sake, let's hope they include a few more Oklahoma drills in practice.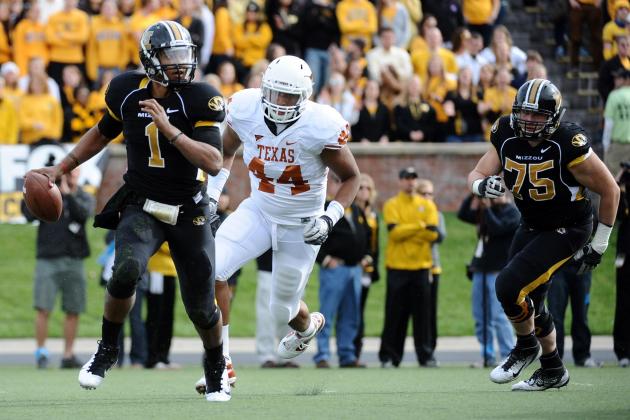 Dak Dillon-USA TODAY Sports

The 2012 Texas Longhorns had the No. 100 rated rushing defense in the nation last season. They sacked the quarterback only 34 times in 13 games and recorded 96 tackles for loss.
The team's leading sack man, Alex Okafor, is gone after entering the NFL draft, and he took his 12.5 sacks with him. If the tackling inconsistency was the team's biggest problem last season, getting pressure in the backfield was the second.
Texas allowed 4.62 yards per carry, which was better than its own rushing attack, heralded for its depth. If Texas cannot find a way to get pressure in the backfield, they will continue to have a porous rushing defense.
Oklahoma and TCU rushed for 344 and 217 yards respectively against Texas last season. Unless the defense becomes more up-tempo, as the offense is trying to do with the spread, expect Texas to keep allowing big rushing totals.
Getting pressure in the backfield would eliminate the need to make tackles at the second and third levels, which makes this a bigger issue due to its prospective benefit to the team's overall success.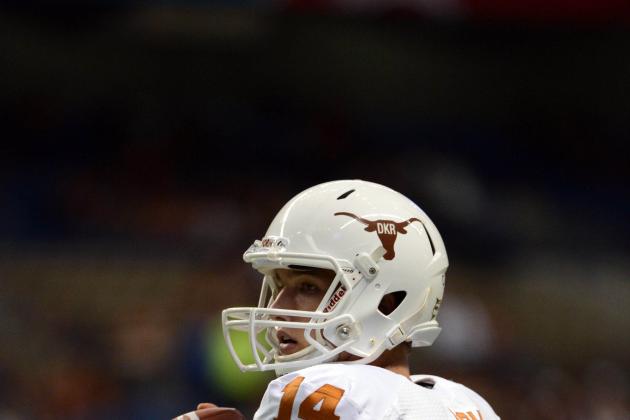 Brendan Maloney-USA TODAY Sports

Entering his third season as the Longhorns' quarterback, David Ash seems poised to have a breakout year.
After a turnover-plagued freshman season, Ash had a fairly solid statistical season which saw him complete 67.3% of his passes for 2,699 yards, 19 touchdowns, and only eight interceptions.
But which Ash will show up this season?
You have to think the move to the spread offense this season will benefit Ash, a very mobile quarterback with the ability to throw on the run. The spread should also open up more passing lanes to get his receivers the ball and produce a more efficient passing game.
With five Big 12 quarterbacks departed or graduated this season, Ash has the chance to emerge as the top dog in the conference. If Texas is going to have a chance to take advantage of the depleted conference, however, they will need the mobile and steady Ash rather than the turnover-prone Ash that has showed up in big moments in the past.
It seems inconsistency at the quarterback position has been the biggest issue for Texas for a few years now. In order to win games, you need solid quarterback play and all eyes are now on David Ash to bring the Longhorns back to relevancy this season.