Atlanta Falcons: 5 Players Whose Stock Is on the Rise After OTAs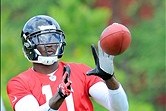 Dale Zanine-USA TODAY Sports

I had a football coach who used to preach that "Football's a contact sport. Either you hit somebody, or your butt (clean version) gets hit."
My appreciation for that simple logic is part of what keeps me from getting too excited about the organized team activities (OTAs) that NFL teams engage in every year, but since I'm a football addict like you, I still can't help but keep up with what's happening as the teams practice in jerseys, shorts and helmets.
The Atlanta Falcons' OTAs may not include contact drills, but they still present players with an opportunity to get noticed by the coaching staff heading into training camp next month because coaches are always evaluating players in the offseason.
Join me as I look at five Atlanta Falcons' players whose stock is heating up with the weather, as the team concludes it's second week of OTA sessions.
Note: Unless otherwise indicated, all analysis in this article is based on coach and player interviews found on AtlantaFalcons.com Media Lounge, the AtlantaFalcons.com FalconCast with Jay Adams and Daniel Cox and reporting by D. Orlando Ledbetter of the Atlanta Journal-Constitution.
Begin Slideshow

»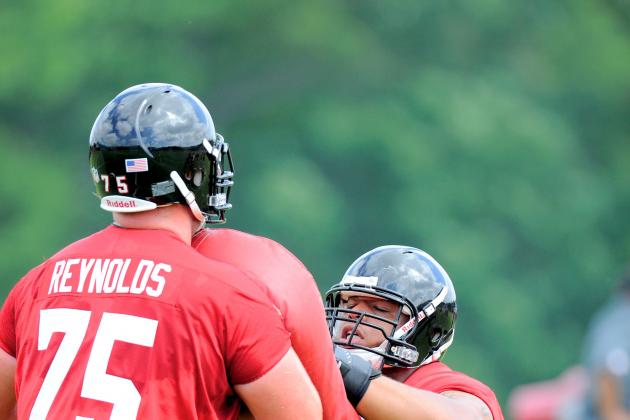 Dale Zanine-USA TODAY Sports

It's no secret that one of the biggest position battles on this team during training camp will be for the starting right guard spot.
Phillipkeith Manley, who figured to be in the thick of the competition for playing time at right guard, has reportedly come to OTAs overweight.
Peter Konz started 10 games at right guard for the Falcons last year, but he's moved over to center where he'll battle Joe Hawley for the right to take Todd McClure's spot.
In addition, 2010 third-round pick Mike Johnson is seeing a lot of time at right tackle, as he competes with Lamar Holmes for a starting job there.
Given that, Garrett Reynolds' stock is rising, but it's not based on anything he's done on the field at this stage. If Reynolds can stay healthy, the right guard job may be his to lose headed into training camp.
Kevin C. Cox/Getty Images

Tony Gonzalez isn't at OTAs and rookie tight end Levine Toilolo is finishing up his degree at Stanford. That means more reps for a group of tight ends that includes Chase Coffman, Tommy Gallarda, Andrew Szczerba and the newly signed Anthony Miller.
Coffman got noticed in the playoffs when he made an athletic catch against Seattle, and he'll probably benefit the most from getting the opportunity to get quality reps without Gonzalez or Toilolo around because he's a receiving tight end and OTAs aren't padded practices.
Coffman, Gallarda, Szczerba and Miller are likely competing for one spot on the Falcons' final roster, so any advantage Coffman can gain now could prove to be valuable in August.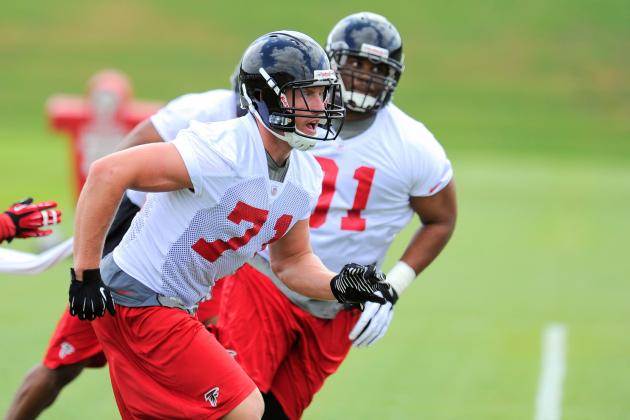 Dale Zanine-USA TODAY Sports

Is this the year that Kroy Biermann finally becomes a consistent impact player? Falcons' defensive coordinator Mike Nolan sure sounds like he's going to give him every chance to make plays.
With the Falcons relying on a lot of younger players to generate the pass rush besides Osi Umenyiora, it's time for Biermann to establish himself as a difference-maker.
Biermann's motor has never been the issue during his time in Atlanta, so if Nolan's scheme is sound, I'd expect much-improved numbers from Biermann in 2013.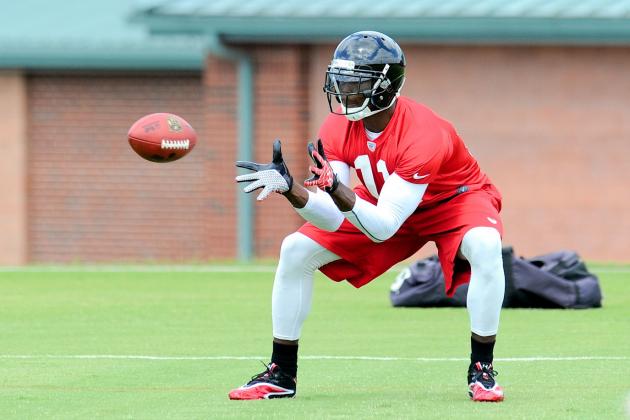 Dale Zanine-USA TODAY Sports

Believe it or not, but Julio Jones is entering his third season in the NFL. After missing some valuable time due to the lockout, Jones had an above-average rookie season in 2011, but he was far from dominant.
In 2012, Jones looked much more comfortable in offensive coordinator Dirk Koetter's offense, and the Falcons found creative ways to get him the ball and let him demonstrate just what an explosive weapon he is.
As he preps for his third season, Jones appears to be taking more of a leadership role on the team, and he's made a point to really get after the Falcons' young defensive backs during the OTA sessions.
As Daniel Cox of AtlantaFalcons.com pointed out, Jones looks and sounds like he's more comfortable than he's ever been the NFL. In fact, you could actually see some of Jones' swagger starting to come out in the first half of the NFC Championship Game after he caught his second touchdown.
A stronger, confident Julio Jones figures to be even more of a nightmare for opposing defensive backs this season.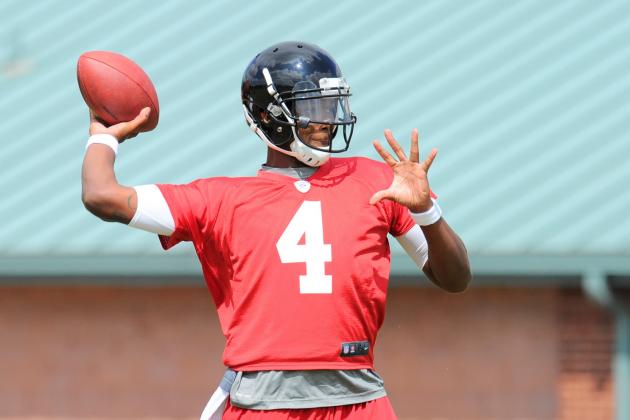 Dale Zanine-USA TODAY Sports

ESPN.com's Pat Yasinskas mentioned that the Falcons may need to look for a veteran backup at quarterback, but Dominique Davis looked as good as any backup quarterback has looked in the preseason under the Mike Smith/Thomas Dimitroff regime last year.
The early reports suggest that Davis is looking comfortable in his second year in the system as well. The most that any NFL team can ask of its backup quarterback is that the player keeps the team competitive if the starter goes down.
No one wants to see anything happen to Matt Ryan, but the Falcons have a ton of talent on this offense. If pressed into service, Dominique Davis wouldn't have to re-invent the wheel. He'd have the keys to a luxury car.
Davis has shown that he has some physical tools, and it's going to be fun to watch him continue to grow in Dirk Koetter's system.