Belmont Stakes Post Positions 2013: Final Breakdown and Predictions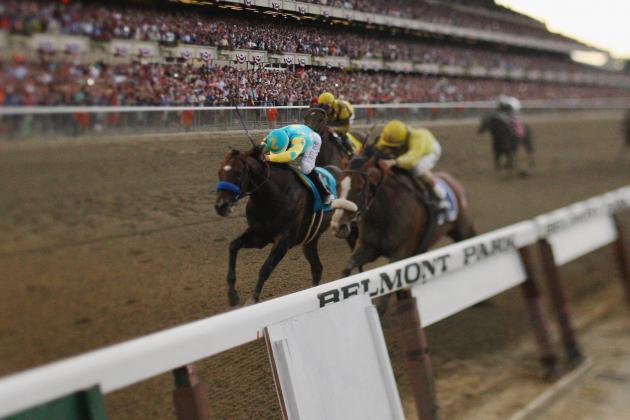 Rob Carr/Getty Images

Fourteen horses are in a New York state of mind for Saturday's Grade 1, $1 million Belmont Stakes. Never again will these horses run 12 furlongs (1 1/2 miles), but they're being asked to do it here.
The Belmont Stakes is often referred to as the "Test of a Champion," and no truer does that ring than in this field of 14.
It's Round 3 for Orb and Oxbow, the Kentucky Derby and Preakness winners, respectively. Yet there are new shooters, Derby runners who took five weeks off and, yes, even a lady throwing her hat into the ring for a shot at the white carnations.
What follows is a horse-by-horse analysis in reverse order of where they'll finish, according to this racetrack degenerate.
I'm using Thoro-Graph to do my race analysis (subscription required). It's different than what you're used to, which is all the reason to try something new.
Begin Slideshow

»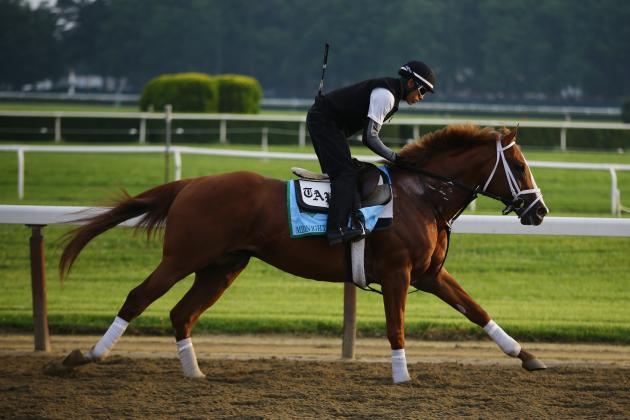 Al Bello/Getty Images

Last-Minute Analysis
Some horses simply don't belong in a Grade 1. Enter Midnight Taboo.
In terms of speed, he doesn't measure up. He's never run more than 1 1/16 miles. His only win came against maiden company back in early April at Aqueduct. He lost his last in an allowance, and now he's being asked to run against the best three-year-olds?
You fill in the blank.
Prediction
Midnight Taboo has a shot at getting the lead in this race and will, most likely, be in the first flight of horses.
He's in here to ensure a quick pace, but this horse is in over his head. He may be a nice Grade 3 horse at some point, but this is the Belmont.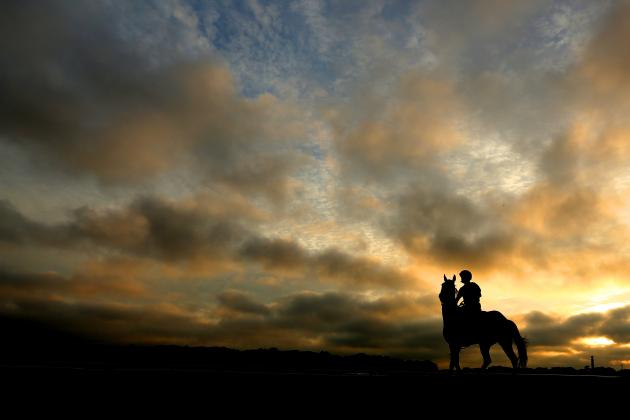 Al Bello/Getty Images

Last-Minute Analysis
Giant Finish finished 10th in the Kentucky Derby, which is no small feat. He was four-wide turning for home, so he lost a little bit of ground, but he also gets five weeks of rest.
His trainer, Anthony Dutrow, has gone a touch chilly the last 90 days, only winning 18 percent from 107 starters. Giant Finish could finish anywhere from, say, sixth to 14th, depending on how the race shapes up.
Prediction
The Derby gave him a new "top" figure, and even if he pairs up that top, he'll be far slower than the true contenders in this race. Finding him in the bottom half of this field is the most likely result.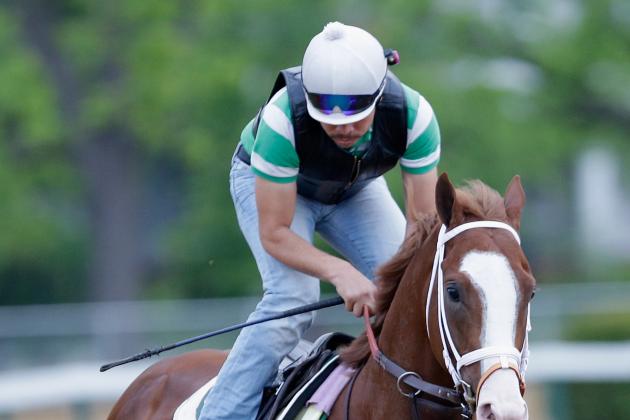 Rob Carr/Getty Images

Last-Minute Analysis
Love that big, white blaze, but good looks get you nowhere. Will Take Charge is one of three horses, God bless 'em, who ran in the Derby and Preakness.
As it stands, he's in declining form.
He bounced in the Derby, and he slid farther back in the Preakness. Bouncing in the Derby off a seven-week layoff likely meant he didn't like the muddy track, but then he fell even further two weeks later.
Three races in five weeks? Love that he's here, but he's just taking up space.
Prediction
He's going to fight, no doubt about that, but I believe this horse will just be too tired.
To be considered, he'd have to run back to his form in the Rebel Stakes back in March, and a lot has happened since then. Also ran.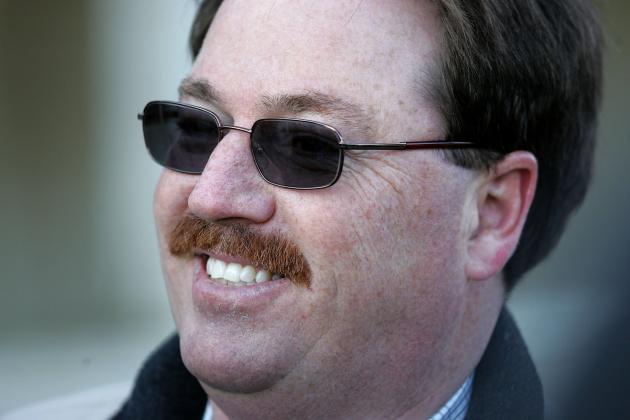 Andy Lyons/Getty Images

Last-Minute Analysis
Incognito fires from the ultra-hot barn of Kiaran McLaughlin (pictured), but he finished a distant fifth to Freedom Child in the Grade 2 Peter Pan Stakes at Belmont Park. Granted, that day the track was muddy, but then again, it could be muddy for the Belmont Stakes as well.
McLaughlin is winning at a 28 percent clip over the past 90 days, and he won this race in 2006 with Jazil.
Prediction
Incognito has a stellar pedigree, as he's by Belmont Stakes winner A.P. Indy and out of the graded stakes-winning mare Octave.
He could be a great horse, and we are likely going to see the best of him in the summer over fast tracks. Just not here.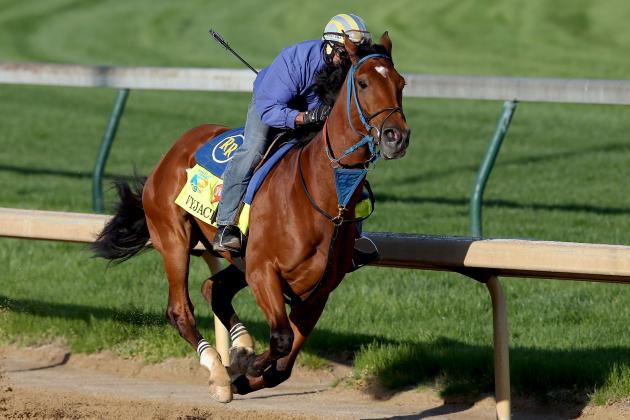 Matthew Stockman/Getty Images

Last-Minute Analysis
Vyjack was certainly a contender heading into the Derby, but the post position, 20, really handicapped him from the far outside. As a result, he bounced significantly and was a non-factor.
If you throw out the Derby, there's a lot to like, and his speed figures are right up there with the contenders.
Prediction
If it's my money? I'm staying clear of Vyjack.
I think he wants to go short, as in a sprint of no longer than seven furlongs, and this 1 1/2 miles is way out of his comfort zone.
He'll be in the mix early, but he'll tire and finish in the back third.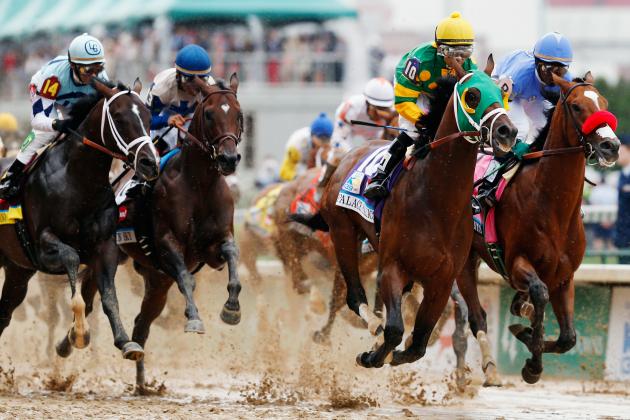 Rob Carr/Getty Images

Last-Minute Analysis
Palace Malice was evidence of the you-think-you-know-but-you-have-no-idea kind of horse in the Derby, screaming off those early fractions. Credit that to the blinkers, which come off for the Belmont.
The Derby was a dirt effort right after running second in the Bluegrass Stakes on polytrack at Keeneland. Usually the second race off a polytrack effort is quite dismal. Add to that several furlongs, and he's done for.
Prediction
He'll run more controlled in the Belmont than he did in the Derby. He'll be up near the pace, maybe the second flight of horses, but ultimately won't be in the mix as the real players get serious.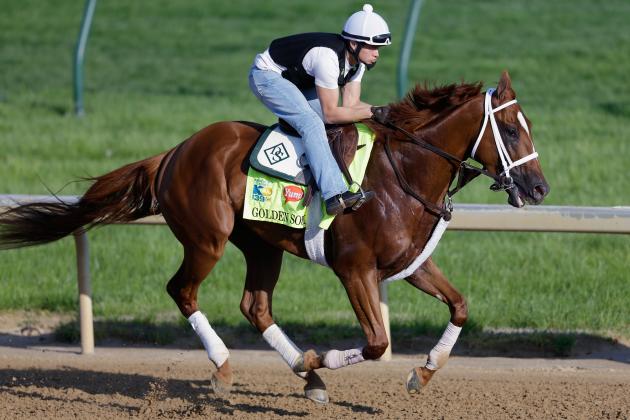 Rob Carr/Getty Images

Last-Minute Analysis
This colt showed steady three-year-old improvement, then he exploded in the Derby on an off-track to get up for second. This sudden jump signifies a bouncing effort in the Belmont, in my opinion.
Given his runner-up effort in Kentucky, he's going to be heavily bet, which is all the more reason to avoid him.
Prediction
He's going to be doing his running late, and that doesn't always work in the Belmont.
People seem to think closers will do better with extra space to finish. What they fail to realize is the horse still covers a lot of ground before he puts in that one run.
Golden Soul will find traffic, and he's due for a nice, solid bounce.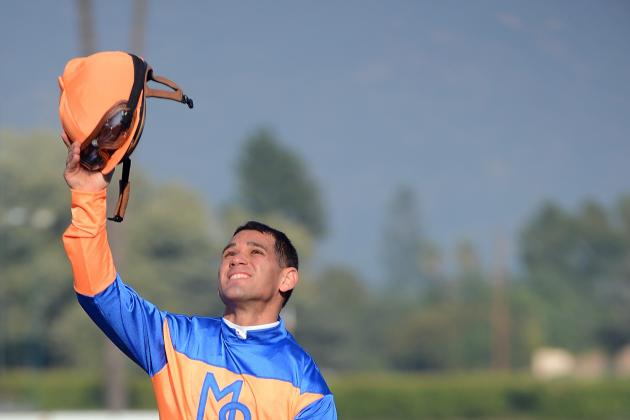 Harry How/Getty Images

Last-Minute Analysis
Revolutionary finished a game third in the Derby thanks to then-jockey Calvin Borel.
He saved so much ground while staying in the one-path all the way around the oval. He was probably the only horse who actually ran just 1 1/4 miles that day.
He's not bad, but he's not great either. With the jockey change to a rider, Javier Castellano, who knows Belmont as well as anyone, he's a contender.
Prediction
Trainer Todd Pletcher skipped the Preakness with this horse, so he's well-rested.
He's hard to like, as there are a few others coming into this race in a better cycle. Add that Pletcher's Derby horses don't break through during the Triple Crown, and he's a classic underlay here.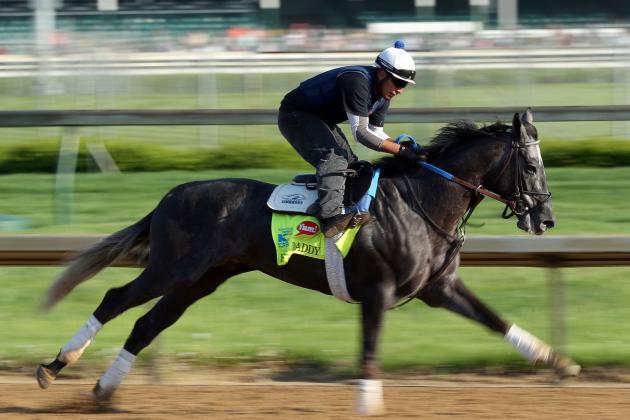 Andy Lyons/Getty Images

Last-Minute Analysis
He had a very wide trip in the Kentucky Derby and didn't necessarily care for the track. This horse moved forward nicely over the year, but he ran into a buzz saw of element he didn't care for back in May.
Trainer Ken McPeek campaigned this horse aggressively to get him to the Derby, so one has to think McPeek loves this horse's chances to enter him in his third straight Grade 1.
Prediction
He could be sitting on a big effort, but that may only come if the track is fast.
If there's mud, expect much of the same. He's a good lookin', strappin' colt who will, at the very least, get a nice, short trip around Big Sandy breaking from Post 1.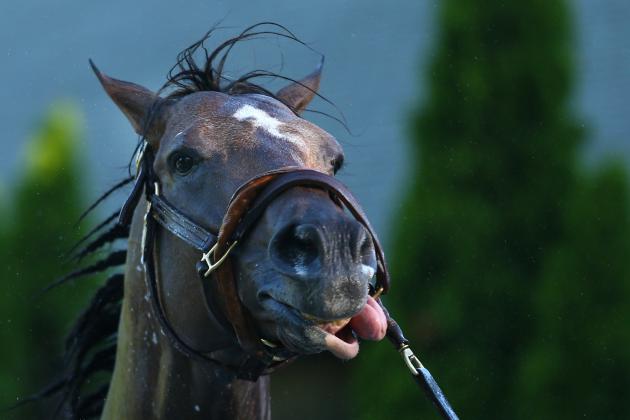 Al Bello/Getty Images

Last-Minute Analysis
There's nothing his trainer, D. Wayne Lukas, likes to do more than race his horses.
This colt just won the Preakness in a stunning upset, going gate to wire. He has already raced six times this year, with the Belmont being his third race in five weeks.
He posted a new top in the Preakness after two somewhat mediocre efforts beforehand. If he pairs up his Preakness effort, he's right in the thick of it here.
Prediction
He ran a great race in Kentucky and a better one in the Preakness. So what will he do in the Belmont?
He always manages to defy expectations and logic, so maybe he can win. I'm sticking with my guns on this. I believe he falls back a few lengths, but he sure as heck is going to give it his all.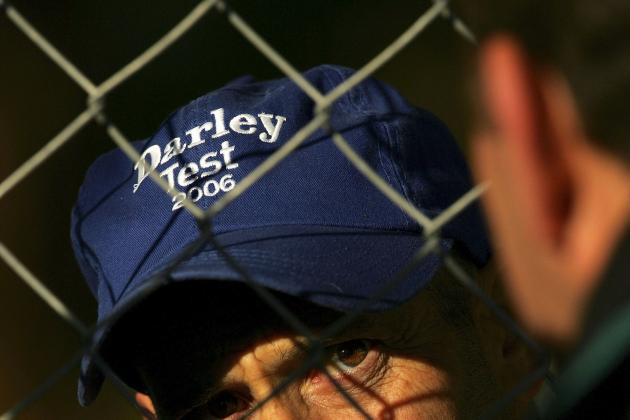 Matthew Stockman/Getty Images

Last-Minute Analysis
I loved this horse's last race: a 13 3/4-length romp in the slop in the Grade 2 Peter Pan Stakes at Belmont Park. He went to the lead and never looked back.
There are horses for courses, and it could be he just loves Belmont Park. If it's going to rain like it's supposed to, he's got a shot at stealing this Belmont.
Prediction
His trainer, Tom Albertrani (pictured), has said he's as confident in this horse as he was when he ran Bernardini in the 2006 Preakness. Bernardini won that race, so that makes you listen.
He's a major threat if he pairs up his Peter Pan effort here, though he'll be a fairly low price after that Peter Pan. Seems a great play in exotics.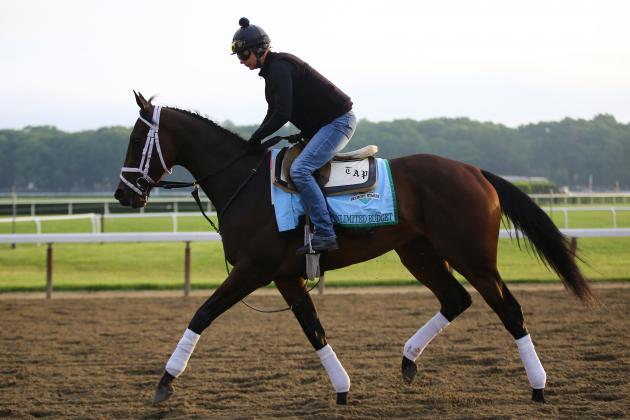 Al Bello/Getty Images

Last-Minute Analysis
This filly has such a smooth pattern of progression and is lightly raced. She's raced only three times this season and, on paper, is as fast as any horse in this race.
Being a lady, and everyone being so gentlemanly, she gets a five-pound allowance, having to carry only 121 pounds. She didn't have quite the kick in the Grade 1 Kentucky Oaks and ended up with her first loss, finishing third.
Prediction
Her sire is Street Sense, and he did a great job going around two turns. She gets Rosie Napravnik, so it's truly a girl-taking-on-the-boys kind of theme breaking from Post 13.
She's got the talent, and she's going to the lead. Watch out for this filly's breakout effort.
Last-Minute Analysis
Hey, remember this guy? He won the Kentucky Derby and bounced pretty hard in the Preakness.
Here's the deal: If this horse was the least bit off, his trainer, Shug McGaughey, would rest him and skip this grueling race. Yet...here he is.
He's the best of his generation, so far at least. If he regains his form—even a fraction of his form—from Kentucky, he's an exacta waiting to happen.
Prediction
He's going to do his running late, as usual, and will have to navigate through fairly significant traffic.
The problem this time is having to run longer and not having the rest to deal with such a long trip. As a result, he'll likely be second best.
Second best to...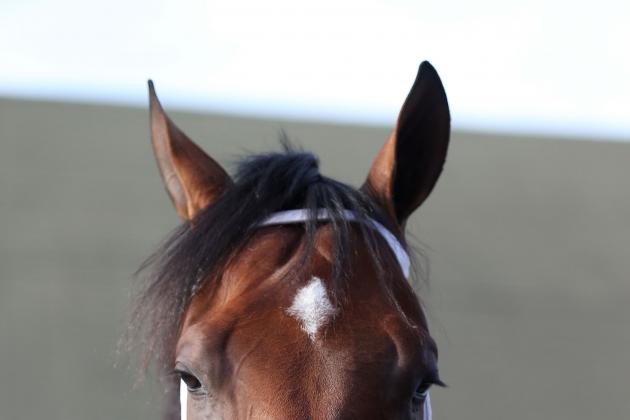 Andy Lyons/Getty Images

Last-Minute Analysis
Mike Repole, owner of Overanalyze, is a native New Yorker and, it is my feeling, would like to win this race every bit as much as he wants to win the Derby. Repole finished second with Stay Thirsty in 2011.
Overanalyze hasn't strung together two consecutive strong efforts yet.
He ran big in the Arkansas Derby, then threw in a dud in the mud in Kentucky. If he fires off the five-week layoff, he's every bit as qualified to win this Grade 1.
Prediction
Overanalyze will stalk the pace and save ground under jockey John Velazquez. Velazquez won this race in 2007 with Rags to Riches and last year aboard Union Rags.
Overanalyze ran a huge race as a two-year-old in the Remsen and looks like he could regain that form here again in New York. If he does, he's the winner.
Expect a battle down the lane with three or four horses trading paint, so to speak.