Alabama Football: 3 Biggest Threats in Season Opener Against Virginia Tech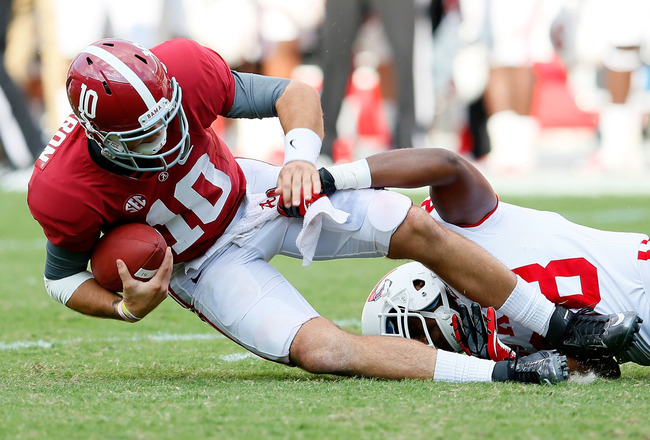 AJ McCarron is sacked during Alabama's game against Western Kentucky in 2012.
Kevin C. Cox/Getty Images
The Alabama Crimson Tide and Virginia Tech Hokies square off on August 31 in Atlanta, Georgia. The game kicks off at 5:30 p.m. ET and will be televised on ESPN. But fans of both teams—and college football—have had this event memorized since the date and time were released.
Alabama will embark on its quest for an unheard-of third consecutive national title when it faces the Hokies, and most people have chalked up a win for the Tide before the two teams even set foot into the Georgia Dome.
But Virginia Tech and the timing of this meeting could be too much for Nick Saban and company to handle in the first week of the season.
Virginia Tech head coach Frank Beamer and his staff know how it feels to lose to Alabama, as the Hokies were downed by the Tide 34-24 in 2009, and this team doesn't want to make the same mistake twice. He'll have a game plan cooked up to give Alabama as much as it can handle.
Here we break down the three biggest threats to Alabama in the Tide's season opener.
3. Inexperienced Offensive Line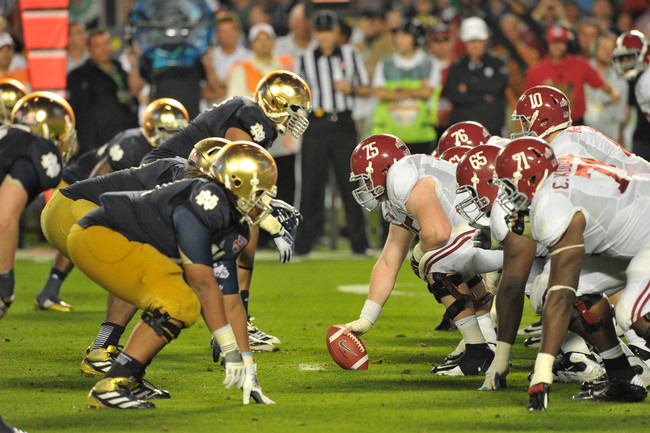 Alabama's once-dominant offensive line is missing a few pieces, and it will take time for the new unit to mesh.
Matt Cashore-USA TODAY Sports
This factor should cool down once the game goes along, and that's exactly why it's No. 3 on the list. But it's still something Virginia Tech could take advantage of early.
Alabama comes into this game with three new offensive linemen. Center Ryan Kelly, left guard Arie Kouandjio and right tackle Austin Shepherd will be seeing their first action as starters, and it won't be against an easy non-conference opponent. Instead, it will be in the raucous, sold-out Georgia Dome in prime time.
The rookie trio seemed to mesh well with experienced starters Cyrus Kouandjio and Anthony Steen in the A-Day game, but they will be shoved into action from the first snap on August 31.
The front line will also be replacing departed tight end Michael Williams, but his replacement, Brian Vogler, saw plenty of playing time in 2012.
The offensive line should be fine as the season progresses, but Beamer will likely send the house on several of Alabama's first offensive snaps. Disrupting the rhythm of AJ McCarron and the running game could result in early turnovers for the Hokies.
2. Logan Thomas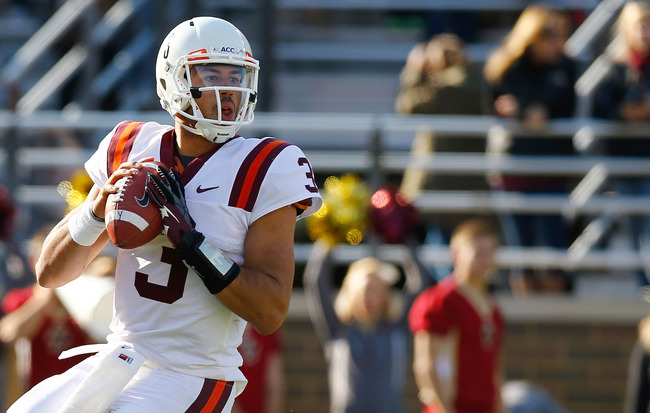 Thomas is a big QB that poses a dual threat for the Tide's defense.
Jared Wickerham/Getty Images
The second-team All-ACC selection is no fluke. At 6'6" and 257 pounds, Thomas is a big quarterback that can hurt you with his arm or his legs.
In 2012, he threw for 2,976 yards and ran for 524 yards. He compiled 27 touchdowns through the air and on the ground.
Thomas proved that he has the tools to be one of the most dangerous quarterbacks in the country, and returning for his senior season will allow him to sharpen his craft. He will begin that process against Alabama's tough defense.
Alabama hasn't fared well against dual-threat quarterbacks in the past.
Last season, Texas A&M's Johnny Manziel tainted Alabama's perfect season with his ability to scramble out of the pocket. In 2010, Auburn's Cam Newton exploded in the second half to will the Tigers to an improbable come-from-behind victory.
Thomas is similar is stature to Newton and can make plays like both of the aforementioned players.
Saban and company do have ample time to prepare for Thomas' style of play, but it will take some adjusting for the Tide to bottle him up for good. It will eventually happen, but how many big plays will Thomas make before Alabama figures him out?
1. Texas A&M Looms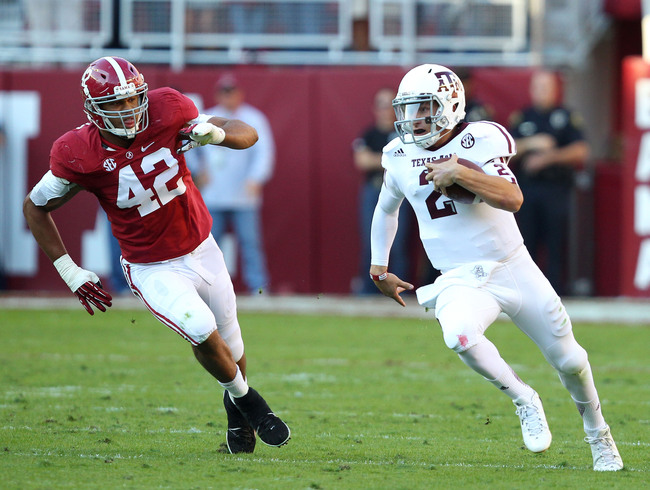 Johnny Football and the Aggies await the Tide in the second game of the season.
Mike Zarrilli/Getty Images
The biggest threat to Alabama in its first game against Virginia Tech doesn't involve the Hokies at all.
The Crimson Tide's second game of the season will take place in College Station, Texas, on Sept. 14 against the Texas A&M Aggies, the only team to defeat Alabama in its 2012 national championship campaign. Texas A&M defeated Alabama 29-24 in Tuscaloosa on Nov. 10, and since then, Alabama has seemed to be on a hunt for revenge.
But will that get in the Tide's way of focusing on the task at hand?
Talk of the highly anticipated meeting between the Tide and Aggies has already begun and will not slow down until the game kicks off in September. The build-up of this monumental matchup will be comparable to Alabama's recent meetings with LSU, and the Alabama players will find it difficult to escape the chatter.
Thomas of Virginia Tech is a dual-threat quarterback like A&M's Johnny Manziel, so that will draw even more attention to the Tide's second game.
Sure, Virginia Tech is a formidable opponent, but everyone and their mother wants to see what Saban will devise in a revenge game against Johnny Football and the Aggies. It will be hard for everyone not to look ahead to the second game.
Keep Reading

Alabama Crimson Tide Football: Like this team?