Boston Red Sox MLB Draft Results: Scouting Profiles for 2013 Picks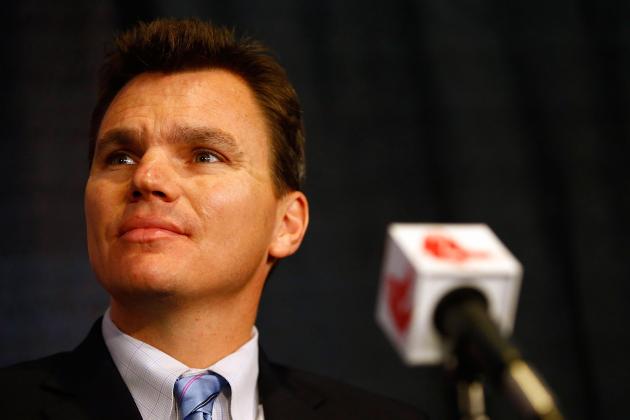 Jared Wickerham/Getty Images

The Boston Red Sox's 2012 campaign is now enshrined in history for all the wrong reasons.
Boston opened the year with high hopes with the largest payroll in its history, having recently signed several new faces in the front office and the clubhouse. Unfortunately, things didn't quite go according to plan.
The Red Sox opened the year poorly and promptly dropped out of contention en route to a 93-loss season, the franchise's worst showing in more than a decade.
After a complete overhaul of the team and coaching staff, the Red Sox are enjoying a rebound season this year that has allowed them to place 2012 squarely in the rear-view mirror. However, there is one bit of good news that came out of that disastrous year.
Because it finished so poorly, Boston was awarded the seventh overall pick in the 2013 first-year player draft. If general manager Ben Cherington and the Red Sox can turn that pick into a future star performer, the pain of 2012 may have been worth it.
In this article, I'll be detailing not only that top draft pick, but also Boston's entire list of 2013 draftees as they are made public. Enjoy!
Begin Slideshow

»
The Red Sox had a huge opportunity early in this draft, landing the seventh overall draft pick thanks to a disappointing 2012 season. With such pitching-heavy drafts in recent years, I had expected the Red Sox to go with a position player. However, Boston instead went with a left-handed starter in Trey Ball.
Ball is a star two-way player, known for his speed and power on offense, and his already strong fastball-curveball combo on the mound. While Ball certainly has the talent to be a major league outfielder someday, his real upside is on the pitching mound, thanks in large part to his height.
Ball's heater sits in the low-90s, and he should add some velocity given time. Average command of fastball. His curveball has plus to better potential, but lacks consistency at present. More of a slurve at the moment. Doesn't really feature a third pitch, although he has experimented with a changeup that could develop into a major league average offering. Advanced mechanics and makeup. Adept at inducing ground balls due to downward plane on fastball.
The Red Sox system already features several quality pitching prospects in Matt Barnes, Allen Webster, and Henry Owens among others. While it's not clear exactly where Ball slots in among those names, it's not a stretch to say that he may have the highest ceiling of the group. However, since he was a two-way player in high school, it will take time for him to realize his full potential, as he has not been able to focus exclusively on pitching until now.
I think the Red Sox made a great pick here. As Boston has proven in recent years, you can never have enough pitching EVER. While it is a bit odd that the Red Sox passed on the best player on the board in Austin Meadows, Ball is an extremely talented individual with a bright future. The only obstacle left is to sign him away from a commitment to Texas
Projection: No. 2 Starter
Ceiling: Ace Starter
Pick grade: A-
With their second pick, the Red Sox snagged an electric arm out of the college ranks in Teddy Stankiewicz.
Stankiewicz's strong, projectable frame gives him blazing heat on his fastball that sits comfortably in the mid-90s with excellent command. Stankiewicz's heater is by far his best pitch, as he often throws it exclusively to retire opposing hitters.
He also throws a slider, curveball, and changeup, the first of which is the most advanced. However, all of Stankiewicz's secondary offerings lag far behind his fastball.
Stankiewicz is an interesting pick. He has very good control and the frame to be a starter, but his weak secondary pitches may eventually force him into a relief role.
He is relatively raw for a college player, so it will take time for his true path to unfold. It's too soon to throw him in the bullpen. Stankiewicz can still reach his ceiling as a mid-rotation starter if he can refine his secondary offerings.
While he doesn't have as high a ceiling as Trey Ball and others in Boston's system, Stankiewicz is a relatively safe pick, as his outstanding fastball gives him a very high floor relative to others options in the draft. At worst, Stankiewicz could become a quality future reliever in Boston. And given the fickle nature of Boston's closing situation since the departure of Jonathan Papelbon, another quality arm in the bullpen would be most welcome.
There is the possibility that this pick may have been a slight overdraft, as there's a good chance that Stankiewicz would still have been on the board tomorrow for Boston's third round selection.
While Stankiewicz is a quality pitcher, I would have rather seen the Red Sox go with a more complete starting pitcher so early in the draft. College hurlers like Kevin Ziomek and Cody Reed, both of whom will likely end up in big league rotations some day, were chosen after Stankiewicz. I don't think this was a bad pick, but I do feel that the Red Sox passed on better options.
Projection: Late inning reliever/closer
Ceiling: No. 3 Starter
Pick grade: B
Boston's first order of business on day two was to snag a first round talent with their third round pick.
While he won't be in the big leagues any time soon, Denney is surprisingly polished for a high school catcher. His defensive tools are particularly impressive.
He features a plus arm that should allow him to throw out runners at a high rate. His catch and release skills are particularly polished for a high school catcher. He shows impressive fluidity behind the plate when blocking balls. Denney has a chance at becoming an above-average major league catcher.
His work at the plate has been solid as well. Batting from the right side, Denney already flashes above-average power, and could add more as he fills out. The young backstop shows excellent bat control in his compact swing which should allow him to tap into his raw power. While his batting average won't blow you away, his power numbers should be outstanding.
The only real obstacle with Denney is signability. The reason he was not taken in the first round is because he has a strong commitment to Arkansas. The Red Sox will have to shell out an above-slot deal to keep the young catcher. Hopefully they can sign him, as the Red Sox may have just landed their catcher of the future.
Projection: Platoon catcher for first-division team
Ceiling: All-Star caliber catcher
Pick Grade: A
The Red Sox are continuing their recent trend of going after high ceiling pitchers.
Smith is a very intriguing. One should not be fooled by his lack of size, as he can really put a charge into a baseball thanks in part to very smooth mechanics.
Smith features a mid-90s fastball and a plus changeup that should elicit quite a bit of swing and miss at the upper levels. Smith also throws a slider that flashes good, tight rotation, but he struggles to throw the pitch with any consistency. Slider has good potential with refinements.
Smith has great strikeout stuff, but he has struggled mightily with command and control throughout his high school and college careers, walking nearly a batter every two innings in this year's college season.
Refining his command is the deciding factor in Smith's career. If he can cut down on his walks and learn locate his fastball better, he could become an excellent mid-rotation starter. If not, a late-inning bullpen role is in his future.
There is some risk involved here, but I still think this was a really smart pick by the Red Sox.
Projection: 8th inning set-up man
Ceiling: No. 2 starter
Pick Grade: B+
Boston's need for pitchers just cannot be satisfied. Nothing wrong with that.
This fifth overall pick is reminiscent of the drafting of Brian Johnson last year. Both are highly polished college lefties who should shoot up the organizational ladder. Unlike all the previous picks, Littrell could really help out the big league club in a timely fashion.
The tall lefty features a high 80s fastball that he commands very well. His heater has a chance to gain some zip once he gains more strength. He certainly has the tall, strong frame to throw in the mid-90s.
Littrell's best pitch is his changeup which he can throw for a strike in any count, eliciting plenty of whiffs. He also throws a curve and a slider that could develop into average major league pitches.
With the proper refinement of his pitches and a bit more work holding his velocity deep into starts, he could be a solid rotation workhorse. Also, keep an eye open for Littrell to make a bullpen appearance in the next year if the need arises. He is advanced enough to help out very soon.
Projection: No. 5 starter/swingman
Ceiling: No. 4 starter
Pick Grade: B
Round 6, Pick 173: Jordon Austin, OF, Forest HS, 5'11", 195
Athletic center fielder with some good raw tools. Chance to hit for average with excellent defense at the upper levels.
Projection: 4th outfielder
Ceiling: All-Star center fielder
Round 7, pick 203: Mike Adams, LHP, Tampa, 6'3", 215
Left-handed reliever with excellent command of his fastball. Uses an above-average changeup as his out pitch. Maintains a strong K/BB ratio.
Projection: Lefty specialist
Ceiling: 8th inning reliever
Round 8, pick 233: Forrestt Allday, OF, Central Arkansas, 5'11", 190
Small center fielder with average defensive tools. Good arm. Knack for barreling up ball. Excellent plate discipline. Not much projection.
Projection: 5th outfielder/minor league insurance
Ceiling: Platoon outfielder for a second-division team
Round 9, pick 263: Kyle Martin, RHP, Texas A&M, 6'7", 235
Large framed righty. Throws a low-90s fastball that has above-average potential, as well as a slide and a changeup. All three pitches are fringe-average at present. Raw for a college arm. Has struggled to find consistent arm slot.
Projection: Long-reliever/minor league insurance
Ceiling: Swingman/occasional no. 5 starter on first-division team
Round 10, pick 293: Taylor Grover, RHP, Southern Carolina, 6'3", 195
Right-handed reliever with good fastball in the mid-90s. Also throws a hard slider that flashes strong potential. Pitch needs refinement. Below-average command.
Projection: Mid-reliever on second-division team
Ceiling: High-leverage reliever/closer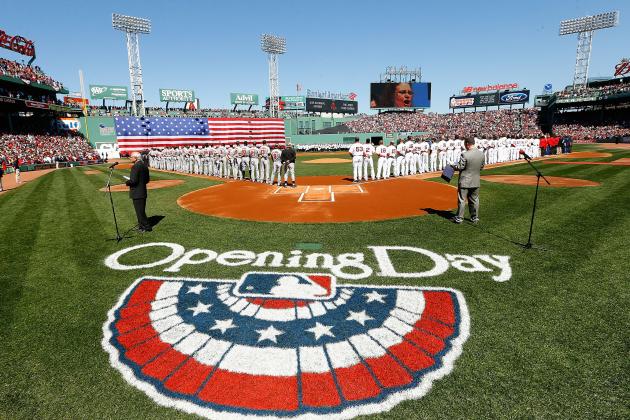 Jared Wickerham/Getty Images

Round 11, pick 323: Carlos Asuaje, SS, Nova Southeastern, 5'9", 165
Round 12, pick 353: Jake Drehoff, LHP, Southern Mississippi, 6'2", 175
Round 13, pick 383: Jordan Sheffield, RHP, Tullahoma HS, 6'1", 190
Round 14, pick 413: Jake Romanski, C, San Diego State, 5'10", 185
Round 15, pick 443: Bryan Hudson, OF, Mill Creek HS, 5'9", 190
Round 16, pick 473: Jalen Williams, RHP, Westminster Christian, 6'3", 200
Round 17, pick 503: Joseph Monge, OF, Beltran Academy, 6'0", 170
Round 18, pick 533: Joe Gunkel, RHP, West Chester University, 6'5", 225
Round 19, pick 563: Gabe Speier, LHP, Dos Pueblos HS, 6'0", 175
Round 20, pick 593: Derek Burkamper, RHP, Muscatine HS, 6'2", 170
Round 21, pick 623: Reed Gragnani, 2B, Virginia, 5'10", 180
Round 22, pick 653: Ryan Boldt, CF, Red Wing HS, 6'2", 185
Round 23, pick 683: Jimmy Allen, 2B, California Polytechnic, 5'10", 170
Round 24, pick 713: Jantzen Wittie, 3B, TCU, 6'2", 195
Round 25, pick 743: Derik Beauprez, RHP, Cherry Creek HS, 6'5", 215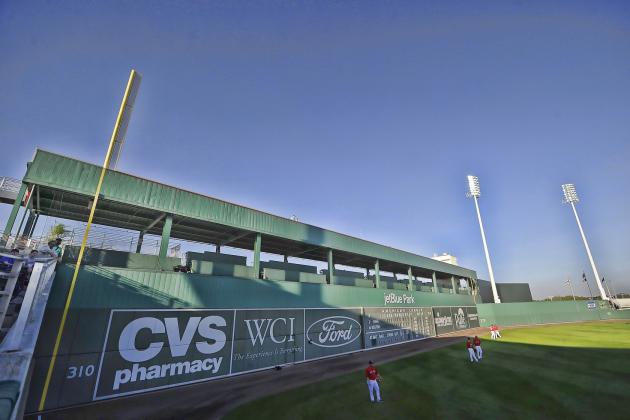 Jerome Miron-USA TODAY Sports

Round 26, pick 773: Mauricio Dubon, SS, Capital Christian HS, 6'0", 160
Round 27, pick 803: Mark Nowaczewski, RHP, Edward C. Reed HS, 6'4", 185
Round 28, pick 833: Nick Zammarelli, 3B, Lincoln Senior HS, 6'1", 195
Round 29, pick 863: Jeff Driskel, OF, Florida, 6'4", 237
Round 30, pick 893: Nick Longhi, OF, Venice HS, 6'2", 205
Round 31, pick 923: Ryan Rippee, 1B, Jefferson College, 6'5", 225
Round 32, pick 953: Matt Thaiss, C, Jackson Memorial HS, 5'11", 197
Round 33, pick 983: Andrew Rosa, SS, Owasso HS, 6'2", 185
Round 34, pick 1013: Daniel Bethea, C, St. Johns, 6'1", 200
Round 35, pick 1043: Rafael Oliveras, 3B, Loaiza Cordero Del Rosario HS, 5'10", 180
Round 36, pick 1073: Pat Goetze, RHP, Wake County Home School, 6'6", 200
Round 37, pick 1103: Max Watt, RHP, Hillsborough Comm. College, 6'8", 250
Round 38, pick 1133: Trever Morrison, SS, Archbishop Murphy HS, 6'0", 165
Round 39, pick 1163: K.J. Trader, RHP, Delmar HS, 5'10", 160
Round 40, pick 1193: Ryan Lidge, C, Barrington HS, 6'3", 190