Boise State Football: 5 Broncos That Will Need to Step Up on Defense in 2013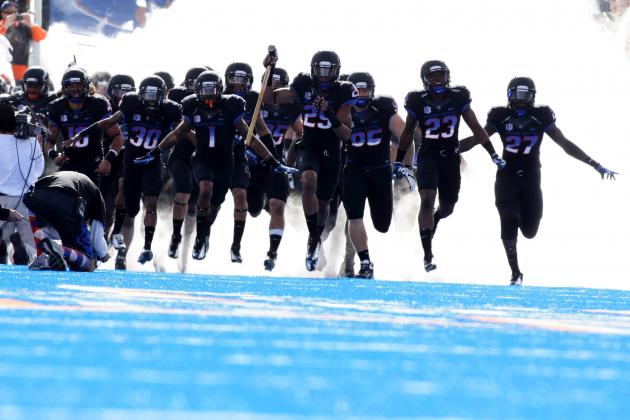 Brian Losness-USA TODAY Sports

Boise State played very good defense in 2012. In fact, it was the defense that carried the team for much of the season.
In 2013, it could be the reverse.
Boise State has several key players returning on offense. On defense however, a couple of injuries, the loss of a freshman all-American and some young players on the roster points to a few big questions that must be answered early.
The opening game against the Washington Huskies is quickly approaching, and if the Broncos want to win that game and those that follow, there are a handful of players that will need to step up in a big way.
Head coach Chris Petersen is not without talent on defense as outstanding players like Demarcus Lawrence, Ricky Tjong-A-Tjoe, Blake Renaud and Jeremey Ioane are all back for another go around.
But, to be a championship-caliber team, the Broncos must get some help.
Let's look at five players that could be part of the solution for Petersen and Boise State in 2013.
Begin Slideshow

»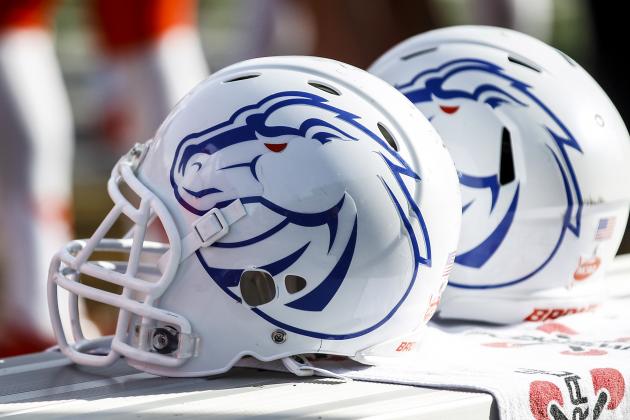 Troy Babbitt-USA TODAY Sports

As previously mentioned, the Broncos lost a freshman all-American when defensive end Sam Ukwuachu was removed from the team for unspecified reasons.
Ukwuachu was incredible for Boise State in 2012, but in 2013 there are new faces that must step up.
Kharyee Marshall is the first player who will need to bring his A-game. He will have big cleats to fill trying to replace Ukwuach, but as a senior, Marshall has plenty of experience. His biggest challenge in the past has been injuries, but if he can stay healthy, he will certainly be a player that could help the Broncos on defense.
The other player who could step up to fill the spot vacated by Ukwuachu is redshirt freshman Sam McCaskill.
McCaskill had a good spring camp, and he looked very good in the spring game, racking up four tackles. His style of play looked to be aggressive, and at times he looked dominant.
Both of these players will be called on to replace Ukwuachu. Beau Martin is third player that may be utilized. However, Marshall and McCaskill look to be the pair fighting for the starting spot.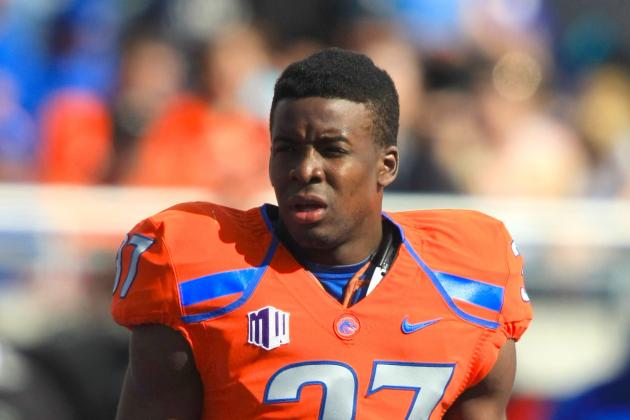 Brian Losness-USA TODAY Sports

Ebo Makinde is a redshirt senior that some might say has underachieved in his career at Boise State. However, when you look at what he has going for him, it is hard to understand why.
Makinde has blazing speed, a good attitude and seems to be an all-around nice guy.
In fact, recently Makinde was crowned the fastest player on the Broncos' roster. According to Chadd Cripe of the Idaho Statesman, Ebo ran an incredible 4.24, 40-yard dash.
With that kind of speed, it seems he could be a huge asset for a defense that will need solid coverage in 2013.
Makinde has had coverage issues in the past, which is apparently why he was moved from corner to safety. However, the way he looked this spring combined with his lighting speed points to a very good senior season.
Jeremy Ioane, Darian Thompson and Taylor Loffler are all looking very good at safety. But, depth is always and issue, and rotation is a key in the defensive secondary. So, Makinde will need to be solid going forward.
If his 40 time is any indication of how hard he is working, it would appear that he is well on his way.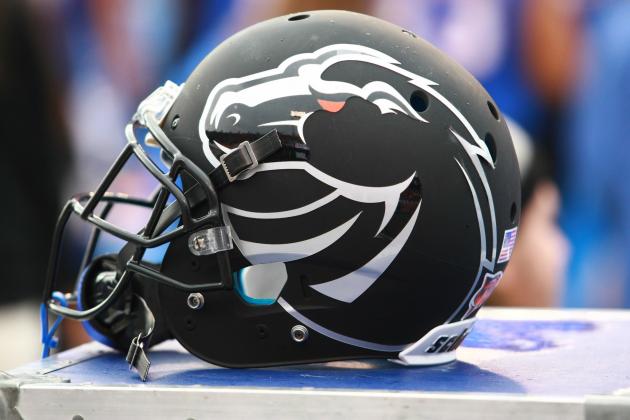 Brian Losness-USA TODAY Sports

Donte Deayon is a sophomore out of Summit High School in Rialto, Calif. Last season, Deayon was set to redshirt. But, as fate would have it, that redshirt had to go up in flames a little more than halfway through the season.
Deayon didn't appear to complain, and he stepped up for the Broncos in the final five games of the season.
Fast forward to 2013, and it looks like Deayon is going to be a very good asset for coach Petersen and the Broncos' defense.
He looked very good in the spring game, and his speed and coverage looks to be even better than it was last fall.
He must step up in 2013 as the Broncos are going to need solid pass coverage when facing some very pass-happy offenses.
Bryan Douglas will no doubt be the starter at one corner, and Deayon looks like he might get the nod at the other. It will be interesting to see how this duo compares to Jamar Taylor and Jerrell Gavins.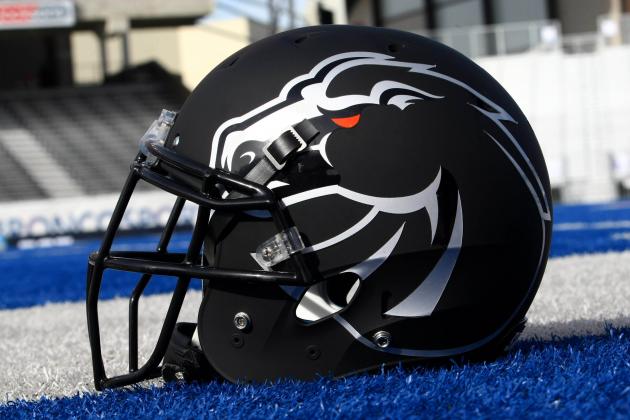 Brian Losness-USA TODAY Sports

Deuce Mataele is a JUCO transfer from Mt. San Antonio College. He is a big physical presence on the defensive line, and he was very impressive this spring. During the spring game it was obvious he could be a very dominant player.
The Broncos should be able to utilize Mataele effectively. Tyler Horn looked good this spring as well, and the two of them should be an effective rotation. However, it is Mataele who will need to prove himself.
If he is the player he appears to be and others on the line do what they can do, the Broncos should have a very good defensive line in 2013.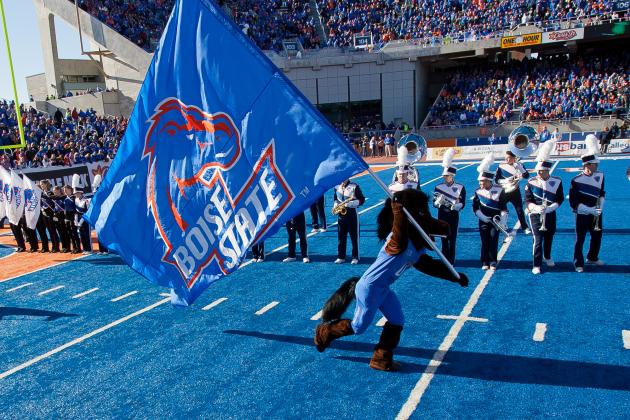 Otto Kitsinger III/Getty Images

Here is a look at the Boise State projected depth chart for the 2013 defense. There is a lot of talent, but some of it is unproven and depth could be an issue.
However, it is hard to believe that defensive coordinator Pete Kwiatkowski won't be able to craft this group into another stellar defense.
After all, if you look at the job he did last season after losing so many starters, he probably has more to work with in 2013. Which, should be scary for the rest of the Mountain West.
2013 Two-Deep Defensive Depth Chart Prediction for Boise State
CB: Bryan Douglas, Cleshawn Page
CB: Donte Deayon, Deon'tae Florance
NB: Corey Bell, Jonathan Brown
SS: Jeremy Ioane, Ebo Makinde
FS: Darian Thompson, Taylor Loffler
LB: Blake Renaud, Travis Saxton
LB: Tyler Gray, Dustin Kamper or Ben Weaver
SE: Khayree Marshall, Sam McCaskill
NT: Ricky Tjong-A-Tjoe, Armad Nance
DT: Tyler Horn, Deuce Mataele
DE: Demarcus Lawrence, Beau Martin