There is one assumption you can make every year about Wisconsin football during the offseason—it's going to have success running the football.
No matter who is slated to be the No. 1 tailback entering the season, he is typically someone who has had some form of success the previous year, and he will always be running behind a mammoth offensive line because they grow 'em big up in Wisconsin.
The trend over the past few years has been an underclassman emerging as the veteran begins to fall out of favor. We saw P.J. Hill leave school early as John Clay began to surface, then James White and Montee Ball burst onto the scene, forcing Clay to follow in Hill's footsteps as he was left in the dust.
Last season, Ball could have very well seen a decline in carries with his early season struggles, but Bret Bielema insisted on getting his senior a large majority of the touches even though White and Melvin Gordon both averaged more yards per carry than the now-Denver Bronco.
We can't hate on Ball too much—the offensive line had its issues, and he was the third running back selected in the 2013 NFL draft.
But if White, Gordon and Ball all had to run behind the same somewhat maligned offensive line, then why was it the senior Ball who had the most trouble from a yards-per-carry standpoint?
Part of it is simply because he had so many more carries than his two backups (356 to a combined 187), but we could also go back and look at the amount of carries Ball had in his first three seasons at Wisconsin.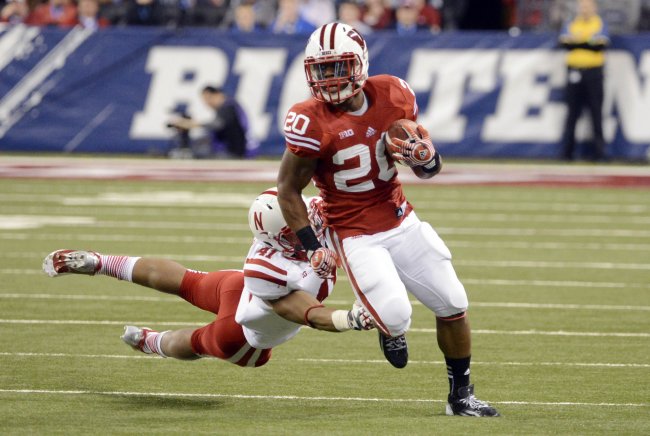 Richard Mackson-USA TODAY Sports
That number comes to a whopping 568. John Clay? He had 629 tallies. P.J. Hill? More of the same—770 carries in his first three seasons!
When you look at it that way, Ball barely had any tread on his tires by the time he entered his senior season, which is part of the reason why he may have been a better prospect than Clay and Hill, especially if he had left for the draft after his junior year. He may have Russell Wilson to thank for that.
Getting back to the real argument here, when you take a look at White's carry total through his first three seasons, it's at a respectable 422—over 100 less than Ball. Fatigue certainly shouldn't be an issue for White, who has spent nearly his entire career at Wisconsin as a backup.
Last season, White rushed for 804 yards and averaged 6.4 yards per carry. It was the third straight season he averaged better than five yards every time he ran the football. Meanwhile, Gordon came on strong at the end of the season, totaling 621 yards in half the carries of White while averaging a ridiculous 10.0 yards per carry.
Who will have a more successful 2013 season?
While there will still be plenty of the traditional power running attack under new head coach Gary Andersen, running backs will also be expected to adjust to the read-option. It's yet to be determined whether White or Gordon is more comfortable running the option, but White could very well see a majority of snaps in traditional pro-style sets while Gordon, because of his explosiveness, might get more chances receiving the pitch.
It's a tough call to make—neither White nor Gordon have been the feature back prior to 2013, and while White will likely get the starting nod to begin the season, that doesn't necessarily mean he will get the bulk of the carries or have more success than Gordon.
Because neither player has the experience of being an every-down back, this is what makes next season's situation in the backfield so perfect. It will allow both White and Gordon to stay fresh and comfortable with their roles throughout the duration of the season, especially if redshirt freshman Vonte Jackson is able to step in and contribute coming off his knee injury.
Simply based off of Gordon's explosiveness and versatility—he should be used more on end-arounds and as a receiver considering his build—as well as his strong close to the 2012 season compared to White, this could be the sophomore's year to shine.
But it's like splitting hairs with these two. Both should have successful 2013 campaigns and bring something unique to the table, which is why Badger nation should have high hopes once again entering next season.