Toronto Raptors: Ranking the 7 Best Nicknames to Rebrand the Team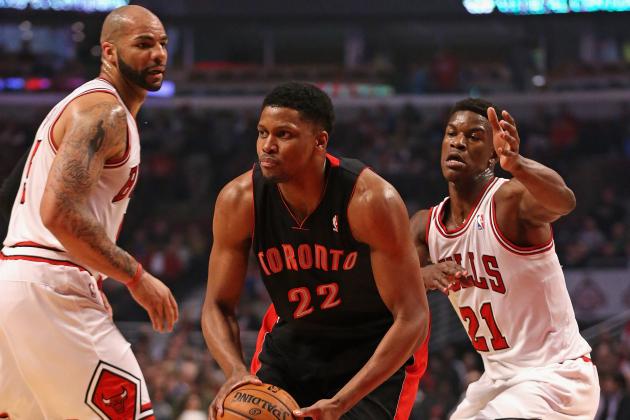 Jonathan Daniel/Getty Images

Toronto Raptors new General Manager Masai Ujiri met with the media for the first time today, going on in length about a possible rebranding of the team, which could include a name change.
"Raptors" has been the team name since its inception back in 1995, but the relative lack of success over the years has taken its toll on the nickname:
We're definitely going to take a look at it. It doesn't mean we're committed to it. It means it's a good conversation. I saw those generic uniforms today in the paper. … That won't be the uniform, by the way. I can assure you of that. I think we need to have this conversation.
It seems as if a new name would definitely be the biggest step in an attempt to "rebrand" the team, although it might be too major.
While there doesn't seem to be any adamant support of the Raptors nickname, few people are banging on doors to get it removed.
However, there are a few potential nicknames that not only fit better, but they're also animals that are no longer extinct, which might be bringing a bit of bad luck.
Plus, after the departure of Chris Bosh, the team's unofficial mascot, it might be time to move on down the road.
Begin Slideshow

»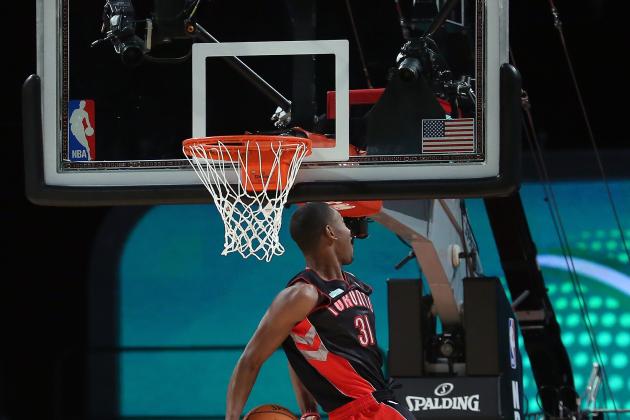 Ronald Martinez/Getty Images

With the youth movement in Toronto, along with Terrence Ross winning this season's NBA Slam Dunk Contest, it might be time to unleash an appropriate nickname that no team has ever taken advantage of.
We're talking about a sport where players are constantly running and leaping around the court, jumping higher than any human should rightly be allowed to jump, yet no team has ever taken a liking to the nickname "Flight."
The Raptors have two young players who are extremely athletic in DeMar DeRozan and Ross. They are looking like the team with the most dunk-happy wings in the NBA.
It's a bit of a generic nickname, but that's the way all blanket nicknames that could be applied to any team sound.
Plus, the fact that it doesn't end in an "S" is a bit of a downside; it sort of even sounds like a WNBA nickaname.
Nonetheless, it's a perfectly viable choice.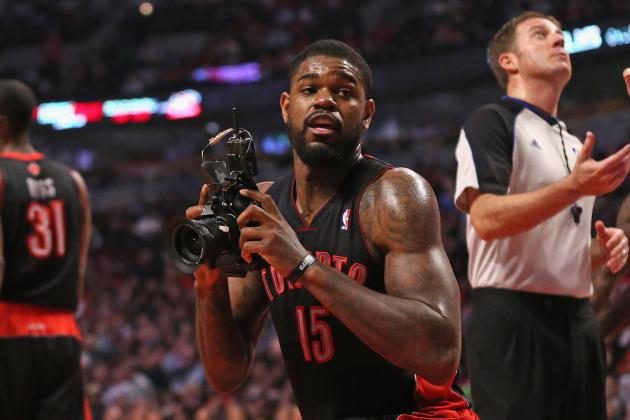 Jonathan Daniel/Getty Images

While we're on the topic of locally based nicknames, we might as well look at names that would be specific to Toronto.
The city, once nicknamed "Hogtown" because of the meat-packing industry in the early 20th century, could lend its former nickname to the basketball team that it seems to unconditionally love.
If the Green Bay Packers can be named after the local meatpacking industry, why can't the Raptors rebranding be based on the same logic?
The Toronto Hogs is a nickname that is both unique and local, so there's definitely some credence to an argument for the name.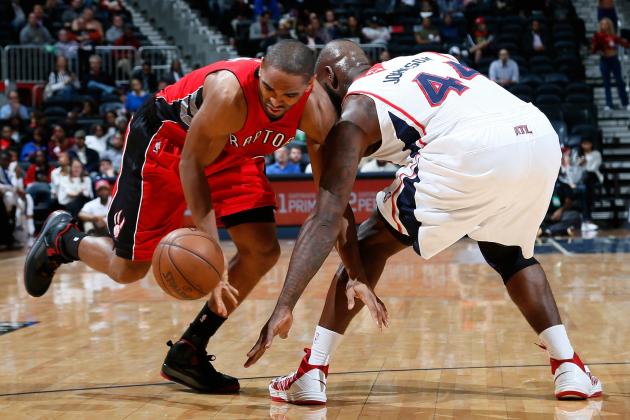 Kevin C. Cox/Getty Images

Whenever we get to talking about Canada and the various sports teams they have around the country, we always seem to get stuck on some stereotypical Canadian nicknames.
It makes sense, especially when you consider it's the same thing we tend to do with teams in America from time to time as well.
One of the first thing people tend to point to when we get into Canadian nicknames is lumberjacks and the idea of chopping down trees in general.
There isn't a professional Canadian team with "Lumberjacks" as their identifier up to this point, so it might be one to look into.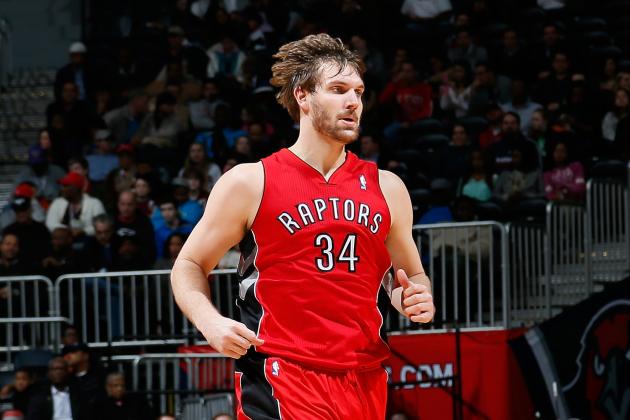 Kevin C. Cox/Getty Images

When we get past lumberjacks, it seems as if the idea of the Canadian Mounties always pops up as well.
It's a very recognizable and unique nickname specific to Canada, although it isn't necessarily specific to Toronto, or even Ontario.
What it does is constantly serve as a reminder of where the team is from, which might be a bit overzealous.
Nonetheless, it's a more reasonable nickname than the Raptors, although it might not be nearly as cool as a flesh-eating dinosaur.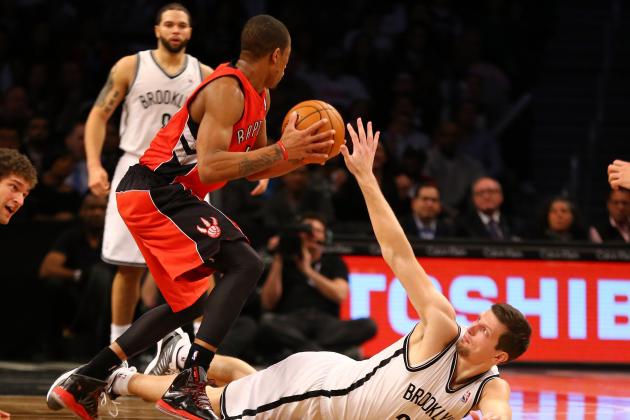 Al Bello/Getty Images

One of the default things prospective teams do to look for a nickname when just starting out is to just think of all the animals that live in the surrounding area.
Interestingly enough, there are no velociraptors in Toronto, or even Ontario.
However, there is a long list of vicious, interesting animals that the Raptors could become if they so choose, and the nickname would make a lot more sense.
Among others, Toronto could become the Eagles, Beavers, Geese, Caribou, Herons, Falcons, Cardinals, Moose, Polar Bears, Raccoons, Foxes or even Walruses.
They're not all perfect, but among the animals in and around Ontario, there are plenty that could easily replace the Raptors.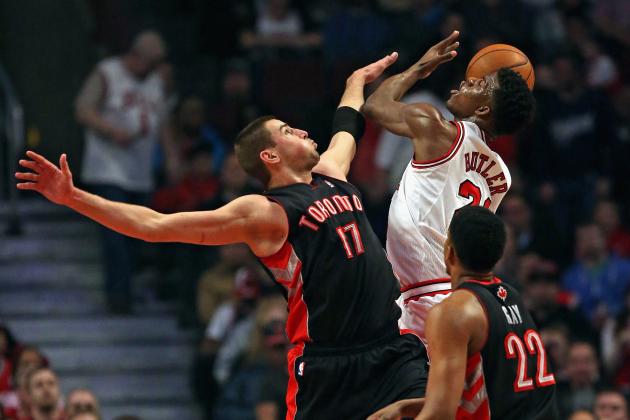 Jonathan Daniel/Getty Images

If we're talking about a rebranding, changing the Raptors' nickname to the nickname held by a baseball team that hasn't been to the playoffs since 1985 and is without a World Series in 45 years in Kansas City might not be the best idea.
However, there would be a few cool connections made by renaming the team the Toronto Royals.
First of all there's the obvious throwback in time to the Cincinnati Royals who existed in the league from 1948 clear through to 1972.
However, the most obvious connection would be the continued relationship with Great Britain and its royal family.
The famous Candaian mounties are officially named the Royal Canadian Mounted Police, plus Queen Elizabeth II appears on a multitude of Canadian currency.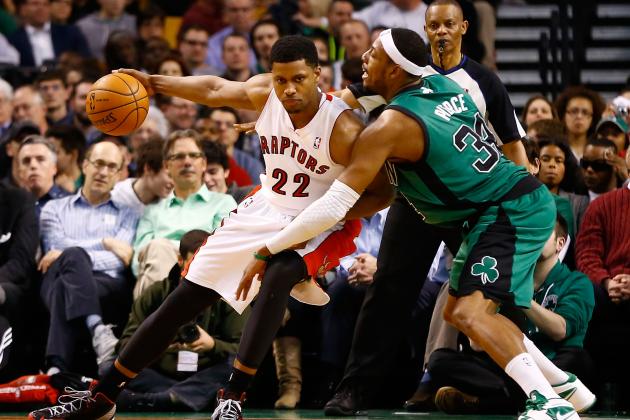 Jared Wickerham/Getty Images

Remember the Toronto Huskies? Yea, me neither, but mostly because they existed back in 1947 for just a single season.
Legends such as Red Wallace, Leo Mogus and even Mike McCarron hit the floor in the one season that the team existed in the Basketball Association of America.
Plus, the team is already a bit ahead of the game, having used a set of throwback Huskies jerseys a few years back.
Even if it was an unsuccessful franchise more than 60 years ago, Huskies seems to have stuck with the people of Toronto.
There's a petition to get the Raptors to change their name to the Huskies, and there's even a Twitter account that picked up a few years back, although it's been inactive for a few years now.