Chicago Cubs MLB Draft Results: Scouting Profiles for 2013 Picks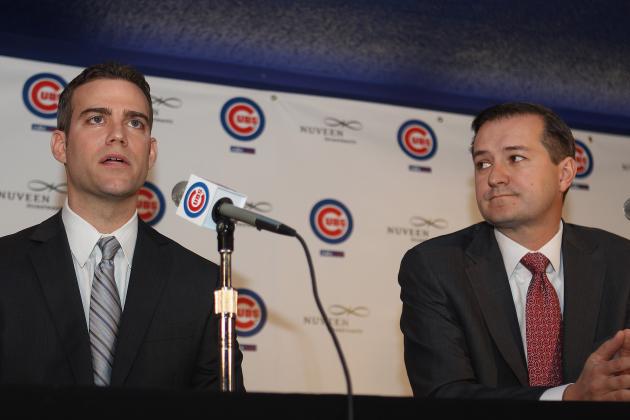 Jonathan Daniel/Getty Images

Theo Epstein and company have now been at the helm in Chicago for roughly a season-and-a-half, and while the Cubs are once again struggling at the big league level, the organization as a whole has improved significantly from the ground up since the start of last year.
Last season, the team held the No. 6 pick in the draft, selecting Mater Academy outfielder Albert Almora, who entered the year as the team's No. 2 prospect, according to Baseball America.
After losing 101 games last season, the Cubs enter this year's draft with the No. 2 overall pick. The smart money is on the team taking a college arm, either Mark Appel or Jonathan Gray, as there is a clear need for high-end young pitching.
The following will track the Cubs' selections throughout the 2013 MLB Draft, starting with picks No. 2 and No. 41 which will take place on Day 1.
Begin Slideshow

»
The rebuilding Cubs are clearly in need of high-end young pitching, but with the Astros opting to go with Stanford right-hander Mark Appel, they decided to pass on Oklahoma right-hander Jonathan Gray and take the best college bat in the draft in Kris Bryant.
Bryant out-homered a number of teams all by himself this spring while playing at the University of San Diego, leading the nation with 31 home runs, 10 more than anyone else hit.
Whether his glove sticks at third base or winds up playing a corner outfield position remains a question, but his polished all-around offensive game was too good to pass up here.
With a 6'5" and 215-pound frame, he has the look of a middle-of-the-order slugger long-term, and if he can stick at third he fills an clear area of need for the big league club.
All told, in 62 games this season, he hit .329/.493/.820 and drove in 62 runs with 13 doubles and three triples to go along with the impressive home run total.
There is no doubt still a clear need for high-end starting pitching in Chicago, and the team will likely look at a handful of college arms with their next pick.
Ranked as the No. 77 prospect on the Baseball America Top 250 draft prospects list, Rob Zastryzny is a polished junior pitcher out of the University of Missouri.
The 6'3" left-hander has a fastball that sits in the 88-93 range and he pairs it with a changeup/slider combination that both profile as at least average pitches once he reaches the majors.
He was the victim of some bad luck this spring, as he went just 2-9 thanks to his teammates averaging just 2.5 runs per game when he started.
The rest of his numbers were solid though, as he had a 3.38 ERA over his 13 starts, with a 1.29 WHIP and 8.1 K/9 to just 2.4 BB/9.
His ceiling is likely as a middle-of-the-rotation arm, but he has a high floor and should move relatively fast, much like last year's supplemental round pick Pierce Johnson.
I had the Cubs taking LSU right-hander Ryan Eades in my mock draft, and he wound up going two picks later to the Minnesota Twins, so I'll be curious to see where he stands in comparison to Zastryzny five years from now. Overall though, this looks like a solid, safe pick for the Cubs.
Just a freshman, BYU outfielder Jacob Hannemann was draft-eligible after going on a Mormon mission before entering college.
A two-sport athlete who also played defensive back for the football team, his tools are still raw and understandably so considering he was away from the game for two years, but he has plenty of upside.
This past season for the Cougars, he hit .344/.415/.553 with 16 doubles, seven triples and four home runs while scoring a team-high 53 runs and stealing 14 bases.
His hit tool and run tool both projects as plus long-term, and he has the defensive ability to stick in center field.
However, right now Hannemann is more athlete than baseball player and comparisons can be made to current Cubs prospect Matt Szczur, who was also a football player in college and a raw prospect when drafted.
Ranked as the No. 209 prospect on the Baseball America Top 250 draft prospects list, he was a bit of a reach here, but there's plenty to like about the pick.
After going with an outfielder in the third round, the Cubs went back to the college pitching ranks to select Kent State junior Tyler Skulina.
A big 6'5" and 235-pound right-hander, Skulina has a good fastball that sits in the low-90s and has good late movement on it. He pairs that with a solid curveball and a changeup that remains a work in progress.
Ranked all the way up at No. 74 on the Baseball America Top 250 draft prospects list, it appears the Cubs got a steal of sorts taking him here in the fourth round.
In 15 starts this spring he was 6-4 with a 3.36 ERA and 102 strikeouts in 93.2 innings, as opponents hit just .209 against him on the season.
He'll need to refine his changeup if he wants to remain a starter, but if he can turn that into a league-average offering, he projects as a solid No. 3 or 4 starter once he reaches his potential.
With their third college arm in the first five picks, the Cubs took Texas Tech Saturday starter Tyler Masek, who is coming off of a fantastic junior season.
The right-hander opened the season with 32.1 straight scoreless innings, and finished the season 5-2 with a 1.82 ERA and 0.99 WHIP over 11 starts.
He missed some time with arm soreness early in the spring, and is under-sized at 6'1" and 185 pounds, which is why he was still available here in the fifth round.
His command can be inconsistent at times, but he has a solid three-pitch repertoire with a fastball that touches 94 and a good curveball/changeup combination. His future may be in the bullpen, but he's a quality arm wherever he winds up.
Baseball America had him ranked No. 48 on their pre-draft Top 250, and he is exactly the type of player the Cubs need to start stockpiling in their minor league system.
For more on Masek, read Mike Rosenbaum's full scouting profile.
For a third straight pick, the Cubs selected a right-handed college starter, taking Pepperdine Friday starter Scott Frazier in the sixth round.
Viewed by some as a potential first-round pick entering his junior season, Frazier had an up-and-down season this spring and the Cubs were able to buy low on him here.
In 13 starts, he was 5-5 with a 4.06 ERA and 83 strikeouts in 88.2 innings of work. As the Saturday starter last season, he went 7-5 with a 3.93 ERA and 69 strikeouts in 103 innings.
His big 6'7" frame has always drawn attention, and he has a fastball that reaches 94 and a decent curveball/changeup combination.
Ranked as the No. 159 prospect on the Baseball America Top 250 draft prospect list, this is right around the area he was expected to go. However, he is a solid low-risk, high-reward play here in Day 2.
Sensing a trend here? With this selection of David Garner out of Michigan State, that makes four straight college right-handers for the Cubs here on Day 2.
Undersized at 5'11" and 180 pounds, Garner has power-pitcher stuff with a fastball that touches 95 and a biting slider that he uses as his out pitch.
A swingman his first two seasons with the Spartans, Garner spent the entire spring in the rotation this year, going 4-5 with a 4.10 ERA and 70 strikeouts in 83.1 innings.
His fastball/slider combination and lack of size makes him a prime candidate for the bullpen, where he could wind up being a solid late-inning arm if he can continue to refine an already plus slider.
A two-way player at New Mexico as a freshman, Sam Wilson was forced to redshirt last season due to academic issues, and he transferred to Lamar Community College this season as a result.
The left-hander went 11-2 with a 1.34 ERA and 109 strikeouts in 87.1 innings, flashing the stuff that made him a D-I recruit to begin with.
The 6'1" southpaw has a solid, athletic build at 205 pounds and throws a fastball that reaches the mid-90s along with a solid curveball/changeup mix.
With smooth, repeatable mechanics and a three-pitch arsenal, he has the potential to be a solid back-of-the-rotation arm down the road.
Round 9, Pick 258: Charcer Burks, CF, William B. Travis HS (Tx.)
A two-sport star in high school who also played defensive back for the football team, Charcer Burks is your prototypical athlete who has plenty of tools but needs to turn himself into a baseball player. He's a project, but this is the time to take guys like this.
Round 10, Pick 288: Zachary Godley, RHP, Tennessee
The Friday starter at Tennessee this season, senior Zack Godley went 5-7 with a 3.49 ERA and 98 strikeouts in 108.1 innings this season. He pitched for Team USA last summer, and while he doesn't have the highest ceiling, he knows how to pitch and could turn into a solid back-of-the-rotation arm.