Breaking Down the Possible Neymar-Messi Combinations for Barcelona
Rich Schultz/Getty Images

Barcelona's Brazilian right-back Dani Alves knows a fair bit about Neymar. More than the average Twitter users who tend to offer polarized views, at least—from being the best ever, based on five minutes of YouTube footage, to the most overrated in the world because he didn't score in a friendly against England.
"To be the best, first one must have humility, and I know that Neymar does have that," Alves said, according to Goal.com. "I'm sure in the future it will be very difficult to choose between him and Messi for the Ballon d'Or."
Those don't appear to be the immediate thoughts of Brazil's boy wonder, though.
The 21-year-old was unveiled at Camp Nou on Monday. After a few highly appreciated words in Catalan, he made all the right noises to aid Alves' comments.
He's either a young man with his feet on the ground and an inch of common sense, or one who is extremely well advised—either way, his introduction was positive. Per Goal.com:
"I am only here to help [Lionel] Messi carry on being the best in the world. I am not thinking about [the Ballon d'Or]."
With that out of the way, and Neymar happy to help, how does Tito Vilanova go about squeezing the Brazilian and the Argentinian into the same room?
Begin Slideshow

»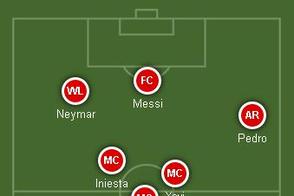 via http://lineupbuilder.com/
Perhaps the most common line of thought is that Neymar will just come straight in on the left side of Barcelona's front three—filling the boots often handed to David Villa.
Pedro Rodriguez will continue on the right, and Messi will be handed the role of creating space and scoring goals centrally.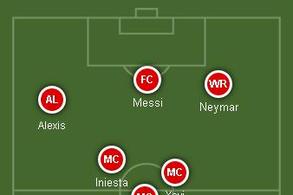 via http://lineupbuilder.com/
A more unusual and possibly unlikely situation is that Neymar is played on the right of Barca's front three.
Alexis, who showed some encouraging signs toward the end of the season, comes in on the left in this scenario. Although, in truth, the Chilean is more likely to play on the right than the Brazilian.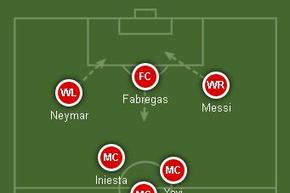 via http://lineupbuilder.com/
In a move which would see Cesc Fabregas deployed as a false nine—as he has been for Spain and less frequently for La Blaugrana—Messi and Neymar could flank him.
Sans Pedro or Alexis Sanchez, it is a much more narrow approach. However, with the fear of goals coming from the two wide players in that front three, Fabregas would be allowed a lot of space.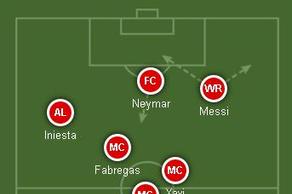 via http://lineupbuilder.com/
For a large part of last season, Andres Iniesta was on the left of Tito Vilanova's front three. That could again be an option next season.
Meanwhile, Neymar could be shifted to the middle. From this position, as David Villa did so effectively against AC Milan in the Champions League, the Brazilian could pull defenders around to create space for Messi to cut in and punish defenses.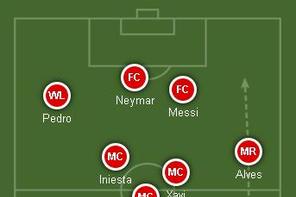 via http://lineupbuilder.com/
To take that one step further, Vilanova could completely replicate the formation which Barcelona tore AC Milan apart with—admittedly, with some defensive scares.
If Dani Alves stays at the club, he could provide the width on the right when attacking, With Pedro on the left, Messi and Neymar could be left with plenty of freedom to link with each other in the middle.
Which option do you prefer? How do you see Barcelona getting the best out of Neymar and Messi next season?