Each NHL Conference Finalist's Top Conn Smythe Trophy Candidate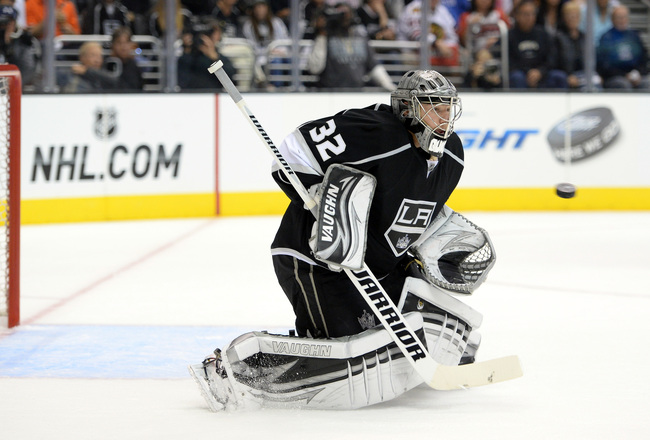 Jonathan Quick won the Conn Smythe Trophy last year
Harry How/Getty Images
As we approach the midway point of the third round of the NHL playoffs, it's time to examine each conference finalist's top candidate for the Conn Smythe Trophy.
The Conn Smythe Trophy is awarded each year to the most valuable player of the Stanley Cup playoffs, not just the best player in the final round.
Last season, Kings goalie Jonathan Quick was the winner as Los Angeles won its first ever Stanley Cup.
Here is a look at each remaining team's top candidate for the Conn Smythe. In each instance, I have listed why that player is his team's leading contender and some other prominent players who are in the running as well. The candidates are not chosen on pure statistics alone but on how important their performance was to their team's success in the playoffs.
Each team has one representative on this list and the four candidates are not presented in any particular order.
Feel free to comment on any of these picks and present an alternative player. Please state why you feel your choice deserves to be the leader at this point.
Pittsburgh Penguins: Kris Letang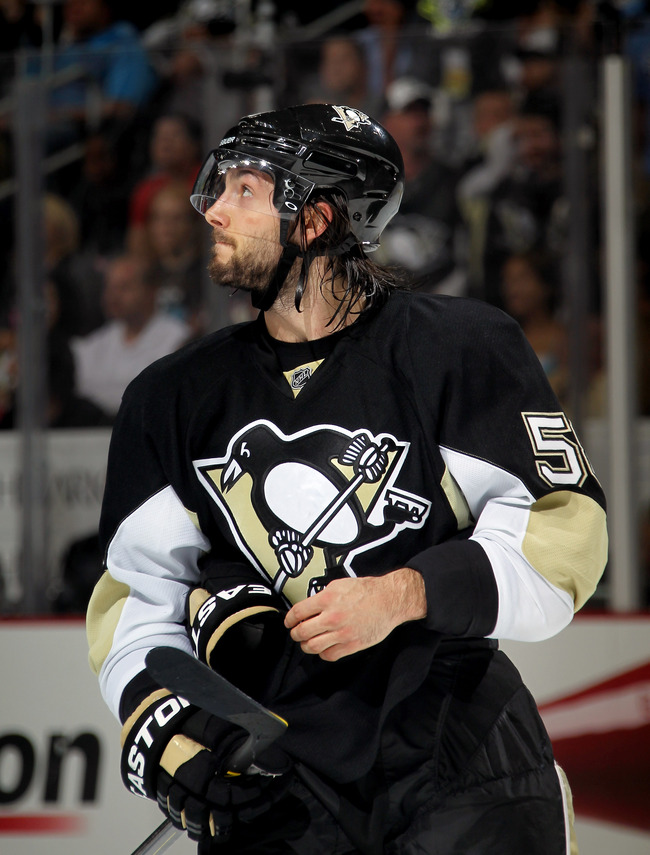 Kris Letang has been the most consistent playoff Penguin.
Bruce Bennett/Getty Images
With all the difficulties the Penguins have had on defense in the playoffs, it's surprising that a defenseman would top their list of Conn Smythe Trophy candidates. Still, Kris Letang has played as well or better than any other Penguins' player throughout this year's playoffs.
Letang is tied with Evgeni Malkin with 16 points in 13 games. He has been a factor in all facets of the game. Letang has a plus-two rating, has scored a game-winning goal and is tied for third on the Pens with 22 hits. The Montreal native has also been a huge reason why the Pittsburgh power play is so effective. Nine of Letang's 16 points have come when the Penguins had the man-advantage.
Other candidates on the Penguins include Sidney Crosby and Evgeni Malkin (the media is more likely to vote for those two, anyway), and Tomas Vokoun, who despite his rather average performance in the first two games against Boston, helped turn around the Penguins' first round series against the Islanders and helped lead the Pens past Ottawa in round two.
Los Angeles: Jonathan Quick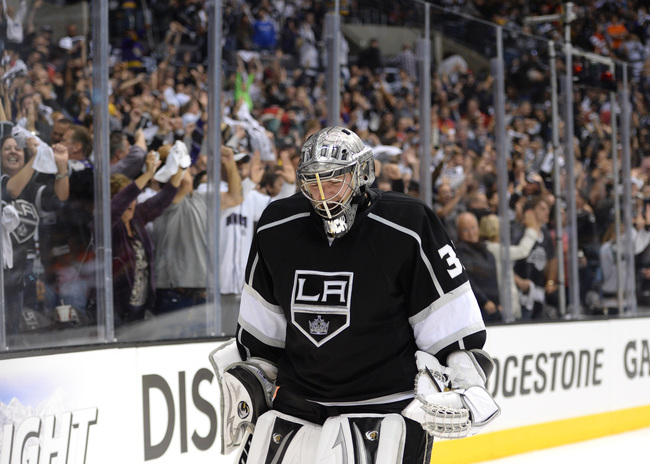 Jonathan Quick has stood tall in the LA nets again this year.
Harry How/Getty Images
The biggest reason the Kings are in the NHL's final four has been the play of goalie Jonathan Quick.
Quick won the Conn Smythe Trophy last season as the league's playoff MVP and this year, he continues to show that he is one of the best clutch goalies in the NHL.
This season, Quick's numbers are very impressive. He has a 1.71 GAA and a save percentage of .941. He also leads the league with three postseason shutouts.
The Kings don't score many goals, so Quick must always be at his best to give his club a realistic chance to win.
Other Kings players in the hunt include Jeff Carter and Slava Voynov, but Quick is by far the favorite for the Conn Smythe if the Kings win another Cup this spring.
Boston Bruins: David Krejci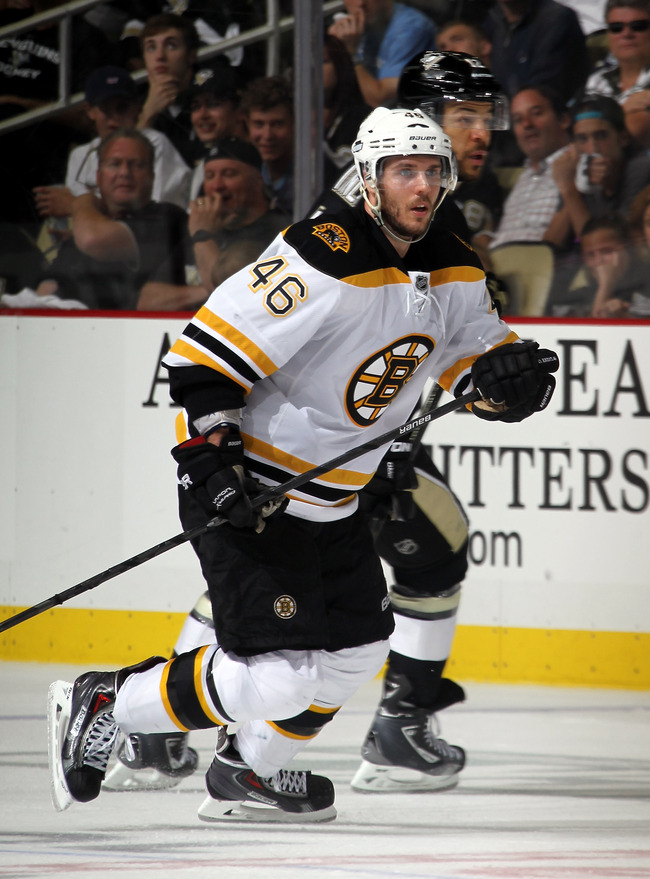 David Krejci leads the league in playoff scoring.
Bruce Bennett/Getty Images
No player has more points so far in this year's playoffs than Boston's David Krejci's 20.
Krejci is tied for the league lead in goals (eight) and is tied for second with a plus-12 rating. Add two game-winning goals and three points on the power play and you have one of this year's strongest playoff performances.
Krejci has been remarkably consistent, scoring at least a point in 11 of the Bruins' first 14 games. He also recorded a hat trick in Game 4 of the Toronto series, a 4-3 Boston victory.
Other Conn Smythe candidates on the Bruins include goalie Tuukka Rask and Nathan Horton.
Chicago Blackhawks: Corey Crawford
Corey Crawford has exceeded expectations in the playoffs.
Harry How/Getty Images
Corey Crawford was considered a question mark before the playoffs started, but so far, the Blackhawks' netminder has answered all of his previous critics.
Crawford has sterling statistics: a 1.70 GAA and a .938 save percentage. His postseason record is 10-5.
When Chicago fell behind Detroit in its second-round series 3-1, Crawford picked up his game and held the Red Wings to a total of five goals in the next three games. Chicago would not have survived the second round without Crawford's strong play.
Other Blackhawks in contention include Patrick Sharp, Brent Seabrook and Marian Hossa.
Keep Reading