Indiana Basketball: Ranking the 10 Greatest Freshman Seasons in Hoosiers History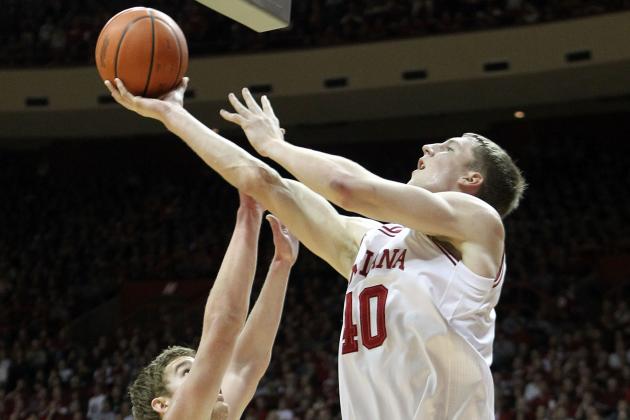 Andy Lyons/Getty Images

With next season's crop of freshmen being instrumental to the fortunes of Indiana basketball, the possibility exists of one or more newcomers making an instant leap to star status. Players like Noah Vonleh and Troy Williams will receive ample minutes and plenty of chances to make big plays.
Likewise, the players listed in this article were given similar chances. For the most part, the gifted freshmen ran with the opportunity, and most led the Hoosiers to at least an NCAA tournament berth.
There has been no shortage of great seasons produced by Indiana frosh in the program's illustrious history. Let's run down a group of the best.
Begin Slideshow

»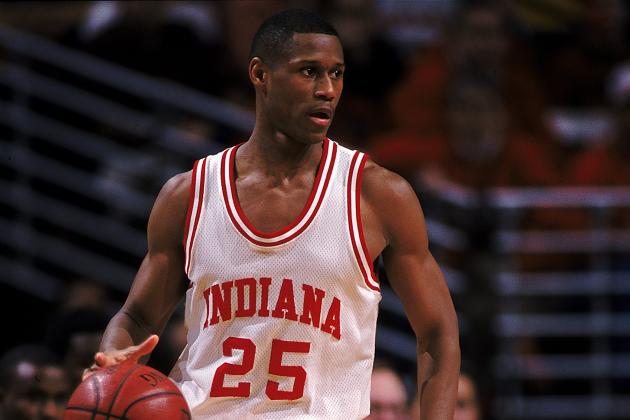 Jonathan Daniel/Getty Images

10. Alan Henderson, 1991-92
The only guy on this list to compete on a Final Four team, Henderson provided stellar inside support for senior Eric Anderson. Henderson's 238 rebounds are still an IU freshman record.
9. Jay Edwards, 1987-88
Edwards' .536 three-point shooting percentage is still a national freshman record and the third-highest figure of any player in Indiana history. His 36 points and eight three-pointers against Minnesota are still IU freshman single-game records. He's deducted, however, for a 30-day midseason academic suspension.
8. Don Schlundt, 1951-52
The Korean War provided a loophole allowing freshmen to play for one season, and the 6'9" Schlundt took full advantage. The big man, nicknamed "Ox," bulled his way to 17.1 PPG. Schlundt crushed fifth-ranked Kansas State for 28 points in only his sixth collegiate game and never really looked back.
Rebounds weren't kept until the end of Schlundt's career, but considering that he towered over most of his opposition, it's not out of the question that he could have averaged close to a double-double.
7. A.J. Guyton, 1996-97
By the time Guyton (pictured) finished his freshman year, he was in rarefied air. He was only the second first-year Hoosier to card 400 points, 100 assists and 100 rebounds, joining some fellow named Isiah. Not bad for a guy who was supposed to caddy for Michael Lewis.
6. Mike Woodson, 1976-77
The Hoosier team didn't fare well in Woodson's first year, slumping to 14-13 after losing the nucleus of the team that lost one game in two seasons. Still, it wasn't Woodson's fault. Woodson's 18.5 PPG, 6.7 RPG, .521 field-goal percentage and .792 free-throw percentage constitute one of the strongest all-around years in IU history, particularly for a freshman.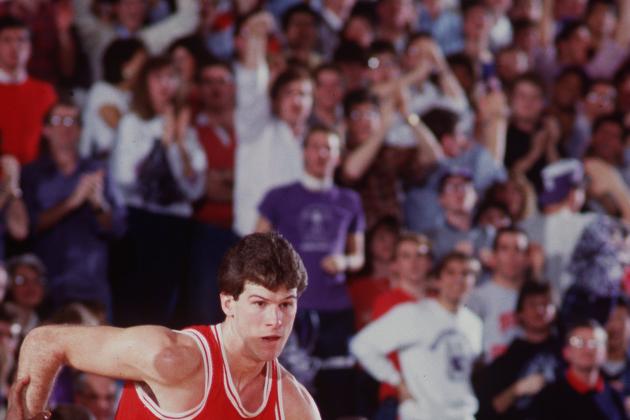 Jonathan Daniel/Getty Images

Considering that Indiana has had numerous great post players over its history, the fact that 6'2" guard Steve Alford is second all-time in freshman field-goal percentage is mind-blowing.
Alford's .592 shooting percentage wasn't based on a small sample size, either. He put up a team-high 289 shots, making quite a few in the most clutch of circumstances. He lit up top-ranked North Carolina in the Sweet 16, scoring 27 points in the infamous game that saw Dan Dakich hold Michael Jordan to 13.
Early in the season, fellow freshman Marty Simmons was carrying a larger load, but Alford took over with 53 points in his first two Big Ten games.
What was expected to be a rebuilding year after the departure of Randy Wittman, Ted Kitchel and Jim Thomas from the prior year's Big Ten champions turned into a resounding success, falling two points short of toppling Ralph Sampson and Virginia for a berth in the Final Four.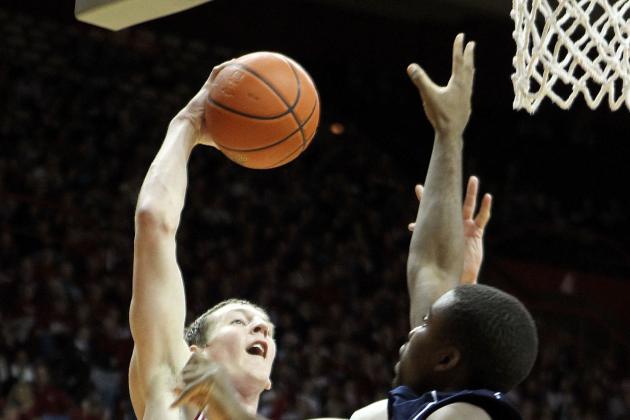 Andy Lyons/Getty Images

The 2011-12 Hoosiers would be forgiven for laughing at Alford's rookie season being called a "rebuilding year." Compared to the crater that Tom Crean inherited, the 1983-84 team had to merely replace a few windows and patch a couple of holes in the drywall.
Cody Zeller instantly gave IU an inside presence, the one piece lacking on a squad loaded with perimeter threats. He paced the team from day one, debuting with a double-double in 27 minutes against Stony Brook.
Zeller's totals ranked second among rookies in points, rebounds, steals, field goals made, free throws made and free throws attempted. Additionally, his .623 field-goal percentage was the second-best in IU history, and not just among freshmen. Only Matt Nover's .628 in 1992-93 exceeded Zeller's mark.
The team won 27 games, or one less than Tom Crean's first three IU teams combined. Few IU teams have made as drastic of an improvement from one year to the next. Zeller was the catalyst both on the court and in IU's perception among recruits, setting the Hoosiers up for continued success.
Jonathan Daniel/Getty Images

There are a lot of firsts surrounding Calbert Cheaney's Indiana career.
The IU media guide touts him as Bob Knight's first-ever left-handed player.
He was the first IU freshman to start his career opener and drop 20 in the process.
He finished his career first on the all-time Big Ten scoring list.
You get the idea.
Coming in as a freshman, though, Cheaney wasn't expected to do all of that. As a player coming off of an injury that wiped out a chunk of his senior season and part of a class with two McDonald's All-Americans, Cheaney was expected to be a complementary piece.
That "complementary piece" went on to score 17.1 PPG, rip 4.6 rebounds per night and shoot 57 percent from the floor. Those All-Americans, Greg and Pat Graham, struggled to score Cheaney's average combined.
After IU, behind four freshman starters, ran Notre Dame ragged en route to an easy win at Assembly Hall, Irish coach Digger Phelps told the Chicago Tribune, "If you have athletes who can play the game, it doesn`t matter what year they're in."
In all four of his years, Calbert Cheaney was nearly always the best player on the floor. And that was true from his opening tipoff.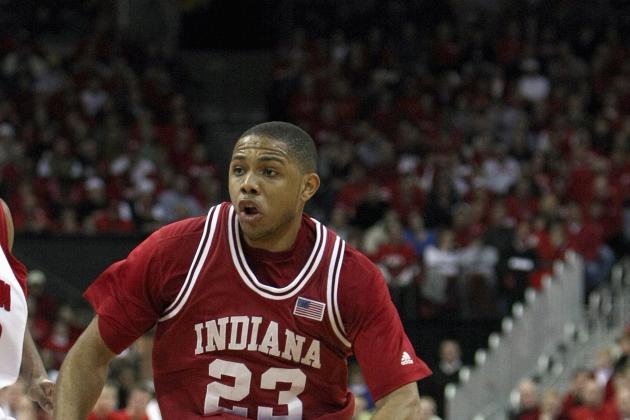 Jonathan Daniel/Getty Images

Statistically, Eric Gordon's lone season in Bloomington was one for the ages.
Based on what happened afterwards, however, some Hoosiers fans may not want to dwell on it much.
Gordon poured in a whopping 669 points, the 10th-highest figure in IU history and one that still stands as a Big Ten freshman record. No rookie in IU history is within 100 points of Gordon's figure.
Gordon's 20.9 PPG placed his season among a mere 25 others who have averaged more than 20 in cream and crimson. Spending an absurd amount of time at the foul line, Gordon drained 231 free throws, good for third in Hoosier lore behind only two of Don Schlundt's seasons.
A 33-point explosion in his debut against Chattanooga broke George McGinnis's debut record of 26, set back in 1970. And so on and so on.
Point is, Gordon scored a lot of points. While volume led in large part to his gaudy totals—Gordon shot 43 percent from the floor—all of Gordon's scoring could not carry his team through the stormy exit of coach Kelvin Sampson.
IU lost four of its last five games under interim coach Dan Dakich, falling short of the Big Ten title and going one-and-done at both the Big Ten and NCAA tournaments. Still, for about five months, Hoosier fans were treated to a young player staging his own real-life game of NBA Jam, and Eric Gordon spent his fair share of time on fire.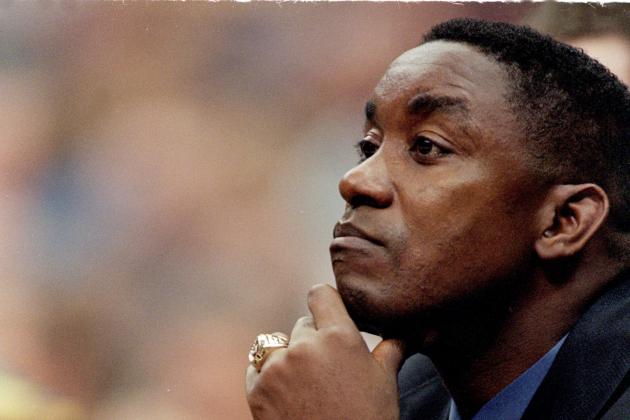 Ronald Martinez/Getty Images

Pictured here as the Pacers' head coach during the 2000-01 season, Isiah Thomas appears to be dreaming of the years when he took the court as the state school's floor general.
Thomas demonstrated his mettle as a freshman when injuries started to wrack the roster. Veteran stars Randy Wittman and Mike Woodson went down early, along with Thomas' classmate, Indiana Mr. Basketball Steve Bouchie. Wittman was done for the season before Christmas, and Woodson came back to lead an epic charge to the Big Ten title, but it was Thomas keeping the ship afloat in the meantime.
Isiah carded 14.6 points, four rebounds, 5.5 assists and more than two steals per game. His totals in the latter two columns still stand as IU freshman records. He became the first freshman named to the All-Big Ten team.
Not to be outdone in the toughness stakes, Thomas took 24 stitches over his eyes in separate February incidents, one on the court and one off.
Indiana eventually reached the Sweet 16 before bowing out in a galling loss to archrival Purdue. If Thomas hadn't been every bit the babyfaced assassin he was reputed to be, the health-challenged Hoosiers would have never even made it that far.
Listen to Scott on Music Row Sports, airing at 1 p.m. Central time Saturdays on 104.5 The Zone in Nashville, Tenn. Like the show on Facebook and follow on Twitter.