Duke Basketball: 5 Biggest Reasons to Buy Blue Devils as a 2014 Contender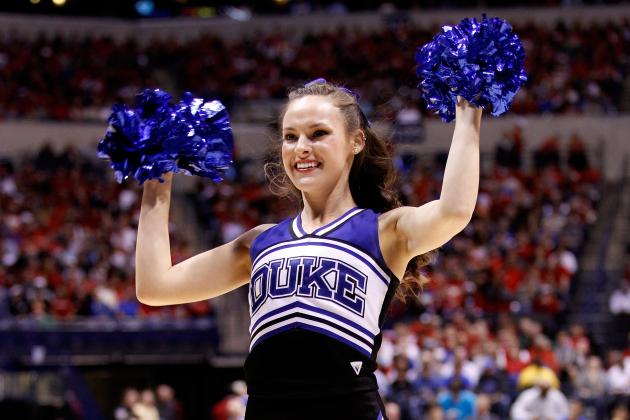 Andy Lyons/Getty Images

Last season was a strange one. After a few years in which a handful of teams were clearly head and shoulders above everyone else, the previous season was one of relative parity. Going into the NCAA tournament, any number of teams had a real shot at winning it all in Atlanta.
This year looks to return to the status quo of power being centered around only a few teams. While the 99 percent won't roll over for the 1 percent powerhouses, it augers well that the Blue Devils are one of the few elite teams. Among even the upper echelon of top teams in the country, Duke stands out.
These five reasons establish Duke as a top title contender in 2014.
Begin Slideshow

»
Elsa/Getty Images

Mike Krzyzewski doesn't use a lot of players. For the most part, he sticks with the starting five and two or three bench players. So on the surface of things, it doesn't mean much that Duke has 10 players who could start on just about any other team.
But even if Coach K only runs an eight-man rotation, the Blue Devils will benefit for having a boatload of talent.
Duke has been bitten by the injury bug a lot in recent seasons. Last year the season started with Marshall Plumlee unable to play due to a preseason foot injury. Then Ryan Kelly got hurt, and the Blue Devils struggled to regroup without one of their top three scorers.
For whatever reason, Duke has a history of big-time injuries. For the 2014 team, however, even an injury to a player of Ryan Kelly's equivalent quality doesn't spell disaster.
There are two options at point guard, three options at shooting guard and a bevy of guys who can play on the wing. Even inside, where the Blue Devils don't have a ton of height, Coach K can run a small lineup and offense similar to what he did (and will continue to do) with Team USA.
With so many quality players, Duke's depth in 2014 gives the team plenty of backup options if yet another injury strikes it. As a result, Duke, more than most teams, will be able to adjust to any pitfalls in personnel that can crop up over a long season.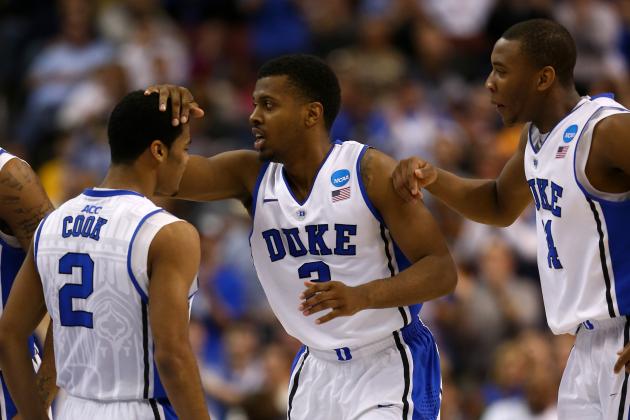 Elsa/Getty Images

One-and-done players have taken over college basketball. Yet it is worth noting that Louisville won the national championship thanks, in large part, to a dominant backcourt that consisted of Russ Smith and Peyton Siva. Smith was a junior, and Siva was a senior. You could also throw in Luke Hancock, who was a junior.
The point is that even with the onslaught of one-and-done talent, experienced guard play is an integral part of a championship run.
Duke will go into the season with Quinn Cook, Rasheed Sulaimon, Tyler Thornton and Andre Dawkins in the backcourt.
Cook will be a junior with three years experience running the Blue Devils' offense at the point guard position. Sulaimon, though only a rising sophomore, figured out how to score consistently at the end of last season. Thornton will be a senior with leadership experience and a clearly defined role on the team. Finally, Dawkins returns as a fifth year senior with the potential to put up a ton of points.
In all, the Blue Devils will have a backcourt that has both talent and experience. That will provide consistency and reliability throughout the season. Such an advantage is crucial in college basketball, when teams are increasingly inexperienced and dependent upon superstar freshmen.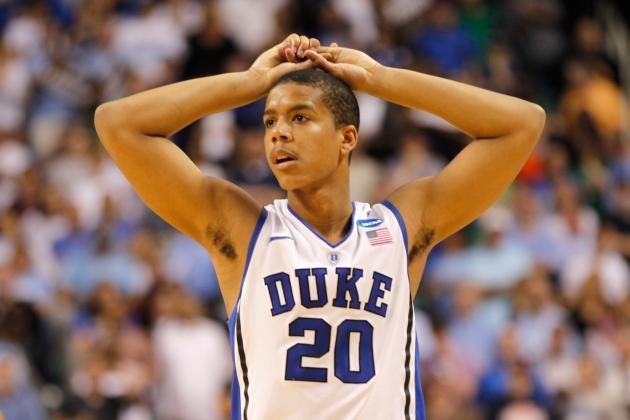 Mike Ehrmann/Getty Images

There's always a lot of hype that goes into ranking recruiting classes. The danger in such prognosticating is that it relies on a lot of assumptions. How a player does in high school and on the AAU circuit doesn't always translate to their output at the college level.
Most recruiting analysts have Duke's 2013 recruiting class ranked in the top five (for example, Scout has it ranked fourth). While the Blue Devils certainly do have a lot to be excited about in terms of the incoming freshmen, the additions of Rodney Hood and Andre Dawkins can't be overlooked.
Kentucky's incoming class is a great collection of five of the nation's top recruits, but what Duke will bring to the table is three freshmen and two guys with experience at the college level.
Rodney Hood has proven that he can produce for a college team in a major conference. As a freshman at Mississippi State, Hood averaged 32 minutes of playing time and scored 10.3 points per game (via ESPN). That's an established track record that no incoming freshman can claim.
Likewise, over three years, Dawkins has shown that he's a productive college player. In his worst year, Dawkins still shot 37.9 percent from three-point range (via ESPN). In each of his seasons, Dawkins also appeared to show an improved ability to slash to the rim. Having the benefit of a year off likely allowed Dawkins to further diversify his offensive arsenal.
So what the Blue Devils get is essentially two new players who, unlike high schoolers, have demonstrated an ability to contribute to a college team. Those known quantities can be counted upon to help Duke's quest for a title, while even programs that can brag about highly touted recruits are reliant on unproven promise and projections.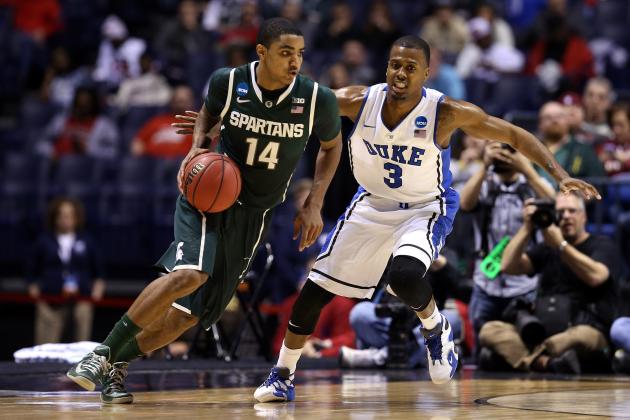 Streeter Lecka/Getty Images

A hallmark of Mike Krzyzewski's Duke teams has been pressure defense. Opponents of the Blue Devils in 2013 should expect a full forty minutes of high-intensity man-to-man marking.
Last season Duke's defense was more about organization. Ryan Kelly really quarterbacked the team and made sure everyone was in the right spot. For the upcoming season, the Blue Devils defense might be less organized and more akin to VCU's havoc style.
With so many athletic wing players, Duke will have the ability to hound opponents all the way up the floor at every position. A lack of size will probably lead to an emphasis on on-the-ball pressure to make it harder to find entry passes.
Previously, Duke has been marked by an inability prevent penetration. The likes of Rasheed Sulaimon, Rodney Hood and Jabari Parker shouldn't have much trouble staying in front of opposing players. Tyler Thornton will bring his usual defensive intensity. Quinn Cook had moments of defensive stoutness but at times appeared unable to prevent being beat off the dribble.
So Duke shouldn't see opponents blowing by defenders en route to the basket too often. That ability to stop scoring will make the Blue Devils a tough team to beat, as opponents will have to earn all their points.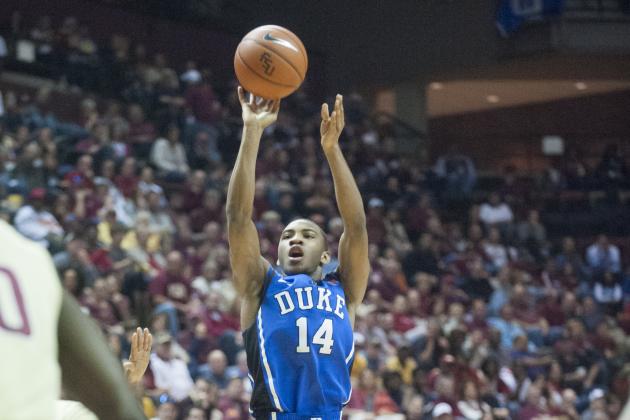 Jeff Gammons/Getty Images

Last season there were some absolutely awful college basketball games in which teams struggled to score double-digits in an entire half of hoops. Maybe it's the high turnover of players due to early entry into the draft or the impact of AAU on the way young players learn the game, but whatever the case, it results in extended scoring droughts.
Even the best teams are prone to unreliable offense. There's a lot of three-point shooting and very few organized offensive sets. Duke should avoid both those problems.
For one, Coach K has always done an excellent job of balancing offensive sets with just letting players play. The ability to go to a well-rehearsed offensive play helps stem scoring droughts.
The second point to make is that the Blue Devils have a bevy of offensively gifted players and a variety of ways to score.
Rasheed Sulaimon can shoot or drive the lane to either get a layup or draw a foul. That recipe made him one of Duke's most reliable scorers down the stretch last season. Rodney Hood can slash to the bucket or shoot from outside.
Jabari Parker has an arsenal of post moves at his disposal but can also make a mid-range jumper. Andre Dawkins and Matt Jones add the element of a deadly three-point shooter, while Amile Jefferson and Marshall Plumlee can add the occasional putback from an offensive rebound.
And those are just some of the ways Duke will be able to score. The myriad of offensive options means that the Blue Devils should find a way to score in any given situation.
Against big teams, quick teams or anything in between, Duke has a player with a skill set who can exploit a defense's weakness. Not every team is blessed with such multitude of ways to score, and that's why Duke has to be considered a top title contender.