Top Ten NFL Quarterbacks Who Retired Too Early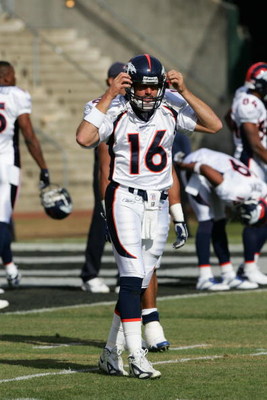 This isn't a ranking. This isn't a list. No, not in a simple manner, at least.
This is a collection of some of the best talent and potential the NFL has seen, only for them to leave the game early-and on their own terms.
With Brett Favre having a phenomenal season in 2007 (28) touchdowns, retiring, and then coming back to have another solid statistical season-it makes you wonder what some other guys could have done if they'd stuck around.
Here they are, ranked in accordance to age.
10. Rich Gannon (39)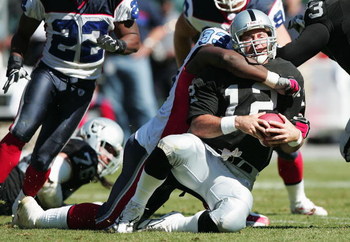 Gannon had a slew of injuries over his past two seasons, making him ineffective, and causing the team to drop from playoff contender to rebuilding mode.
Gannon's injuries and changing franchise forced him into retirement, despite still having the accuracy and ability to perform at a fairly high level.
9. Brett Favre (39)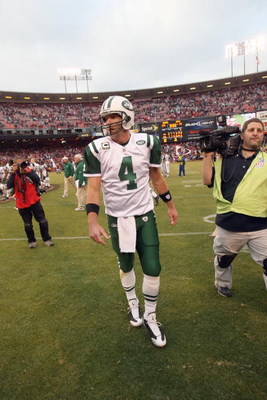 Regardless which side of the fence you're on, you have to admit Favre doesn't play to his age.
In the past two years, he's led two different teams and offenses to winning records, has thrown for over 3,400 yards twice, and recorded solid touchdown seasons of 28 and 22.
But it's not so much the numbers that offer optimism. Favre remained elusive in the pocket, strong-armed, and at times, highly accurate.
Now that he's a free agent, for whatever reason, he could potentially pick a number of teams as potential homes-if only for one more season.
Whether he does return or not, there's reason enough that he should.
After all, just ask players who had their careers cut short by injury. You only get one shot at this game, and you have to make it last.
8. Joe Montana (38)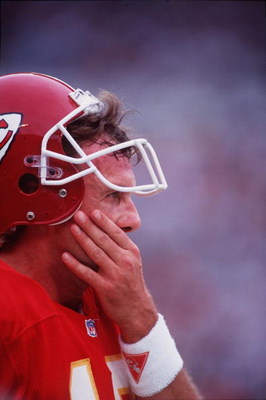 While he was quite old, Montana was still a tremendous leader and humbling presence.
He still could throw the ball well, and was incredibly efficient in two seasons with Kansas City, while leading them to a 17-8 overall record.
His injuries and age may have crept up on him, but I still think he could have produced at a solid level if he would have played another year or two.
7. Steve Young (Age 37)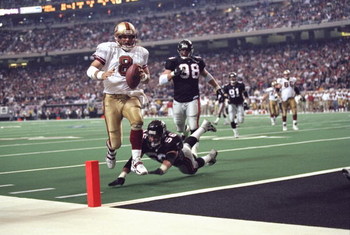 Yes, he was old. And yes, he had a bad injury history, especially with concussions.
But the year before he was knocked out of the game, he had over 4,000 yards and 36 touchdowns. This man was clearly not done with the game.
Plus, he had a young and emerging Terrell Owens.
There's no guarantee Young would have kept playing, but if he was even remotely healthy in his final season, it'd be interesting to see if he'd keep playing.
6. Boomer Esiason (36)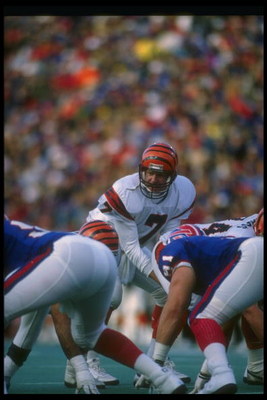 Esiason was incredibly efficient in his final season, tossing 13 touchdowns to only two interceptions, while leading the Bengals to a 4-1 record to end the season.
After already considering retirement the year before, Esiason retired because of the wear and tear of the game, as well as the fact that he'd likely be backing up Jeff Blake if he returned.
Esiason was simply done with football, but it's interesting to wonder how he would have done that season in a full 16 games, or if he could have continued playing at a high level.
5. Troy Aikman (34)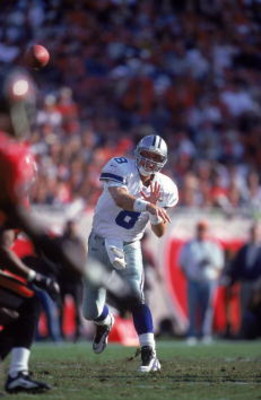 Troy Aikman wasn't the most productive quarterback, but he was incredibly efficient. He led the Cowboys to back-to-back Super Bowls, and three Lombardi Trophy's, overall.
His offense never demanded him to do amazing things, yet he shined throughout the glory years for Dallas.
He, like Steve Young, was ousted by concussions and other injuries.
While he wasn't an elite quarterback anymore, he could have helped a team as a game-manager.
4. Steve McNair (34)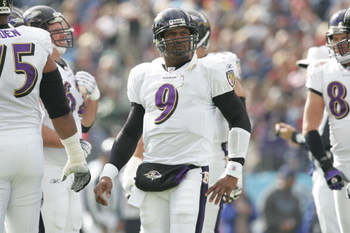 McNair clearly had regressed athletically, and after taking a pounding for years, was also declining.
However, he had still been effective in the two years prior to an injury that led to his retirement.
At 36, McNair could still contemplate a comeback.
3. Drew Bledsoe (34)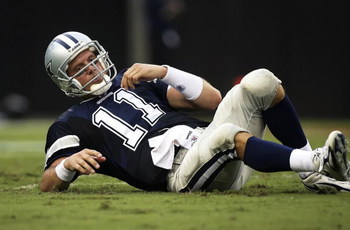 Until Drew Bledsoe was benched in favor of Tony Romo, he was still producing at a decent level.
The two seasons prior, he had tossed 20 and 23 touchdowns, while leading the Bills and Cowboys to 9-7 records.
Despite only being 3-3 in his final season, he was benched, which ended up leading him into retirement.
When asked only a year ago if he'd consider coming back, Bledsoe spoke of doing nothing all day, and that it's the best thing in the world.
It's clear he has no intentions toward returning, but at 37, could still help a team in need.
2. Norm Van Brocklin (34)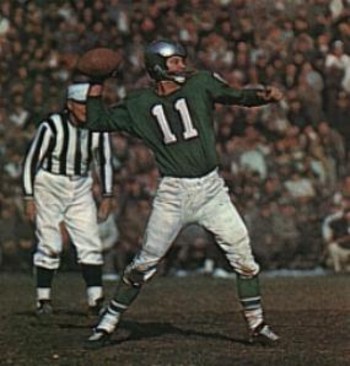 In his final season, he was productive as usual, while throwing for over 2,400 yards and 24 touchdowns, while leading the Eagles to a 10-2 season.
Possibly one of the saddest early retirements, considering how good he and their team still were.
Van Brocklin wrote the ending to his legacy himself, by having a great statistical season, while ending his career with his second championship.
If he had continued playing, oh, what could have been.
1. Jake Plummer (32)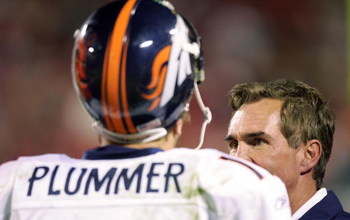 Plummer's exit to the game was an especially sad one.
In his first three seasons with Denver, Plummer was a great leader, as well as productive.
While leading the team to a 32-11 record, he threw for 58 touchdowns, and only 34 interceptions (yes, that's low for him).
Even in his last season, he was leading Denver to a 7-4 record, while throwing 11 touchdowns to only 13 interceptions.
It's clear he still had the talent, however, the attitude and emotion was in question.
Plummer was then traded to Tampa Bay, where he wasn't assured the starting position. After already seeing his job taken away from him in Denver, he was unwilling to risk having the same thing done again.
At only 35, an underrated Plummer could still have a place in the NFL, should he choose to un-retire.
Keep Reading