Odds of Every 2013 MLB All-Star Game Vote Leader Winning the Starting Spot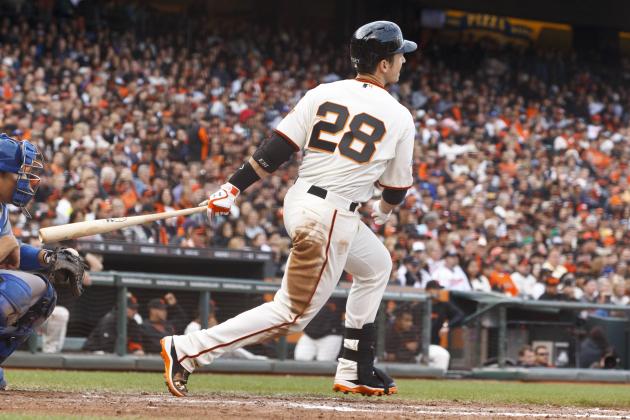 Jason O. Watson/Getty Images
The Giants' Buster Posey leads all National League vote-getters so far.
Major League Baseball All-Star voting always makes for good debate.
That's because everybody's definition of an All-Star is a little different.
Some like to see the players who've done best in the current season, regardless of their career history. Others prefer to pick the top players in the sport, even if their production has slipped a bit this year.
And, of course, someone always gets snubbed.
Monday brought the first update of All-Star voting, starting with the American League, and Tuesday gave us the National League leaders.
Here, then, is a breakdown of the top vote-getters at each position, along with a rundown of a few others who could fight their way into the starting spot when it comes time to play the 2013 All-Star Game at Citi Field in New York on July 16.
There's still a month left to get votes in, so if you're not happy with any of the following, well, do something about it.
Begin Slideshow

»
American League
Vote Leader: Joe Mauer, Twins (863,450 votes)
Mauer continues to do his high-average (.335), high-OBP (.417) thing, which puts him in line for his sixth All-Star appearance.
Closest Vote-Getter: Matt Wieters, Orioles (715,055)
His average is lower than you'd like at .237, but Wieters has 21 extra-base hits and 32 RBI—tops among AL backstops—so he could make his third straight All-Star Game.
Deserves More Votes: Carlos Santana, Indians (547,873)
He's cooled after a blistering April (.389/.476/.722), but Santana has been better than Wieters and has yet to make it to the Midsummer Classic.
Starter Will Be: Mauer, who's just too consistent and too good to give up the lead.
National League
Vote Leader: Buster Posey, Giants (1,275,956)
Posey has followed an NL MVP and World Series win by posting a .904 OPS. No wonder he's the leading vote-getter in his league.
Closest Vote-Getter: Yadier Molina, Cardinals (938,911)
Ever the defensive standard for the all-important catcher position, Molina is also leading the NL with a .350 average and should make it five straight appearances.
Deserves More Votes: Evan Gattis, Braves
One of the best individual stories of the season so far, Gattis is also leading all NL catchers with 12 homers.
Starter Will Be: Posey, because he's that great, and it doesn't hurt to have Giants fans loading up on the votes.
American League
Vote Leader: Chris Davis, Orioles (1,176,016 votes)
Leading the majors in homers (20) and extra-base hits (39) should get you the top spot.
Closest Vote-Getter: Prince Fielder, Tigers (1,059,300)
It somehow doesn't feel like he's gotten going yet, but Fielder is hitting .274 with 11 homers and 44 RBI.
Deserves More Votes: Edwin Encarnacion, Blue Jays
He hasn't been as beastly as he was a year ago, but EE is still mashing with 16 homers and 47 RBI, both of which are second-most among AL first basemen.
Starter Will Be: Davis, who's been arguably the best hitter in the game this year, but he's going to have some trouble holding off Fielder.
National League
NL Vote Leader: Joey Votto, Reds (1,044,742)
Leading baseball with a .454 OBP, Votto is also tied for the most runs scored (46).
Closest Vote-Getter: Brandon Belt, Giants (513,371)
He's been fine (.250/.325/.430), but Belt is clearly getting a bump for being on the World Series-winning Giants.
Deserves More Votes: Paul Goldschmidt, Diamondbacks (473,513)
C'mon, D-backs fans, start stuffing those ballots for your boy, who's only leading all NL first basemen in homers (13), RBI (47) and OPS (1.005).
Starter Will Be: Votto, who's much, much better than Belt and has much too large a lead on Goldschmidt.
American League
Vote Leader: Robinson Cano, Yankees (1,235,230 votes)
The class of a top-heavy position in the AL, Cano is leading second sackers in his league in both homers (14) and RBI (36) and is on pace to make it to the All-Star Game for a fourth straight year.
Closest Vote-Getter: Ian Kinsler, Rangers (656,827)
Kinsler was off to a great start (.302/.369/.500), but his rib injury (a stress reaction) is going to hurt his chances.
Deserves More Votes: Dustin Pedroia, Red Sox (642,419)
Pedroia just keeps hitting lasers and getting on base—his 16 doubles and .415 OBP are most among AL 2Bs—while playing great D for the AL East leaders, so he could surpass Kinsler.
Starter Will Be: Cano, who's got the power fans want to watch and the Yankee vote in his corner.
National League
Vote Leader: Brandon Phillips, Reds (1,019,240)
Phillips can thank Shin-Soo Choo (.438 OBP) and Joey Votto (.454) for his 45 RBI, tied for fifth-most, and the early lead among voters.
Closest Vote-Getter: Marco Scutaro, Giants (801,754)
Whaddaya know? Another Giant! Scutaro deserves this spot—and a shot at his first All-Star Game at age 37—after a fantastic May: .420/.473/.560.
Deserves More Votes: Matt Carpenter, Cardinals (439,239)
Underrated much? Carpenter is tied for the most runs scored in the game (46) and is either first or second among NL 2Bs in average (.319), OBP (.398) and SLG (.460).
Starter Will Be: Phillips, but if his recent forearm injury lingers, those Giants fans could push Scutaro in.
American League
Vote Leader: Miguel Cabrera, Tigers (1,500,165 votes)
Does an argument really need to be made that Miggy, who's leading all voters, should finally get his first All-Star start?
Closest Vote-Getter: Manny Machado, Orioles (723,943)
In just his first full season, the 20-year-old Machado is hitting .327 with an MLB-best 25 doubles and playing stellar defense, so this is well-deserved.
Deserves More Votes: Josh Donaldson, A's
Cases could be made here for Adrian Beltre (600,271 votes) or Evan Longoria (454,047), but they rank third and fourth, respectively, in voting, whereas Donaldson, who's slashing .321/.392/.526, is nowhere to be found.
Starter Will Be: Cabrera. Duh.
National League
Vote Leader: Pablo Sandoval, Giants (1,094,475)
OK, Giants fans, we get it: Your team won it all last year and you know how to vote. Sandoval's slowed down of late (.664 OPS in May) and now is being hampered by a nagging left foot strain.
Closest Vote-Getter: David Wright, Mets (967,299)
The NL third base crop has been hit hard by injuries, but Wright leads all of 'em in runs scored (29), OPS (.836) and stolen bases (11).
Deserves More Votes: Eric Chavez, Diamondbacks
It's been so rough at this position that Chavez, who's currently out with an oblique strain, deserves a mention for his .325/.368/.588 triple-slash line.
Starter Will Be: Wright, he's the hometown guy this year and it's close enough for him to overtake the slumping, injury-prone Panda.
American League
Vote Leader: Elvis Andrus, Rangers (727,555 votes)
Still waiting for Andrus to make more solid contact—his .313 SLG is worst among qualifying AL SS—but he's an elite defender who gets it done on the bases: His 14 steals and 35 runs are most among AL SS.
Closest Vote-Getter: J.J. Hardy, Orioles (717,103)
Hardy's game remains the same. He's a low-average hitter (.245) who's pop plays up at short, where his 12 homers and 34 RBI lead the AL group.
Deserves More Votes: Jhonny Peralta, Tigers (540,581)
After a disappointing 2012, Peralta is having a career season with a .332/.378/.487 line that's incredible, especially from a shortstop.
Starter Will Be: Derek Jeter! Just kidding, but Jeter is fifth in the AL with 380,445 votes despite being out all season. This is the closest vote in either league, but the guess here is Hardy's offense gets him past Andrus.
National League
Vote Leader: Troy Tulowitzki, Rockies (1,025,844)
No shortstop has posted an OPS of 1.000 since A-Rod was in Texas, and while Tulowitzki's production is likely to come down a bit, he's having a phenomenal season after missing most of 2012.
Closest Vote-Getter: Brandon Crawford, Giants (668,140)
Maybe MLB's best glove at the position, Crawford is also hitting much better than you realized at .291/.353/.447.
Deserves More Votes: Jean Segura, Brewers (554,403)
You wouldn't win, but you could at least argue that Segura, who's leading the NL with 75 hits and is second with 15 steals—in his first full season, by the way—deserves the nod over Tulowitzki.
Starter Will Be: Tulo, who's got too much talent and too big of a lead.
American League
Vote Leaders: Mike Trout, Angels (1,190,676 votes); Adam Jones, Orioles (1,181,875); Torii Hunter, Tigers (761,937)
Among AL outfielders, Trout and Jones are Nos. 1 and 2 in extra-base hits and both are also in the top five in steals (12 for Trout, nine for Jones). Meanwhile, almost all of Hunter's value with the stick comes from his .316 average (second among AL OF), but he's still a quality defender in his own right.
Closest Vote-Getters: Nelson Cruz, Rangers (712,320); Jose Bautista, Blue Jays (653,475); Nick Markakis, Orioles (595,698)
Cruz leads his AL outfield brethren in both homers (13) and RBI (39); Bautista is third in OPS (.896); and Markakis has been his usual good-not-great self (.305/.355/.445).
Deserves More Votes: Alex Gordon, Royals (522,483); Alex Rios, White Sox; Coco Crisp, Athletics; Nate McLouth, Orioles; Daniel Nava, Red Sox
Really, any one of these guys is worthy of some more fan love—even Nava, who's not your typical All-Star profile but is having a great all-around year out of nowhere.
Starters Will Be: Trout and Jones are in great shape to lock up two of the three spots, but that third one will go down to the wire. Look for Cruz or Bautista to overtake Hunter.
National League
Vote Leaders: Justin Upton, Braves (1,184,249); Bryce Harper, Nationals (1,182,532); Ryan Braun, Brewers (945,665)
Voters are remembering Upton and Harper's hot starts, but the former has been pretty bad since his 12-homer April (.224/.339/.327) and the latter is on the shelf with a knee injury. Braun, on the other hand, has been very good but is also getting some support from his past two seasons.
Closest Vote-Getters: Carlos Beltran, Cardinals (847,924); Shin-Soo Choo, Reds (743,755); Hunter Pence, Giants (624,972)
Beltran (.308-13-37), Choo (.438 OBP) and Pence (9 HR, 9 SB) each get it done a different way, but all three are, in fact, getting it done.
Deserves More Votes: Andrew McCutchen, Pirates (576,201); Carlos Gonzalez, Rockies (482,719); Carlos Gomez, Brewers (472,272); Domonic Brown, Phillies; Dexter Fowler, Rockies
Wow, that's a lot of talent left without a starting spot. The list includes the NL extra-base hit leader (Gonzalez with 30) and the NL home run leader (the red-hot Brown with 17). And there's the all-around goodness of McCutchen (36 R, 7 HR, 14 SB), Gomez (.323 BA, 10 HR, 11 SB) and Fowler (.286 BA, 10 HR, 10 SB).
Starters Will Be: It feels odd to put Upton and Harper here, but they've got the pole position out of the gate, which makes them tough to catch. Braun, meanwhile, is 100,000 votes up on Beltran and has two MVP-caliber campaigns in his pocket to help him keep his distance. If we're going to see any major shakeups at a position, though, this could be the one, given all the big performances.
American League (Only)
Vote Leader: David Ortiz, Red Sox (1,045,283 votes)
It's hard to top Ortiz's .333 average and 1.023 OPS, especially when you remember he missed the first couple weeks with lingering foot and ankle issues.
Closest Vote-Getter: Lance Berkman, Rangers (672,547)
Berkman's been productive (.280/.382/.417), but he's benefiting from the Rangers fans, who also excel at loading up the ballots.
Deserves More Votes: Mark Reynolds, Indians (452,708); Mark Trumbo, Angels (376,574)
These two aren't exclusively designated hitters like Ortiz is, but since MLB lists them as such, we'll point out that they're both mashing: Reynolds has 13 homers, 41 RBI and an .816 OPS, while Trumbo's at 13, 38 and .846 in those same three categories.
Starter Will Be: Ortiz, who's too popular to be overtaken and probably shouldn't be anyway.