The Pros and Cons of Each Ravens WR Vying for the No. 2 Job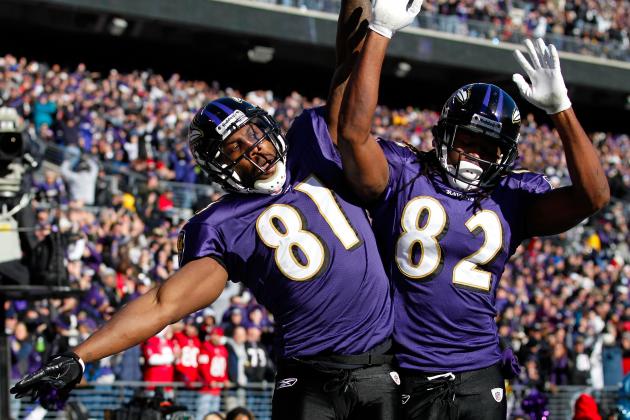 Rob Carr/Getty Images
Torrey Smith is still around, but Anquan Boldin isn't—so who will emerge to take Boldin's spot as the Ravens' top possession receiver?
In 2012, then-Baltimore Ravens wide receiver Anquan Boldin caught 65 regular-season passes for 921 yards and four touchdowns, leading the team in receiving yardage. His postseason performance, in which he caught 33 passes for 380 yards and four more scores, had a major impact on the Ravens eventually going to and winning the Super Bowl.
Now that Boldin is gone, having been traded to the San Francisco 49ers, the Ravens have a void at No. 2 wideout that they need to fill.
Here's a look at the potential No. 2 receivers currently on Baltimore's roster and the pros and cons of each one taking up Boldin's former mantle.
Begin Slideshow

»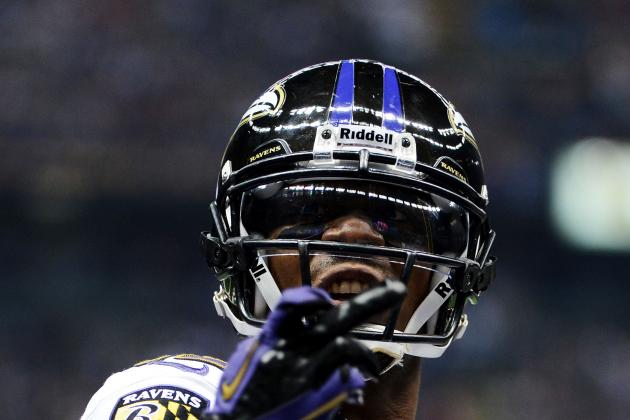 Harry How/Getty Images

Baltimore Ravens receiver and kick returner Jacoby Jones is entering his seventh year in the NFL, making him the most senior among the Ravens' group of receivers.
In 2012, Jones was targeted by quarterback Joe Flacco 54 times, ending up with 30 receptions, 406 yards and a touchdown. He also had five postseason catches for 147 yards and two scores. It was his first season with the Ravens, having spent the five previous years with the Houston Texans.
Pros
Experience gives Jones a major boost when it comes to the No. 2 receiver job, even if he is a speedster just like the Ravens' No. 1 wideout, Torrey Smith.
Sometimes experience can trump talent, and if it comes down to it, Jones can be put in the No. 2 spot, even if in name only—for example, tight end Dennis Pitta can pick up more targets than him in this scenario.
Cons
As a receiver, Jones has performed best as a role player; when given a larger workload, he's been a little overwhelmed, especially in man coverage. His struggles to take on more targets led to problems with dropping passes, which ended his Texans career.
In terms of receptions and yardage totals, Jones has yet to get close to Boldin's numbers as a No. 2 receiver. He seems better suited for the No. 3 who will take advantage of lapses in coverage, but based on the Ravens' present group of receivers, he may just win the job despite it.
Patrick Smith/Getty Images

The Baltimore Ravens drafted receiver Tandon Doss in 2011. Doss didn't have a single regular-season catch in his rookie year and didn't score his first NFL touchdown until Week 7 of 2012.
He ended the 2012 season with seven catches on 18 targets for 123 yards and a touchdown and has played a total of just 255 snaps in his career thus far.
Pros
At some point, Doss needs to be ready to play or else find himself without a job in Baltimore.
With the No. 2 spot up for grabs presently, Doss has as much a chance as anyone to win it and all the incentive to try. Doss is also a possession-style receiver, which would add contrast to their otherwise incredibly fast group of receivers.
Cons
For the past two offseasons, the Ravens have been hoping for Doss to finally stand out. The fact that he has so few snaps to his name thus far doesn't seem to bode well for his odds to win the job.
Though Boldin's leaving should result in Doss seeing more snaps and targets this year, it just doesn't look, at present, as though he's being groomed to join fellow 2011 draft pick Torrey Smith in the offensive roster full time. Doss simply hasn't yet proved his reliability.
While the current roster situation seems ideal for him to finally break out, Doss as their No. 2 wideout would be a result of desperation.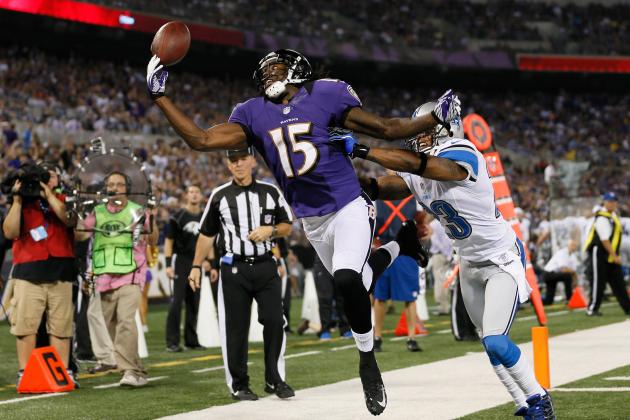 Rob Carr/Getty Images

It's no stretch to say that Ravens receiver LaQuan Williams is living the NFL dream.
An undrafted free-agent signing in 2011, Williams made the active roster in his rookie season and survived the roster bubble again in 2012 to remain with the team he grew up rooting for.
Despite Williams' beat-the-odds background, he's yet to see much playing time. He played only nine regular-season snaps in 2012, with no passes thrown his way, down from 119 snaps, 12 targets and four receptions his rookie year.
Pros
Williams has already surprised by even making the Ravens' 53-man roster in two consecutive seasons despite being an undrafted free agent, so why shouldn't he continue to overachieve to the point that he becomes the team's No. 2 receiver?
Well, based on the depth chart, he has some serious work to do over the summer to get to that point.
Cons
Williams' low participation thus far doesn't hint to him getting increased chances to earn such a highly visible job. While the Ravens' present situation at receiver should result in somewhat marginal players like Williams getting additional work in OTAs and minicamp, the odds just aren't in his favor.
It also doesn't look good that his offensive snaps dropped so drastically in his second season, despite him being a very important member of the Ravens' special teams unit.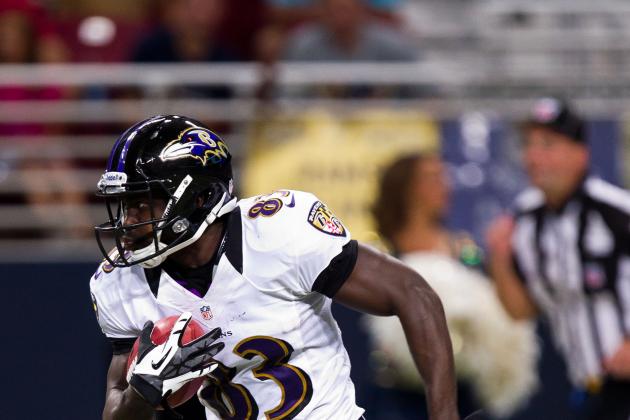 David Welker/Getty Images

Deonte Thompson is another undrafted free-agent signing of the Baltimore Ravens, joining the team in 2012. As a rookie, Thompson played just 89 offensive snaps, with 80 of those coming in Week 17 when the Ravens eventually sat the majority of their regular starters. He caught five passes on six targets in 2012 for 51 yards.
Pros
Of the Ravens' young receivers, Thompson seems to be making the most progress. Offensive coordinator Jim Caldwell praised his level of improvement earlier in June, complimenting everything from his speed (he's the fastest player on the roster) to his route-running, as reported by Aaron Wilson of the Baltimore Sun.
Caldwell also noted that as long as he keeps improving at this level, "he will be a fine player." All of this seems to indicate that Thompson is at least in the running for the No. 2 job.
Cons
Caldwell's praise also seems to hint that Thompson isn't ready—he continually referred to not just the improvement that Thompson has made over the past year but also the improvement that is still ahead for him.
This may mean that while he'll get a shot at the starting job alongside Torrey Smith, his true peak is in his future.
Regardless, it does look likely that Thompson will again earn a spot on the active roster, and his role could increase as the season progresses.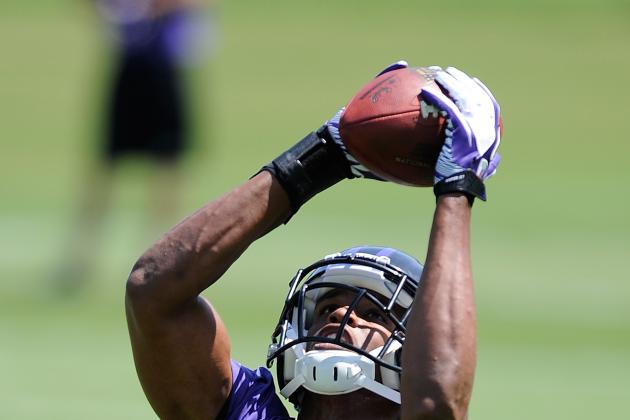 Patrick McDermott/Getty Images

Tommy Streeter was a sixth-round pick of the Ravens' in the 2012 NFL draft. He spent his entire rookie season on injured reserve after suffering a foot injury in the team's final preseason game.
Pros
Aside from the competition for the No. 2 job being wide open at this point, there aren't many reasons to believe that Streeter will win it outright. He simply lacks the experience.
Cons
For all of Streeter's upside, the fact that he was sidelined for the entirety of his rookie year—he couldn't even practice, because of the NFL's injured reserve rules—means that he's essentially a year behind in his professional development.
Streeter needs to prove he can play special teams and that he's starting to grasp the Ravens' offensive concepts before he's going to get significant snaps at receiver.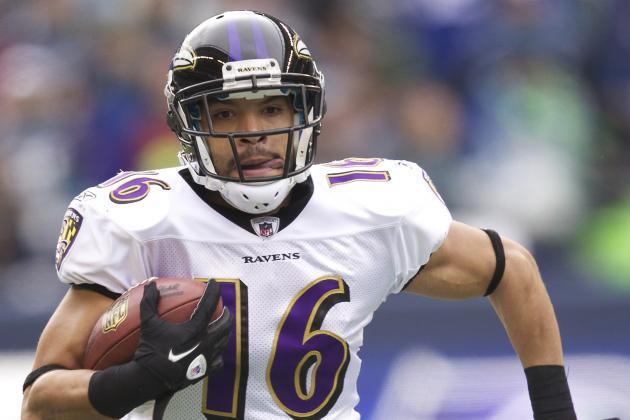 Stephen Brashear/Getty Images

David Reed is currently the Ravens' second-most experienced receiver on the roster behind Jacoby Jones, having been in the NFL (and with the team) since 2010.
In his time in Baltimore, he's mostly been a kick returner; he finally got a few looks as a receiver in 2012, playing 90 total snaps (all in Weeks 15 through 17), with five catches on six targets for 66 yards.
Pros
Technically, Reed should know the Ravens offense better than any other receiver, having been with the team longer than any of them. Ostensibly, this should also mean he's had opportunities to build a rapport with Joe Flacco, even though it's likely that his practice time with the first-team offense has been limited.
Cons
Though Reed has been around for a few seasons, his participation in the offense has been quite limited—he never caught a pass until 2012—which calls into question whether or not he could handle the greatly heightened workload of the No. 2 receiver.
In fact, with Jacoby Jones such a talented returner and other speedy players also in the bulk of Baltimore's receiving corps, Reed may soon be on the roster bubble.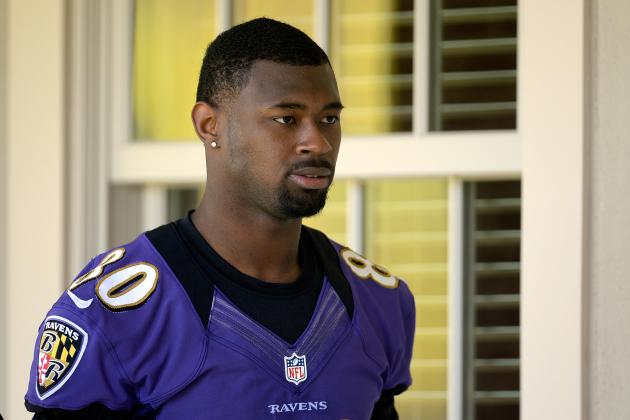 Patrick McDermott/Getty Images

The Baltimore Ravens currently have six rookie wide receivers, but only one of them, Aaron Mellette, was drafted. Mellette was taken in the seventh round, a steal for his talent, but still does have an uphill battle not only to be a legitimate contender for Anquan Boldin's former spot, but to even earn himself a place on the team's 53-man roster.
Pros
Mellette's style of play is very similar to Boldin's, in that he's not terrifically fast, but he's got reliable hands and is very physical.
This is in contrast to many of the other Ravens receivers, who count speed as their biggest strengths. That difference in style could therefore help Mellette stand out and add another dimension to Baltimore's passing game.
He also impressed at rookie minicamp, running routes well and catching passes with ease.
Cons
Yes, Mellette was drafted, albeit in the seventh round. Yes, he has many traits that echo Boldin's, but he's still just a rookie—and one from a smaller school, at that.
There are many promising things about Mellette, but he'll have to shine on special teams to earn a roster spot this year, and he'll also have to outperform the other, undrafted rookies on the receiving corps as well.
Though Mellette may someday be a star for the Ravens, it might take more than just his first offseason in the NFL to get him there.