I know, I know, I know. This list is undoubtedly going to displease the vast majority of those who read it. "Where's Messi!? Where's Ronaldo!? Where's Barça!? Where's Tito!?"
Nowhere to be seen as it happens. All the aforementioned subjects did just fine in the Spanish top-flight season which came to a close on Saturday. However, to make this particular column's end of season awards, something sensational has to have been achieved. Something above and beyond the "good" or "above expectations." Something to truly knock the sporting socks off. All the winners detailed below more than fit that description.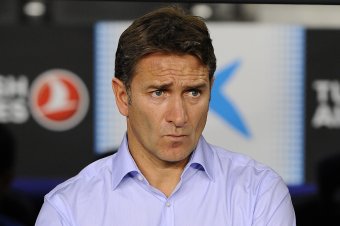 David Ramos/Getty Images
Best Team: Real Sociedad
Technically speaking and based on cold hard facts, Barcelona are the best team. The league title winners picked up more points than anyone else and scored more goals. However, that is to be expected for a side with so much talent and resources at its disposal.
Real Sociedad only splashed the cash on a single player over the season, Carlos Vela, yet the Basque club finished in fourth, a truly magnificent achievement. In a heart-warming campaign for those who love plucky underdogs, La Real were one of just two teams to beat Barça in the league.
They also stuck six past Real Madrid in two matches and overcame Atletico Madrid in the Vicente Calderon. On top of that, the San Sebastian side belted nine past Valencia in their head-to-heads, the club's rivals for La Liga's final Champions League qualifying spot on the final day of the season.
Best Player: Thibaut Courtois
Traditionally, the footballer who scored the most goals is seen as the best player of the season. However, there is no good reason why the goalkeeper that conceded the least amount of goals cannot win this accolade either. Atletico's Belgian keeper let in just 29 strikes in 37 league matches, the best record in La Primera. Courtois also kept 20 clean sheets and broke the club record for minutes without conceding a goal both at home and away.
Radamel Falcao's goals would all too often steal the headlines in Atletico's games, but an outstanding season-long performance from the on-loan Chelsea man was just as crucial for the third-place finish for the Rojiblancos.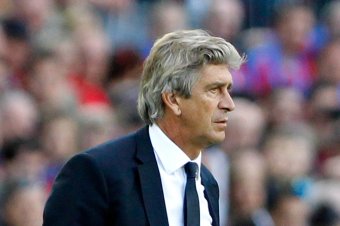 David Ramos/Getty Images
Best Coach: Manuel Pellegrini
Malaga's Chilean boss had all manner of hurdles to overcome. In a footballing sense, Pellegrini had to balance a Champions League campaign with responsibilities in La Liga. In that regard, the former Real Madrid man performed astonishingly well, with Malaga seconds away from a Champions League semi-final and finishing sixth in La Liga.
The most challenging aspect of Pellegrini's job in his final year on Spain's south coast was dealing with a squad who went unpaid. Top performers from the previous campaign such as Santi Cazorla were sold off, while the communication on the future from Malaga's absentee owners was not the clearest. The 59-year-old acted all season with nothing less than complete honour, dignity and professionalism under incredibly trying circumstances.
Best Match: Real Sociedad 4-2 Valencia
Barça's truly insane 5-4 victory over Deportivo was a mouse's hankie from winning this particular title. However, Real Sociedad's 4-2 win from the end of April pipped the game to the post. Not only was the encounter one of the highest quality between two desperate sides slugging it out, the clash had sensational goals and drama.
Valencia had taken the lead before Real Sociedad fought back, only to secure the three points that would eventually give the Basques fourth spot and a return to the Champions League after a decade away.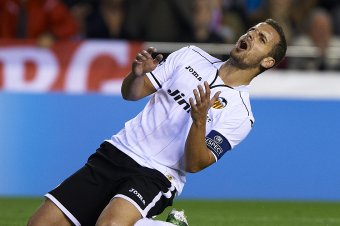 Manuel Queimadelos Alonso/Getty Images
Best Goal: Roberto Soldado: Valencia 2-2 Levante
The most personal choice of all. Some may quite justifiably prefer Leo Messi's mazy dribble against Athletic Bilbao or Jordi Amat's impressive long-distance lob. But Soldado's stonker is the one that truly makes naughty words come out of your mouth upon watching it.
The technique required to connect with a cross coming in at such pace was exemplary, never mind getting the ball to beat the goalkeeper at 500 miles-per-hour. The reaction of the Valencia forward himself says how blooming good this goal really is.