Ohio State Basketball: 5 Biggest Reasons to Buy Buckeyes as a 2014 Contender
Joe Robbins/Getty Images

The 2013-14 Ohio State basketball season will pose a familiar challenge to head coach Thad Matta.
Once again the Buckeyes' head man is facing a new year after a superstar departed early for the greener pastures of the NBA. This time it was Deshaun Thomas, and the lefty scorer joins a list that includes Greg Oden, Mike Conley Jr., Evan Turner, Kosta Koufos and Jared Sullinger, among a handful of others.
Even with the loss of Thomas, it would be unwise to sell the Buckeyes' stock as a Big Ten and possible national contender. Read on to see five reasons why that is the case.
Begin Slideshow

»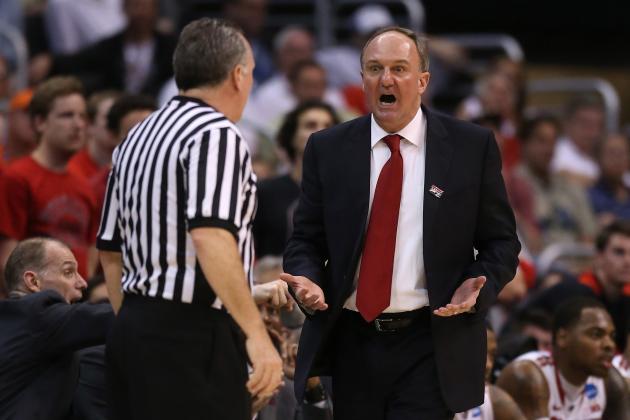 Jeff Gross/Getty Images

In terms of the level of success he has and the amount of national recognition he receives, perhaps no coach in the country is as under-appreciated as Thad Matta.
The Buckeyes have won at least a share of five Big Ten regular season titles in nine years under Matta to go along with three of the past four Big Ten tournament championships. Ohio State has also been to two Final Fours during Matta's tenure, and is the only school in the nation to be in the past four Sweet 16s.
Matta has more Big Ten wins during his nine seasons in Columbus than any other coach in the conference, including Tom Izzo and Bo Ryan. Part of that is because of Matta's excellent recruiting track record, but he has also improved as a game manager and even expanded his rotation last year.
Perhaps the most amazing part of Matta's accomplishments is the fact that he has accomplished all that after losing at least one player early to the NBA in six of those nine seasons. That is the biggest reason for optimism regarding the upcoming 2013-14 campaign, despite the loss of Deshaun Thomas.
Matta's teams are almost always in contention. He has won at least 20 games in every single one of his coaching seasons, including those at Xavier and Butler. This year will be no different.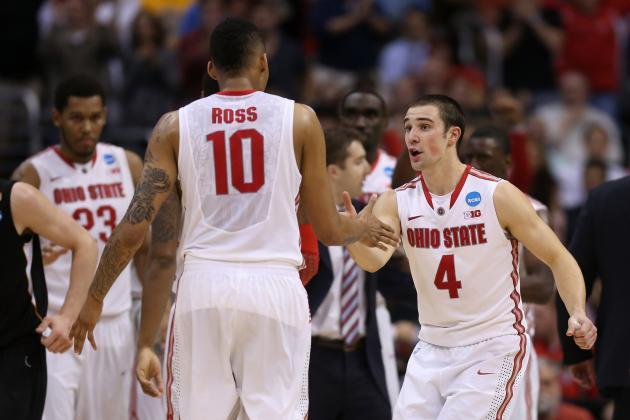 Jeff Gross/Getty Images

Even the best coaches in college basketball need leaders on the floor. Thad Matta has arguably the best one in the country in point guard Aaron Craft.
Craft has played the role of coach on the floor since he was a freshman coming off the bench, so there is no reason to expect that to change during his senior campaign. Any situation that arises during the 2013-14 season, be it adversity, overconfidence or something in between, will be dealt with under Craft's calming influence and demeanor under pressure.
Craft is more than just an emotional leader, though. He is widely considered the best on-ball defender in the nation, and forces opponents to gameplan for his defense alone. Ohio State will be a defensively oriented squad next year, and Craft is the major reason why.
Craft's jump shot still leaves much to be desired, but he played to his offensive strengths during the second half of the 2012-13 season. He is an effective penetrator who can finish at the rim or dish out to open teammates.
With Craft's defense, improving offense and overall leadership in tow, the Buckeyes will contend for a Big Ten title all year.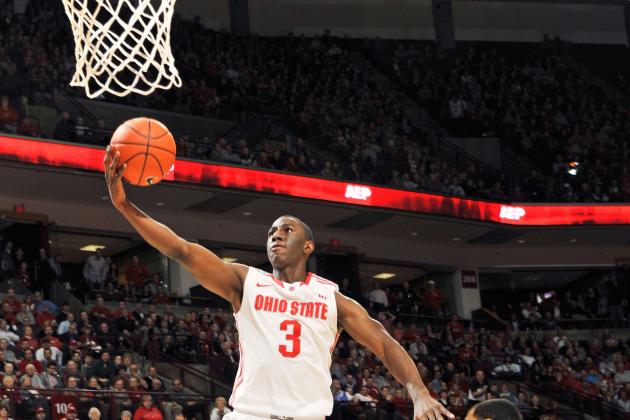 Jamie Sabau/Getty Images

Fair or not, the Big Ten has a reputation for being a slow and unathletic league that features a plodding style of play and physical big men battling it out for every rebound.
Some of that is deserved (have you ever watched Wisconsin play?), but Ohio State will buck that trend in 2013-14. The biggest question mark on the Buckeyes' roster is the starting center, and Thad Matta has a ton of athletic guards and stretch forwards at his disposal.
Look for the Scarlet and Gray to feature different combinations of Aaron Craft, Shannon Scott, Lenzelle Smith Jr., Sam Thompson, Kameron Williams, LaQuinton Ross and even Marc Loving in smaller and quicker lineups. Loving will likely take some of the big man minutes that depart with Deshaun Thomas in Matta's center-less rotation.
Through full-court presses, fast breaks and an overall uptempo approach to the game, the Buckeyes will gradually wear their opponents out. Assuming proper conditioning and an effective bench rotation is in place, Ohio State will get stronger as the season progresses, which will bode well for March.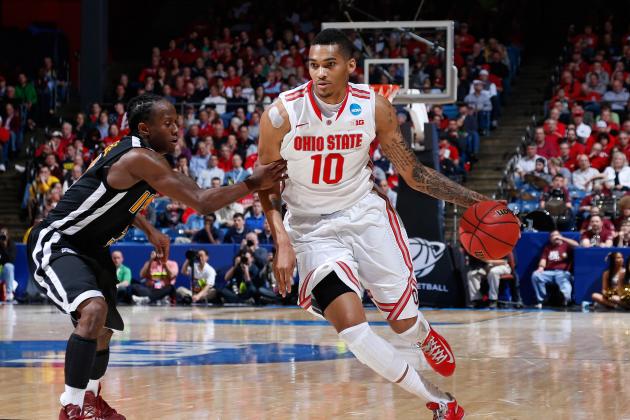 Joe Robbins/Getty Images

For his first year-and-a-half on campus, LaQuinton Ross seemed to be in a competition with Amir Williams to see which one failed to live up to his recruiting hype in the most dramatic fashion.
Sure, Williams struggles to even catch the ball at times in the post, but Ross was suspended for academic troubles, had major turnover problems of his own, couldn't play a lick of defense and wasn't hitting his three-point shots at nearly the clip Buckeye fans were promised.
And then the last month of the 2012-13 season happened.
We had seen occasional glimpses of the massive potential in Ross before, but he was the best player on the floor for much of the Big Ten and NCAA tournaments. He hit his perimeter shots, handled the ball well, drove the lane, rebounded, drew fouls and even played better defense. Throw in the game winner he hit in the Sweet 16 against Arizona and it was quite a month.
The ultimate question is whether March was the turning point for a future superstar who has finally learned to put it all together or simply an outlying performance in a small sample size. Considering the talent that Ross possesses, it is a safe bet it was a sign of better things to come.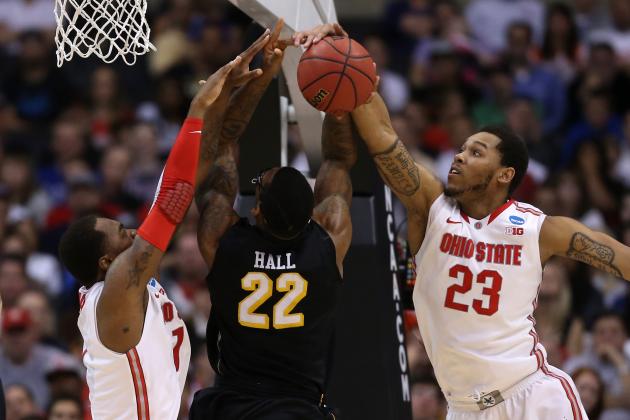 Jeff Gross/Getty Images

Regardless of the potential that litters the Ohio State roster, there are a number of question marks that need to be answered if this is going to be a title-contending team. However, on an individual level none of these "ifs" are particularly daunting, and each could realistically break the Buckeyes' way.
Amir Williams is the biggest uncertainty. He still has not realized his potential, despite his status as a McDonald's All-American coming out of high school. He is now an upperclassman, and if he is ever going to make the leap it will happen this year.
Other "ifs" that need to occur if Ohio State is going to win a conference crown are Sam Thompson and Lenzelle Smith Jr. developing consistency on their jump shots, the aforementioned LaQuinton Ross actually making the leap to superstardom and Aaron Craft playing to his strengths on offense.
We saw evidence of all of that happening by the end of last year, and there is no reason to expect differently in 2013-14. If the two freshmen find their roles early and Shannon Scott develops a bit more of an offensive game to complement his tenacious defense, the Buckeyes will be in good shape.
All of these question marks together suggest a high amount of uncertainty, but when they are broken down on an individual level, none of them are particularly overwhelming or even unlikely to work out in the Buckeyes' favor.