Stock Up, Stock Down for Blue Jays' Top 10 Prospects for Week of May 27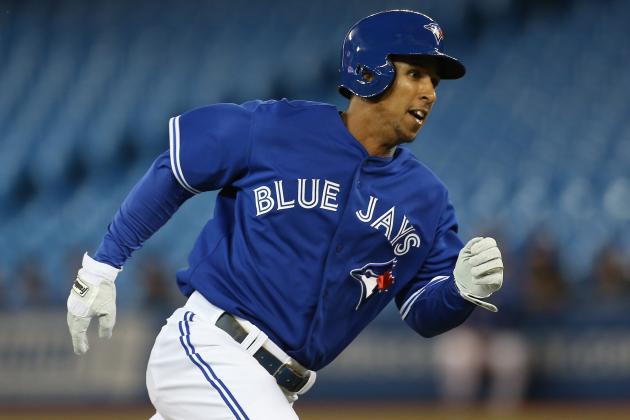 Tom Szczerbowski/Getty Images

The Toronto Blue Jays minor league system was greatly depleted this offseason, but it is still a respectable bunch.
In order to acquire a number of players—that haven't quite paid off yet—general manager Alex Anthopoulos traded away a number of top prospects including Travis d'Arnaud, Jake Marisnick, Noah Syndergaard and Justin Nicolino.
The Blue Jays Triple-A affiliate, the Buffalo Bisons, currently sit second in their division in the International League, and one of the Single-A teams, the Dunedin Blue Jays, are first in their division. It's not all bad news within the Blue Jays organization.
Let's see how the Blue Jays' top 10 prospects fared this past week.
Statistics courtesy of MiLB.com.
Begin Slideshow

»
2013 stats: 9 GS, 2-2, 3.16 ERA, 16 BB, 37 K, 42.2 IP
As one of two top prospects not shipped out in the offseason, Aaron Sanchez has obviously won over a few people in the Blue Jays front office.
After going just three innings in his last start on May 18, Sanchez was put on the seven-day disabled list. He was placed on the seven-day DL on May 21 and is now eligible to come off at any time.
It was an uneventful week for the Blue Jays' top prospect. However, a stint on the DL is never a good thing.
Stock: Down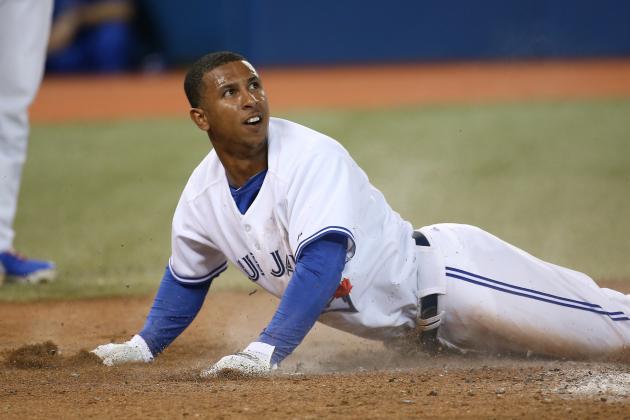 Tom Szczerbowski/Getty Images

2013 MiLB stats: 40 G, .227/.343/.325, 5 SB, 2 HR, 12 RBI, 36 R
2013 MLB stats: 11 G, .286/.375/.381 0 SB, 0 HR, 0 RBI, 3 R
Anthony Gose joined the Blue Jays on May 20 and has yet to see consistent action. He has started just three out of the 11 games he has played in and has struggled at the plate.
However, last week was marginally better for Gose, and the Blue Jays can use all the help they can get right now. If Gose can turn it around somehow, there is definitely an opening for him to cement himself in the majors.
I personally think Gose would benefit more from consistent playing time in the minors, as opposed to limited at-bats with the Blue Jays. But that is just one humble man's opinion.
Last week's stats: .364/.462/.455, 2 BB, 4 K, 1 2B
Stock: Up
2013 stats: 10 GS, 0-4, 6.34 ERA, 24 BB, 44 K, 38.1 IP
In 10 starts this year, Norris has yet to pick up his first victory of the season. On May 23 Norris struck out a season-high 10 batters and gave up no runs, but still could not walk away with the win.
He followed that start last week and lasted four innings while giving up just one earned run. Unfortunately, he ended up taking the loss as his teammates were unable to pick him up.
Norris has been pitching well as of late, but has yet to see the run support from his teammates that he needs. He has given up just two earned runs in his last four starts. As long as he continues to pitch well, he will see his ERA fall and his win total rise.
Last week's stats: L, 4.0 IP, 1 ER, 3 BB, 6 K
Stock: Up
2013 stats: 5 GS, 1-2, 3.63 ERA, 4 BB, 31 K, 22.1 IP
Roberto Osuna plays for the Single-A Lansing Lugnuts and was signed by the Blue Jays as a non-drafted free agent in 2011.
He made one start last week and gave up three earned runs over four innings. Opponents have hit just .179 off him this season, so naturally the three earned runs was a disappointment.
According to MiLB.com, Osuna is the Blue Jays' second-best prospect and will be treated as such. If that means more time in Single-A to develop, then that is what he will get. Don't expect to see him in a big league uniform too soon.
Last week's stats: L, 4.0 IP, 3 ER, 1 BB, 5 K
Stock: Down
2013 Stats: 3 GS, 1-1, 8.10 ERA, 3 BB, 13 K, 10.0 IP
Marcus Stroman, a 21-year-old pitcher for the New Hampshire Fisher Cats, was recently activated after serving a 50-game suspension. He is a highly touted prospect who has made the transition from reliever to starting pitcher this season.
His first two starts went extremely well, but he tripped up big time last week. He gave up seven earned runs in his one inning of work and saw his ERA balloon to 8.10.
His 10 innings pitched is too small a sample size to draw any wild conclusions about his ERA, but his ratio of walks and strikeouts certainly is encouraging.
Last week's stats: L, 1.0 IP, 7 ER, 1 BB, 2 K
Stock: Down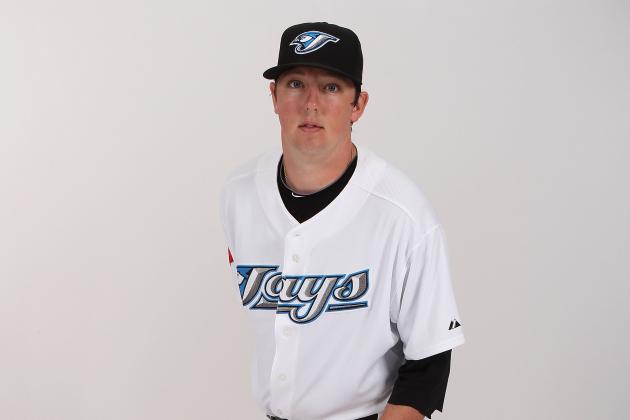 Nick Laham/Getty Images

2013 Stats: 11 GS, 3-5, 5.40 ERA, 27 BB, 53 K, 60.0 IP
Deck McGuire has been up and down this year, and the month of May was no different. On May 15, he pitched six innings and gave up just one run. However, last week, he pitched another six innings and gave up five earned runs.
Although McGuire walked away with his third win of the season in his most recent outing, I doubt he was very happy with his performance. In order to be promoted, McGuire needs to show he can pitch consistently—something he has yet to do in Double-A.
Last week's stats: W, 6.0 IP, 5 ER, 2 BB, 7 K
Stock: Down
2013 stats: .210/.262./.274, 4 SB, 1 HR, 9 RBI, 11 R
In four games since May 27, Chris Hawkins has just three hits in 14 tries, and his cold spell is actually much longer. In his last 10 games, Hawkins is batting just .189 and has struck out seven times.
Hawkins is just 21 years old and will be given some time to get his game in order. These are some trying times for Hawkins, but the Blue Jays will be patient with him.
Last week's stats: 3-for-14, 0 SB, 2 RBI, 3 BB, 2 K
Stock: Down
2013 stats: .299/.342/.407, 32 RBI, 4 HR, 1 SB, 61 R
The more I hear about Christian Lopes, the more I wonder how the Blue Jays snagged him in the seventh round of the 2011 first-year player draft. Although his average recently slipped to just under .300, he has been playing great baseball this season.
He is the starting second baseman for the Lansing Lugnuts and, at just 20 years old, has shown that he can play with the pros.
Although his numbers are still looking good, his performance has dipped slightly, which is why his stock is headed down. However, a small slump is nothing that Lopes can not overcome, so look for him to pick it up.
Last week's stats: 6-for-24, 2 2B, 3 RBI, 3 BB, 1 K,
Stock: Down
2013 stats: .386/.400/.579, 0 SB, 1 HR, 5 RBI, 4 R
A.J. Jimenez's strong numbers at the plate are a product of two things so far this season. The first is that he has the potential to be a very good hitter. The second is that he has only played six games.
Jimenez started the year on the disabled list after recovering from Tommy John surgery and has found himself back on the DL. This time, it is just a seven-day stint, but like Aaron Sanchez, a trip to the DL is never a good thing.
Hopefully, Jimenez can put his injury troubles behind him and get back to what he knows: hitting baseballs. If he can stay healthy for a while, he will almost certainly get promoted to Double-A New Hampshire.
Stock: Down
2013 stats: .287/.352/.380, 8 SB, 2 HR, 11 RBI, 23 R
Dwight Smith Jr. had a decent week at the plate. He recorded eight hits and drew three of his eight walks this season. As a result, he has seen his OBP rise over the past week. His Achilles' heel remains his high strikeout count; he fell victim to it 10 times last week.
Last week was just about on par in every way possible in comparison to Smith's season averages. His average over his past 10 games is just .001 less than his average for the season. His OBP is just .020 points apart as well. It was status quo is nearly ever regard for Smith.
Last week's stats: 8-for-30, 2 SB, 0 HR, 3 RBI, 5 R
Stock: Even