Texas Football: Why David Ash Is Set for a Huge Breakout Season in 2013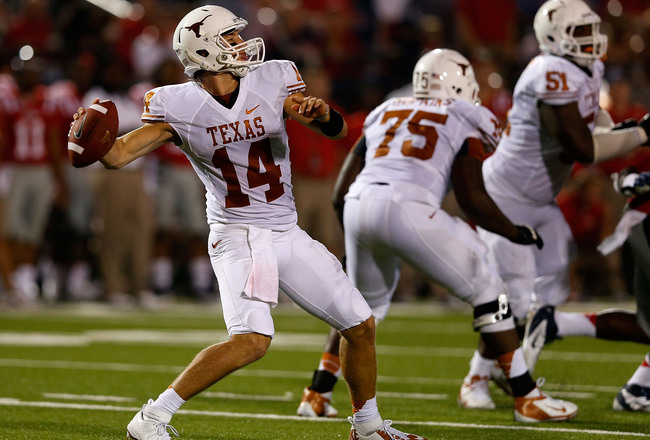 Scott Halleran/Getty Images
Returning as the conference's most experienced quarterback, David Ash is set for a breakout junior season in 2013. His increased freedom to run the ball will pay the biggest dividends.
You are probably not one of these sick people who plays fantasy college football. But if you were, it would probably be a good idea to take a look at Texas Longhorns quarterback David Ash in an early round.
Ash is already coming off somewhat of a breakout season in which he completed 67 percent of his passes, throwing for just under 2,700 yards with 19 touchdowns.
But he is going to be even better his junior year. He has a big arm, good talent surrounding him and a new scheme that will better exploit his skill set. But get most excited about his rushing abilities, because his athleticism will be on full display when he busts out in 2013.
He Will Run More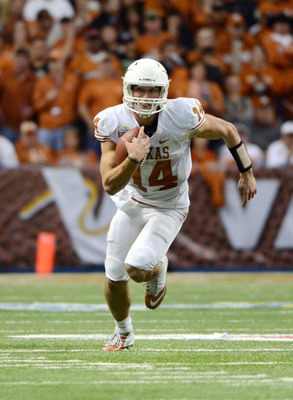 Ash's rushing talents will take his game up a notch in 2013.
Brendan Maloney-USA TODAY Sports
The single-biggest reason why Ash is due for a big season is that the coaches are going to call on him to run the ball more often. Given his athleticism and the inherent difficulty with stopping running quarterbacks, he will have the defense in the palm of his hand.
The evidence supporting running your quarterback is extensive. Five of the last seven Heisman Trophy winners have been dual-threats under center, the four quarterbacks that burst onto the pro scene last year (Andrew Luck, Colin Kaepernick, Russell Wilson, RG3) all were threats with their legs and Texas' last two great quarterbacks were both threats to tuck and run.
The reasoning is simple.
On designed runs, the play shifts from 10-on-11 to 11-on-11 when the quarterback is running rather than being a passive bystander. And on scrambles, defenses can get so wrapped up in covering that they lay out the red carpet for the quarterback to gash them for a big gain.
At 6'3" and almost 225 pounds with 4.5 speed, Ash has everything you want from a running quarterback. In fact, that was his original role on the team when he averaged 5.6 carries per game as a freshman.
But when Ash became a starter last season, he saw his carries decrease. That is until the Alamo Bowl, when Ash carried the ball five times, his most of the season, for 30 yards in the second half to lead his team back from 10 down.
That was Major Applewhite's first game as the primary play-caller, and he will stick to that winning formula. Ash's running changed the complexion of that night, and it will make him much harder to contain throughout 2013.
Offensive Scheme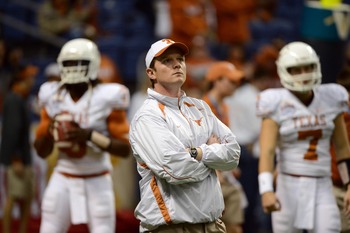 Major Applewhite's offensive system plays into Ash's strengths.
Brendan Maloney-USA TODAY Sports
Texas' promotion of Major Applewhite to offensive coordinator and signal-caller signifies a commitment to a more up-tempo, spread-out attack. Ash will flourish in such a system.
Last season, Bryan Harsin mostly attacked the defense with three receivers and a power running game that struggled against tougher defensive fronts. There was also a lot of substituting, putting very little pressure on the defense with Texas' team speed.
Now Ash will be allowed to push the tempo, forcing the opposition to play at his pace rather than allowing it to settle in and match up. That will equate to his receivers seeing more one-on-one coverage on the outside and his running backs having more space to work, which both groups exploit as well as anybody.
Overall, Ash will be making quicker decisions with the ball with more open teammates to distribute it to. The result will be a much more confident and effective player.
Surrounding Talent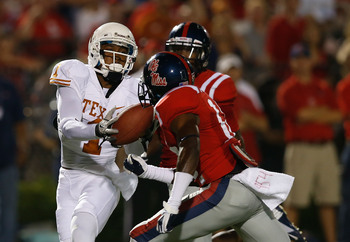 Having guys like Mike Davis around will take a significant amount of pressure off of Ash.
Scott Halleran/Getty Images
It would be one thing if David Ash was forced to be a one-man show in 2013. But he is bolstered by a nation-leading 19 returning starters, including 10 on offense, whose playmaking abilities will take some pressure off of the junior quarterback.
According to ESPN's Travis Haney, Texas is second to only Alabama in terms of overall talent. We will have to wait and see if the defense lives up to those expectations, but there is no doubt about the offense.
Not only does Ash have the Big 12's best one-two combo at wide receiver in Mike Davis and Jaxon Shipley, he has better running backs than Colt McCoy did in his final two years on campus as well as burners like Daje Johnson. All of them are capable of consistently winning one-on-one matchups.
Even when Ash hits his inevitable dry spells, his teammates have the ability to pick up the slack. No Texas quarterback has had that luxury, especially on offense, since 2009.
He Stands Alone as the Guy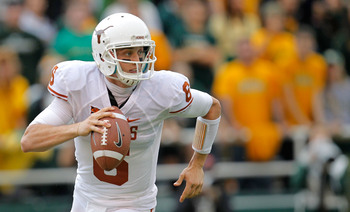 With Case McCoy seemingly out of the picture, Ash can take full command of his team this offseason.
Sarah Glenn/Getty Images
For the first time since he arrived on campus in 2011, David Ash has enjoyed certainty in his status as Texas' starting quarterback throughout the offseason. The accompanying first-team reps and confidence will show through in his performance.
Ash may have been the primary starter for nearly all of 2012, but he had to fight for it throughout the fall. That means he lost first-team reps all offseason, which are crucial for a young quarterback's ability to take command of the offense and build rapport with his receivers.
Now, following a convincing performance in the Alamo Bowl victory over Oregon State, this job is Ash's, and Ash's only. He has all offseason to master the offense, maintain his status as a leader of this team and win the confidence of the entire program.
This is the offseason in which Ash will take the next step as a quarterback and puts his stamp on this team.
History Is on His Side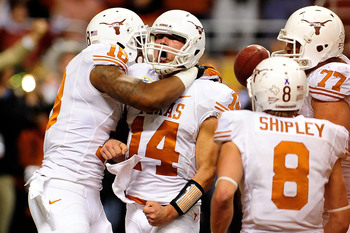 Can Ash continue to improve on his already impressive sophomore season?
Stacy Revere/Getty Images
If Ash follows a similar growth pattern heading into his junior year as did Vince Young and Colt McCoy, he could be in for a monster campaign. But he has to make a serious mental commitment to do so.
As ESPN's Carter Strickland writes, some of the Big 12's top quarterbacks from the past decade have enjoyed major improvements between their sophomore and junior seasons. This includes both Colt McCoy and Vince Young, who had their biggest years as juniors
Should Ash even remotely follow suit, we are looking at a quarterback who completes over 70 percent of his passes for 3,500 yards and over 25 touchdowns. And that is being conservative.
Ash has to take that next step mentally to make this happen, especially after the very impressive statistical improvement he enjoyed last season. The numbers will improve, though the degree will tell us a lot about Ash's competitive drive in a junior season that he can cement himself as the Big 12's best.
Keep Reading

Texas Longhorns Football: Like this team?