The 3 Biggest Factors That Could Lead to an Anderson Silva Loss at UFC 162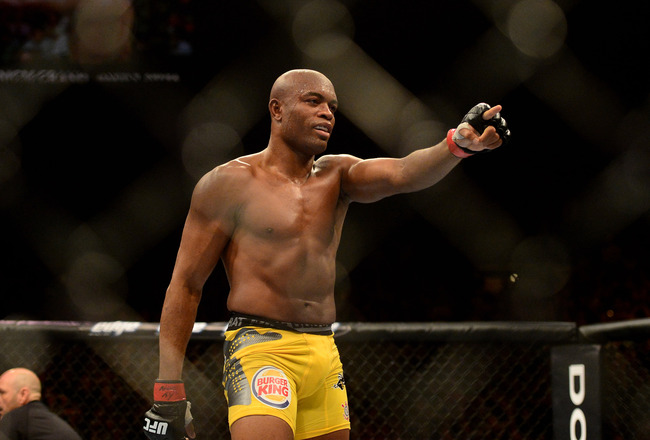 Mark J. Rebilas-USA TODAY Sports
Anderson Silva, the greatest mixed martial artist residing on planet Earth, will put his middleweight title on the line for a record 11th time when he takes on current No. 1 contender Chris Weidman at UFC 162.
While the fight, scheduled over the Fourth of July weekend, is sure to pack some fireworks, the smart money still has to be on "The Spider" walking away with the belt.
According to MMAOddsBreakers.com, Silva is sitting as a -260 favorite. That is far from a "sure thing," but Silva's aura of invincibility makes it difficult to bet against him.
However, in an interview with Mark Johnston of SportsNet, UFC welterweight kingpin Georges St-Pierre almost guarantees that Weidman will handily defeat Silva.
I believe it's a bad matchup for Anderson Silva. It's very bad. Not only is [Weidman] going to beat, I believe he is going to finish Anderson Silva. I believe it's not going to be too long, that fight. People will be shocked.
GSP's endorsement aside, Weidman is still a long shot, though there are three factors that could lead to "the All-American" pulling off one of the biggest upsets in UFC history.
Age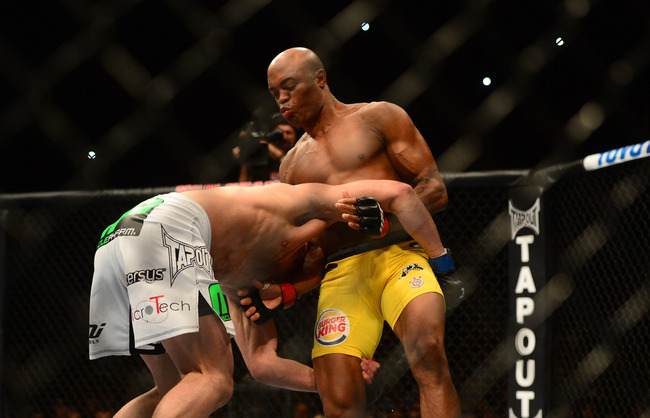 Mark J. Rebilas-USA TODAY Sports
This is a factor that Silva, nor any mortal being, has any control over. The clock ticks and humans get older. No one is immune to the effects of Father Time.
Thus far, Silva has shown no signs of slowing, but, at the age of 38, one has to wonder how long he will be at the top of his game.
"The Spider" signed a new 10-fight contract with the UFC, but he recently revealed to John Morgan of MMAjunkie.com that he only wanted four more fights. Silva continued:
It all depends. Ten fights is about six years, so we'll see what happens in the meantime. I hope that I'm still inspired and that I still have the will power and the desire to go out there and fight.
If Silva finished out this contract then he would be fighting until the ripe old age of 44. However, it seems more likely that Silva will call it quits before he hits the big 4-0.
On the flip side, there is Weidman who at 28 years old is a full decade younger than the champ. He is the hungry lion looking to get in the cage and dethrone the king.
Though age will not be the determining factor, it does seem that these two fighters are going into this bout with two totally different mindsets...
Drive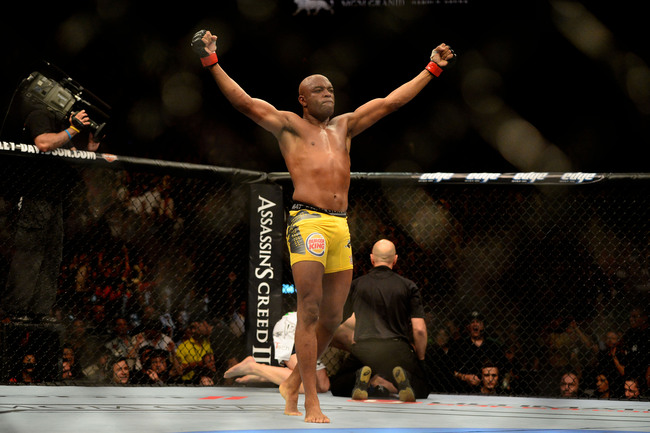 Mark J. Rebilas-USA TODAY Sports
Silva's career is built upon a series of unbelievable, jaw-dropping feats. Every time he steps foot inside the cage, there is the real possibility that fans will see something amazing. He is the gold standard by which all other MMA fighters are measured.
"The Spider" hasn't lost in the better part of a decade. Silva remains undefeated in the UFC with an unblemished record of 16-0. He also holds the record for most title defenses (11), most finishes (14) and is tied with Joe Lauzon for most post-fight bonuses (12) in UFC history.
So, at the age of 38, what else is there left for Silva to accomplish? How many times does he need to blast through the best in the middleweight division?
Recently, it seems that Silva isn't even particularly interested in defending the belt, especially when there are more attractive offers on the table.
There are the possible superfights with St-Pierre or light heavyweight champ Jon Jones on the horizon. "The Spider" also has pegged boxer Roy Jones Jr. as someone he would like to lock horns with before hanging up his gloves.
Silva is also preparing for his future in movies after his fighting career is over. He expressed this desire when speaking to Mark Raimondi of the New York Post:
"It's something I always wanted to do and I want to be as good at acting as I am as a fighter. I want the fans to enjoy that as much as they enjoy me fighting."
With all of that on his plate, it is hard to believe that Silva is 100 percent focused on his next lowly title defense. The champ almost seems irritated with having to fight the "unknown" Weidman.
He stated flatly in an interview with Jessie Holland of MMAmania.com that, "[The fight] is good for Chris Weidman, not for me. It's good for the boy, the kid. It's good for Chris Weidman."
Weidman has been campaigning hard for a shot at Silva since his spectacular second-round knockout of Mark Munoz back in July 2012. Now that the fight is officially set, Silva needs to give Weidman's wrestling prowess his utmost attention.
Wrestling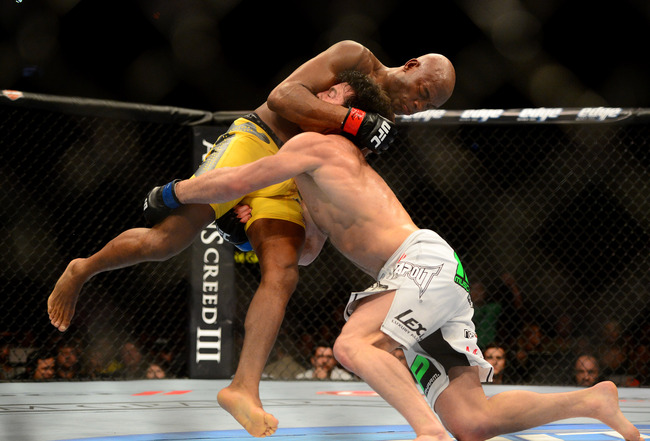 Mark J. Rebilas-USA TODAY Sports
Silva is a terror on the feet, an effortless striker with a Thai clinch from hell. According to Fightmetric, Silva has not only the highest significant strike accuracy (67.8 percent), but also the most knockdowns (17) in UFC history.
However, if there was one hole in his game, it would be in the wrestling department. Silva is a Brazilian jiu-jitsu black belt with six submission wins to his credit, but he has proven himself vulnerable to takedowns.
Both Dan Henderson and Chael Sonnen were able to put him on his back. Silva was able to pull out the win; however, Weidman represents a younger, faster version of those fighters.
While attending Hofstra, Weidman was a two-time NCAA Division I All-American. He also has a purple belt in BJJ and Abu Dhabi Combat Club (ADCC) grappling experience.
In an interview with Jesse Holland of MMAmania.com, Weidman said that he believed, "[Silva] got exposed with the wrestling, but I think that's happened in all his fights."
And when looking at the stat breakdown from Silva's first fight with Sonnen at UFC 117, it is clear why Weidman feels this way.
According to Fightmetric, Sonnen completed 3 of 7 takedowns and landed 320 total strikes to Silva's 64.
Weidman would likely try to implement a similar game plan: use his superior wrestling to get Silva to the mat and then rough him up with ground-and-pound.
Obviously, Silva is well aware of this fact, but if he can't stuff Weidman's takedowns, then he'll assuredly be leaving Las Vegas without the middleweight strap.
Keep Reading