Pros and Cons of NY Knicks Re-Signing J.R. Smith During 2013 Offseason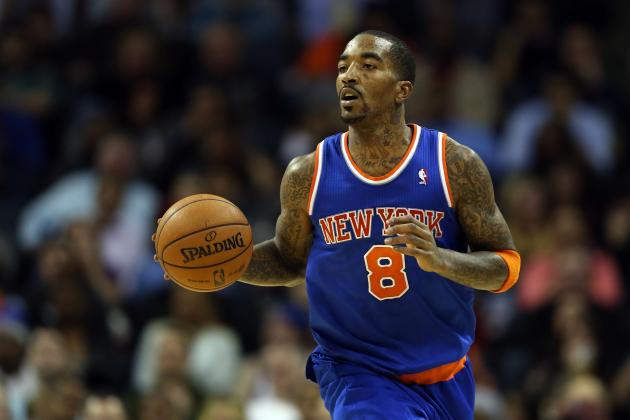 Streeter Lecka/Getty Images

J.R. Smith is likely to hit free agency this summer, and based on his recent comments to ESPN, his first choice would be to return to the New York Knicks.
That leaves the Knicks with the choice to bring him back or not, and there are lots of factors for them to consider when making the decision.
Smith was particularly impressive late in the regular season, as he earned the Sixth Man of the Year award, but he crashed in the playoffs, opening up questions about his future with the franchise.
New York can offer Smith a maximum of around four years, $20 million using the early-Bird exception. That seems like a reasonable deal on the surface, but let's take a look at the pros and cons of bringing him back.
Begin Slideshow

»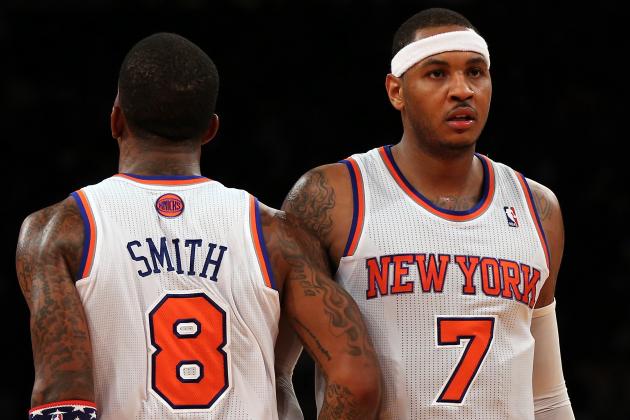 Elsa/Getty Images

Carmelo Anthony is arguably the best scorer in the NBA today, but as we've seen time and time again, a championship-level team needs to have a quality second option on offense as well.
When Melo first came to New York, Amar'e Stoudemire was expected to take that role, but injuries and chemistry issues have made it unlikely for that to materialise.
Instead, the Knicks should now look to J.R. Smith to take that role, as he did admirably for the majority of last season.
Smith averaged a career-high 18.1 points on 42 percent shooting from the field. Combined with Melo's league-leading 28.7 points per game, that adds up to 46.8 points, which is around what a team should be looking for out of its best two offensive options.
Due to his inefficient shooting, Smith isn't perfect for the role, but he's the best option the Knicks have got. And considering his talent level, it might not be long before that changes, and we do accept Smith as a worthy second option to Melo.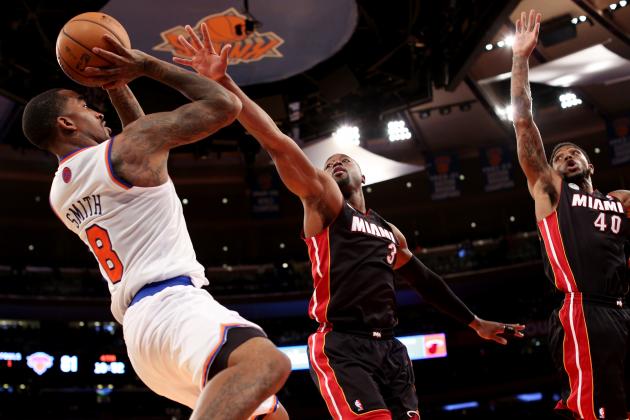 Nick Laham/Getty Images

As we saw in the playoffs, Smith's inconsistency has the potential to hurt the Knicks when he hits a cold stretch.
The Knicks grew to rely on him when he was playing dominant basketball in March and early-April, but it came back to bite them when it mattered most.
So far in his NBA career, Smith has been great at providing energy off the bench, but he needs to provide more than that. New York relies on his 18.1 points per game night in and night out.
If the Knicks let go of Smith, his shots could go to more efficient shooters like Iman Shumpert, Chris Copeland and Stoudemire, which may help the team down the stretch,
They won't have a true second option if that's the case, but the variety of options may be a more effective way of doing things. At least that way, the Knicks won't be left reeling when one player isn't shooting well.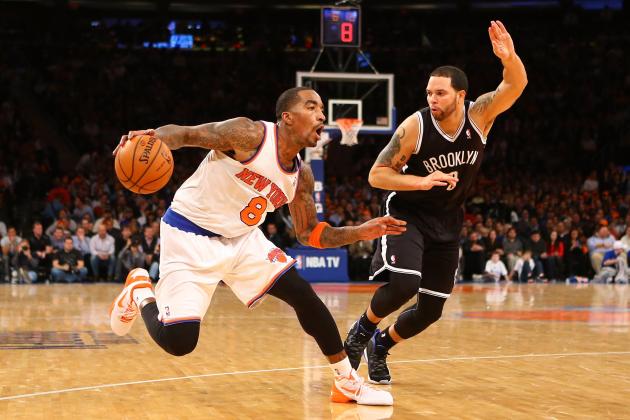 Al Bello/Getty Images

Smith may have had a tough time in the playoffs, but on the whole his 2013 season was fantastic. And, if you remember, for a while late in the regular season, he looked like an absolute superstar.
Over his last 27 games of the season, Smith averaged 22.2 points, 6.1 rebounds and 2.6 assists, and did so while shooting 46 percent from the field. That included seven 30-point games.
Though it obviously didn't last all season, Smith's stretch was still impressive and is nothing to scoff at. If anything, it's a glimpse of what he could be in the near future.
As frustrating as he can be, Smith is still only 27 years old, and in terms of talent alone, he is one of the most promising players in the league.
He's athletic, has good size, can contribute in multiple categories and has a nice, quick release. If that can all come together on a regular basis, the Knicks will have themselves an All-Star in J.R. next season.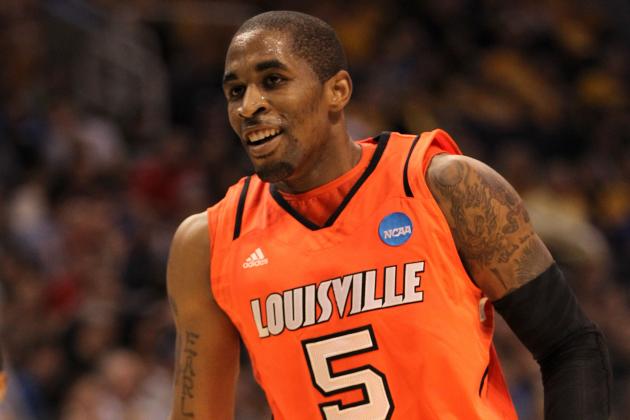 Jamie Squire/Getty Images

According to the New York Post, the supposed four-year deal J.R. Smith plans to sign comes with a condition: His younger brother Chris has to be given a contract as well.
The Knicks gave Chris Smith a chance last year as part of a similar deal, but he suffered a left knee injury before the start of the season.
Secretly, New York was probably pleased for an excuse not to have him on the roster, because frankly he's just not an NBA player in any way, shape or form.
In summer league, Smith was pedestrian at best, all but proving that he'd be a waste of a roster space if the Knicks gave him a guaranteed contract.
If it's a camp invite and a chance to prove himself that Smith wants for his brother, then the Knicks have nothing to lose.
But considering that 18 different players took the court for them last season, giving up a roster spot to a player like this is not something they should be happy to do. If the injury situation repeats itself, even the 15th man is an important role.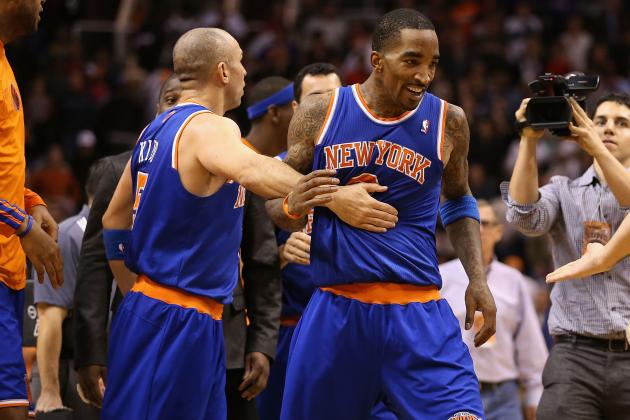 Christian Petersen/Getty Images

Though Smith had his struggles at times last year, it was still a career year. He made big strides over the course of the season, in large part due to the influence of Mike Woodson and veterans like Jason Kidd, Pablo Prigioni and Rasheed Wallace.
New York will try to get younger in the offseason, but this is still a veteran team, making it a perfect place for Smith to develop.
The Knicks should be licking their lips at the chance to give a player as talented Smith another year playing with these types of players, as they have what it takes to get the best out of him.
More to the point, Smith's youth is of major importance to the veterans. As Kidd proved in the postseason, they can't handle major minutes for a full season, so New York will need as much help as it can get from younger players like Smith.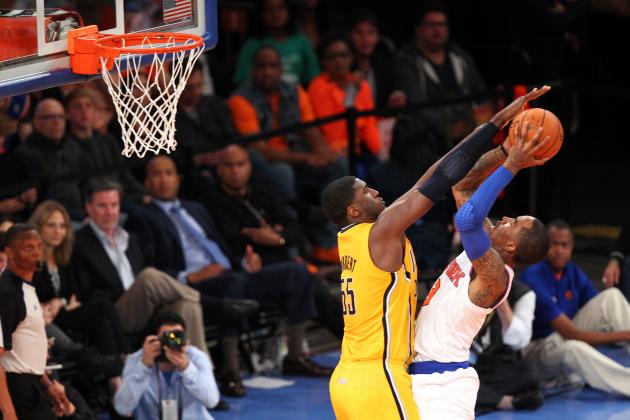 USA TODAY Sports

Due to their collective age and injury history, the Knicks are clearly a win-now team, whose title window is going to close in a season or two.
Because of that, they can't afford to have key players putting up terrible performances at the most important time, like J.R. Smith did in the playoffs.
While Smith is a fantastic scorer, the Knicks still have other options they could go to more often if he left town. The problem with having him on the team is that he's a volume shooter, so the Knicks live or die by his success.
If J.R. weren't on the team, more efficient players would have a chance to step up and take over the scoring load.
As outlined earlier, there isn't a single player who would come forward as a second option, but there would at least be more shots available to guys like Raymond Felton and Shumpert.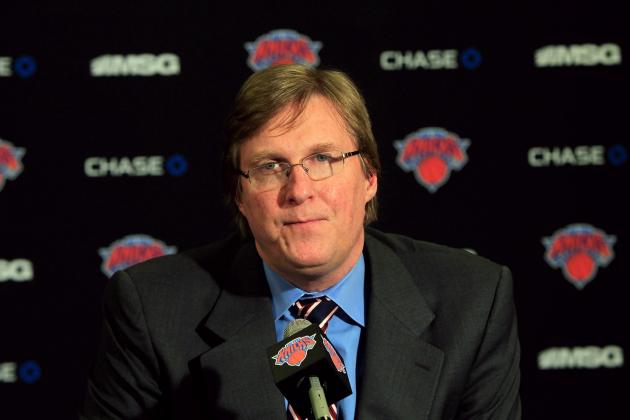 Chris Trotman/Getty Images

With free agency and the draft coming up, the Knicks are already over the salary cap and luxury tax threshold, leaving them with limited flexibility.
As a result, New York should be looking for any way to keep the team competitive without wasting the taxpayers' mid-level exception.
Re-signing J.R. Smith will do just that, as the early-Bird exception will allow the Knicks to re-sign him without using their mid-level and without regard for their cap position.
In other words, the Knicks have only two choices with this four-year, $20 million contract: Give it to Smith, or give it to nobody.
Regardless of how doubtful you are about Smith's inconsistency or talent level, it's hard to argue that you'd rather have absolutely nothing than the defending Sixth Man of the Year.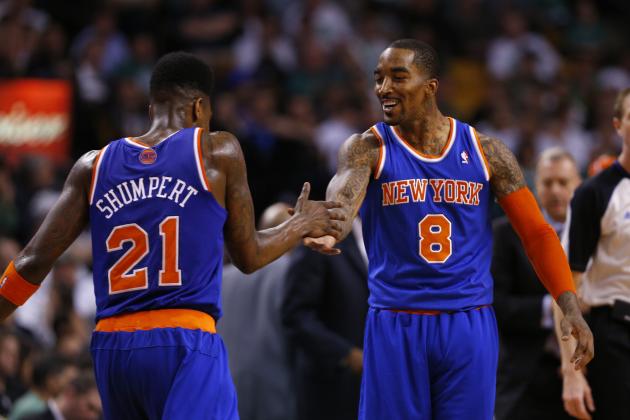 Jim Rogash/Getty Images

One thing that has been overlooked regarding the Smith situation is the impact his presence could have on Shumpert.
Both players are better suited to playing at the shooting guard position, and if both reach their potential, it's going to be a struggle to find them both significant minutes.
The Knicks could potentially play one of them at small forward, like they did for much of last season, but if Chris Copeland is re-signed and continues to develop, even that may not be the best option minutes-wise.
In the long term, the expectation for Shumpert is that he'll eventually develop into a star, capable of acting as the second option for Carmelo Anthony.
For now, the Knicks still need J.R. to take that role until Shump reaches that level. But, if Smith signs a four-year contract, the need for him at shooting guard might not last the full length of the deal.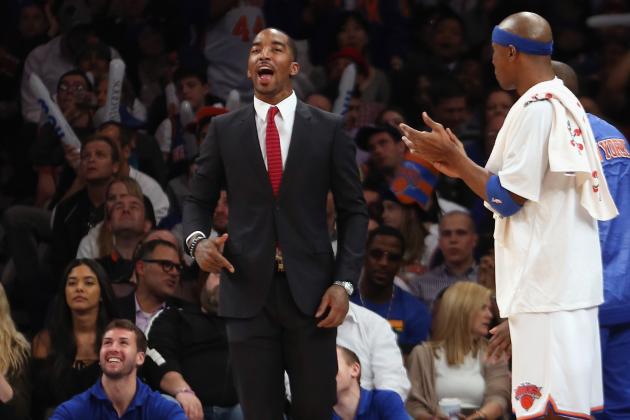 Bruce Bennett/Getty Images

Even if you have doubts about Smith returning to the Knicks, a four-year, $20 million contract would be pretty easy to get out of in a trade situation.
If Smith doesn't work out, he's the type of player who will garner a lot of attention at the trade deadline, especially if he's making only $5 million per year.
As outlined on the last slide, Shumpert could start competing with Smith for shots and minutes some time down the line, but if that happens, the Knicks could use Smith as a trade asset to address a need elsewhere.
The Knicks can't get anything out of Smith if they let him walk in free agency, but keeping him means he can either continue to contribute to the team or be sent away for some help on the trade market later.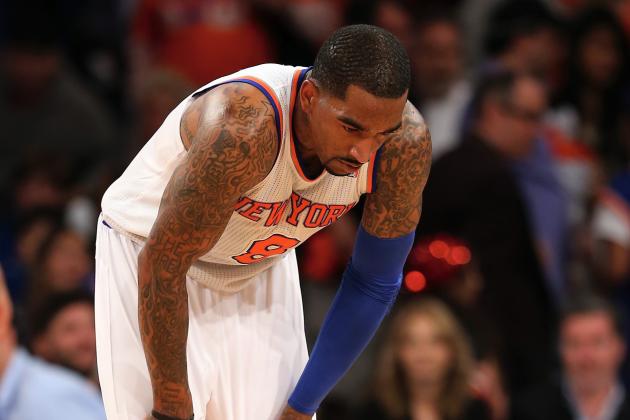 Elsa/Getty Images

The big criticism J.R. Smith faced this season—and for much of his career—is more based on his performance off the court than on it.
During the playoffs, of all times, Smith was accused of clubbing the night before a key game against the Boston Celtics, and he was later pictured with Rihanna during the series with the Indiana Pacers.
Though we can't be sure about whether or not all this is true, the reports are definitely worrying considering how badly J.R. shot during the postseason.
Even when it came to actual basketball, Smith's maturity was questionable, to say the least, in the playoffs. He was one of the players behind the Knicks' funeral attire for Game 5 in Boston (which they lost), and his elbow on Jason Terry in Game 3 was a turning point for the season.
It cannot be stressed enough how the Knicks need the best out of their players in key moments. Having them distracted during the postseason is not the way to go.
At this point, New York can't afford to be overly reliant on players who have the potential to hurt the team with their antics.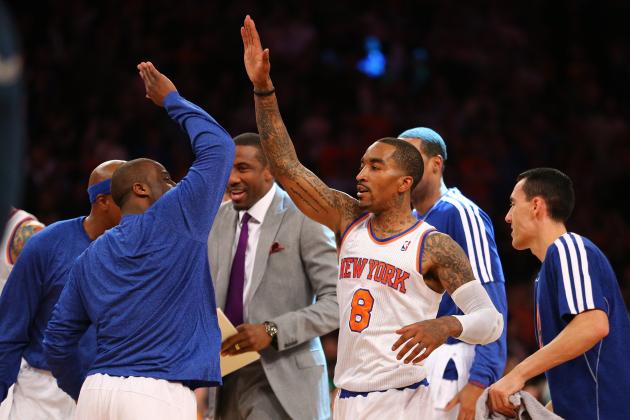 Al Bello/Getty Images

All things considered, re-signing J.R. Smith is an absolute no-brainer for the Knicks. If he's willing to take the $5 million-per-year offer, that's great value for the defending Sixth Man of the Year.
Even if he doesn't improve his consistency or get anywhere near his ridiculously high ceiling (and he likely will), having Smith is better than having nothing. And, when push comes to shove, he could be a trade asset down the line.
Smith was very disappointing in the playoffs, but that doesn't mean he should be written off in the long term. He showed signs of something special this season, and the Knicks would be wise to re-sign him and try to get the same quality of basketball out of him more often.
Over the course of his two seasons with New York, Smith has improved in every category, and we can expect him to continue to grow next season. Considering how high his ceiling is, it would be great to see that growth play out on the Knicks.