St. Louis Cardinals: Grades for Every Player in May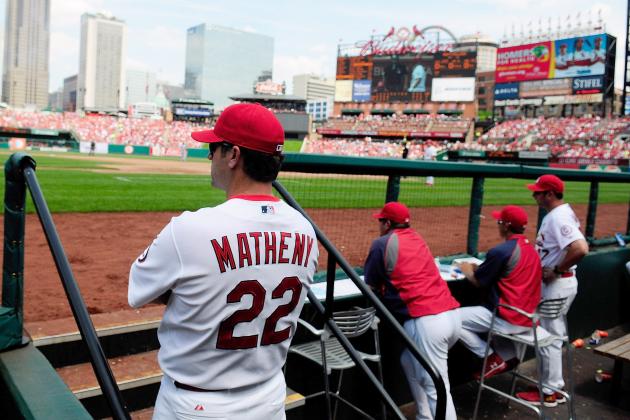 Jeff Curry/Getty Images

The Cardinals have had a pretty amazing May to say the least. In fact, they have had the best record in Major League Baseball for a while now. And they couldn't have gotten there without the performances of each individual player.
By comparing each major player's statistics from the past 28 days to their 2012 numbers, I've attempted to measure their success against what is expected of them.
With the Reds and the Pirates hot on the Cardinals' trail, the NL Central is shaping up to be quite the race. And if the Cards continue to do what they've done in May, there's a good chance exciting things will come to them.
Read on to find a grade and explanation for each position player for the month of May.
*All statistics are current on baseball-reference.com as of June 1, 2013.*
Begin Slideshow

»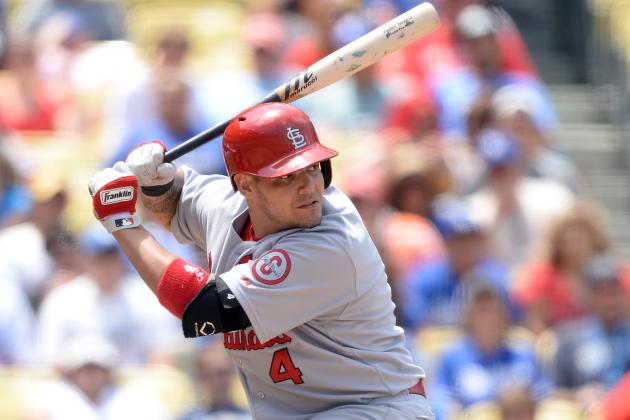 Harry How/Getty Images

If I could choose one irreplaceable piece of the Cardinals formula so far, it would be Molina.
With injuries to starters and the debuts of some young arms, Molina's handling of the pitching staff has driven them to an MLB-leading 3.07 ERA. He's also thrown out 40 percent of runners this year, which is right on par with his career average of throwing out 45 percent of all baserunners.
In the month of May, he hit a whopping .383 with an OPS of .929. He is now just second in the NL in batting average.
2012 was a career year for Molina offensively as he finished with a .315 average and an .874 OPS.
In short, his bat has been explosive lately and he's on track to possibly top 2012. He's bound to cool down at some point, but he's shown no signs of it lately.
Grade: A+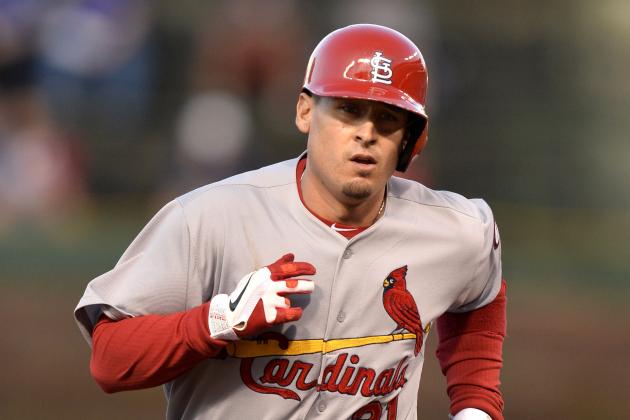 Brian Kersey/Getty Images

Craig has been an RBI machine and is currently tied for fifth in the NL in RBI with the Giants' Pablo Sandoval.
In May, he was errorless on the field, hit .352 and had 17 RBI. Considering his 37 total RBI, he has been fairly consistent in that category.
That being said, he also grounded into six double plays in May. In all of 2012, he grounded into just 15. If there's one area he could improve upon, it might be that.
Even so, fans always seem to feel most comfortable with runners on base and Craig at the plate. If he keeps putting big numbers on the scoreboard, he'll keep earning good grades.
Grade: A-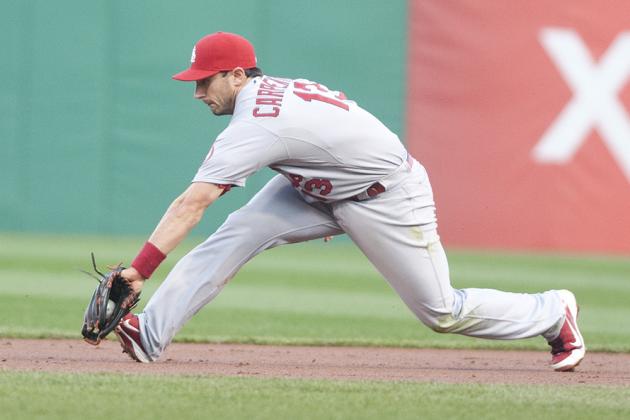 Vincent Pugliese/Getty Images

I'm starting to think that if first base was on a different planet, Carpenter would still find a way to get there. He's taken over the leadoff role and is certainly making the most of it.
That being said, looking at his numbers in May proves to be just a little less exciting than I had expected. He hit .337 with an OPS of .875 and six doubles (out of 17 on the year). I completely recognize the fact that "less exciting" hardly seems like a good way to describe Carpenter's numbers, but that's simply because he's been that good.
Carpenter has been excelling in almost every way, even on the field. He made just one error at a position he learned in the offseason.
In 2012, Carpenter had a .294 average with a .365 on-base percentage. He's well on his way to besting last year and should probably get some serious All-Star consideration.
Grade: A-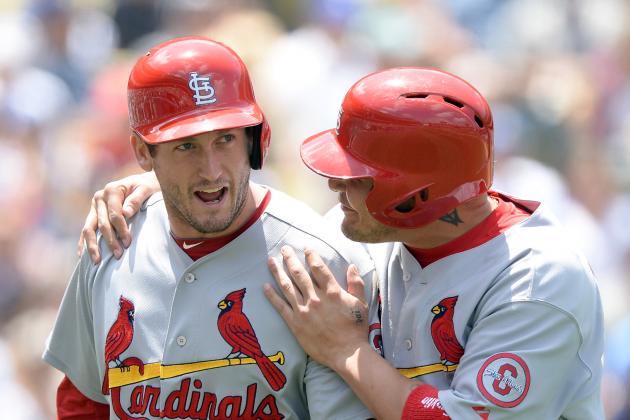 Harry How/Getty Images

It's no secret that Freese was, well, kind of frozen at the beginning of this season. Back problems and a stint on the DL weren't helping him at the plate. It wasn't until recently that he's started to heat up.
In May, he hit .275 with 16 strikeouts. Not exactly his 2011 postseason MVP form. On the field, he was errorless and took part in two double plays.
When compared to his .293 average throughout all of 2012, we can see that he does have some work to do.
Cardinal Nation may have had some reservations about their hometown hero, but keep in mind, he's hit .355 in the past 14 days. He's definitely on the upswing, and it will be interesting to see what his numbers will look like in a month or so.
Grade: B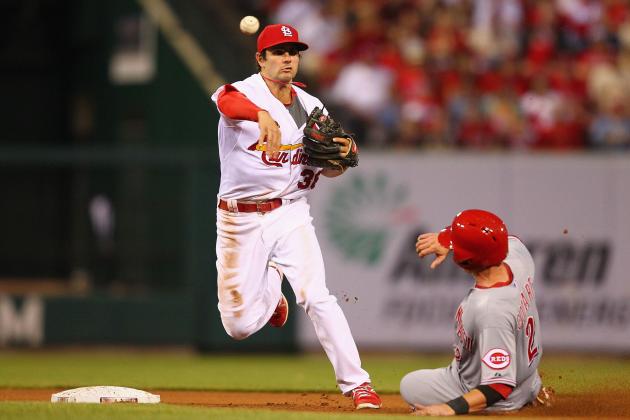 Dilip Vishwanat/Getty Images

Kozma has been a bit of a polarizing figure in the Cardinals organization since taking over for the injured Rafael Furcal. The organization could have gone out and traded for a shiny new solution to their problem. But they stuck with Kozma and, for the most part, it seems to be working.
In the month of May, he's hit .266 and he's struck out 19 times—that's out of the 34 times he's struck out all year. His numbers do leave fans wanting a little more. He's not providing the same kind of production that an All-Star shortstop might have, but he's still defying some expectations.
On the field, he's turned 20 double plays.
In 2012, his numbers weren't exactly telling as he only played 26 games during the regular season, but he hit .333 with, coincidentally, 19 strikeouts.
Kozma probably still has some growing to do, but he did have standout moments in a lineup that is filled with hot hitters.
Grade: B+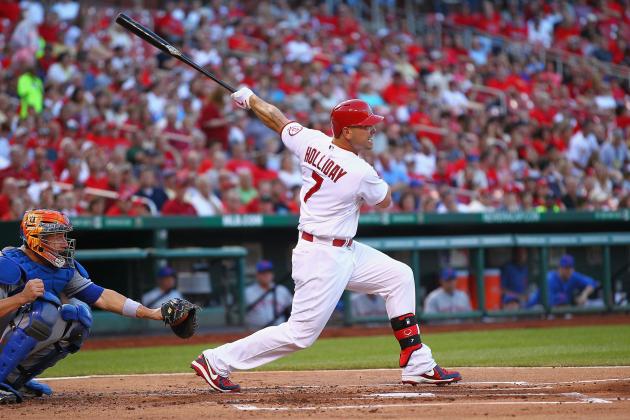 Dilip Vishwanat/Getty Images

Matt Holliday is an MVP-type player and he hasn't necessarily been living up to it.
Holliday hit .233 in May with 12 RBI and four home runs. He currently finds himself tied for 19th on the NL season RBI list with the Mets' David Wright. While being on a leader board is nice, he should probably be much higher considering past precedent. He also struck out 14 times.
On the field, he has been a pleasant surprise. Not usually known for his defense, he has yet to commit an error.
In 2012, Holliday hit .295 with 102 RBI. He's probably on pace for about 90 RBI in 2013 at this point, and I would guess he would surpass that. He's bound to break out of this mediocrity at some point.
Grade: B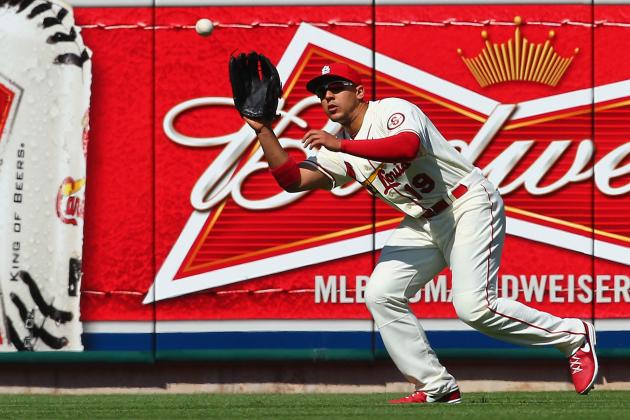 Dilip Vishwanat/Getty Images

Jon Jay is a solid outfielder and a solid presence in the lineup. The thing about him, though, is that he's streaky at the plate. He can be an extremely hot hitter for a week and then an easy out the next.
We've seen both sides in May. His monthly average was .274, but it's worth noting that the last 14 days saw a .178 average. Thirteen of his 23 RBI came in May, but he also struck out 20 times. In the end, these two sides seem to balance each other out.
His 2012 average was .305, and he may be able to match that. If he can find some consistency, that is.
In the outfield, he hasn't made an error since 2011. I would say his defense is one of his bigger attributes.
Grade: B-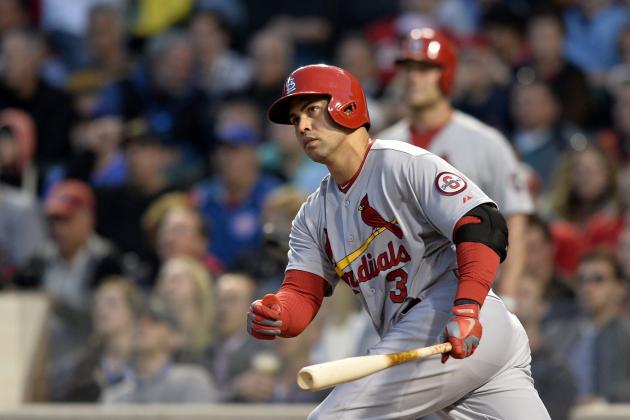 Brian Kersey/Getty Images

A perennial power hitter, Beltran didn't disappoint in May.
He hit .298 with four home runs and 13 RBI. Those four homers are a small chunk of the 12 he's hit all season, so he may have slowed down slightly. But he's still tied with several other players for fourth in the NL when it comes to the long ball.
Beltran hit .269 in 2012 with 32 home runs and 97 RBI. Continuing at this pace, he should at least match those totals.
He might show signs of his age sometimes in right field, but he's been making some great plays lately.
Beltran is sure to continue to be a big offensive threat and a great veteran presence.
Grade: A