Who's Had the Better Career: Floyd Mayweather Jr. or Manny Pacquiao?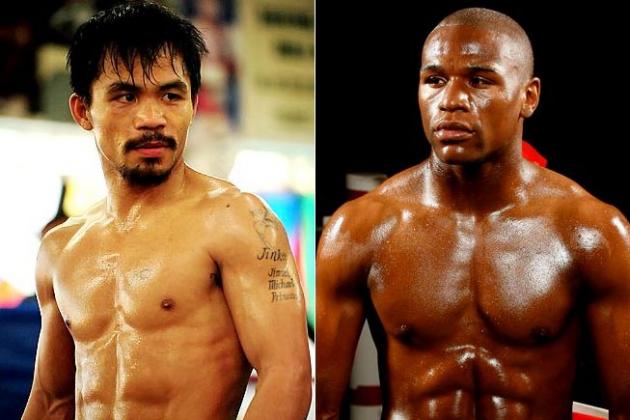 SportsIllustrated.CNN.com
It's the dream fight that never was.
Though Floyd Mayweather Jr. and Manny Pacquiao have shared space atop pound-for-pound lists for a million years—though in reality, it's only been about five—the prospects of them getting in the ring these days are about as good as the suits at Top Rank and Golden Boy Promotions sharing office space.
In other words, don't hold your breath, folks.
Given that frustrating reality, we're left to our own devices to determine who would have won had they gotten together and, when comparing the two in the fistic scheme of things, who has had a better run since lacing up the gloves.
Instead of measuring heights, weights and shoulder-to-knuckle reaches side by side, the analysis is done by looking at each man's body of work in the weight classes they've had in common—and adding a few categories to even out the mitigating career factors.
One slide lists respective evidence in a category; the next picks a winner. And at the end of it all, an overall champion is crowned.
Click through here to see who it is.
Begin Slideshow

»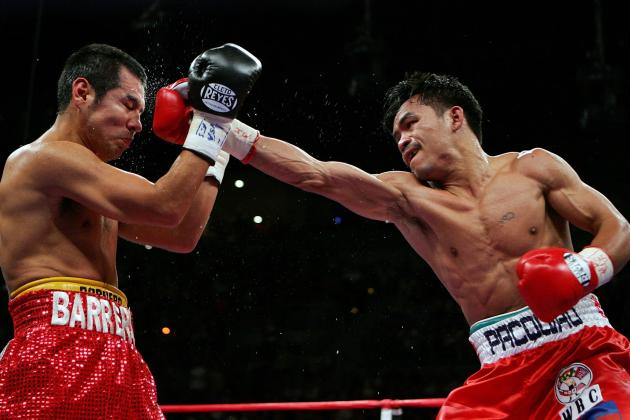 Ethan Miller/Getty Images
Pacquiao stopped Barrera at 126 pounds, then beat him by unanimous decision at 130 in 2007.
Mayweather: 14-0, 10 KO, WBC title, eight defenses
Notables: Genaro Hernandez (TKO 8), Angel Manfredy (TKO 2), Diego Corrales (TKO 10)
Summary: It was at 130 pounds that a 20-something "Pretty Boy" first reached the public consciousness, won his first world championship and downed the previously unbeaten Corrales (TKO 10) in a five-knockdown WBC title defense in 2001. He left the division two fights later to campaign at lightweight.
Pacquiao: 7-1, 4 KO, WBC title, zero defenses
Notables: Erik Morales (L UD 12, TKO 10, KO 3), Marco Antonio Barrera (UD 12), Juan Manuel Marquez (SD 12)
Summary: The super featherweights were a three-year staging area for the Filipino, who already had titles at three weights and his eyes on bigger things. He opened the run with a surprise loss to Morales in 2005, before rebounding to beat him twice and top Barrera and Marquez in rematches from 126.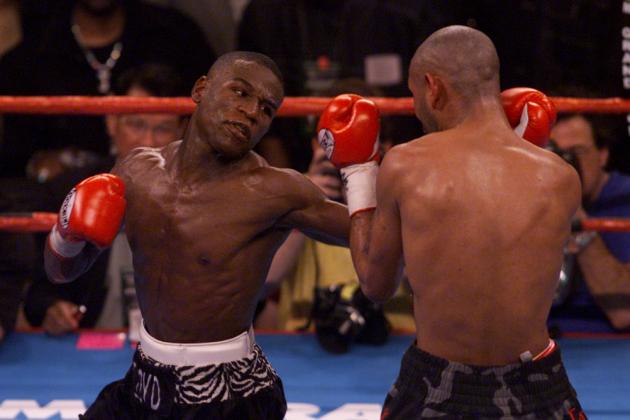 Jeff Gross/Getty Images
Corrales was 33-0 with 27 KOs when he was dropped five times and stopped by a 23-year-old Mayweather in 2001.
While Pacquiao has the more celebrated individual scalps at 130, Mayweather dominated a two-time champion to capture his championship (Hernandez) and ended both a 23-fight win streak (Manfredy) and a 33-fight win streak (Corrales) in subsequent one-sided title defenses. Had he stayed there for a prolonged period, he'd likely be listed as one of its top all-time champs.
The Score: Mayweather, 1-0.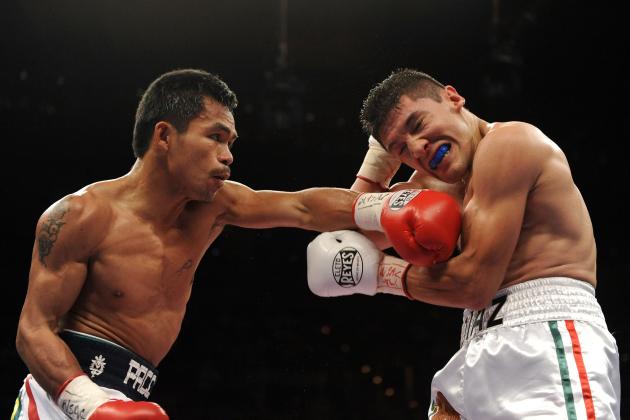 Harry How/Getty Images
Pacquiao's lone performance at 135 was a good one, ending in a ninth-round TKO of WBC titleholder David Diaz.
Mayweather: 17-0, 11 KO, WBC title, three defenses
Notable fights: Jose Luis Castillo (UD 12, UD 12)
Summary: Although he had several bouts during his early career that were within the lightweight confines, Mayweather arrived at 135 with a controversial 2002 verdict over Castillo that many insist he lost. He won a rematch eight months later, defended twice more and then headed to 140.
Pacquiao: 1-0, 1 KO, WBC title, zero defenses
Notable fight: David Diaz (TKO 9)
Summary: It was one and done in the division for Pacquiao, who aimed directly for stablemate and WBC champ Diaz rather than face Nate Campbell, who had beaten consensus champ Juan Diaz and held the IBF, WBA and WBO belts at the time. Six months after Diaz, Manny was in the ring with Oscar at welterweight.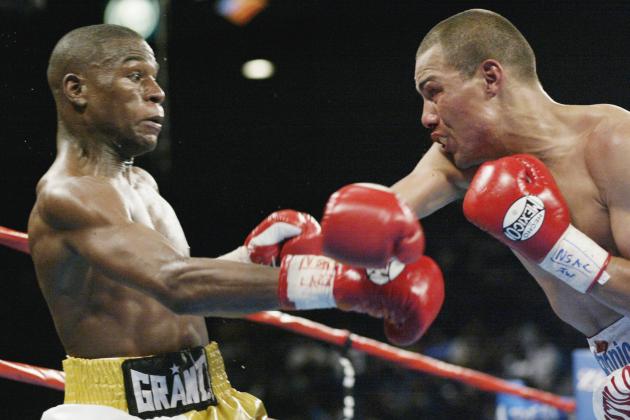 Jed Jacobsohn/Getty Images
Many look at the initial Castillo fight in 2002 as the closest Mayweather has come to actually losing.
Similar to 130, the case for Mayweather at lightweight is one of mathematics. While Pacquiao was dominant while blowing out a tailor-made Diaz, Mayweather initially struggled and then handled a legitimate commodity in Castillo before padding the 135-pound resume with two more one-sided wins. He gets the nod here with clear quantity over comparable quality.
The Score: Mayweather, 2-0.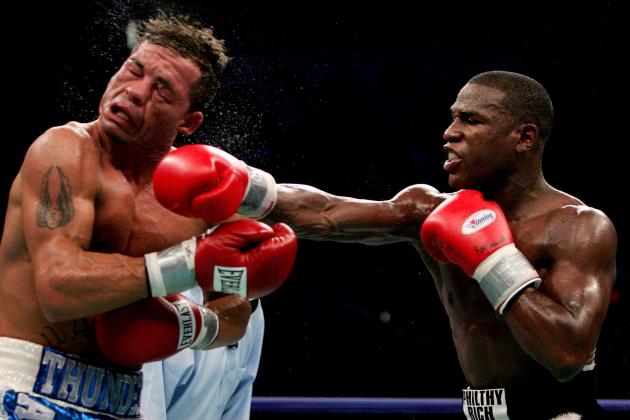 Al Bello/Getty Images
Mayweather lit up Gatti in a virtuoso performance to win the WBC title at 140.
Mayweather: 3-0, 2 KO, WBC title, zero defenses
Notable fights: DeMarcus Corley (UD 12), Arturo Gatti (TKO 6)
Summary: Another step up in weight presented little difficulty for Mayweather, who floored veteran Corley twice in a wide scorecard win, chatted up TV announcers while toppling Henry Bruseles (TKO 8) and hammered Gatti into submission in his Boardwalk Hall backyard in 13 months.
Pacquiao: 1-0, 1 KO, IBO title, zero defenses
Notable fight: Ricky Hatton (KO 2)
Summary: Pacquiao officially made the big time with the shocking TKO of Oscar De La Hoya at a welterweight catchweight and then dropped to 140 and left kingpin Hatton flat on his back with a single left hand after two devastating rounds. That 2009 cemented his status as a superstar.
Mayweather barely lost a round, let alone anything more, in three performances as a 140-pounder, but even those top-shelf efforts are overshadowed by the chilling violence of Pacquiao's demolition of Hatton. In the aftermath, the Englishman was driven into a three-plus-year hiatus, and the Filipino sprang to the top of pound-for-pound lists.
The Score: Mayweather, 2-1.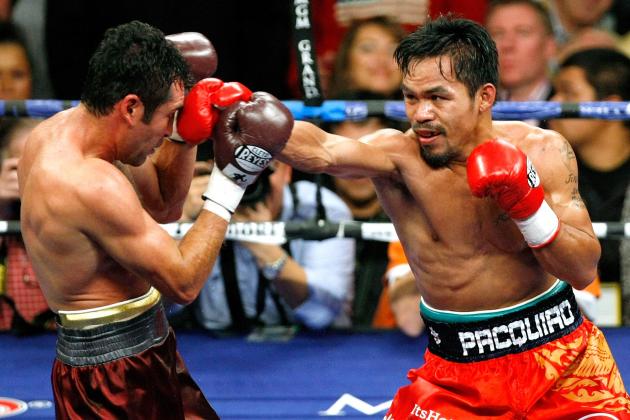 Ethan Miller/Getty Images
Even to those who thought he'd compete well, the decisiveness of Pacquiao's 2008 defeat of De La Hoya was stunning.
Mayweather: 8-0, 3 KO, IBF/IBO/WBC titles, three defenses
Notable fights: Zab Judah (UD 12), Ricky Hatton (TKO 10), Shane Mosley (UD 12)
Summary: While his KO ratio may have suffered, Mayweather transformed from premium-cable star to pay-per-view standard-bearer since arriving at welterweight. He stopped a still-unbeaten Hatton, whipped a still-relevant Mosley and dominated youngsters Victor Ortiz and Robert Guerrero.
Pacquiao: 5-2, 2 KO, WBO title, three defenses
Notable fights: Oscar De La Hoya (TKO 8), Miguel Cotto (TKO 12), Juan Manuel Marquez (MD 12, KO by 6)
Summary: Pacquiao was devastatingly effective in whipping De La Hoya and Cotto, overwhelming in outpointing Joshua Clottey and efficient in handling a skidding Mosley. In his last three fights, he robbed Marquez, was robbed by Timothy Bradley and wound up unconscious against Marquez.
Had a poll been taken at the height of the Pacquiao vs. Mayweather hype, there's a good chance Pacquiao would have been a popular choice. His results in his last three fights, however—an undeserved win, an undeserved loss and a devastating KO loss—have changed perceptions and elevated Mayweather's pristine welterweight tenure to new heights.
The Score: Mayweather, 3-1.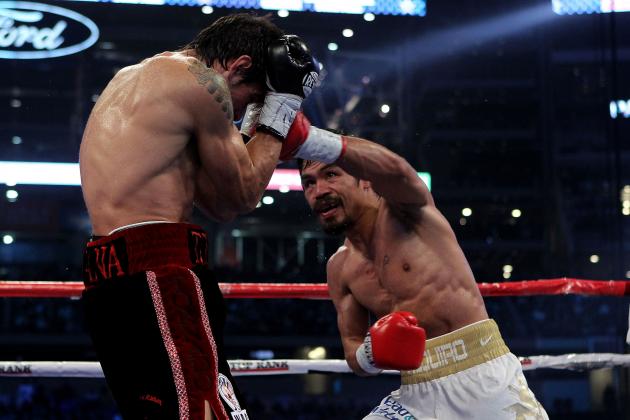 Nick Laham/Getty Images
Margarito had one win in two years before meeting Pacquiao in a catchweight bout in 2010.
Mayweather: 2-0, 0 KO, WBA/WBC titles, zero defenses
Notable fights: Oscar De La Hoya (SD 12), Miguel Cotto (UD 12)
Summary: Much of the leverage claimed by Mayweather fans over Pacquiao fans comes from performances at 154, where Mayweather beat two champions fighting at the full 154-pound limit. His scheduled September match with Saul "Canelo" Alvarez is in the division, but at a 152-pound catchweight.
Pacquiao: 1-0, 0 KO, WBC title, zero defenses
Notable fight: Antonio Margarito (UD 12)
Summary: Pacquiao jumped up, sort of, to claim a 154-pound weight class belt in 2010. He weighed in at just 144.5 pounds, while Margarito agreed to be at no more than 150 on the day before the fight. Pacquiao won the fight in clear, decisive fashion but hasn't returned to the division since.
Al Bello/Getty Images
Mayweather outpointed De La Hoya in the most-purchased pay-per-view fight of all time, drawing 2.4 million buys.
Quality and quantity fall on the side of Mayweather at 154, where Cotto had won three straight fights and De La Hoya had scored a knockout win in his previous outing before fighting Mayweather. Those two bouts, plus the Alvarez match in September, represent more of a risk than Pacquiao has taken above 147.
The Score: Mayweather, 4-1.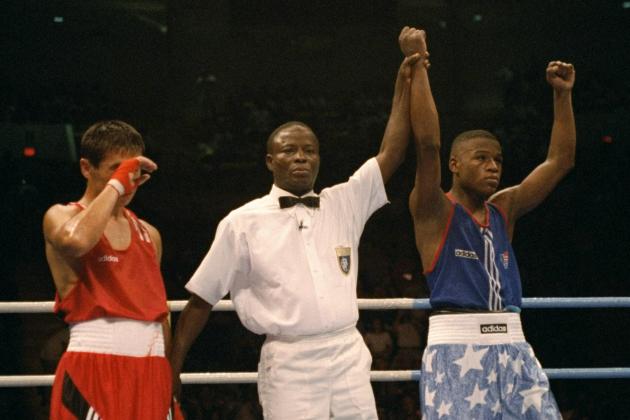 Rusty Jarrett/Getty Images
Mayweather won three bouts at the 1996 Summer Olympics before dropping a tight decision in the semifinals, which resulted in a bronze medal.
Mayweather
"Junior" had a stellar amateur career and showed signs of future success on the way to capturing a bronze medal at the 1996 Summer Olympics in Atlanta, where he lost a disputed decision in the semifinals. As a whole, Mayweather won 84 of 90 amateur fights and three Golden Gloves titles.
Pacquiao
In addition to the five divisions where he and Mayweather won world titles, Pacquiao also boxed extensively as a professional from flyweight through featherweight. He was a titleholder at 112 and 122 and fought to a draw in his lone championship bout at 126 against Juan Manuel Marquez.
While an Olympic medal is certainly nice, it doesn't carry as much prestige as the two world title belts at lighter weights that Pacquiao had collected before he and Mayweather started conquering the same division while encountering many of the same fighters.
The Score: Mayweather, 4-2.
Mayweather and Pacquiao have five opponents in common: Miguel Cotto, Shane Mosley, Juan Manuel Marquez, Ricky Hatton and Oscar De La Hoya.
Mayweather is 5-0 with one KO against the quintet. Pacquiao is 6-1-1 with three KOs.
Here are the specific results:
Cotto
Pacquiao stopped him in the 12th round of a 145-pound catchweight title bout in 2009. Mayweather beat him by unanimous decision in a 154-pound title bout in 2012.
Mosley
Mayweather beat him by unanimous decision in a 147-pound bout in 2010. Pacquiao beat him by unanimous decision in a 147-pound title bout in 2011.
Marquez
Pacquiao drew with him in a 126-pound title bout in 2004, won a split decision in a 130-pound title bout in 2008, won a majority decision in a 144-pound catchweight title bout in 2011 and lost by sixth-round KO in a 147-pound bout in 2012. Mayweather beat him by unanimous decision in a 147-pound bout in 2009.
Hatton
Mayweather stopped him in the 10th round of a 147-pound title bout in 2007. Pacquiao stopped him in the second round of a 140-pound title bout in 2009.
De La Hoya
Mayweather beat him by split decision in a 154-pound title bout in 2007. Pacquiao stopped him in eight rounds in a 147-pound bout in 2008.
While it's true that Pacquiao's victories—particularly against De La Hoya and Hatton—were more viscerally violent than Mayweather's wins, the actual quality of the common wins has more to do with when they occurred and in which weight class. Pacquiao gets full credit for beating the Englishman in his most natural division, but Mayweather had the tougher test in several of the other cases.
He fought De La Hoya when he was a reigning champion at 154, while Pacquiao got him 19 months later in a weight division "Golden Boy" hadn't seen in seven years.
Mayweather won 11 of 12 rounds against a Mosley coming off a stoppage of Margarito, while Pacquiao got "Sugar" Shane the following year, after both the Mayweather loss and a draw with Sergio Mora in the interim.
Pacquiao's TKO defeat of Cotto came first in 2009, but it loses some luster before the defending champion Cotto was contracted to defend a welterweight title at two pounds less than the division's 147-pound limit. When Mayweather fought him in 2012, it was at a full-fledged 154 pounds for a title belt that Cotto had won and defended twice by TKO.
Lastly comes Marquez, whom Pacquiao had fought to a draw at 126 (2004) and beaten by narrow decision at 130 (2008) before Mayweather shut him out over 12 rounds in a non-title welterweight fight in 2009. Pacquiao beat him by another close decision at 144 pounds in 2011 and then lost by one-punch KO when they met at 147 in 2012.
The Score: Mayweather, 5-2.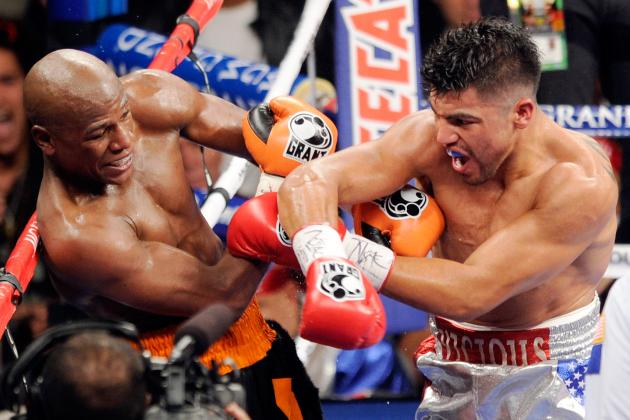 Ethan Miller/Getty Images
Mayweather's 2011 tussle with Victor Ortiz ended controversially and was good for 1.25 million PPV buys.
Mayweather
The five-division champion has been a pay-per-view staple for the last eight years, going back to his Atlantic City match with the popular Arturo Gatti in 2005. He was one-half of the sport's top all-time event with Oscar De La Hoya—2.4 million buys in 2007—and surpassed a million for four straight bouts against Juan Manuel Marquez, Shane Mosley, Victor Ortiz and Miguel Cotto between 2009 and 2012.
Showtime officials claim his debut with the network against Robert Guerrero in May also went over a million, though that figure is still the source of debate.
Pacquiao
The Filipino also began plying his PPV trade back in 2005, in the first of three bouts with Mexican legend Erik Morales. He cracked a million buys against De La Hoya in 2008 and Cotto in 2009 and then reached seven figures for consecutive matches with Antonio Margarito, Mosley and Marquez in 2010 and 2011. A 2012 loss to Timothy Bradley drew 700,000 buys, and a fourth match with Marquez later in the year was good for 1,150,000.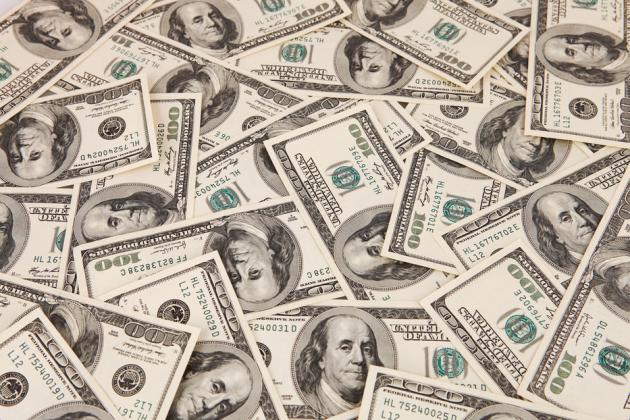 Photo credit: www.WorldPropertyChannel.com
It would be easy to boil the PPV question down to mathematics, but to do so would lose the nuance of the comparison.
Mayweather's per-fight average is puffed up by the match with De La Hoya, while Pacquiao's average suffers because of the comparatively low numbers from his first several top billings. The one thing that's not disputable is that fights involving one or the other have been consistent top sellers for the last several years—more often than not crossing the seven-figure threshold, regardless the opponent.
Regardless of a difference of a few thousand here or there when it comes to average, it's more logical to recognize that they're the sport's top two draws and call it even.
The Score: Mayweather, 5-2-1.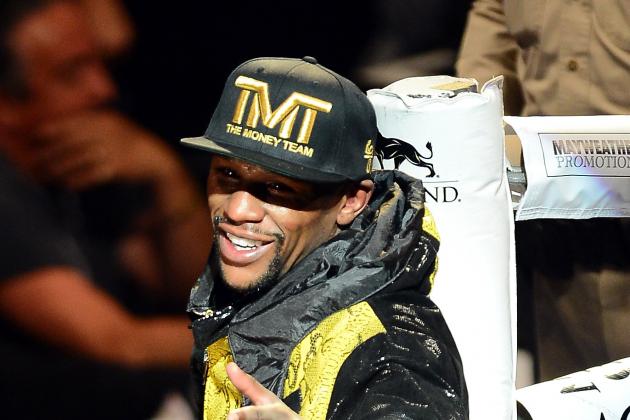 Ethan Miller/Getty Images
When it comes to a direct career comparison with Manny Pacquiao, Floyd Mayweather Jr. is a narrow but clear winner.
There are points to make for both men. Pacquiao is a highlight-reel dynamo. Mayweather is a peerless strategist. Both will ultimately have plaques in the Hall of Fame in Canastota, N.Y. for their accomplishments.
But when the resumes and their contexts are lined up side by side, "Money" has more check marks in his column. His armload of titles is a little less broad than Pacquiao's, but the sheer dominance of his performances against high-quality opposition from 130 to 154 trumps the lighter-weight advantages of his nemesis.
Short of an actual match between the two to make it official, Mayweather deserves consideration as the best of this generation.