Buffalo Bills OTAs: Latest Player Reports and Analysis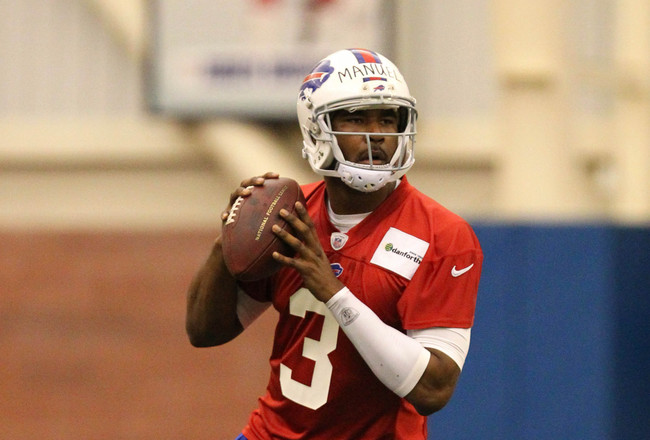 USA TODAY Sports
The Buffalo Bills only have one more day of voluntary organized team activities on Friday before the team transitions to a mandatory minicamp come mid-June.
The voluntary workouts have been attended by a majority of the Bills players with the only contract-holdout candidate Jairus Byrd being consistently absent from the 10 practices. News that comes out of OTAs needs to be put in perspective because there is plenty of moving and shaking that goes on before the finished product gets trotted out in September.
The quarterback and wide receiver competitions remain the hottest battles during OTAs and will be fun to watch as the team develops through the summer. As the workouts come to a close, the buzz surrounding this new-look Bills team has seemingly re-energized a fanbase craving for a playoff appearance.
Quarterback Update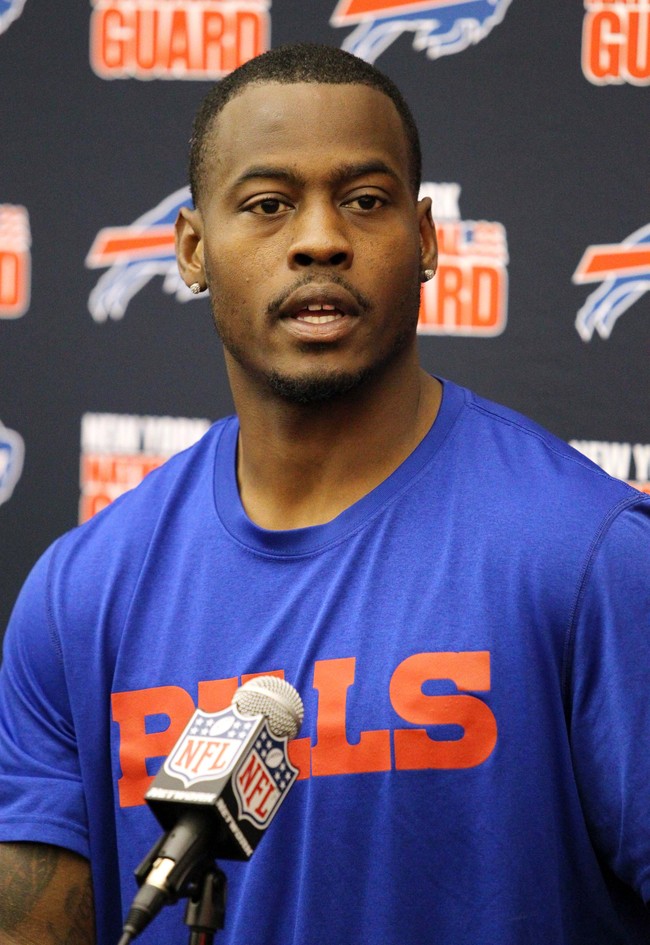 USA TODAY Sports
Tarvaris Jackson continues to receive the first-team snaps, but Kevin Kolb has not been far behind with EJ Manuel bringing up the rear. The pressure on the Bills to potentially start with Manuel from the get-go may be strong from Bills fans, but ultimately the team will choose to go with whoever gives it the best chance to win.
Jackson and Kolb seem like logical fits to be the opening day starter.
Manuel is guaranteed a roster spot, but the two veterans may be fighting for a single spot when the numbers game gets tight in August. Jackson signed a one-year contract in March, while Kolb signed a two-year deal with a potential to make up to $13 million with incentives.
Contract status may not make a difference when it comes to deciding which player stays or goes, but the lack of guaranteed money tied up in them makes either easily expendable. It is not a foregone conclusion that they are competing for one spot, but the odds of the team keeping two players who are essential placeholders for Manuel are not high.
According to Bills' lead writer Chris Brown, Buffalo's top receiver Stevie Johnson has had the best connection with Kolb in practices this week. Back problems kept Johnson out of OTAs until this past week, but budding chemistry with Kolb could keep the former Cardinals' and Eagles' starter around.
A Late Bloomer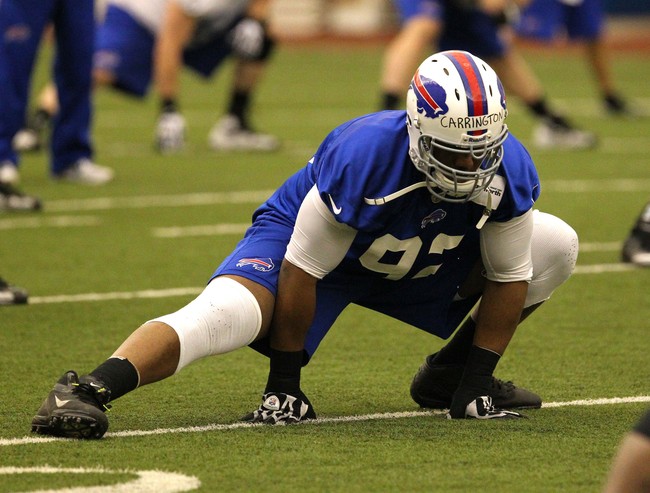 USA TODAY Sports
Alex Carrington was my pick to be a sleeper standout from the Bills' now-disappointing 2010 draft. For two years it looked like Carrington would never live up to his third-round billing and was even on the roster bubble last offseason.
Much has changed since last season's training camp as Carrington as quietly carved out a spot for himself on a young Bills squad. He broke a team record with four blocked kicks in 2012, including a pivotal one to save the Bills from a heart-breaking road loss to Arizona in Week 6.
Carrington had a combined two sacks in his first two seasons, but doubled that total in 2012 despite being buried on the depth chart. With Marcel Dareus and Kyle Williams both missing a day or two during offseason workouts, Carrington has stepped in nicely in their absence.
Dareus and Williams both add value as pass-rushing defensive tackles, but Carrington could become the third cog in that rotation in Mike Pettine's aggressive defense. Free-agent signing Alan Branch instantly becomes the team's main run-stopper up the middle, but provides little else.
Carrington has shown well during OTAs with five tap-sacks in the three practices this week alone. If the former Arkansas State product can show a consistent knack for getting to the quarterback in a contract year, he could turn that into a big pay day next offseason.
The Battle for Number Two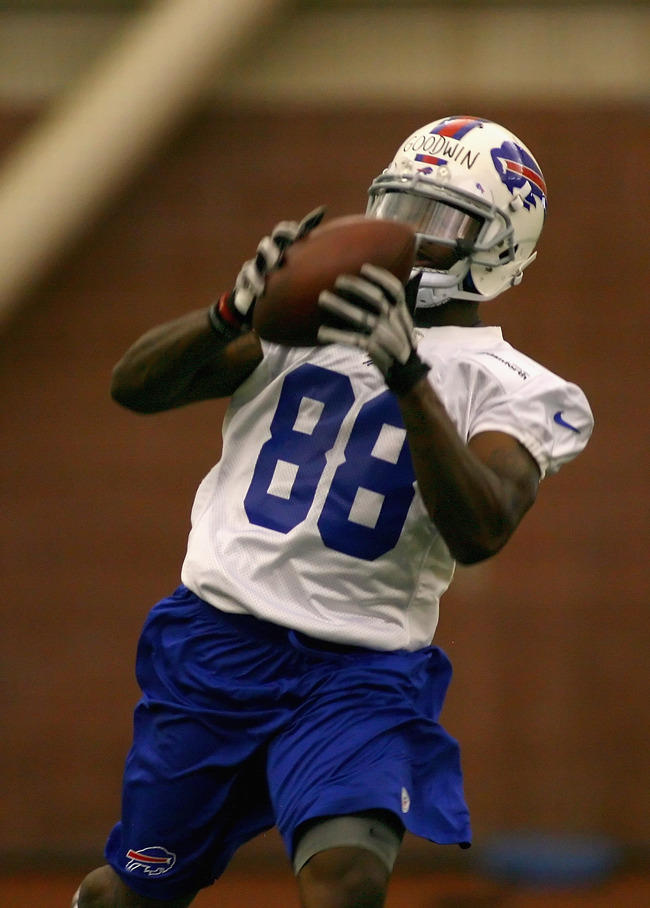 Rick Stewart/Getty Images
Stevie Johnson's spot as the Bills' top receiver is set in stone, but the depth chart after him is a whole lot more fluid.
Robert Woods and Marquise Goodwin were drafted to potentially slide in as the second and third guys at the position, but undrafted free agents Da'Rick Rogers and Brandon Kaufman have also made statements the last few weeks. Rogers and Goodwin have the looks as the most physically-gifted players out of the group, but inconsistency is a concern for both players coming into the offseason.
Woods missed the first week of of OTAs because of USC's academic calender, but he has come on strong since joining the veterans the last two weeks. His strong suit coming into the NFL was being ready to run a full route-tree, but he did struggle with drops from time to time. His knowledge of spacing on the field has shown during OTAs and likely gives him the heads-up for the starting spot opposite of Johnson.
After last Monday's practice veteran quarterback Kevin Kolb was glowing about the young receiver's showing so far.
"I was really impressed with was a move that a lot of young guys make a mistake on and he didn't make it," Kolb said, according to Chris Brown of BuffaloBills.com. "He beat the guy off the line and he continued to run his route and continued to push and was patient with it. He understood the timing of the offense and my footwork and we were able to hit a big play and keep the integrity of the pocket. That was good to see and I complemented him on it. A lot of young guys don't do that. He's somewhat complex in his route running ability".
News about Rogers' development has been non-existent after a few long plays with EJ Manuel during the first week of OTAs, but Goodwin has transitioned nicely into the Bills' watered-down offense. According to Chris Brown, Goodwin received the praise of the coaching staff after taking a pair of intermediate passes and turning them upfield for big plays.
Goodwin showcased the straight-line speed during Senior Bowl practices in January, but he has displayed the ability to run shorter routes over the middle of the field in limited opportunities this month. His skill set transitions so closely to second-year receiver TJ Graham that Goodwin will need to do something other than just run fast to differentiate himself from the pack.
Keep Reading

Buffalo Bills: Like this team?