Nebraska Football: 5 Departed Starters Who Will Be Easiest to Replace in 2013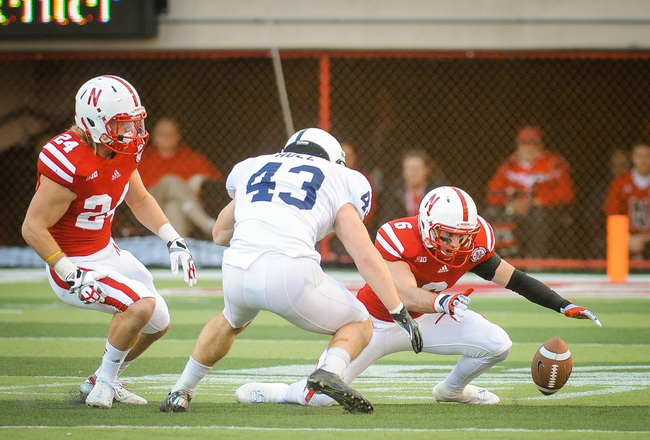 Eric Francis/Getty Images
Nebraska football fans are mourning the loss of some key contributors from the 2012 team. But they are not mourning all of them. Although some former starters will be missed dearly, the departure of a few will not cause too much angst.
On Monday, we looked at the hardest starters to replace in 2013, due to their on-field performance and the depth of talent available to fill their roles.
Now, let's leave pleasantries aside, be realistic about what a few graduating starters actually brought to the table and recognize the wealth of young players eager to step in. This may hurt a little bit, but here are the Husker starters that will be most easily replaced in 2013.
5. Rex Burkhead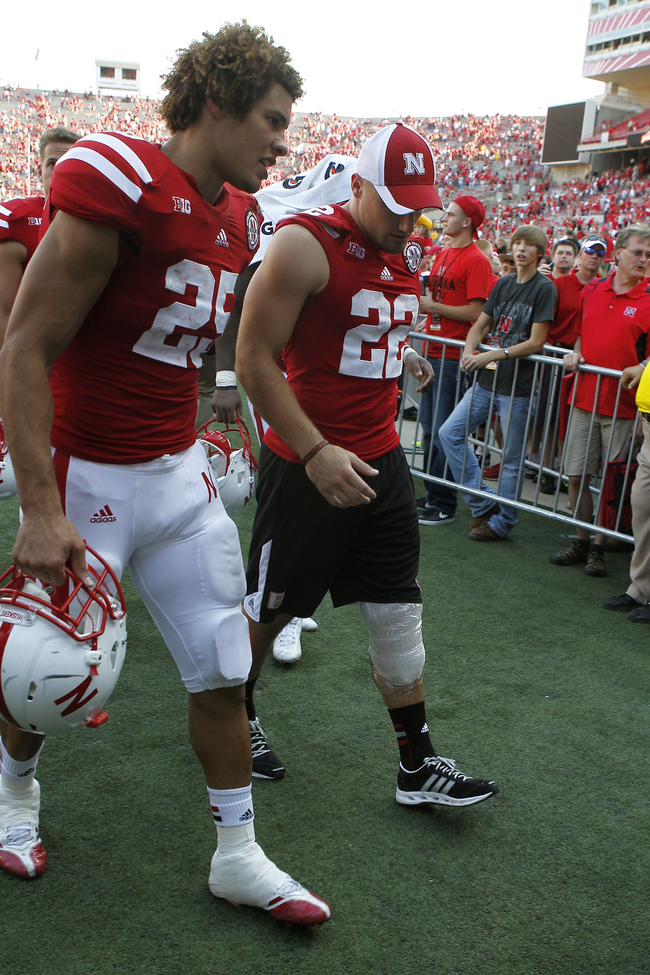 Bruce Thorson-USA TODAY Sports
It is painful to put Rex Burkhead in this category, but the reasons are clear.
Burkhead was a phenomenal back for the Huskers when healthy. He (with the help of Eric Martin on defense) took over the Iowa game a year ago, providing the spark the Huskers needed in their most lackluster, uninspired win of the year. He could make defenders miss, catch the ball out of the backfield and pass block when needed.
Were it not for the rich stable of running backs behind him, this would be an enormous loss for Nebraska. But Ameer Abdullah and Imani Cross are very capable of filling Burkhead's shoes. After all, they already did for most of last year.
4. Brett Maher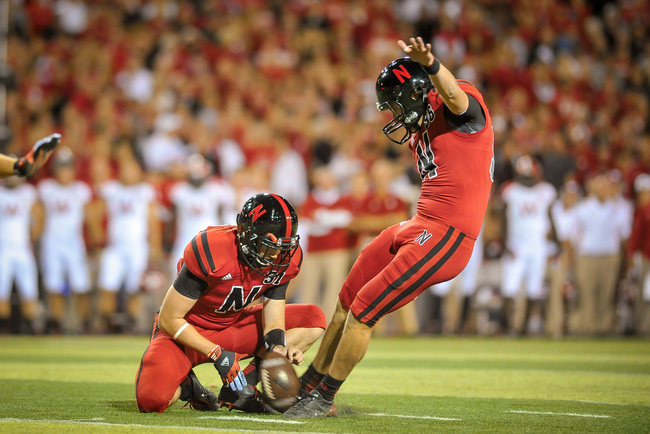 Eric Francis/Getty Images
Despite a few postseason accolades, Brett Maher was not the reliable, consistent kicker Nebraska expected heading into the 2012 season. Particularly early in the year, he struggled, missing five field-goal attempts in the first five games and producing numerous shanked punts.
He will likely be replaced by Mauro Bondi who showed great promise in the 2013 spring game, banging through a 50-yarder on a gusty afternoon. The pressure of a spring game is by no means comparable to that of Big Ten play, but it proves Bondi has the potential to continue the great kicking tradition at Nebraska, as long as he has the nerves.
3. Punt Returner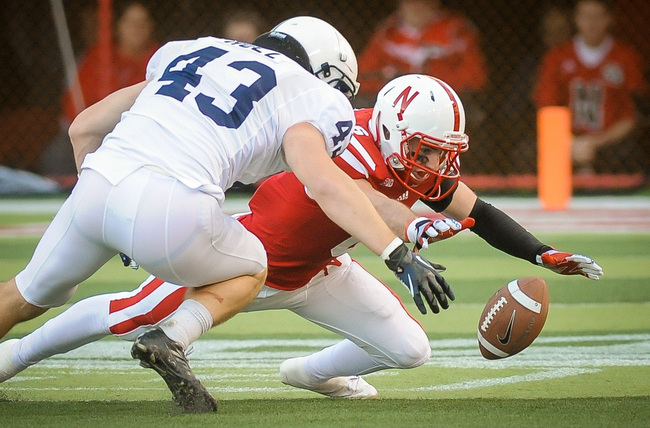 Eric Francis/Getty Images
There are a few names one can list under starting punt returner. But since the focus here is on graduating seniors, let's pick on Tim Marlowe.
Entering 2013, the Huskers are in need of a punt returner and the search criteria could not be simpler. Speed is unimportant. Quickness? Irrelevant. Ability to read and follow blocks? Could care less. What Nebraska needs on special teams is consistency, reliability and focus.
This will not be a difficult position to fill because the new punt returner must do only one thing well: catch the ball. Marlowe could not do it, Kenny Bell could not do it and Quincy Enunwa could not do it. There must be one player on the roster who can cleanly catch a punt and retain possession for the Big Red 100 percent of the time.
2. Justin Jackson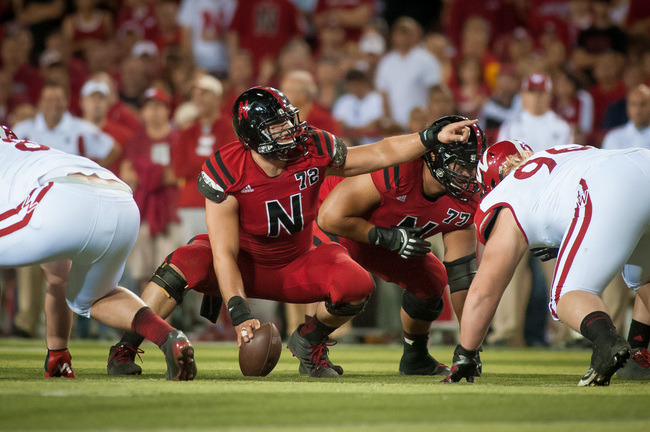 Eric Francis/Getty Images
Perhaps the biggest question entering the 2012 season was who would start at center come opening day. It was largely a two-horse race between Justin Jackson and Cole Pensick, with an outside shot coming from Mark Pelini.
Justin Jackson ultimately won the job and played well for much of the season. It was not the mammoth offensive line of the late '90s, but the 2012 front did pave the way for one of the best rushing attacks in the nation.
Yet with Jackson gone, it should not skip a beat. Cole Pensick will likely take over the starting role in 2013, a year after losing by a nose to Jackson. Pensick has already been named to the preseason Rimington Award watch list and has the potential for a stellar 2013.
1. Alonzo Whaley/Sean Fisher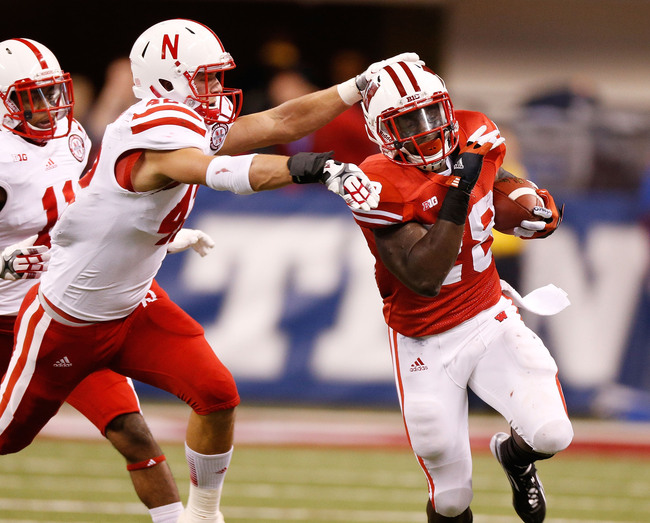 Gregory Shamus/Getty Images
Technically these two should each get their own spot. But the same words apply, so let's just save space and group the two most replaceable players from Nebraska's 2012 starting lineup into one.
Alonzo Whaley and Sean Fisher were wonderful parts of the Big Red family. Despite not receiving much playing time early in their careers, they bided their time and eventually received their chance on the field. Their commitment to the program and perseverance is commendable.
But intangibles aside, the Huskers' 2012 losses speak for themselves. The lack of speed, agility and instincts on the perimeter of the Blackshirt defense was a serious crutch. Fans were already calling for a change last season, so increased snaps for players like David Santos, Jared Afalava and others will be the easiest of transitions.
Keep Reading

Nebraska Huskers Football: Like this team?