Manchester United: Top 4 Stars Reds Faithful Wish Had Never Left Old Trafford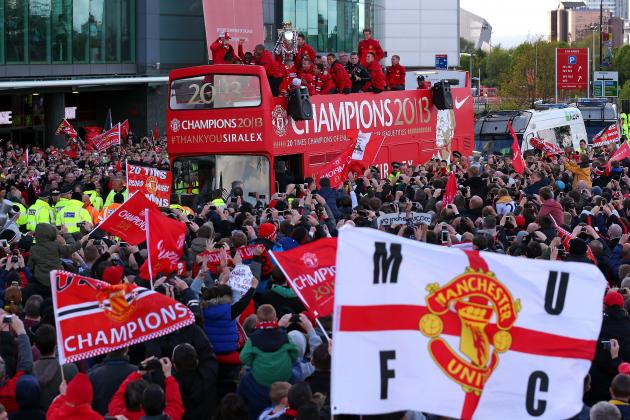 Alex Livesey/Getty Images
United fans show their support following the team's 1st-place EPL season
With the summer transfer window officially upon us, Manchester United faithful have started thinking about who they would like David Moyes to purchase to bolster the squad.
It seems that Cesc Fabregas and Marouane Fellaini (via The Mirror) are both targets of the club, who would love to improve their aging midfield corps.
However, this time of the year also brings back thoughts of players that United sold from the club, possibly ill-advisedly.
Due to a plethora of reasons such as super stardom, appeal to the fans, or massive potential, the departures of these four players left Mancunians disappointed and maybe even saddened.
(All stats and info via ESPN FC)
Note: Only active players were considered for this list
Begin Slideshow

»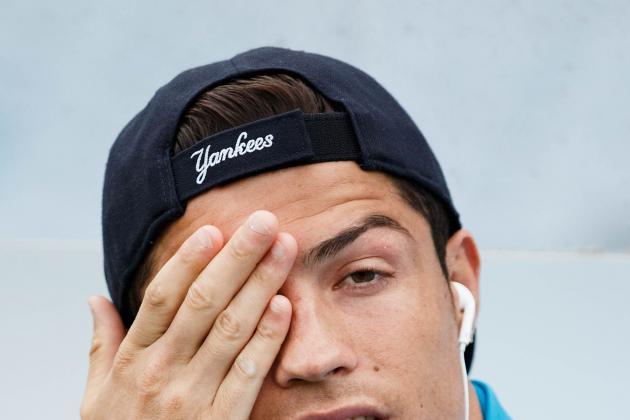 Gonzalo Arroyo Moreno/Getty Images
Deep in Thought: Maybe Cristiano is thinking about a return to United as much as we are.
With a whopping 146 goals in 135 appearances for Real Madrid, the hefty £80 million transfer fee (The Telegraph) Los Blancos paid for the Cristiano Ronaldo now seems like an absolute bargain.
Since arriving in Spain, the Portuguese superstar has become a perennial ballon D'or shortlist candidate, somehow improving on the otherworldly displays he put on at Old Trafford.
And though United have made some good buys with the plentiful funds they received (i.e. Shinji Kagawa, David De Gea), it is unlikely they will see a player with the same ability as Ronaldo grace their home pitch anytime soon (that means you too, Robin Van Persie).
That is, unless Ronaldo returns to United, which seems unlikely now with Sir Alex and his crew out of town. (The Mirror)
However, this scenario is still possible, meaning United fans are not ready to completely rule out a Ronaldo era part two, and his status as a player who left could soon be dramatically shifted.
For this reason, he is not ranked above the following three players, who have a much lesser chance of returning to United and changing their statuses as United departees.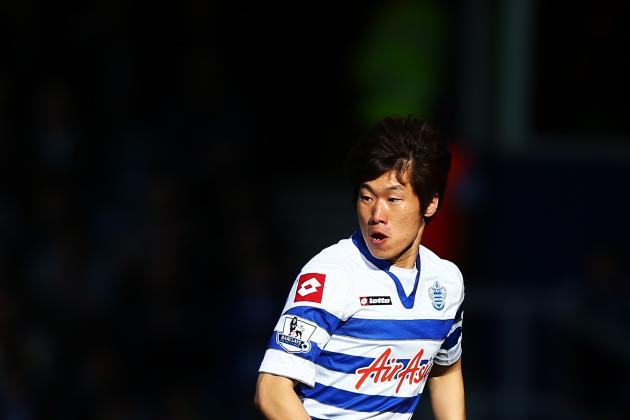 Clive Rose/Getty Images
Ji-Sung Park pushes the ball against Arsenal
Though Park Ji-Sung has not, and will not, ever be a player as talented as Ronaldo, he was a vital cog in the United squad from 2005-2012.
A fan favorite known for his tireless chase of the ball, Ji-Sung carved out a niche at United as a big game player.
Despite not having the same soccer IQ as Michael Carrick or Paul Scholes, the Korean international brought constant energy to Sir Alex's XI and had a knack for scoring extremely timely goals.
Because of this trait, he was often picked for important domestic or Champions League matches, where Fergie entrusted his most experienced players to get the win.
Certainly the 32-year-old would not be a hugely important player should he return to Old Trafford, but no one would mind a quick, elusive cult hero returning to the midfield.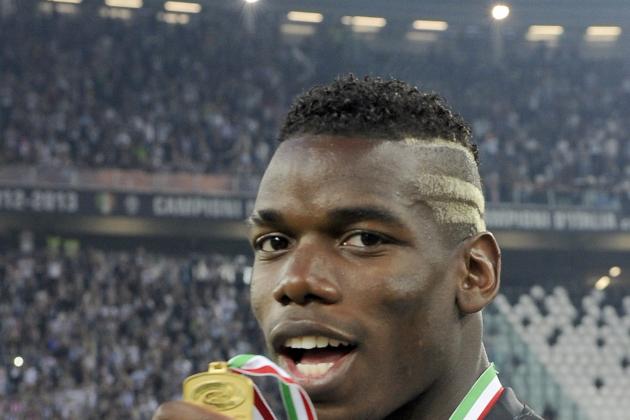 Claudio Villa/Getty Images
Pogba holds his Juventus Serie A winners medal
Potential.
After developing youngsters such as Ryan Giggs and Paul Scholes into stars, Sir Alex Ferguson is completely familiar with this word.
But in the case of Paul Pogba, he let it slip away.
Pogba, a tremendously pacy, strong, and skillful French midfielder, left the club (ESPN UK) last season after a rift with Fergie about playing time.
According to Fergie, the 20-year-old was not ready for first-team football, as he only garnered seven appearances in competitive matches throughout the whole season.
Upset and unsatisfied, Pogba fled to Juventus to attempt to prove his worth once again.
And boy, did he do just that.
The Frenchman started 27 Serie A games for Juve, scoring five goals and becoming an essential member of the squad.
If given the chance, he could've done the same things in red as he did in black and white.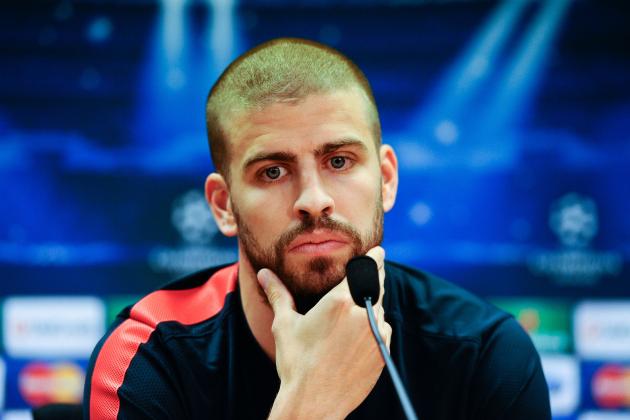 David Ramos/Getty Images
Pique on the mic at a Barcelona Press Conference
A product of Barcelona's youth system, Pique shocked many by moving to United in 2004.
After four forgetful years as a United youngster, however, Pique was sold back to Barcelona in 2008.
To make SAF feel even worse about a failed project, Pique has blossomed into an absolute world-class defender at Barca, rightfully earning a place in the lineup of one of the world's best teams.
Now at 26 years old, Pique has matured from the 17-year-old United bought nine years ago, gaining the composure, physical and mental toughness necessary to put him in the conversation of the world's best defender.
Sir Alex can't really be blamed for selling a struggling defender, but fans are now wondering what could've been had he persevered through his troubles at the club.