Texas Football: Top 5 Underrated Longhorns Entering 2013 Season
mackbrown-texasfootball.com

The Texas Longhorns return 19 starters for the 2013 season, leaving little room for the lesser-known players to make a big impact.
David Ash, Mike Davis, Jackson Jeffcoat, Carrington Byndom—they have all become huge contributors for the Longhorns and are expected to do the same and more this year.
But while there are a number of quality players who merit the praise, there are a few who still fly below the radar.
These are the guys looking to prove themselves and become the stars of tomorrow for the 'Horns. Here are the top five underrated Longhorns going into the season.
All stats from mackbrown-texasfootball.com.
Malcolm Brown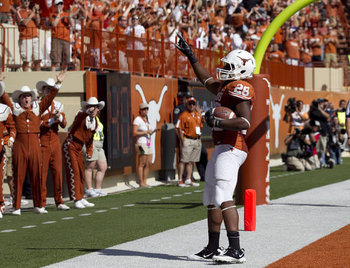 Deborah Cannon / Austin American-Statesman
Say what? A former 5-star recruit underrated?
Here is the lowdown.
The former Cibolo star came to Austin as a highly touted and highly rated running back, and during his freshman campaign in 2011 alongside fellow first-year Joe Bergeron, Brown demonstrated the quality that made him such a top recruit.
But underscoring his impressive yet curtailed first two seasons in Austin were injuries that may have spilled that spotlight onto a 2012 freshman by the name of Johnathan Gray, another 5-star recruit who inherited Brown's role as the starter midseason. Gray would finish the year with 701 rushing yards to lead the team.
Brown has missed eight games over his two seasons at Texas, with five of them coming in 2012.
Let's face it. Gray was a big factor for a freshman, and maybe some have pinned a bigger ceiling on him because of his apparent durability, something Brown has yet to show. Nobody really knows how many games he will play this season. If it is 13, then Texas would have been very successful on the ground. Anything hugely less than that, and it has to be all Gray from here on out.
Peter Jinkens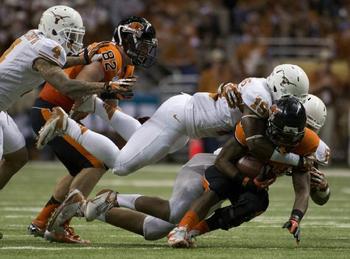 mackbrown-texasfootball.com
The record of what the linebackers were able to achieve (but mostly unable) in the 2012 season has been well-documented and, if anything, can serve as kindling to light a fire underneath the group in 2013.
One of the eventually few bright spots from the linebackers was Peter Jinkens, a true freshman who showed plenty of promise in his 13 appearances, including three starts later in the season.
Jinkens appeared to have a nose for the action, and his availability and expected production in the rotation cannot be understated this year. With Jinkens likely sharing plenty of time with Kendall Thompson, who was much better in his numbers with seven starts under his belt, his freshness and ability to get to the football will be a prized asset on defense.
M.J. McFarland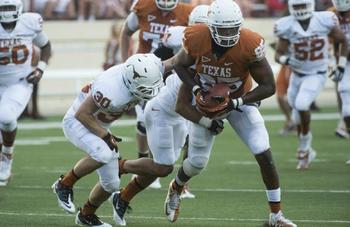 mackbrown-texasfootball.com
Texas could hold a huge weapon in tight end M.J. McFarland if the work ethic and health come together.
Listed at 6'6", 245 pounds, McFarland is the biggest athlete at a skill position, and the offense just has not clicked with him—yet.
The move to an up-tempo spread offense is the kind of scheme in which McFarland can excel. If Texas can get the right mismatches, McFarland can be the next big thing at tight end since Jermichael Finley in 2007.
McFarland caught eight passes for 125 yards and a touchdown in 2012, and as the best-catching tight end on the roster, it would behoove him to take the next steps as an offensive threat in the right system.
Chris Whaley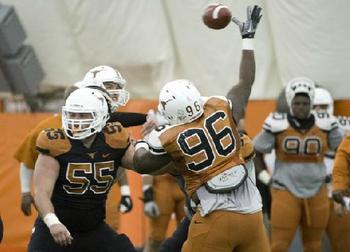 mackbrown-texasfootball.com
Following the footsteps of former Longhorns like Lamarr Houston and Henry Melton, Chris Whaley has made a lasting transition to defensive tackle, although his journey has had plenty of bumps along the way.
Houston and Melton both had their most successful seasons during their senior campaigns, and Whaley will be going into his final year in Austin after seeing stints at running back, H-back and now defensive tackle.
Fully immersed in the rotation up front, Whaley will have all the chances to make his biggest splash among a throng of other talented tackles who have had far more experience at the position in the long run.
Whaley will have the seniority, which may or may not play to his advantage as far as snaps are concerned. The numbers favor his younger counterparts in Desmond Jackson and Malcolm Brown, players who have received tons of praise for their efforts early in their careers.
But Whaley has held up to the changes to this point and will be a fixture in the rotation up front.
Adrian Phillips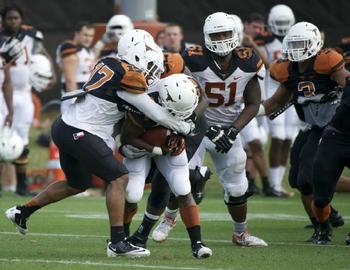 mackbrown-texasfootball.com
The entire Texas defense took some huge flak last season as a group, but perhaps no individual player received more disapproval than safety Adrian Phillips, who, alongside Kenny Vaccaro, appeared to be taking more steps backwards than forwards.
Phillips performed much better toward the end of the season, but that did not keep him from developing a reputation as a liability on the back end.
Statistically, Phillips' sophomore season (43 TKL, 4 TFL, 1 sack, 2 INT, 5 PBU, 3 FF, 1 FR) was far better than his junior campaign (72 TKL, 3 TFL, 0 sacks, 2 INT, 2 PBU), and who knows how many missed tackles he had in 2012?
If Phillips' sophomore season is an accurate depiction of the kind of performer he is, then we will see it in 2013 with the expectation that the middle of the defense holds up its end of the bargain.
Keep Reading

Texas Longhorns Football: Like this team?