Ian Holloway's Greatest Moments in Videos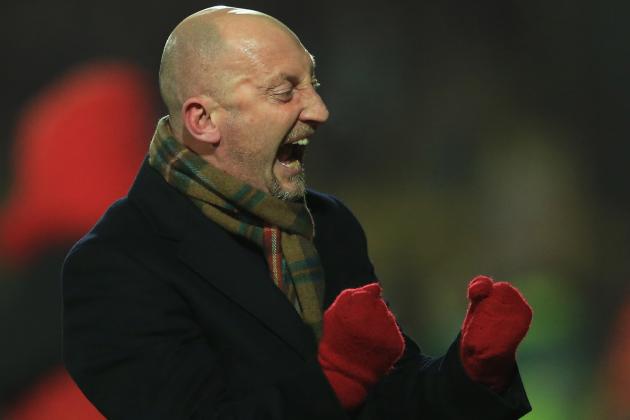 Richard Heathcote/Getty Images

Crystal Palace securing promotion to the Premier League is a something we're all looking forward to. The reason? Because it means we get to enjoy more Ian Holloway.
Holloway has gained a reputation for his refreshingly different approach with the media and having an odd way with words. His post-match interviews become as quotable as a Martin Luther King speech.
So, in excitement for Ollie's return to the Premier League, we're running through his best-ever moments.
Begin Slideshow

»
WARNING: Attached video contains strong language
Earlier this month Holloway's Crystal Palace side secured their place in the playoff final that they would eventually win by beating rivals Brighton & Hove Albion 2-0.
To celebrate, Holloway didn't provide one of his trademark quotes.
Instead, he let his feet do the talking.
When Holloway was QPR manager, he made a rather unique observation.
He compared the beautiful game to ugly women.
He used the analogy of the varying attractiveness of females a single man might get intimate with to describe all the different sorts of wins there are.
Speaking of ugly women...
Ian Holloway even once had to deny any romantic links between himself and Harry Redknapp.
Can you imagine them together? They'd be challenging Mila Kunis and Ashton Kutcher for the world's most attractive celebrity couple.
It's not all jokes and unattractive ladies with Ollie.
In 2010, when asked what he thought about Episode 1 of Wayne Rooney handing in a transfer request, Holloway let rip.
Even retired Belgian footballer Jean-Marc Bosman got an earful.
When Ollie was Plymouth Argyle manager, his first preseason included a match against Spanish giants Real Madrid.
So Holloway was asked on his reaction to the upcoming game.
...we don't think he fancied Plymouth's chances. (They actually only lost 1-0.)
Following a game at Cardiff City, as Queens Park Rangers manager, Ian Holloway managed to cover every topic in history in the press conference.
He went from talking about press speculation, to disciplining your children, to British politics, to women at football games and how ugly his players are.
In one of Holloway's more bizarre responses to a question (which is saying something for Ollie) he was asked about transfer rumors for his then-player, Charlie Adam, wanting to move away from Blackpool...
...so he started talking about his house burning down. As you do.
During this season's winter transfer window, there was lots of speculation that Crystal Palace's star Wilfred Zaha would move away from the club.
Ian wasn't happy about the speculation or the system of transfer windows, so he unleashed his fury at the awaiting press.
We'd hate to imagine what his reaction was like when Zaha did actually secure a move to Manchester United in that transfer window.
When Holloway was suspended by Queens Park Rangers as their manager, he went on Sky 1's Saturday morning football show, Soccer AM.
The main topic of discussion?
His chickens, of course.
And finally a little compilation of some classic Ian Holloway radio interviews.
So sit back, turn up the volume, and get ready for a season of some great LOL-loway moments.