Wisconsin Football: 3 Newcomers Who Should See Significant Playing Time in 2013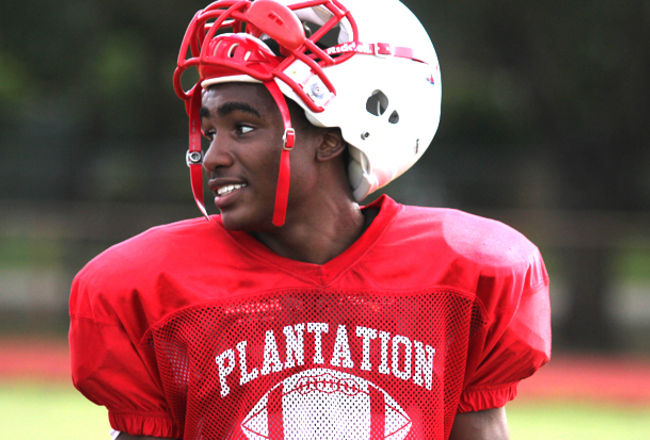 Photo courtesy of 247sports

With the high school calendar approaching its end in most cases and the recent arrival of a certain high-profile junior college recruit, Wisconsin football is about to have an influx of new faces in the coming weeks.
The Badgers lost eight starters from 2012 due to graduation, leaving early for the NFL draft or injury, but the switch to a 3-4 defense will likely result in seven openings. It certainly leaves some opportunities for incoming freshmen and junior college commits to compete for a starting job this summer.
In the spring game, we had the privilege of seeing linebacker Vince Biegel, safety Reggie Mitchell and center Dan Voltz on the Camp Randall gridiron for the first time. But since all three are redshirt freshmen, none are technically newcomers, although they should be in the mix for starting jobs this fall.
Speaking of the spring game, we also saw one early enrolled freshman have an impact, so continue on to see if he cracks the list of three newcomers who should see plenty of playing time with Wisconsin in 2013.
QB: Tanner McEvoy
There was a lot of talk during the spring about the Badgers' quarterback position battle, but those discussions revolved around sophomore Joel Stave, senior Curt Phillips and redshirt freshman Bart Houston.
Well, there's about to be one more name who will garner plenty of attention—Tanner McEvoy.
Following the spring game, the general consensus was that Stave had grabbed a hold of the starting job heading into the summer, but that could all change if the former South Carolina and Arizona Western College quarterback becomes head coach Gary Andersen's favorite candidate.
Despite many onlookers basically handing the job to Stave, Andersen hasn't exactly given him a ringing endorsement, and that could very well be because he is waiting to see what he has in McEvoy, who has three years of eligibility remaining.
McEvoy fits Andersen's desired quarterback mold as a dual-threat who can move around and tower above everyone with his 6'6" frame. Prior to his arrival in Madison on May 29, McEvoy put on 15 pounds and worked on his throwing motion, so it's clear he means business heading into his first practice as a Badger.
Considering he was recruited by Andersen and has the ability to make plays with his feet, that should give McEvoy an advantage—fair or unfair—over Stave and Phillips, but that doesn't mean McEvoy won't have to earn the distinction of starting quarterback.
S: Donnell Vercher
Before we get to Donnell Vercher, let's revisit the player who will prove to be Vercher's toughest competition for the starting safety job: Reggie Mitchell. After redshirting in 2012, Mitchell entered the spring as a cornerback buried on the depth chart, but Andersen moved him to safety, where he ended the spring as the starter alongside senior Dezmen Southward.
One of three junior college recruits in the 2013 class, Vercher figures to be a strong candidate to wrestle that distinction away from Mitchell. He played two years at Fresno City College and becomes one of the most experienced and tenured players in Wisconsin's secondary. Vercher also has decent size at 6'1" and 200 pounds, which allows him to play physical.
Vercher led JUCO players in interceptions last season, showing his nose for the football and ability to take good angles. He has two years of eligibility remaining, and like McEvoy, Vercher has the advantage of being recruited by Andersen. Expect him to step in and become the starting safety next to Southward by opening week.
CB: Sojourn Shelton
The Badgers lost both Devin Smith and Marcus Cromartie to graduation, so there is still nothing set in stone at the cornerback position. Junior Peniel Jean and sophomore Darius Hillary lined up as starters at the spring game, but by the time Andersen's wacky scoring system and music blaring came to a halt, everyone was talking about early enrolled freshman Sojourn Shelton.
While Hillary, Wisconsin's nickel corner in 2012, had his struggles, Shelton broke up a few passes and took full advantage of arriving on campus early this spring. Even though Shelton still needs to add bulk to his 5'10" frame, he uses his small stature to his advantage to recover faster, which allows him to be more aggressive in coverage.
Shelton will face even more competition when the final commit of the 2013 class, JUCO recruit Tekeim Reynard, arrives on campus. Reynard also plays corner and expects to be a front-runner for a starting job, but that shouldn't hurt Shelton's chances as long as he continues to progress and make plays in practice.
Besides, there are two jobs up for grabs, and Shelton's ability to pick things up so quickly makes him a legitimate candidate to be a four-year starter at Wisconsin.
Keep Reading

Wisconsin Badgers Football: Like this team?