Do Sacramento Kings Need More Youth or To Trade No. 7 Pick?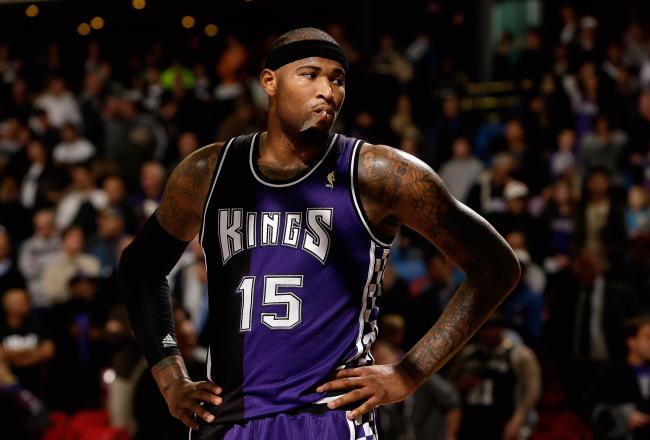 The Kings need to decide if they're ready to contend by building around players like DeMarcus Cousins or whether they should continue to build for the future.
Ezra Shaw/Getty Images
As it currently stands, the Sacramento Kings own the No. 7 pick in the 2013 NBA draft. This much is certain. However, what isn't certain is what the team should do with its selection.
It would seem the Kings have two options here. They could either use their pick to bring in a rookie. Or they could flip the pick in exchange for an already established player. But what the team ends up doing with its pick should depend on a couple factors.
First off, the franchise needs to evaluate the roster and determine whether it's going to build around the players already in place.
If that's the case, the Kings already have a nucleus of young and promising players like DeMarcus Cousins and Tyreke Evans, along with solid but not star-caliber players like Isaiah Thomas, Jason Thompson and Patrick Patterson.
In Cousins and Evans, the Kings have two young players with excellent potential. Evans won the Rookie of the Year in 2009-10. His second season was mired with season-long struggles with plantar fasciitis and his third campaign featured some uncertainty over his role with the team and what position he'd play. Yet he righted the ship in 2012-13 and showed he's still more than capable of building on the promise he showed as a rookie.
As for Cousins, nobody questions his physical ability. Just ask Marc Spears of Yahoo! Sports, who pointed out what every Kings fan already knows.
Lost in all the other stuff is that @BoogieCousins is the most offensively gifted center in the NBA.

— Marc J. Spears (@SpearsNBAYahoo) February 11, 2013
The questions with Cousins all stem from what goes on between his ears. Nobody knows how motivated he'll be, when he's apt to explode or whether or not he's willing to mold his game within the confines of the team's game plan.
At this point, now three seasons into his NBA career, it's still unclear whether Cousins will ever figure it out. But if he does, he's the type of player you build around. As Tom Tolbert pointed out on Twitter:
The only thing keeping Cousins from being a multiple all star is Cousins...If he figures it out he will be SCARY ....The good scary

— Tom Tolbert (@byronjr23) January 15, 2013
The talent is clearly there. So with Cousins and Evans forming an inside-out attack, the Kings could have something. All they'd need to do is bring in more quality role players to surround their budding stars.
Sure, one could argue that a nucleus of Evans and Cousins only got the Kings a 28-54 record this past season, so it's unrealistic to expect drastic improvements with them as the key cogs on the team. However, the argument could also be made that they weren't the problem; the problem was a lack of quality players surrounding them.
If that's the case, the No. 7 pick is a good asset to have. Sacramento could surely flip the selection for an established player that could come in and help out immediately.
The right player would not only help out in tangible ways on the court, but he would also help in less apparent aspects. Maybe he could help keep Cousins in line and teach him what it is to be a professional. Maybe he could provide the type of leadership and playoff experience the team is currently lacking.
Heck, bringing in someone that commands enough respect could solve a lot of issues. And the point could certainly be made that the Kings would be best served trading the No. 7 pick for such a player.
However, the other option is for the Kings to continue to build their roster. After all, despite talented young players like Tyreke Evans and DeMarcus Cousins, the Kings have failed to take the necessary steps forward. Therefore, the argument could be made that the team needs to continue to bring in young players, meaning it would best served by using the No. 7 pick to bring in another rookie.

This scenario would likely include some other form or roster shakeup, whether it's letting Tyreke Evans walk through unrestricted free agency or facilitating some trades.
Sure, the Kings could use the No. 7 pick while maintaining the status quo. But that would be under the assumption that either: A) they can get an impact player at No. 7, or B) other players on the roster still have drastic improvements to make. This seems like a gamble.
Therefore, the most likely scenario that involves keeping the pick includes making some other moves to add even more youth to the roster. One such scenario is trading DeMarcus Cousins, as has been thrown around of late.
According to Chad Ford of ESPN, one possibility is the Kings trading Cousins to Cleveland for the No. 1 overall pick.
Sources say the Cavs have already begun to explore what they can get with the No. 1 pick. If they can get a young big or small forward in return, Gilbert will be pushing for them to trade the pick.

Whom can they get? The pickings will be slim. Teams aren't dying to get the No. 1 pick. But one name that you shouldn't totally rule out is the Sacramento Kings' DeMarcus Cousins. Bradford Doolittle mentions this in his draft trade scenarios piece today.

If the Cavs are willing to put up with his immaturity off the court, he might be the best young big man in the game.
However, it's not just Cleveland. Ford also mentions the Charlotte Bobcats and Dallas Mavericks as other teams that may be willing to trade their lottery pick for Cousins.
Of course, of those three scenarios, trading Cousins to Cleveland would be the best for the Kings because they'd get the top pick in the draft in return.
But any such scenario would include keeping and using the No. 7 pick, getting an additional lottery selection and building the roster by infusing it with more young players.
In essence, it would be a proclamation that the Kings aren't ready to compete in 2013-14, even if they were to add another established player to pair with Cousins and Evans. However, it might be the best long-term option.
As far as I'm concerned, this is an incredibly difficult decision to make, and I'm obviously not even the one making it. However, if it were up to me, I think the Kings would be better off continuing to build their roster by keeping the No. 7 pick and possibly making other moves for the future.
There's always the possibility of trading Cousins for a draft pick. If, for example, the Cavs were truly open to trading the No. 1 overall pick for DeMarcus Cousins, I'd certainly be willing to listen. Granted, this is one of the weakest drafts in recent memory and I've seen with my own eyes how good DMC could be.
The operative word in my thinking being "could." As much as I love Cousins' potential, I'm not sure gambling on him maturing enough to tap into it on a regular basis is in the team's best interest.
In fact, the only thing that gives me reservation is the new ownership group, which might take the hard-line approach with him that the Maloofs weren't willing to do. If Cousins saw real consequences in his actions, he might be more likely to change them. But as long as he feels like making a change isn't a necessity, I have a difficult time believing anything will be different.
One encouraging sign on that front is that Cousins is reportedly on his way to California to meet with Vivek Ranadive, according to Jason Jones of The Sacramento Bee.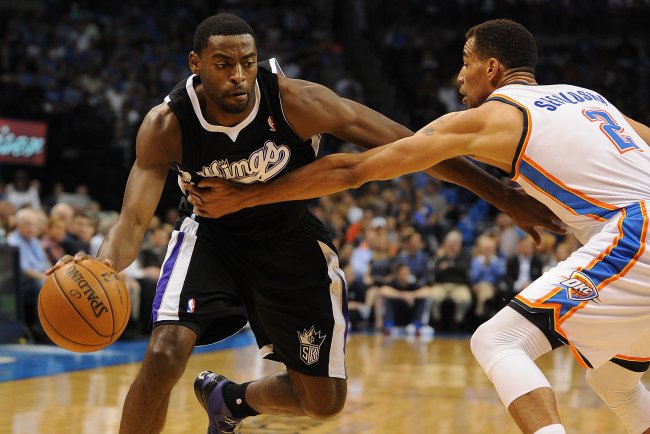 Mark D. Smith-USA TODAY Sports
Also from Jason Jones: All indications are that the Kings, and their new ownership group, don't want to trade Cousins. In fact, the same can be said of Cousins—he doesn't want to be traded.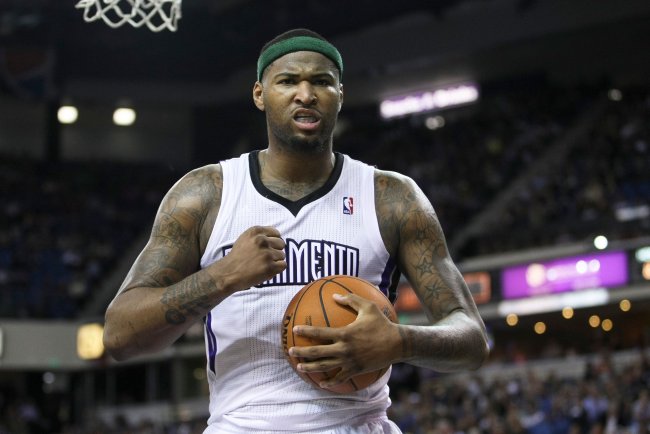 Kelley L Cox-USA TODAY Sports
So maybe the opportunity to play for a new ownership group is the clean slate Cousins and the team were looking for.
Yet even if it doesn't involve trading Cousins, and trading someone else instead, I think the team needs to make some changes, even if it's somewhat for the sake or change. Part of the new opportunity that comes with the new ownership group is the opportunity to change the culture. The best way to do that is to make changes.
Sure, the Kings could just switch the GM and coach, hoping that those changes provide a new foundation going forward. But as long as all of the key players are still intact, the effect on the franchise won't be as great.
I'm not saying Sacramento should blow the whole thing up and start from scratch, because I do think there are some players here that are more of a solution to turning this thing around than a problem. I also don't think it needs to be a drawn out process that sees the Kings missing the postseason for the next seven years, like has happened in the most recent roster reconstruction.
I just think trying to build around DeMarcus Cousins and Tyreke Evans by trading the No. 7 pick for an established player in hopes of winning now would just delay the team's path to prominence.
For one, I have my doubts that anything short of another another above-average starter would be enough to put this team in playoff contention next season. And with the draft being so weak, the Kings won't be able to get that type of player in exchange for the seventh pick.
I'd rather they use the pick to bring in another asset to build around. Yes, it's still a weak draft and there are no guarantees that the pick pans out. But there are also no guarantees that bringing in another average veteran would put them over the top. However, at least with a rookie, there's always the possibility of upside.
For now, I think the Kings should bide their time for one more year. Let Michael Malone get established as head coach. Allow Ranadive time to leave his fingerprints on the franchise. Then make your push next offseason.
At that time, the picture surrounding Cousins will be more clear. There will also be more flexibility because John Salmons' contract for 2014-15 isn't guaranteed, and Jimmer Fredette, Marcus Thornton and Chuck Hayes will be entering the last year of their deals, making trading them or releasing them easier to accomplish. Sacramento could even use its amnesty clause at that point.
Sacramento will have a better long-term outlook if it does it that way. And if the Kings do it right, they'll be able to build a team that can contend for years. That's the ultimate goal.
This article is
What is the duplicate article?
Why is this article offensive?
Where is this article plagiarized from?
Why is this article poorly edited?

Sacramento Kings: Like this team?